The day will surely come when your hair will no longer be short, but now, your hair might not be a true medium length yet either.
This in between length of the hair could drive you nuts, but with a little bit of patience and some excellent styling products that are on the market today, you can discover an actual beautiful style of your hair. You can love your new look and short hair in a smart appearance.
Living with the length between Short to Medium Hairstyles can be a lot of fun if you take some real benefits of the versatile hairstyles. You can accomplish your style with a blow dryer, mousse, wax, or gel and a curling iron.
Layering is one of the best styling methods you can take advantage of in order to accomplish a terrific look. Layering adds volume to the hair and it provides you the ability to try many different hairstyles as well.
Short to Medium Hairstyles for Women
Blonde Balayage Wavy Hairstyle
A casual new hairstyle can easily enhance the beauty of your personality in numerous ways. If you have straight hair, you can try the Blonde Balayage Wavy Hairstyle dropping nonchalantly on your forehead.
This can be carried as a casual look, or else you can carry it when you are out for a party. Make a side part on your hair and then set the hair just fall onto your forehead.
Let it be free and the hair falling on the sides should be properly placed with the eye-skimming bangs. These bangs will actually do the work for you and give you a stunning look.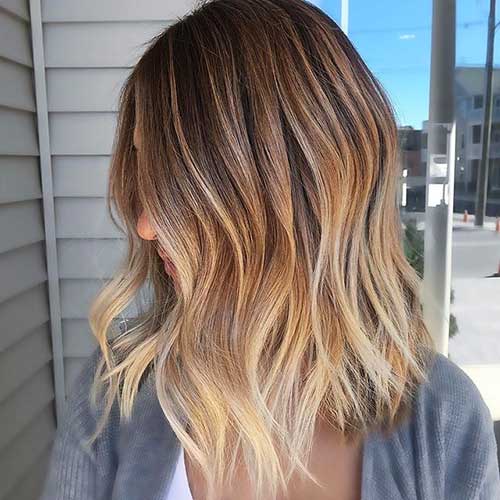 Center Part Ash Blonde Hair
You can always go for the Center Part Ash Blonde Hair for the medium length hair. When your strands are placed on the sides up to your shoulder, a little enrichment on your forehead with some tiny bangs can do wonders.
You have to make a middle part to create the Center Part Ash Blonde Hair. Slight wispiness in all those bangs also makes this style wonderful and gives you a subtle appealing appearance.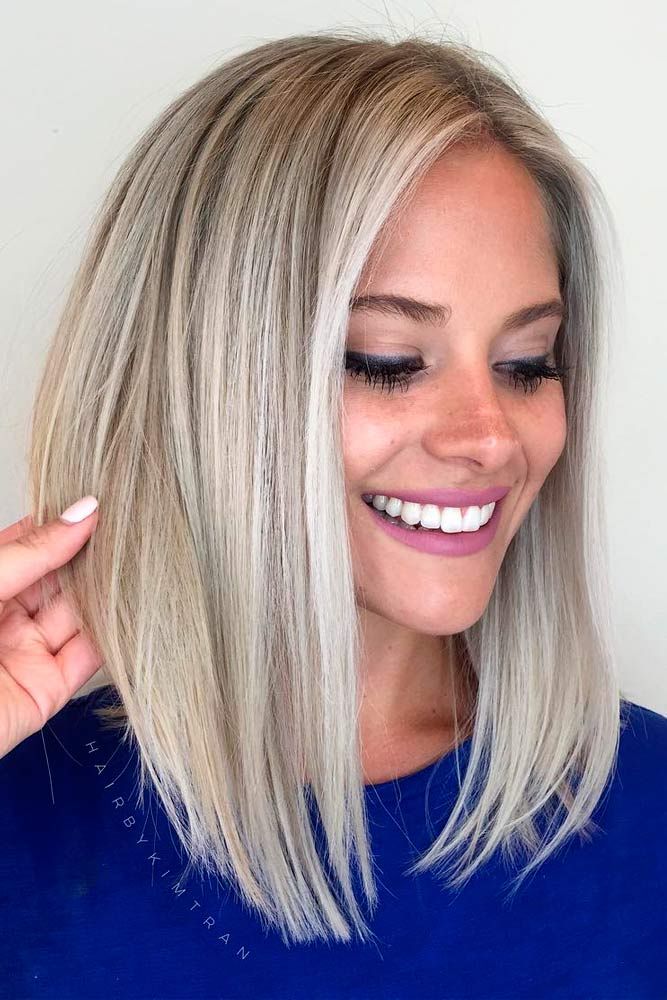 Choppy Bob
The ruffled choppy bangs and layers off your short hair can easily make the particular model-esque look along with the minimal styling.
Try to push the strands right forward for the spectacular colors that basically show the small hair at the back. Try to pull the hair right behind your ears to create a slightly messy look. And that is absolutely perfect for the work too.
The Choppy Bob actually gives you a funky and casual look and it also enhances the beauty of your presence too.
Brown Hair with Blonde Highlights
The Brown Hair with Blonde Highlights is also an all-time elegant and classy-looking hairstyle, which you can carry easily for a party or a casual outing.
The most excellent thing about this particular hairstyle is that this goes perfectly suitable with all kinds of dresses.
If you also have the round face, the wispy side bangs will do the justice. So, now try this particular low maintenance hairstyle to get a stylish and sophisticated look.
Balayage Lob Haircut
Do you want to sport a classy and funky and model kind of look? If yes, then all you require is to decide the right type of Balayage Lob Haircut. This particular hairstyle is also one that has the elegance to add to your personality.
The girls along with the blonde and short hair can easily sport the funky look and that is why selecting this one will surely help you to look absolutely gorgeous and stunning. Brush back the hair to create the look.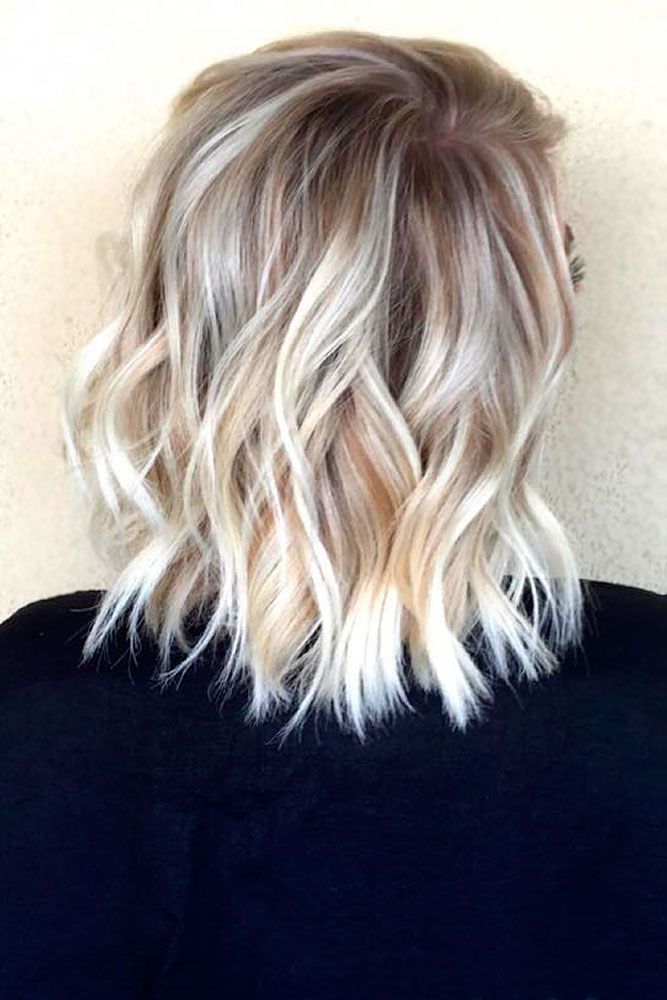 Ombre Wavy Hair
If you have a super funky-looking wavy and messy hair, then the ombre can give you a stunning look. If you have the little messy and short hair up to the neck, you can try this one.
Slight changing of shades from the dark to light can give an outstanding look to your beautiful face. This wavy hair goes well with all types of makeup and dresses.
Side Part Short to Medium Hair
For the medium style hair, you can always go for the Side Part Short to Medium Hair. When your hair is falling on the sides till the shoulder, a bit of enhancement on the forehead with little bangs can do wonders.
Slight wispiness in those bangs also makes this wonderful and gives you a subtle stunning look. Try the wispy baby bangs to get a sharp and sexy look. You will definitely stand out in the crowd with it.
Sleek Bob Hairstyle
Incorporate some of the proper shades of blonde into the dark brown base of the smooth and pretty short haircut for girls only to brighten up. And then lend some of the edge to your full bang as well.
This specific Sleek Bob Hairstyle also works quite well only for the round faces along with the oval faces as well.
Both of the side angled bang easily slims the full cheeks. This particular haircut gives you an absolute smooth and beautiful look.
Center Parted Wavy Hair
Are you opting to sport an amazing look to carry it in the brunch or party? Then this Center Parted Wavy Hairstyle will be an ideal option for you.
Anyone, who has the short hair actually opt for the supreme hairstyle that makes you look quite gorgeous and stunning as well.
Make a middle part to create this hairstyle and give a little messy end as well. This little uneven and messy look creates a perfect look as well.
Stacked Bob Haircut
An absolute quick and simple way to make the hairstyles for the thin, blonde and medium hair is bun and braid. But whenever you require the attention towards them, they actually require this Stacked Bob Haircut.
This particular style look like the absolute straight hair and this is why gained an immense popularity.
Brush your hair smoothly and try giving a polished look as well. It creates a stunning and charming look as well. This style gives a cute look on your personality.
Modern Medium Short Hairstyle
Numerous women out there cut their hair as a particular sign of independence or even to start over while this has been damaged.
Basically, whatever the cause might be, but you do not have to give up your style while sporting the short haircut for the girls as well.
Make a side part to create the Modern Medium Short Hairstyle. This particular Short Hairstyle for Round Face also offers the cute and funky look to your personality as well.
Grown-Out Pixie
Do you really want to stand out loud amongst the crowd? Then making a good hairstyle is also very important.
You may think that small and short haircuts for girls look quite severe but as a matter of fact, they can only as be soft as feminine as well.
The Grown-Out Pixie also has one sided amazing layers in the flimsy shade that can easily frame the face and also soften the features too. The entire hairstyle provides a classy and absolutely elegant look as well.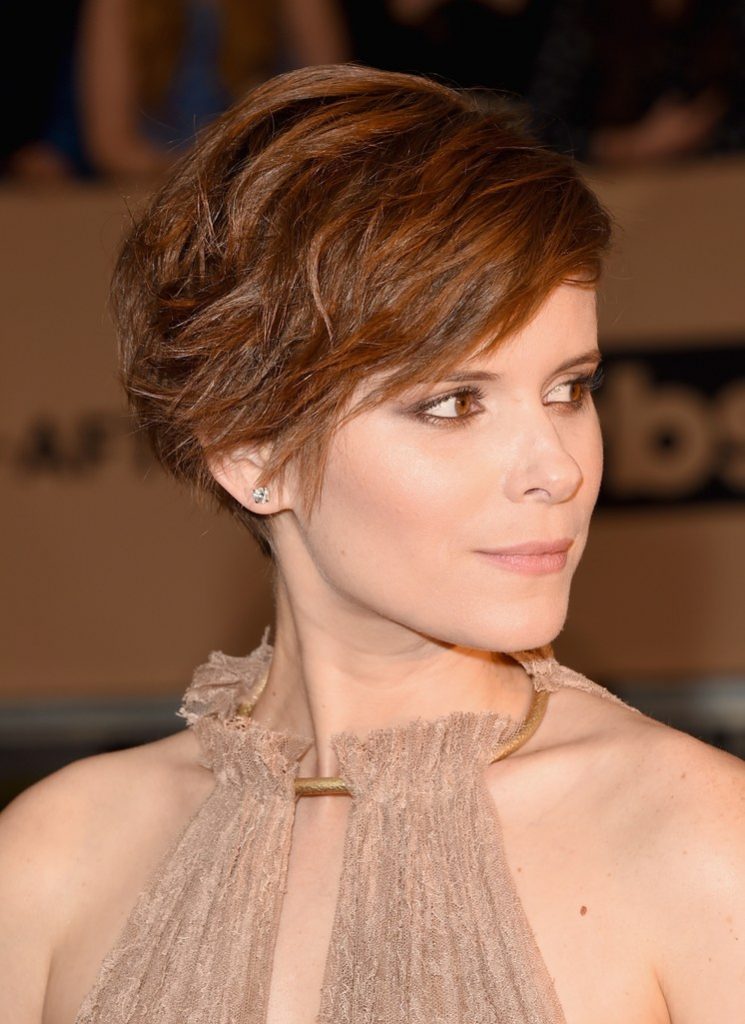 Curly Bob with Bangs
Girls along with wavy or curly or even wavy hair can easily sport this gorgeous Curly Bob with Bangs along with the ease and absolute bliss as well.
The cropped and short locks will also obviously shows off the small choppy layers and then make the interesting and exciting texture as well.
The short pulled back hair helps you to look absolutely stunning and gorgeous as well. Try to brush the hair back to create this particular hairstyle. The hairstyle also looks gorgeous on girls.
Layered Haircut
Each and every individual out there think of having a brilliant haircut that can easily assists them to look gorgeous and stunning as well.
The Layered Haircut is one of the top-notch as well as striking haircuts that offer an elegant look as well. This chin-length small haircut for the girls really can be quite spiced along with several choppy layers.
So, sprit-zing the small hair along with some dry shampoo will provide the polished and smooth look.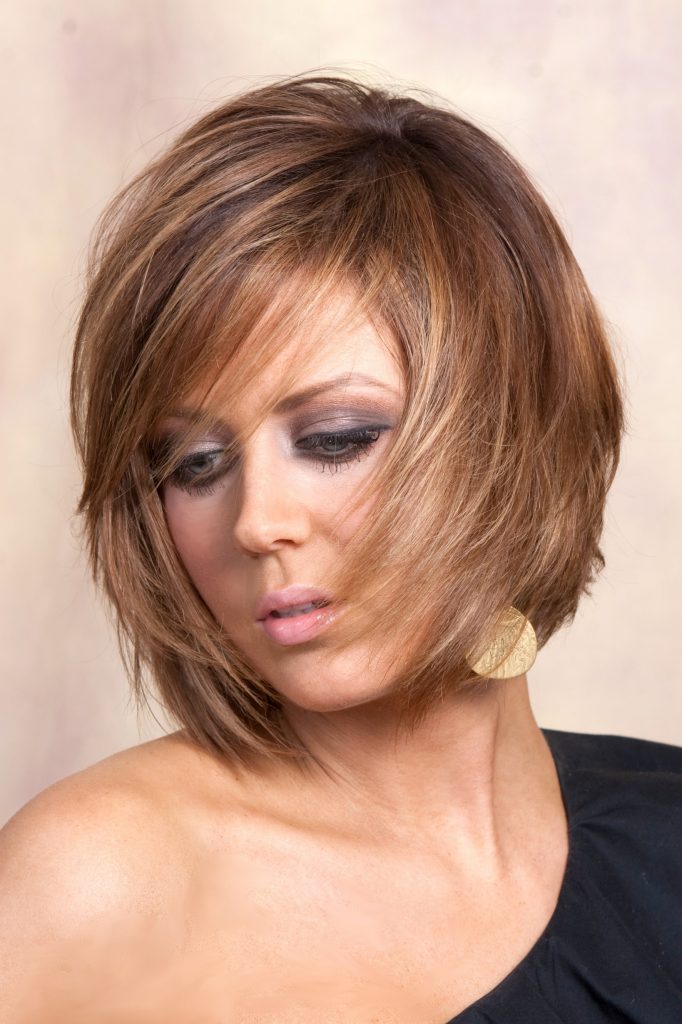 Textured Lob
People with the gorgeous black hair always think of having some amazing hairstyles, and that is why they opt for the various styles. This is one of the striking hairstyles that people always love to try who have medium hair.
Just keep the length of the hair up to your shoulders and straighten it well. Then create a parting on the left side of the hair to create Textured Lob.
Short Medium Black Hair
If you have really silky and gorgeous black hair, then this hairstyle is just custom-made for you. You only require putting in the hair curlers to make good and loose curls on the bottom half of your hair.
There is no requirement to create a part for this look. The style provides the effect of a side-bang without actually having it. You can try this hairstyle to get the classiness and elegance as well.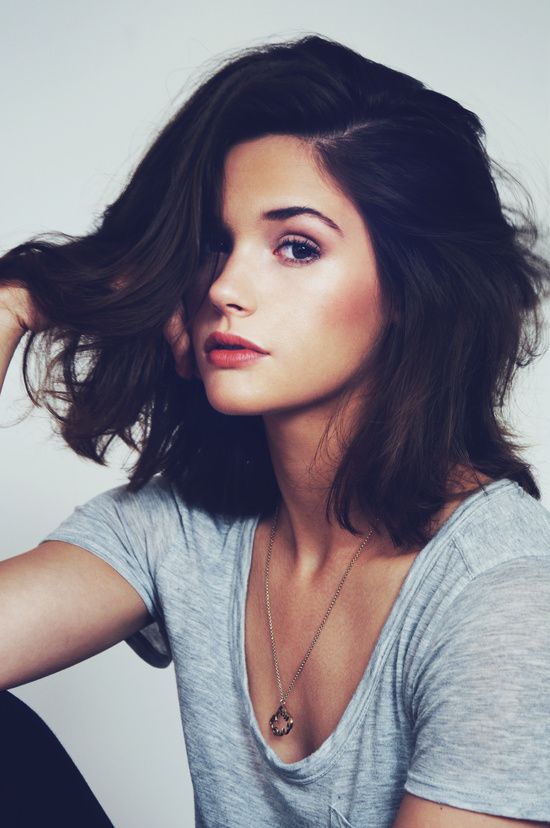 A number of girls always find for the stunning Short to Medium Hairstyles and for them the above mentioned hairstyles will be a great option.