Layer hair cutting is a hair cut that provides the illusion of length along with hair volume. The long hairs give the illusion of height, and short cut hair adds the illusion of volume to one's hair styling.
That process can be summed up by saying that both long and few strands of short hair together are layers arranged to style our hair easily.
Usually, to achieve a perfect looking layered hair cut, the top strands of hair or hair near the crown area are cut shorter than the hairs beneath. This method of splitting into two different styles allows the tips of the upper layer to seamlessly and naturally blend with layers beneath it.
All around the globe, every woman has one desire that is too look feminine and well-groomed every day.
But taking the entire situation into consideration that some ladies have too hectic days and a busy life in which they forget about self-care and some ladies are too lazy and carefree to go through complicated and length grooming process despite these every woman desire to look fabulous.
Layer cutting is the answer to every wish. After going through all the 25 popular layer cutting styles discussed in this article, you will find out more about their styling, easy management, and care.
We sure you that you will be left surprised in the end at the diversity of hair cutting styles along with colored solutions that are fantastic ideas to be considered for all new and versatile look for the seasoned. Let's get started and explore the upcoming range of gorgeous layered haircut looks.
35 Most Amazing Layered Haircuts for Women
Side-Swept Layered Hair
The medium-length layered cut is the best option if you're looking for a sleek and fresh look. This will give you a summery look and add volume to your thin hair.
Moreover, it requires minimum styling, provided that you use the right shampoo, conditioner, and serum. This style looks on healthy and flowing locks. This style will go well with an oval-shaped face cut and any hair type.
Tousled Wavy Bob
If you're looking for a bouncy and voluminous cut, then go ahead with a tousled wavy bob. This will give you a fresh, youthful, and cool look. Adding ash blonde hues to this bob cut will make it even more adorable.
This style will go well with any skin tone and short-medium to thin hair type. Also, adding side bangs to this cut will take it to another level.
Mid Length Pink Curly Layered
Mid-length curls are among the amazing layered haircuts for women. Parting the hair to one side with some waves and a pink texture creates a flattering finish.
If you're looking for a fresh spring style, then just go ahead with this one. Flowing down the face, these pink curls will match your fair skin and soften the facial structure.
Middle-Part Shoulder Length Ombre
This simple and sleek middle-parted brown ombre will give you a cute casual look. If you wish to have a simple hairstyle that is not too much, then this is the best option to go ahead with. Having a layered cut at the ends and adding a brown hue will be the perfect combination for getting a simple, classy look.
It requires very little maintenance, as you just need to set the layers at the tips, and you're good to go. This will best suit a round face and fair skin tone.
One-Sided Pixie Bob Other Side Shaved
The pixie bob with side bangs is an easy to style and low maintenance cut. This is among the daring hairstyles that can give you a sassy look. This cut goes well with short straight hair.
Adding a blonde color will make it even cooler and accentuate the facial features. Thus, those looking for a unique and different look can go ahead with this hairstyle.
Short Blunt Bob
This is another of the great styles among layered haircuts for women that will suit round-shaped faces and fair skin tone.
The middle-parted side-swept bangs with blunt bob will give you a natural and glowing look. It's best for short length, and a layered look makes it an easy-to-maintain hairstyle.
Long Red Orange Curly Layers
You can showcase your amazing long layered cut with reddish-orange hair color. Curls that start straight from the roots have much volume and are well-defined.
The curls with red-orange sun-kissed shade will give you a unique, summer-ready feel. It will best suit fair skin tone and give a fabulous look.
Blonde Choppy Layers
The medium-length cut is suitable for women looking to grow their hair further while keeping the curls bouncy. The layers bring volume and shape to your hair. Moreover, the subtle blonde color will make the hairstyle eye-catching.
This is a good-to-go hairstyle for everyday as well as special occasions. It will suit any face shape but requires a bit of effort for styling.
Textured Wavy Two-Toned Layers
This is one of the dashing layered haircuts for women that teenagers quite love. The layers bring out a unique style and make it easy to form a curly-wavy look.
Pairing the layers with sunflower and purple highlights makes this style all vibrant and good-looking.
Modern Layered Pixie
The modern layered pixie is among the bold, layered haircuts for women. This is the cut that not everyone can go ahead with. Instead, you must keep in mind your face cut before trying this look.
This cut with long bangs will give you a bold, confident and messy look and best suit a square or heart-shaped face.
Layered Hair Mixed with Lob Cut
Lob always cuts a favorite cut for a woman. Through research, we have also come to know that lob cuts are a go-to haircut for the majority of women throughout the last year 2023.
In context, we are assuming that the year 2023 will also be a lob cut trend year. But here two most gorgeous looking haircuts are put together to make a fresh start and bring some changes in your hair cutting pattern. It is the very first hairstyles.
We are discussing layer cutting mixed with lobbing cutting. The lady's hair is firstly cut into a lob cut that is till her shoulder, as we can see in the above image.
Then the traditional long layer cutting is added to give it a volumes look. Tremendously few upper strands are cut in layers, which are giving the hairstyle a messy and chic look to the Cut.
Sleek Straight Shoulder Length Fringe Cut
If you are not a messy or curly kind of girl, then you should give a try to this sleekly straight simple layer cutting. This Cut is the simplest but a sweet and cute look for this year's summer vacation.
Everyday long hair with fringe added to the style provides volume plus makes the hair to upkeep along with effortless styling. This haircut does not become a barrier in styling, but it gives out allot more options to style them.
The honey brown blond streaks are entirely giving an easy-breezy look to the hairstyle. Multi-dimensional color colors added brings out a life within your hair.
Snow White Blond Long Layer Cutting
The best trick to get a perfect feather cut is to first find your ultimate styles that analyze each feature of your face. Through layer cut, your facial features can be enhanced.
Having your hair cut towards your preferred choices is what makes a haircut customized. The third haircut we are going to disuse properly falls in this category. In this haircut, the lady has chosen to go with long length with long layers.
The fathers are a great way to add volume to your hair, and this hair cut is all about amounts and length. The snow white-blond global hair color is providing a whole feminine look o the hairstyle.
Mid Length Two-Tier Cutting with flicked Ends
Mid-length two-tier cutting is sad to the method of long layer cutting. In this cutting, there are no short length layers, which is clearly seen in the image provided.
There is two-tier splitting meaning that there are different lengths to style the hair. Al the layers are sleeked and straight, but in the curvy bottom, flicks are added to give it a volume and messy look. This, according to us, is a gorgeous touch.
Shaggy Lob Haircut with Beach Waves
Shaggy lob cuts are perfect for the hot season. As they keep your hair stylish and secure to manage in the humid season. Lob cut and father cutting go hand in hand, as we have said before.
In this particular haircut, we can tell you that the first step s to choose a length for your hair in the image provided above. We have gone for lob hair length, and we suggest the same for you as it is the essence of this hairstyle.
The second step would be to add a lot of feather cutting to your hair. Later on, add the soft curls or beach waves.
Beach wave is a perfect option for girls who are looking for a layered haircut without having the stress of styling. This part becomes the whole hairdo, a summer vacation ideal hairstyle.
Sunlight Messy Bottom Layer Cut
Adding the 90's style layers to the hair is going to be a big hit this year. Here we have a fantastic 90's inspire haircut for you. It is a mid-length cut overall. Intermediate length cutting is a super cute look for ladies.
The best and focal point of this hairstyle is the ends are flipped out, which is perfect for giving a flirty vibe to you.
The messy bottom or flipped bottom is effortless to achieve with the help of flat iron or just by adding choppy layers of naturally wavy hair as done in the above image.
Along with this, if you add the pinch of incorporate layers with highlights is a hit point to the haircut. The lady in the picture has added sunlight highlights, which a perfect for summers.
Straight Long Feather Cut
This haircut is perfect for younger girls out there looking for ideal hair for the summer vacations and camps. This hairstyle does not include much but is smile and easy to style for them.
The haircut consists of long lengths with a long layer cut at the bottom. The hairs are silky straight. The reason to keep it simple and elegant is that they are made for easy styling. Young girls get quickly bored with the same styling; they desire something new every day.
This Cut can be tied up in a back ponytail, Pigtails, or even braids or buns. This s only possible because of the prolonged length of hair and long layers.
Straight Invert Lob Feather Cut
Moving further, we have another lob layer cut for you. Sometimes you need a makeover to freshen up your look and feel relaxed for the summer break. Here we have to bring out a perfect solution for you guys.
The solution includes cutting your hair in a medium-long layer, just like the picture provided above. It is the most straightforward and easy way to do something different than your usual style.
Along with layers and lob, the color caramel blonde works wonders for your hairstyle as well as for framing your face structure.
Two-Tone Rounded Pixie Bob
Layer haircut looks fantastic on every woman. Not everyone has long hairs so short bob with layers adds volume to hairs. Pixie cuts are popular from the 80's to the modern era.
Bangs with layers easily provide proper coverage to your forehead. Consider your personal choice to style your bob. Two-toned highlights are in trend so emphasize your layers with dimensional highlights.
This is one of the simple and classic haircuts but colors add a modern touch in it. It is perfect for every aged woman who has natural fine short hairs. Style it with ear studs and bold eye makeup.
Short Undercut with Choppy Top
Women love to cut their hair short but they have some fear regarding their outcome. Mostly long hairs define girls and short hairs define boys.
For busy schedules, short hairs work like magic because it takes a second to style. Short choppy hair looks tomboyish but gives your face a bold statement. You can add some short layers for a feminine look.
If you have attractive facial features, then this hairstyle is the best option for you to show your makeup. Wear a bold dress with bright lip shade for parties, night outs, etc.
Bowl Cut Pixie with Bangs
People always observe others with their overall look. Your hairstyle and outfit reflect your inner image. Bowl cut pixie is a short cut with low maintenance, which is a sign of creative personality.
It is a dramatic haircut which is the hottest option among women's haircuts. A nape with side bangs looks so cool and gives you a badass look. It is not so casual hairstyle so mostly female pop singers; actresses do this hairstyle for special events.
Style your hairstyle with piercings or dark eye makeup. Make sure you need help from your hairstylist to achieve your desired look.
Balayage Pixie with Tiered Layers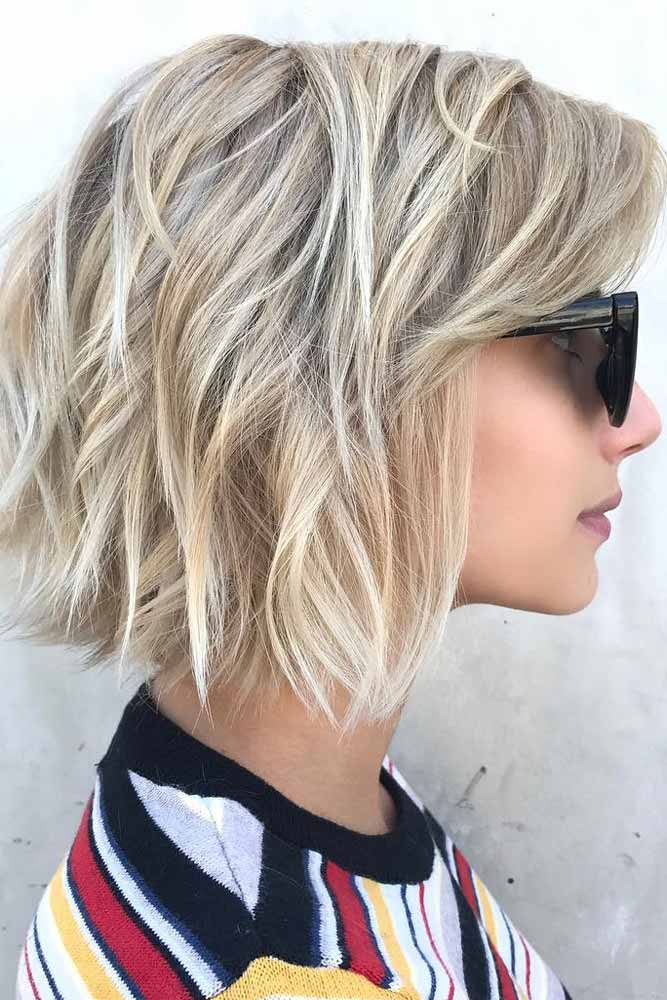 Layered hairstyles have many different style variations. Women with every hair length, texture try layers to enhance the texture of their hairs.
Balayage is a technique of hair coloring which looks great. The long layers with short pieces give you an edgy and stylish look.
This hairstyle is of shoulder-length, so you can try braids or ponytail and can change your style every day. Tiered layers are easy to style and comfort for every occasion.
Soft Messy Tapered Layers
Messy is new in trend. Layered haircut helps frame your face. So, in short, haircut layers highlighted the most flattering point on your face.
Short tapered haircut mimics the image of the heaving crown on your head. This haircut looks wonderful on every hair color, skin tone, etc.
It is a sophisticated haircut perfect for a formal look, easy to maintain and stylish. Messy layers are complicated to cut so make sure you take help from the professional hairstylist.
Finely Chopped Buttery Blonde Layers
Most of the women like long hairs. Bob's haircuts look best on round and oval-shaped faces. Long hairs are easy to convert into different hairstyles.
This buttery blonde layer is almost a bob with the volume on the top with thin layers. Your natural hairs play a prime role in the outcome of the overall look.
So, if you have curly or wavy hairs, then your bob is enriched with volume but on the other hand, if your hair is fine and messy, then it looks a little messy. Buttery blonde color provides uniqueness in your haircut and adds more depth to your hairs.
Straight and Chic Burgundy Hair
Burgundy shade is a vibrant color. It gives your hair full coverage but always keeps in mind your skin tone. If your skin tone is dark, then bright colors do not work for you.
Long layers add volume to thin hairs so this cut gives you sleek, chic texture. The feathered ends do not trim your overall hair length which is the best part about this haircut.
You can easily make braids, buns, ponytail and achieve your desired look. This chic haircut is enjoyable in every season.
Angled Bob with Layers
Choosing the right haircut for your face structure is a bit of hassle. If you have a lovely face shape, then angled bob is the perfect option for you.
For some dramatic and creative look color your hair in bright colors. You can use a heated curler to curl your fine bob. This haircut is suitable for wavy and curly hairs.
Fine cropped layers at the same angle as of your jawline looks fantastic for the daily look book. Wear a dark-colored lip shade to enhance the beauty of your haircut. For required results must visit a professional hairstylist.
Side Parted Wavy Lob
Layers enhance the beauty of waves.Women who have thick hairs and want some movement and depth, then a deep V cut is perfect for you. It is a short haircut but outward layers look so beautiful.
In this haircut, different hair color does not play a major role to affect the hairstyle. It is easy to style and versatile. To avoid any frizziness use hair spray and you are ready to go.
Every aged woman wears this hair cut but the only condition is that your hair should be thick. Style it with nude makeup and red dress.
All Dressed Up Cutting
Layer cutting does not restrict to a certain length, but you can go on experimentation it on the different range as well as with various cuttings.
Here we have done it while experimenting with it with a different haircut. The one side has shaved small length hair on the other side hair are swapped are added some layers with big curls.
These hairs are so much styled up that they provide you a dressed-up look to you without any effort.
Pink Curls with Layers
Let's talk about your natural texture, especially for this haircut. This cut emphasizes mainly on your natural bouncy curls.
If you do not have bright, bouncy curls similarly in the above image, then don't worry, you can quickly achieve it by various machines concerning this.
Here the ladies' curls are cut in a layer that provides much more volume and bounciness to the hair. Pink hair color is like a cherry on top of this breezy hairstyle.
Red Highlighting Lib Layered Cutting
Another chic look for you guys. In this hairdo, there is a side swap going on along with lob layer cutting. The layers added in he provides soft waves which are flumping up the hair and provides them a bouncy carefree look.
The lob haircut is perfect as it gives your facial structure a spotlight. The messy and soft waves in the hair are giving a chic carefree kinda vibe.
The black and red combination of hair color is totally going with her fairs kin color. This hairstyle is perfect when you have a bold, confident personality.
Curly Messy Lob Layered Cut
Side swapping of hair sure provides a significant volume to one side along with it gives a sleek look on the other side.
In this hairdo, we have again gone with side front hair to provide bulkiness to one side and elegance to others so that you can be photo-ready from every angle.
The length in this hair is till your shoulder with lots of feather cutting and big curls. The feather cutting along with big curls gives you a messy and party look.
This hairstyle is perfect for special occasions and night parties. Big curls in front are also providing attention to the strong facial structure and makeup.
Elongated Straight Hair Layered Hair
Simple cutting of hair in an oval or straight cut is regular for you. Want to try something different and unique the time we suggest you go with V-cut layer hair cutting.
This method of cutting allows for more styling potential than any other layer cutting hairstyle provides. In this hair, do a single length haircut hangs a limp without any movements.
The hairstyle may also be concealing the natural contours and structure of one's face. On the other hand, the medium layer added in the hairstyle provides a sharp shape to your unique facial structure.
Blonde Soft Curls
To have a look like a girl next door, you have to get big curls in your hair. But to add them in style you need to look at this hairstyle it might be perfect for you.
The hairstyle involves medium hair cutting with lots of layers and big waves. It also includes side front swipe of hair. Then what's the difference in this hairstyle?
The difference its shiny blonde hair color. We often do not see the importance of hair colors, but this hairstyle draws all attention to it.
One more twist is involved in this haircut, which is not much visible, but it makes a big difference in the cut that will be V shape cutting.
Celebrity Style Layer Cut
Why is this particular hairstyle referred to as a celebrity haircut? This is because the hair is inspired and can be seen by many celebrities who have carried it with grace on red carpet events, award functions, or in their typical day out.
From all the high hairstyles they sometimes like to go more natural or with hairdos which does not contain much going on in it. This is one of that hairstyle which is more natural and comfortable that we can achieve it in no time without a helping hand.
The hairs are cut till the shoulder off course with layers, which are the essence of the hairstyle. The natural side swap of hair is gorgeous and elegant, along with messy curls at the bottom.
Chic Blonde Highlighted Layer Haircut
One of the modern styling of hairs is to cut them short and add curls. This hairstyle also emphasizes on those methods.
In the picture provided by us, you can see how pretty the girl looks with short hair with wavy layers that look in her shiny blonde color hair.
The haircut provides a defined look to your faces and gets some attention to your cheekbones. All over the hair cut gives you a cute sweet chubby bubble look.
This hairstyle is perfect for summer break if you're going for an internship course as it is a work vibe/ a relaxed look.
Long layered cut hairstyles look fantastic even they are simple and easy to achieve. Although we have seen similar looks long before, still, they are today's classic look of a feminine style.
Long – middle- short haircuts go hand with this cutting. These versatile gorgeous looking hairstyles will go perfect with your style and personality.
Choose one which will go perfectly with your personality and looks and you are ready for a long relaxed and stylish summer vacation this year.
There is the main advantage with this that layers can go with any hairstyle, highlighting and other haircuts too. We hope you like this we will be back with more styling articles for you. Thank you.