Bohemian Box Braids is one of the trending and most loved hairstyle because of its excellent look and long-lasting carefree feature. Boho Box is also referred to as Goddess Braids because of its subtle texture that brings out the simplest look with utmost elegance and beauty.
This gorgeous hairstyle has become one of the favorite style statements of well-known celebrities from Zoe Kravitz to Beyonce and has been tried with different variations. In the world of hairstyles, the professional and skilled stylists have brought some of the exclusive and amazing bohemian box braids hairstyles with unique combinations and unique hair colors.
This sophisticated hairstyle not only gives you a brilliant texture but also stays for a long time and keeps your hair healthy and protected. With Boho Box Braids, you can feel confident and presentable at any point in time and can charm the place with your elegance wherever you go. Here, we have brought for you 25 most stylish Bohemian Box Braids Hairstyles for you, have a look.
Bohemian Box Braids For A Trendy Look
Box Braids with Rhombus Pattern
If you are in love with your long hair and want to try out some trendy look, which gives you both a carefree and long-lasting look without having you to compromise with the length of your hair, then you must stop your eyes at this picture.
The dense and radiant hair can give you an exact look, though if you have frizzy or shallow hair, then also you can try for this hairstyle. These types of hairstyles are apt for young girls and mature women both and look fantastic with all kinds of dresses.
Spider Box Braids with Half-Open Hair Lengths
To shape your head with a hemispherical look to enhance your beauty, the spider bohemian box braids can works wonder.
The perfectly made boho braids that are starting from the front center of the head and going down in a symmetry from both sides are tied and secured nicely on the top of the head to let the box braided hair strands fall on both sides evenly and give a balanced look.
The end of the lengths of all the bohemian box braids is left open with a wavy twist to compliment the hairstyle well and look more feminine.
Long Goddess Box Braids
Cherish your long hair and let them flow freely on to your shoulders with this great idea of hair-styling. Usually, we find it hard to manage long hair, and cutting them out is also a great deal.
With this style, you can simply look gorgeous, stylish, and every bit of sexy. The long boho box braided hair strands are tied and secured till the end. Out of numerous hair strands, few of the strands are accessorized with a silk mustard thread to festoon the overall look.
High Tress Bun with Thin Box Braids
Enjoy this extraordinary look, with this creative and artistic way of hair-styling. In this look, all the hair is combed from back to the front, and the little tiny box braids are made in such way only keeping half of the braided hair strands open like tresses.
Multi color threads are used to tie the braids and beautify the look. At the very top of the head, a large gigantic bun is made with all the strands and tresses and secured with a little messy look. Some of the tresses left untied to give this hairstyle an effortless look.
Boho Braids for Shallow Hair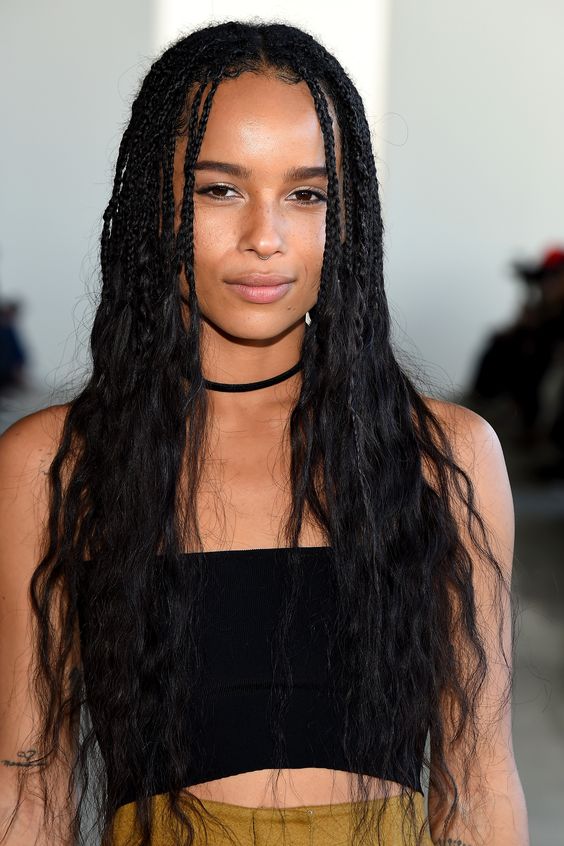 This hairdo is meant for thin hair. To attain the same hairstyle, all you have to do is' divide the hair from middle and make as many Bohemian Box Braids as you can with very thin hair strands.
Leave the Bohemian box braided hair strands open after knitting them till neck length and secure and tied them neatly with black rubber bands. Leave the rest of the hair open with a wavy touch. This style is best suitable for teenagers and party-goers.
Infinite Brunette Goddess Box Braids
This is one of the classiest Boho box braided style that is a must-try if you have that gorgeous long and dense hair with a smooth texture. The addition of golden brunette shade to the color is making the hairdo look more prominent and absolutely outstanding.
From a side partition, numerous box braids are made and left open at the ends to complement the style. Flaunt this style with a super bold attitude and pair it with any kind of attire; it will make you look like a heartthrob in any way.
Ash Brown Bohemian Box Braids
Make a different style statement that makes you stand out of the crowd and give you a bombshell kind of look. This hairstyle is actually meant for the progressive and modern women who like to stay stylish with the comfort of well managed and long-lasting hairdo.
This style requires the least management and keeps you presentable every time you step out. Multiple bohemian box braids are being made on both sides of the middle partition. To decorate it, randomly, few of the braids are accessorized with metal beads and silk threads.
Bohemian Box Braids with a Stylish Zig-Zag Pattern
The Pattern is also a significant part of the hairstyle that can add to the beauty and style of the overall appearance and can make it look distinctive and unique.
Especially, if you are not blessed with thick, smooth hair, you can get the exact look with the same texture and appeal.
In this style, several Boho box braids are made with a beautiful zig-zag pattern, and few of the thin curly hair strands are left open at the front side to add to its beauty.
Off White Box Braids with Spiral Curls
The vast, dense, and very long hair can do the full justice to this hairdo. However, you can also opt for hair extensions if you really want to have the same hairstyle or if you want to cherish the pleasure of having such long and dense hair.
This creative hairstyle requires hair being inclined to one direction and making lots and lots of box braids all over with leaving some of the spiral curly strands out of the box braided strands. The overall look is festooned with yellow beads.
Multi Color Goddess Box Braids with Open Ends
When the hairstyle becomes artistic, its beauty jumps to the other level. The playful colors have made this hairstyle, a unique and creative hairdo that looks absolutely stunning and eye-catchy. This kind of elegant dauntless look with quite long hair is what the futuristic youth is looking for.
If you are blessed with such long hair, get your hair colored and styled like this and if not, go for extensions and enjoy the look. Multi color hues are placed so nicely and thoughtfully on the hair.
Auburn Box Braided Top Bun
The beautiful shade of brown with a glossy finish that is the Auburn hue is blended perfectly with the natural black color of the hair. Manifold bohemian box braids are made on overall head vertically and are secured nicely at the ends.
Dark brown wooden balls and white silk thread is used to decorate the braids and enhance its beauty. From the top, all the hair strands are rolled up and formed into a bun, whereas the side hair strands are left flowing over the shoulders. This style is befitting for young girls.
Blended Burgundy Spiral Curls with Box Braids
No one can take their eyes off this style. The perfect blend of red burgundy hair color with black plus the ideal blend of spiral curly hair strands with bohemian box braids is making this style superlative and highly creative.
You can see each and every box braid have got two shades of black and red, and that's what a professional hairstylist can only achieve that. With multiple box braids, many of the hair strands are left open with intense spiral curls. Enjoy this style and fetch everyone's attention with this.
Tight Bohemian Box Braids Accessorized with Rings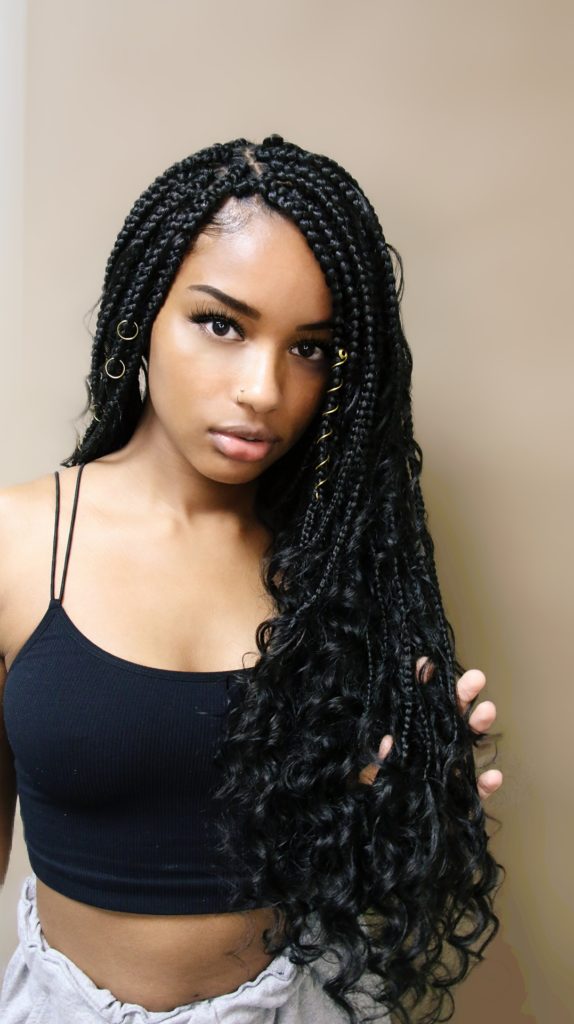 The jet black glossy hair is partitioned from the side and tied so tightly to make numerous bohemian box braids all over the head. Each and every box braided hair strand is left open after knitting till half of the length.
The leftover open hair is twisted and turned to add volume to the ends and look beautiful. Metallic thin rings and brown silk thread is used to embellish the hairdo.
This is a classy look and apt for party goers and younger generations. It looks impressive with stylish casual clothes.
Copper Brown Bohemian Box Braids with Bow
The cute and innocent look every young and teenage girl craves for is here in the picture. The hair extensions with super soft copper brown color are used for this style. First of all, creating this hairstyle really unique and exclusive.
Countless bohemian box braids are created all over with the help of hair extension to add beautiful color, luster, and density to the hairstyle.
The glimpse of dark black roots with copper box braids is also giving a magnificent look. At the top front, a mini mouse bow is made to add the cuteness and girly look to the style.
Box Braids Combined with Roped Braids and Curls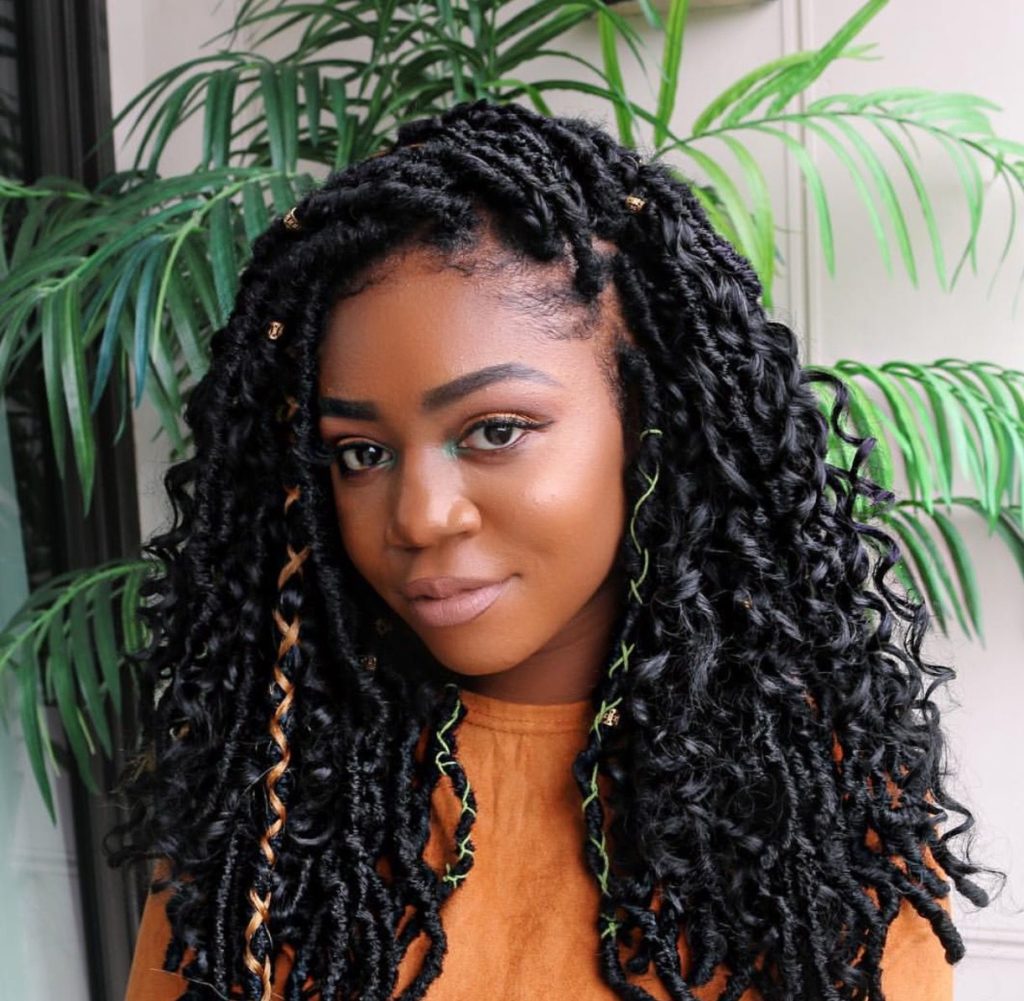 Combining two or more styles at once can sometimes give you wonderful results, as you can see in the picture. The mid-length dense and black hair is styled with the beautiful combination of roped braids, spiral curls, and bohemian box braids.
All these braids are decked splendidly with silky brown thread, green thread, and metallic beads. The hair strands with numerous styles give a voluminous look and frame the face so elegantly. For young girls and office goers, this is a suitable style to opt for with great comfort.
Bohemian Box Braids Inclined on One Side
To bring that feminine look by bringing all the hair towards one shoulder, girls really look forward to such type of hairdos. In this hairstyle, all the hair is combed up to one side from right to left, and many thin bohemian box braids are created, leaving the sharp ends open with a curly touch.
The thin braids give hair a different texture. Usually, all the super stylish hairstyles go well with dense and voluminous hair, but this is the style that gives a phenomenal look to your shallow hair as well.
Scalp Pattern with Boho Box Braids
Usually, stylists only focus on lengths and top of hair to make a hairstyle look different and unique, but here in this style, the focus has given to the pattern created on the scalp.
You can see the multiple boxes looking prominent and adding a detailed look to the scalp with a beautiful pattern. The length of the hair is shifted to one side with multiple box braids and curly hair strands. It looks superb with off-shoulder one-pieces.
Blonde Square Box Braids with Shaved Sides
The fierce and gallant look just for the bold and fearless girls, who can stand with full confidence to define the new beauty standards, can be achieved by this style.
The middle part is divided into small square boxes to create bohemian box braids extended with blonde hair extensions.
The unconventional part of this hairstyle is the shaved sides. Shaven sides make the overall hairdo look more prominent and highlighted with its brilliant pattern formed.
Starry Partitions with Maroon Extensions
So truly, the divinity of the hairstyle makes it called as goddess box braids. The subtle and calm appearance with this brilliant and bold look is something hard to achieve. The gallant red maroon hair extension is making this hairstyle adventurous and fierce-looking.
The starry patterns are created to create box braids further and are extended with maroon extensions amazingly. For modern young girls, this style is a great start.
Black Tight and Patterned Box Braids
For the ones with the broader forehead, this is the perfect style to go for because of its scattered hair all around that can make your hair look voluminous and distract the focus on the broader forehead.
With side partition, several tiny bohemian box braids are made till the half of the length and rest of the hair left open with spirals to look denser. The open ends with big swirls are complimenting the entire look.
Hippie Look Accessorized with Colorful Wooden Beads
Using chestnut color on hair can change the entire outlook of the hairstyle and the personality. From the very middle, the cornrow box braid is created, and the rest of the hair is parted to the sides to create multiple box braids.
This hairstyle is all about decoration and adornment. Various types of wooden beads of brown and yellow shades are used of different sizes to give the entire hairstyle a hippie kind of look. This sassy and chic look is a must-try for young girls.
Bangs and Embellishment with Bohemian Box Braids
It is the most unconventional style that requires a huge dose of guts and confidence to carry it off gracefully. This hairstyle is not everyone's cup of tea. In this hairstyle, you can see the hair is cut asymmetrically with long front bangs.
All the hair is tied with a number of thin boho box braids. The end of each braid is festooned with multiple colorful beads and pearls. This decoration is making the look exclusive and idiosyncratic.
Mid Length Bohemian Box Braids
Bohemian box braids are wisely referred to as Goddess braids because of its divine look and captivating soberness. This hairstyle is targeted for the ones with mid-length hair.
Multiple rectangular boho box braids are being made and tied so nicely at the ends, leaving just an inch long hair at the ends open to bring out a clean and cute look. The use of golden threads and large metallic beads are beautifully accessorizing the hairdo.
Volcano Boho Box Braids with Hair Accessories
To add variations and style to bohemian box braids, the hair professionals have thought out of the box and have created this starry hairstyle. Numerous thin box braids are created and knotted at the center of the head and scattered all over from the middle to give a volcano look.
To cover the front look, a beautiful headband is used. However, it is embellishing the entire look and making it apt for big events and occasions. Metallic beads are also used for decking the hairdo.
Hazelnut Box Braided Snakes
This hairstyle starts from the center and is scattered all around to give a snake-like appearance. Thick bohemian box braids are created with hazelnut color from the center and are tied to form a thick bun on the top, leaving thicker braids of the front untied to let them flow on the face.
Different types of hair accessories like metallic stars, beads, and rings are used to make the braids look more complimenting and trendy.
These are the 25 most stunning bohemian box braid hairstyles we have brought for you that are styled by the top-notch hair professionals.
These styles are long-lasting and stay in trend forever. Go through all the styles and pick the best one for you to develop your own fashion style and walk with confidence.