When we hear the name Goddess Braids, the first thing that comes to our mind is cornrow braids or African American braids. These types of braids are mostly famous in Africa, but now people from other countries are also trying these braids style. They are gaining popularity everywhere, especially among the celebrities and Hollywood stars. The best part about this braid is that you can mix different braids style with this braiding. Whether you have long hair or short hair, you can carry this style with both. Even, you can use the extensions also for making Goddess Braids. You can try different styles of Goddess Braids as per the occasion. From simple to complicated, you will find all types of styles in Goddess Braids.
If you are naïve in making Goddess Braids, then you can start with the simple goddess braids, and then you can try the difficult ones. Here, we will share the different types of Goddess Braids, which include both easy and complicated styles. You can either try them on your own or can take help from a professional hairstylist. The only problem with the Goddess braids is that lot of time is required in braiding them, but the result is definitely beautiful.
40 Stunning and Stylish Goddess Braids Hairstyles
1. Two Goddess Braids
This stunning two Goddess Braids look is a perfect combination of boldness and simplicity. As you can see the braid is a simple 3 strand pigtails made neatly on both sides. It is not just suitable for any casual party or event, but this look also will complement the girls in different sports. As it is giving a sporty kind of feeling because of its boldness. It may take a little bit of time, as it depends on your hair how long they are. But it is not that difficult to make.
2. Four Goddess Braids
Are you looking for a style different from the usual 2 braids Goddess hairstyle? Then here you go, with the 4 goddess braids style. For those with short length hair, can add on the hair extensions to make your hairstyle beautiful. Hair extensions also will help in giving all the 4 braids full volume. The braids will start from the front and will go to the back till the bottom. If you want to decorate your braids, you can add hair beads to the braids. But make sure that all the 4 braids are made at an equal distance from each other and the volume of hair in each braid should be the same.
3. Goddess Braids for White Women
For the white women or for the women with blonde hair color, we have pretty goddess braids look. The only tough part about this style is that it will take a lot of time because of the number of braids one need to make. As in the image, the hair extension of light blonde color is being used, so you can also choose the hair extension color according to your hair color. Do side partition and make three strand braids using a small section of hair. There must be around 70 to 100 braids on your head. And some of the braids from the front are tucked at the back.
4. Jumbo Goddess Braids
These two Jumbo Goddess Braids are surely going to catch all the eyes wherever you go. Whether you make it using an extension or whether you have that full volume of hair to make such a huge braid, it is fun both ways. This style is looking very cool and funky. The yellow or golden ribbon tied along the braid is highlighting the broad stitches of the braids. The two are looking like high braided ponytails on both sides. On the front part, side parting is done, and then at the back, a very thin braid is being made which is parting both sides from back at the mid.
5. Waist Length Goddess Braids
Are you fond of long braids reaching till your waist? If yes, then here are the waist length goddess braids which you can go for. If you have long hair up to waist length or more than that, then it's great. Or else, you can use extensions also with your medium length hair. Many thin cornrow braids are being made starting from front to going down at the back. The golden blonde extensions are used for making the waist length braids in this picture. You can either let the braids falling till waist or can make them in the form of side buns leaving few braids on the side like the one in the picture. Both way you will look beautiful, and you can even carry this look to your college also as it is looking very sassy.
6. Goddess Box Braids
We find box braids a little complicated while braiding. But there is no comparison of the beautiful look they give to the hair. Box braiding is time taking, and you may need someone's help to braid them. In the picture, you can see that the box braiding is done using all the hair. And then once they are done, they have been tied at the crown of the head in the center using a rubber band making it a high ponytail. And then bring braids on both sides falling on the shoulders by dividing them.
7. Goddess Braids with Ponytail
We all love to flaunt our hair by making high ponytail especially if we have long hair full of volume. But how about thick braids in the ponytail? All the goddess braids are tied together in the high ponytail. The golden hair beads used on the jet-black hair for styling are making this hairstyle more beautiful. The separate braids are made all over the head, from front to back, you will have to make many braids. If you have thick hair then, this will look great on you.
8. Goddess Braid Updo
For a simple and elegant look most of the women prefer to get the updo hairstyle look. And by keeping that in mind, we have bought a different style updo which is combined with the Goddess Braid. The broad shape braid coming from the side front and is braided in the snake shape or you can say reverse S-shape to the bottom of the head. And then at the bottom of the head, only the goddess braid is made in updo style. This braid not only looks like a huge braid but is also shows the volume of your hair by the thickness of the braid.
9. Goddess Braids in a Bun
Turning multiple braids into bun gives a stunning look. Here, few of the braids are kept untied, falling and the rest are tied in a high bun. Make the cornrow braids all over the head and bringing them to the center of the head. And there you can tie the braids round in a bun form making an updo hairstyle. It's a very sporty kind of look and at the same time, it can be carried at parties or clubs also.
10. Side Part Goddess Braids
This goddess braid is styled in a different way as it is done by using hair extensions and faux locks. To do this braiding start with parting your hair from the side. You can also use ribbons for wrapping around the faux braids. For the women who have a broad forehead, this hairstyle will look very stylish on them. To make the look sexier, you can use extensions of light and dark shades of blonde color.
11. Cornrow Goddess Braids
Another stunning cornrow braids look is here for you all. This is also a perfect braid look for the long length hair. The braiding starts from the front head and goes till the back and the bottom. Women with an oval shaped face or long face can try this look especially if you have a broad forehead, as it will give a bold look to you. Wherever you will go with this look, it will grab attention. It is a simple yet a lively look.
12. Goddess Braids Dreads
These burgundy color locks are looking extremely beautiful. But this is not just a simple Goddess Faux Braid, but it is a combination of faux locks and halo braid. Faux braids are tied in the form of Halo Braids, and that is what makes this look different from other braids. In case, you don't want to get your hair colored in burgundy color, then go for faux locks extension. For making the style more beautiful, use beads in the braids of either golden color or silver color.
13. Goddess Dutch Braids
Have you ever tried a Dutch and Cornrow braid combo? If not yet, then do try this one. It will suit the women in 40's and will give them a young look. Adding baby pink color hair extensions or either getting your hair colored with this color will make it look more feminine and pretty. This will make your braids look a little bit thick and more in volume.
14. French Goddess Braids
French style braids always look beautiful, and along with the cornrow braid style they are looking very sporty. But what is making them look cool is the intersection created by the braids. You can make braids of different sizes but not very thin. So, it will be like 4 to 5 braids and then making this intersection will help you get this sporty and casual look.
15. African Goddess Braids
These braids are giving an elegant and vivid look because of the styles and the hair color as well. All these hairstyles are made using the hair extensions. They all are styled differently, but what is adding more charm to these styles is the dual color or dual texture or dual style of the hair and hair braids. Most of them have the cornrow braids along with the other braids or curly hair. You can try any of these goddess braids using hair extension if you have short hair. From traditional parties to formal events, these braids can be used in different events.
16. Cute Goddess Braids
There is no doubt that these Goddess Braids are looking very cute. And it is because of the tight and separate stitches being made in this hairstyle. In total there are around six separate braids which are styled very neatly from top to bottom. All the braids are kept on one side after they are done, but if you want you can leave them all at back also. This type of Goddess Braid is going to take a lot of time as you will have to make 6 separate braids in it. If you will view the braids closely, you will notice that they are made using three strands only. You can do this braid on different occasions.
17. Goddess Braids with Kanekalon Hair
If you are fond of Kanekalon braids, then you can try this hairstyle of Goddess Braids with Kanekalon Hair. All you will have to do is to get the wig or extensions of kanekalon hair. The kanekalon braids are usually soft and if you know how to add them along with the existing hairstyle, you will be able to get this hairstyle. Braid your hair into cornrow braids and then add the kanekalon hair extensions. Swipe all the braids at one side for letting both goddess and kanekalon braids visible.
18. Long Goddess Braids
When it's about braiding your long hair, then why to go for any other look. Go for all time classy goddess braids look, which you can wear with any outfit and on any occasion. These braids will make you look different and elegant in the crowd. You can either bring all the braids on one side or can make a bun out of it or can leave them at back. As these braids will look beautiful and classy anyway.
19. Colored Goddess Braids
If you desire to get an appealing look then here is the look, you can try. The braids along with the hair color shade are giving a chic look. The shade of purple and silver gives a very smoky look to hair. And on the top of that, the thick cornrow braids are making it look prominent. You can try for the extension of the same shades and if required, you can decorate your braid with beads as well.
20. Gold Goddess Braids
Add these gold color goddess braids in the list of your braids which you want to try. The thick goddess braids from one side to another are giving a stylish feel to the hair. Golden blonde color makes it look more awesome and the spiral shape braid is adding volume to it. Either tie all the braids together and let them fall on the shoulder. Or you can let them be separate. As it will look beautiful both ways.
21. Silver Goddess Braids
Here, we come up with another colored goddess braid. After golden, it's now turn to get your braids colored into silver color. Or you can use silver color hair extensions also. Braid your hair in cornrow braid style like that in the picture. You can go for both thick and thin braid and can tie silver color hair extension for giving your braids chic look.
22. Neat Goddess Braids
Just as mentioned in the name, neat goddess braids, so they are. These box braids are really looking very neat and the shine in the hair is making it look very classy. Take help from a hair stylist to get your shiny jet-black hair braided in box braids form. And then make a little high ponytail, wrapping it using one or two box braids. The thinner the braids, the more elegance will reflect from them.
23. Criss Cross Goddess Braids
What if you can get a stylish look with just simple goddess braids? Yes, if you will look at the braiding style in the image, you may find it a little complicated. But they are just crisscrossed over each other. Because of the intersection, the simple braids are also giving an awesome look to your hair. You can wear them to the prom night, concert, or any sports event also.
24. African American Goddess Braids
This goddess braid is in the U-shape which is giving a completely different look. The braid made in the center is braided neatly and the two circular thick braids from both the sides are combined at the back of the head. You can see three beautiful braids which are swept at one shoulder. This braid will compliment a beautiful gown or a dress. You can wear it on almost every occasion including formal one also.
25. Goddess Braids For Black Women
These types of braids are generally carried by black women, but any women can carry these braids. As they look bold and the small thin braids in between the long braids add charm to it. Black and golden hair color are used to make it look more prominent. The golden color braids kept on the shoulder stand out. Pair it up with any western outfit, as it will make you look sexy.
26. Caucasian Goddess Braids
These dark blonde braids are definitely a treat for the eyes as they are looking very attractive. They are also known as Caucasian box braids. But if you will closely look at the picture, you will notice that the volume of all the braids is different. Make braids on all your head and then flip the braids of one side to the other crossing them over the head. If you are going out on a dinner date or with your bae, then go for this look.
27. Hispanic Goddess Braids
Another classic and simple hairstyle braid which is carried by most of the African women. This simple braid style can be made easily without much effort. The only point is that you may have to spend a lot of time in braiding especially if you have long hair. The hair strands are taken neatly from both sides for making the braids. You can make up to 5 braids, which means 2 on both sides and 1 in the mid. Form a bun at the bottom of the head, by bringing all the braids together.
28. Prom Goddess Braids
If you are looking for a unique design for any party or for clubbing or for prom night or any casual occasion, then go for this braid. The braids are different in style as in the left side hairstyle, three 3 braids are coming from front to back. One of the braids is in the middle of the head and the other two near the middle from both the sides and are made till bottom. While in the right-side hairstyle, the braid is going from backside to center of the head and is made in an updo style. The braids are styled in the form of a tornado.
29. Bohemian Goddess Braids
For those with the short length or shoulder length hair, here is the perfect rocking style to go for. This bohemian goddess braids look is now in fashion. It is more of the faux locks with the side parting to give a cool chic type look. Planning for a night out, clubbing, any music festival or concert, pool party or any such fun event, so try this look. You can decorate you braid using hair ribbons or hair extensions or beads.
30. Goddess Braids with Weave
If you want to see how neat the braids can look, then check this out. Alone, it is difficult to do such beautiful braids with braiding even every small hair strand also. The baby hair strands are neatly braided and weaved in the cornrow braid to make them look tidy and well-arranged. The braiding will start using the hair strands above the ear of one side. And then make such more braids on your head. You can keep this look for around 3 to 4 weeks and can-do different variations also.
31. Spiral Goddess Braids
Whether it is a half head spiral braid or the full one, they give a classic touch to hair. Here, we have a beautiful spiral goddess braid done on the crown of the head and around it. It is looking oh-so-awesome because of the golden blonde color shade of braid hair. And the way braid is getting thicker with every round is adding volume to this pretty braid. The end of the braid is tucked in the spiral braid only forming a bun.
32. Goddess Braids Pigtails
All type of pigtails looks great as they give a funky and stylish look. But the one in the picture will surely make you look lively and fun. The braids are tightly braided and are made diagonally starting from the front mid and going to the back diagonally. These long goddess braids pigtails are good for the occasions like pool party or picnic, travelling, beaches and other casual or fun-filled occasions.
33. Fishtail Goddess Braids
For those who are fond of fishtail braids, can now get this look with the faux locks or curly hair also. The side braided fishtail goddess braid is looking charming. Getting this braid styled on any traditional occasion will turn all the eyes on you. It is a perfect braid for both traditional and casual parties. Because of the curls or faux locks, you may find it difficult to braid it alone. So, take help from a hair stylist for neatly braiding your hair.
34. Half Up Half Down Goddess Braids
Most of the women like to make a bun out of braids. As it makes their bun look huge and classy. But if you want to ditch the classy look and want to go for a cool and sassy chic look, then go for half up and half down goddess braids. After finishing the braids, you can tuck some of them at the back in the bun. And leave the rest of the braids falling at one of the shoulders.
35. Goddess Braids with Ballerina Bun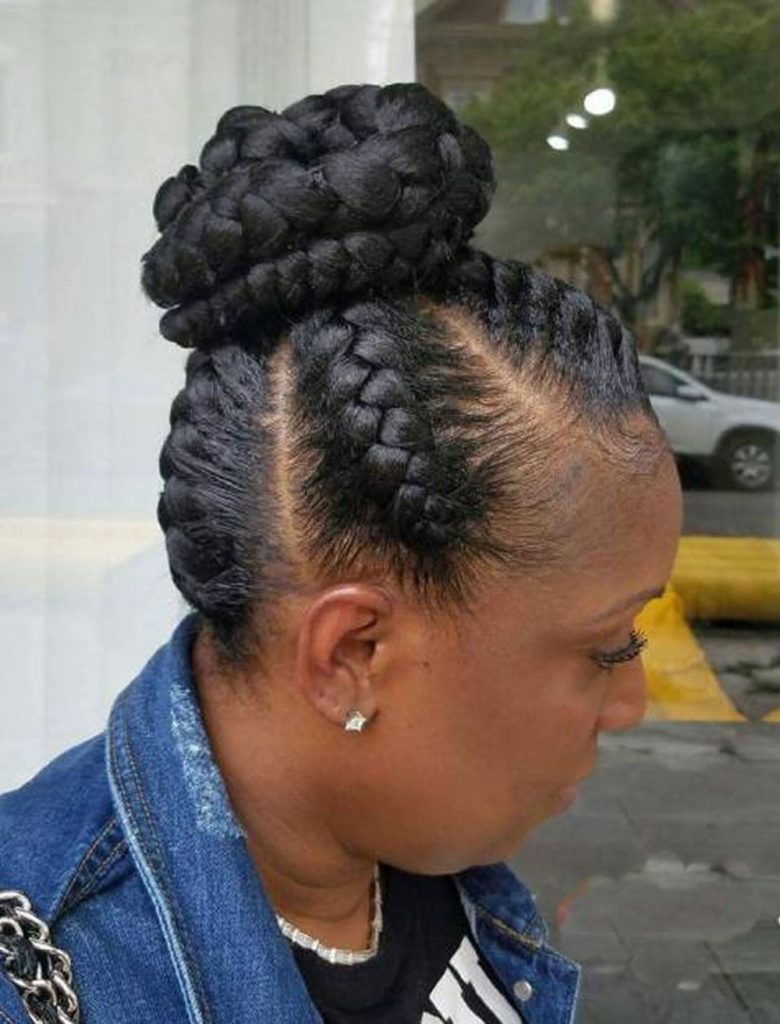 The updo hairstyle looks great for any occasion, whether it is a DJ Night Party or it is a formal party. And the one done with the braids is surely an eye-catching style. Thick cornrow braids are made all around the head. And then the braids are tied up high in the ballerina bun style. You can add on some decorative bobby pins to the bun to make it look more attractive.
36. Goddess Crochet Braids
Whether it is faux braids or crochet braids, both are available for adding to your hair. The jet-black shiny crochet braids look very bold and sexy especially on the dusky skin. And that is why it is very popular among the African women. Bring all the crochet braids at one side and add beads to them for decoration. You can add beads as per the color of your hair and braids. The goddess crochet braids can be carried for around 15 to 20 days. And you can style them up in different ways.
37. Goddess Crown Braids
If you really want to see the elegance, then go for the crown braids. They actually will give you a goddess look especially with the color shade like that in the picture. The brunette hair color and the golden blonde tresses in the braid is highlighting the crown braid. You can either simply make one goddess crown braid or can go for two also. Even if you have wavy or curly hair, still the crown braid will look great.
38. Center Parted Goddess Braids
After having a look at this braid, by now you all would have guessed which braid style it is. Yes, it is the box braid style with the braids of different sizes. There must be around 80 to 100 braids in your head. If you have full volume hair, then go for this braid. Or you can add the hair extensions to make them look broad and long. The centre partition and then the braids kept at the front are looking extremely bold and lush.
39. Rainbow Goddess Braids
Want to have a funky and cool braids look? Then, go for this rainbow goddess braids look. Adding shades of different colors in the braids is making it look vibrant and stylish. If you are going for a fun party or night out or carnival, then this hairstyle is a head turner for sure. You can make box braids using different hair extensions or colored hair tresses. Wear this with a multi-colored outfit or a black or white color outfit so that the hair color pop out.
40. Goddess Braids for Kids
For kids, we do not want to suggest you a very complicated braid style. So, here we have come up with a perfect braid style of Goddess Diagonal Pigtail Braids. These pigtails are going diagonal from front to back and are done very neatly. Starting a thin braid and then with every plait, the braid will become more broader by adding hair to it. And by reaching till the bottom the braid again will start becoming thin.
Often women are confused about which goddess braids they should try. So, here we have mentioned a few of the trending goddess braids above so that you all can look pretty and can go for the braid of your choice. We have also shared the braided bun style so that you can style up your goddess braid accordingly into a bun. Not all these braids are complicated to do and not all these braids are easy to do. In a few of them, you will need an extra hand to help you with the braiding. But, we are sure that you will rock the goddess braids look and would try more looks for every occasion. Do share with us, which of these braids you liked the most, and how many of these braids you really want to try on you.