Haircuts and hairstyles speak volume about your behavior, nature, and personality. Short hair, don't care! We literally adore these super cool and trendy haircuts that speak volume about your personality.
You only get a haircut that will suit you or something that will speak your heart out. Why follow the mass? Girls really need to set the trend by telling their likes and dislikes about everything; be it clothes, work or even hair.
It takes a lot to take care of your hair. Oiling, nourishing, shampooing and cutting and what not – it is your hair that bears those chemicals and heating rods and other elements.
Thus it has become a mandate to take care of your hair and loom after them so that they shine all the time. After all, you cannot just work with shabby hair or unkempt hair.
Create your own style by these flattering cuts like blunt, layered, pixie, undercut pixie, bob cut, side bangs, tapered, asymmetrical and many more.
Here are some hairstyles and haircuts that will suit each person differently. Let's see how and what those cuts are that will keep you rocking.
50 Cute Short Haircuts for Women to Look Charming
1. Bob Cut with Side Flicks
This is the most trending hair cut this year. So if you're the one with high spirits and sporty and adventurous, this haircut is a must for you.
Bob cut has been given an extra edge over the regular cut. Side parting or center parting – is your choice. Keep the bounce and the shine by using a hair serum. A simple blow dry after the hair cut will give you an awesome look.
2. Simple Blunt with Flirty Curls
This is a simple blunt cut if you notice properly, but it looks ravishing. The twist is that flirty curls are being given just after the hair cut.
So if you prefer that nice and crisp crunch in your hair, this will suit you the best. After using heating elements like curling rods, you need to take care of your hair religiously. A hair fixing spray is required to set those curls.
3. Medium Straight Cut with Balayage Color
This is the simplest of all hair cuts. A simple straight cut for those who have shoulder length hair. The nice and soft crunch is given with the easiest method. Apply hair serum and hair gel so that the scrunch can be made.
Now by using both the palms, crunch in some hair loosely, but tightly. Use hair fixing spray to hold on to those natural curls. The best part is that there is no use of any sort of heating element.
4. Choppy Bob Cut with Flirty Curls
In this style, a choppy bob cut is given an extra edge by medium waves and curls. Only large barrel curlers are required.
No tong or heating rod for this one. But look after your hair by using loads and loads of hair serum to protect them from any damage.
5. Inverted Blunt Cut
Loved by all girls, this inverted hair cut is topping the charts. Bu the most important thing here is that this style will only look good on those who already have absolutely silky and straight hair.
So if you're the one with those long and straight tresses, and you want some nice change, definitely try this inverted blunt. All those who have those curly locks, please never try this hair cut. That will be the utmost blunder.
6. Simple Blunt Cut with a Center Bun
This is an uber cool one. No doubt this is a simple blunt cut but getting your hair straight and tying a cool and small bun by pulling apart only half the portion of your hair from the crown area, gives a new look over all.
If you are using too much of heating elements to straighten your hair, it is mandatory to use a hair serum post your styling.
7. Pixie Bob Cut
Too much of uniqueness in the name as well as the cut. The very famous Hollywood stars inspire this haircut.
Girls and ladies from all age groups are getting on the salon seats for this cut – no matter even if they have to loose out on their long tresses.
Now, after the haircut, for the styling part, you need a handful of hair gel to get your hair with those messy locks. Do not forget to use a hair serum before you apply any gel/chemical.
8. Asymmetrical Side Swept
Here is a little flare and femininity on short hair. This cut can be styled many ways. But here is a softer version of this asymmetrical side swept.
Get an edgy look with an edgy hair style. But if you want to get this some other way, you've got to either straighten or blow dry your hair for two different looks.
Always remember to finish your styling by using a hair spray to avoid damage.
9. Jagged Bob Cut
Short hair is timeless, and they always feature a smaller and a younger version of you. So you've got all those compliments of looking younger than your age.
This haircut features a softer layer cut that will probably look best on an oval and round face. The middle parting will add to the look and will balance your looks. A middle parting will surely give an illusion of a fuller and round face.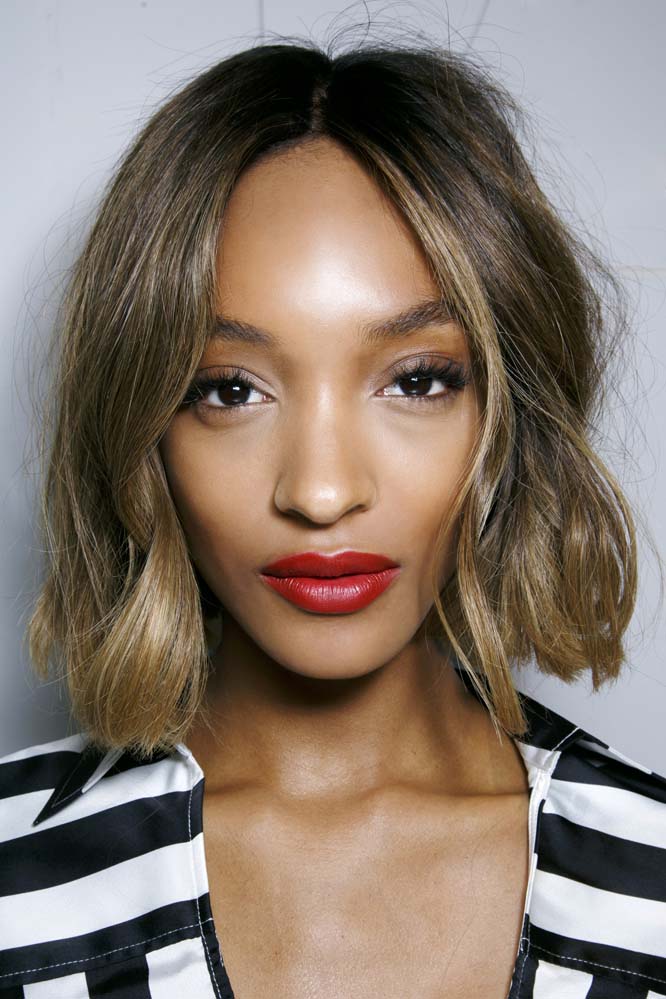 10. Smooth Layered Crop
Here is yet another bold hair cut with a softer version. So for all those who would love to experiment with their hair and have the entire guts to get their hair this short, you've made it.
This style can be worn in many ways. This cut is given by introducing smaller and cropped layers of strands.
You can style them by straightening them. If your hair is all one color, this may appear very flat, thus ask your stylists to give you an ombre or a balayage.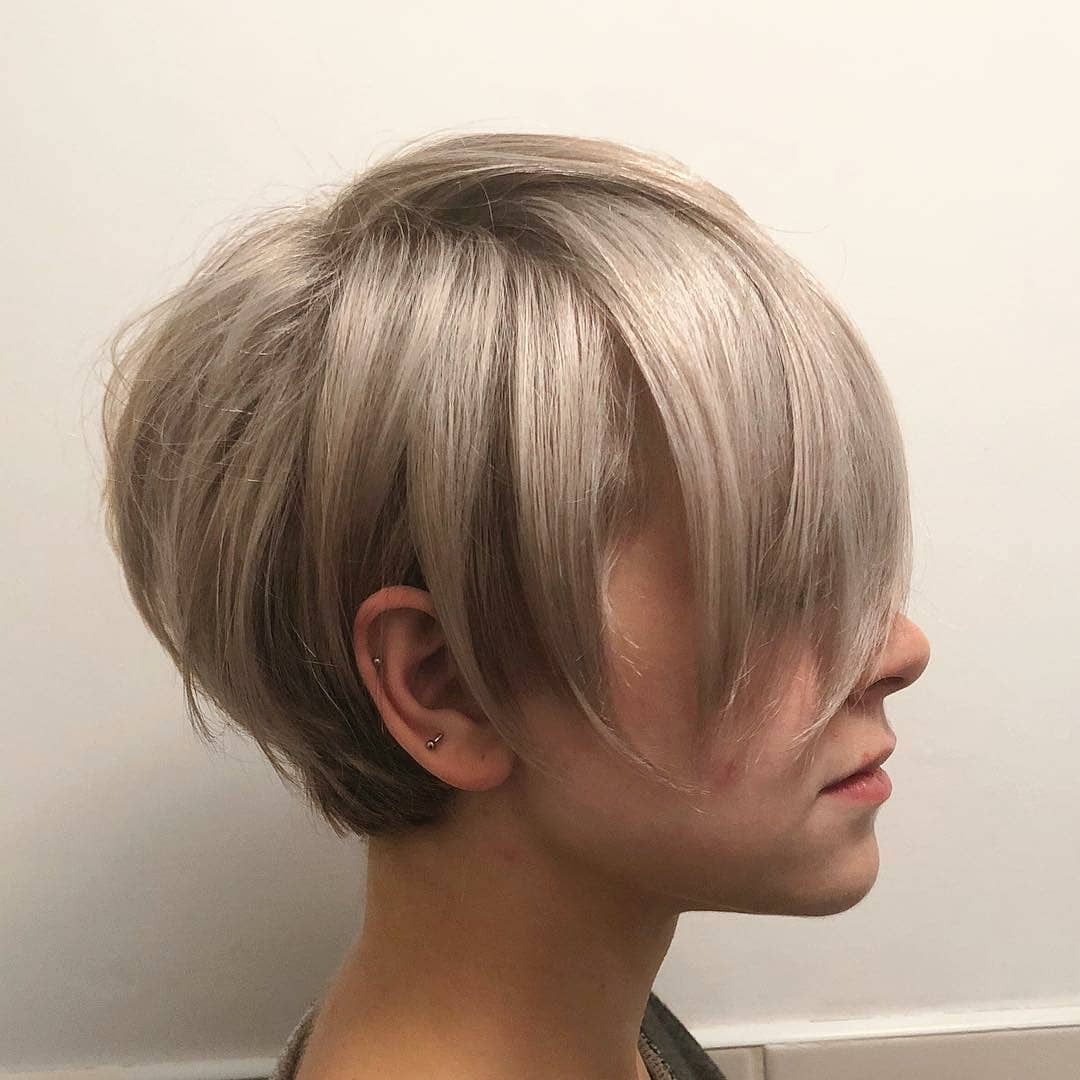 11. Soft Swept Drama with Side Parting Hair
This hair cut can be an easy entry for all those girls/ladies who love to experiment and who love adventure and sports.
Though this cut appears to be short, yet it is still long enough to tie it up in a ponytail. A deep side parting is created before this cut. All your hair is combed towards one side completely.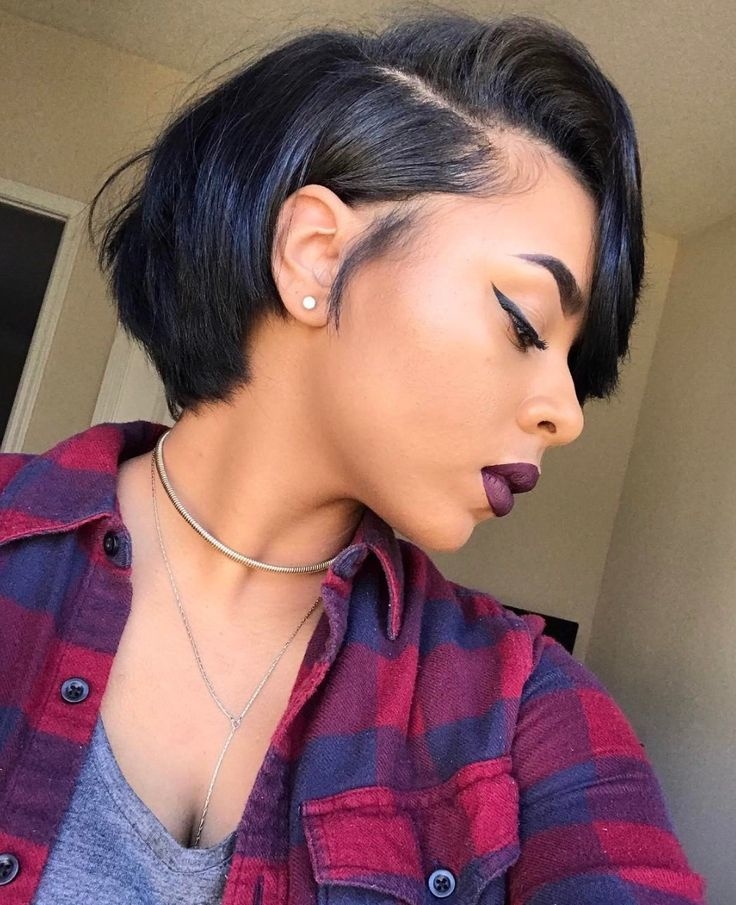 12. Jagged and Angled Bob with Blonde Balayage
A modern twist to this simple bob cut version is all set to put the stage on fire. Cut your hair at an angle, shorter at the back and a bit longer towards the front.
The cut should not be in symmetry; it should preferably be asymmetrical cut with irregular layers.
Using blonde color with balayage technique for hair coloring will be the best option for a dynamic hair style. Use curling rods or wands to shape those irregular cuts. Run fingers to give an all so natural look.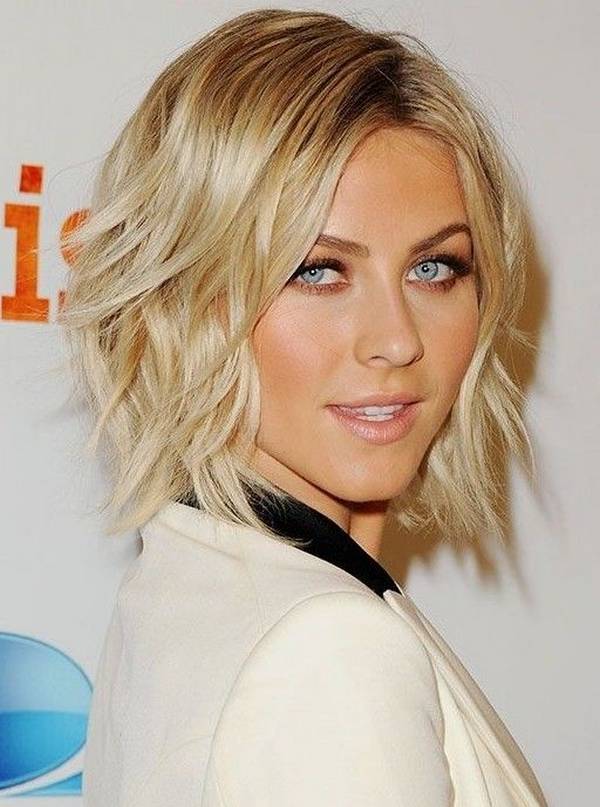 13. Twisted Balayage Layers with Simple Blunt Cut
We simply adore short hair, even if we have limited opportunity to create a style. A simple blunt is a widely used cut, but these days, simple is not acceptable.
To master this style what you need to do is to opt for uneven texture and an uneven cut with layers added to it.
Use curlers to get those natural and soft curls. A well-blended balayage with copper highlights will give great looks and even greater opportunities.
14. Simple Blunt with a Neat Updo
Nothing much required to get this "girl next door" hair style. Just a simple blunt is not at all sufficient.
But if you're the one who doesn't like to experiment with hairs, this basic styling of pulling half hair and pinning it up at the crown area is the perfect setting.
Though this style and the cut is a very basic one, you can wrap a hair band or a head band to give that extra edge to your style.
15. Short Layered Jaw Length Bob with Curls
Want an altogether different styling and a cut, this one will surely do wonder. Texture can really make a difference – yes; but a cut will also make a lot of difference.
Effortlessly created waves are in this season. Girls and ladies of all age group are on a spree to experiment with their hairs.
This short, jaw length layered bob cut will give that laid back vibes. After all, a casual walk with friends and wavy hair with cool styling is the most distressing thing. The waves surely will give a voluminous look to thinner hair.
16. Nape Layered with Side Bangs
Mix this cut up with different lengths and create a new cut to give a twist to the bob cut. The variations in the lengths will make it more interesting.
Not to forget that this cut will definitely bring movement to your hair. Where as a simple blunt bob cut might not look that interesting or seems boring at the same time.
This cut can be tried with varied hair length so that if you want a little lengthier hair, you can tie them up. Create a side parting with little flicks.
17. Extremely Short Undercut Pixie
Now to all those who have this fear of cutting hair, stay away from this hair style. But if you have the gut to carry this style, you're on an adventure ride.
A short and undercut pixie can take the look from sassy to artsy. Though not much volume is left in this hair cut, it is ruling the charts with ladies especially in their early 40's. Even though this is a super short hair cut, it gives class and super feminine factor.
18. Twisted Balayage Hair with Layers
Short hair with hair offer great likeness amongst all the females. These sand balayage highlights on the short layers will give a modern look.
Accentuate the layers by using curlers for natural waves. Curls should be done with random strands.
19. Jaw to Nape Layered Blunt
Mix this hair cut with different lengths of hair. Cut shorter layers towards the front and a little longer at the nape of your neck.
Create a deep side parting. Use a dryer to give volume to your thin hair. Finger comb your hair.
20. Long Pixie with Layers and Root Fade
Cut your thin hair into a cute pixie haircut. Refer to the stylist who is well aware on the cut. Add dimensions with your choice of color.
Create a balayage look. Make your crown with a faded color that will blend seamlessly into your hair. Make the highlights thick and choppy in order give a natural look. Create s deep side parting.
21. Bowl Cut with Asymmetrical Front Edge Bangs
Undoubtedly an irregular cut with one sided front edge bangs. This hair cut is absolutely a game changer one, and I am sure will not be liked by many females.
So the one who is ready to change the game and for the one who is willing to experiment, this bowl cut with the most happening twist is here. Set the edges with hair gel.
22. Blunt Cut with Little Flirty Curls
The hairstyle is no doubt a simple blunt cut that is up to the shoulder length. Do not get mistaken with the length here, as the hair seems short because of the little curls.
You need to use little barrel curlers and tongs for creating this chic and super sexy look. Create a side parting and finger comb your hair henceforth. Get ready with that oomph factor for your prom night.
23. Cute Short Blunt with Waves
Not really a well defined and well churned blunt but this hair cut does look like an unkempt and not so perfectly trimmed blunt with little waves.
This cut gives a chic look as it provides those natural looking waves as if the girl naturally has those unkempt waves. This is best suited for girls with sharp features and thinner face cut.
24. Straight Cut with Space Buns
This is a simple haircut but is giving some severe style goals by all the teenagers, fashion stylists, and bloggers. This is yet another simple blunt – straight cut with center parting with an space buns.
This look creates an illusion of a carefree personality with a chic style. The bloggers and stylists recommend this style and all are following it.
25. Bob Pixie Cut
Easy to cut, easy to style, easy to carry and obviously easy on the eyes; this bob pixie cut is giving some major style goals to all the girls out there. All those who are free spirited and wanderers, they must own this style and cut.
26. Cute Textured and Layered Straight Blunt
A simple description about this hair cut in one word is – textures. Without much efforts and time, this hair cut shows some major layers and textures of colors.
However, this cut still gives a fuller look. I recommend using some anti gravity hair spray to get the natural curls. This cut would look create an illusion of fullness.
27. Bob Cut with Perms
This hair cut is yet another game changer of the moment. Imagine yourself getting a bob cut, and finally, you get out of the salon with these heavy perms (solid curls).
These curls are fixed with anti gravity hair serum and hair spray. And obviously, this creates an illusion of fullness.
28. Extremely Short Boy Cut with Front Fringes
The cool bohemian look is heading the charts this season. Get an extremely short boy cut. Take a good amount of hair gel and just rub it on your hairs.
Comb it lightly. This hair cut gives a flirty look and will make you appear younger than you are.
29. Layered Boy Cut
This look is for those who can carry a bold and a stern look, especially the college girls. A regular boy cut with deep side parting and long cut till ears.
Medium sized straightener are used to give those bold layered effects.
30. Extremely Short Curls with Side Flicks
This cut has always been in fashion and has always been loved and preferred by all. So this hair cut gives you're an extra edge of looking pretty even in short hair.
Those polished curls are entirely kept, and a well-blended balayage gives the effect.
31. Slight Inverted Blunt Cut with Top Knot
A slightly inverted blunt cut gives an edge to the regular hairstyle by tying a knot with half up. Try this haircut and see how amazing it looks on you.
32. Brunette Pixie
This is a neat honey brunette pixie hair cut, one of my favorite haircuts these summers. The warm tones of honey brown balayage melt give a natural and a nude tone.
This adds and accentuates the looks of any female giving that sporty kind of a look.
33. Sexy Razor Cut with Front Fringes
This look is a very sexy and edgy razor cut with front fringes. The ends of the hair are incredibly textured and remove that bulky looking edges, thus creating a fragile line.
Scrunch your hair with the help of your fingers and palm. Use hair serum to retain the scrunch.
34. Low Maintenance Short Bob Cut
The bob hair cut is a timeless piece. I love the fact that it can be achieved very easily and at the same time it can also accentuate your look by its various versions. This version adds different hair stories for each.
35. Neat Razor Cut for Medium Lengths
This is yet again another classic haircut of all times. It can be achieved by creating a razor cut and using pressing wands to get that edgy and sleek look.
36. Neatly Pulled Back Updo
This is a unique and a rarely done hairdo. Usually, females do not like to experiment such haircuts and hairstyles. But this one goes for all those who want that creative look.
All you need to do is to get your hair cut extremely short but if you already are the one whose hair is short enough to get this look, bang on!
Take a generous amount of hair gel in your palm. Now rub in backward position on your hair/head. Use a broader comb for combing.
37. Beach Waves with the Short Haircut
This is one such hairstyle for those who are carefree and stylish ladies. Someone who can carry this girly style with all that ease and fashion. All you need are those large barrel curlers.
If you do not have them, your large rolling tongs will also serve the purpose in the best possible manner. Create a center parting with your comb.
Pull each section of your hair and roll them in either your heating rods or tongs or curlers. Keep repeating this step with every section of your hair till all are done. Finger comb your hair lightly.
38. Choppy Pixie with Charcoal Color Melt
If your personality is more of a wanderer, then this haircut and color are just the best for you.
All you need to do is to blow dry your hair after you get your hair colored with a beautiful charcoal black color melt. This covers your complete global look.
39. Choppy Bob with a Deep Side Parting and Honey Blonde Balayage
This season is surely to tame your rough and damaged hair with those beautiful balayage color melts.
To give a simple look, this style is choppy bob with a deep side parting along with honey gold to blonde ombre – balayage melt.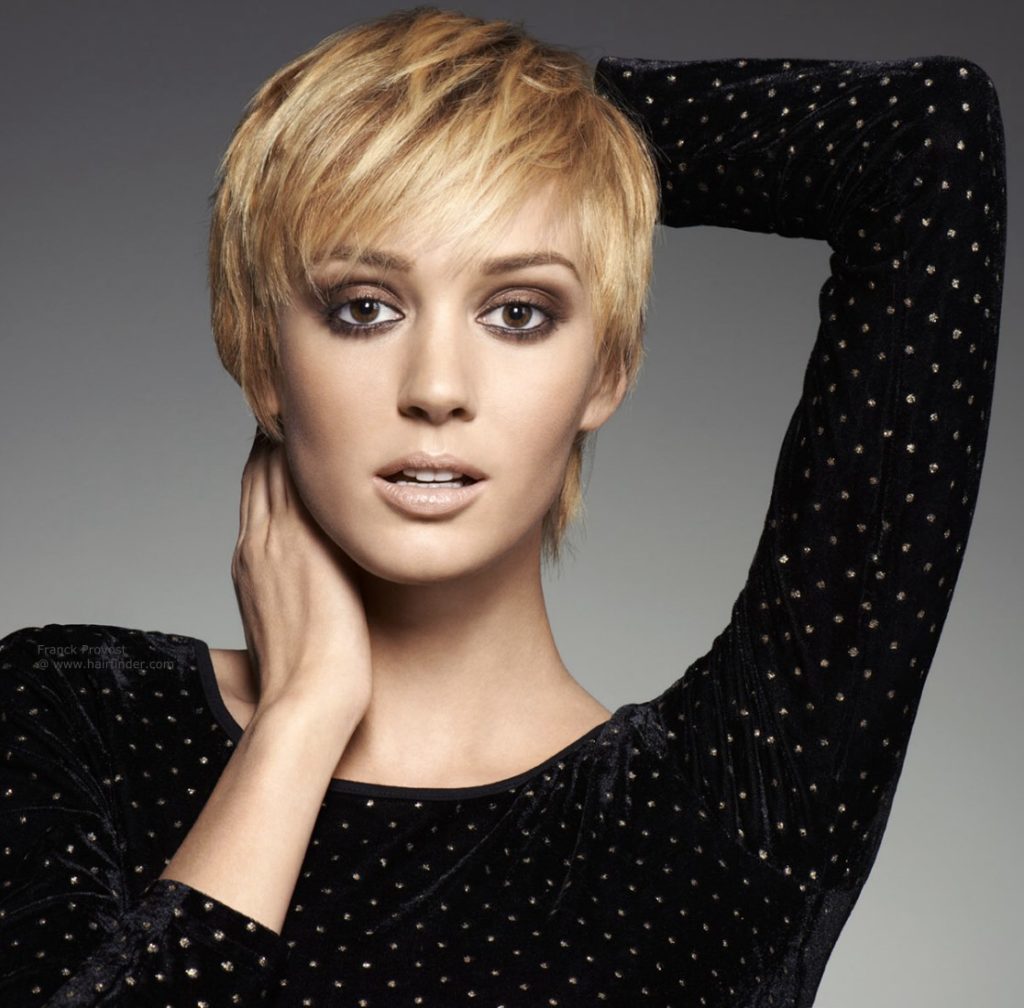 40. Bob Cut with Side Twists
A simple and evergreen bob cut has now a different version just like those with long hair. Create portions from side locks and twist and turn into a braid. Secure it firmly. You are all ready to rock.
41. Shaggy Bob with Brown Hair and Blunt Fringe
This is a simple bob cut where the crown area is completely covered with grays. Simply use large barrel rollers and roll the edges of your hair. And you are ready.
This style works great when you have front flicks with silky and smooth textured hair. Scrunch your hair a little with your palm. This will give a messy look.
42. Asymmetrical Bob
A really different hair style and a haircut. For all those who can dare to pull this cut off very strongly, this is highly recommended. An asymmetrical layered cut for short hair is all that you need.
43. Fringe Cut with Cute Choppy Bob
Simple yet a strong haircut that reflects your personality. After all, a choppy bob is too common.
Twist the haircut with front fringes if you have thick hairs. Give your hair a damp and a fresh look by using some hair gel.
44. Simple Bob Cut
A smooth haircut with a different transformation in the hairstyle. This cut and style give you an altogether different and a bold look.
Best works on those who have light colored and silky hair. Comb them neatly to get a neat look.
45. Choppy Bob with Copper and a Tinge of Brown Melt
If your personality is more of a wanderer, then this hair cut and color are just the best for you.
All you need to do is to blow dry your hair after you get your hair colored with beautiful copper – brown melt. This covers your complete global look.
46. Simple and Heavy Perms
This is a rarely used hair cut by females. All those who can dare to show off their strength are the ones to pull it off well. Simple permanent perms for those who have thin to heavy hair are perfect.
47. Simple Choppy Bob
If your personality is more of a wanderer, then this haircut and color are just the best for you. Simple and short layered cut is all you need to get it done. Comb your hair to give a neat look.
48. Light Ringlets with Copper Red Balayage
If you are the one with short hair, this will work great for you. All you need is the roller rod or the curler rod to give these light ringlet effect. Copper red tones of hair are the talk of the town.
49. Messy Beach Waves
Waves and ombre surely can create a bold yet a natural look. The color is well blended in the hair that it does not fail to give a natural graying effect. Those messy beach waves can give a bold look too.
Beach waves can be created by using hot rollers or curlers. Curl your hair by getting in grip some portions. Keep repeating till you complete your entire hair. Front fringes too need to be curled.
50. Simple Pixie Cut
Smaller hair looks great. Who doesn't like short hair? Pixie with a little shorter version here is the cut of the day.
Females and girls are all ready to give boys competition to show that even they can carry a shorter pixie version so well. Well trimmed and neatly cut pixie style is a perfect example of a great hairstylist.
These are some of the amazing cute short haircuts you can try this season and have a blast with your new look.