When it comes to styling hair, many hairstyles can suit your style. Braids are one such hairstyle that can never grow old with. There are apart from the aesthetic part a lot many other advantages that braids have.
Few such perks of having a braided hairstyle are that braids are easier to keep and maintain. For the busy employee or student who lacks the ability to just wake up and not have to spend extended periods in front of a mirror is priceless.
Nowadays Braided hairstyles are trendy. Blends of different imaginative hairstyles can motivate braided hairstyles.
Braids are fun and easy to do. But you still require patience to create your own classic hairstyle. A well-managed and nicely done braid is indeed attractive. This hairstyle is best done when the hair is still damp after a bath.
The braided hair would last all day after adding some hair spray or hair gel. If you do have some decorations or other hair accessories that could add a sense of elegance and simplicity to the braid, you may combine it.
Braided hairstyles are always in. The newest trends are just growing out there, but it is still a braid. In fact, Braid hairstyles are adorable and sexy and are quickly growing to be a popular trend.
Surely you will get the best hairstyle you've always wanted for a specific occasion from simple to complex hairstyles. Always take some time to look at the mirror.
Take some time to select the styles that are suitable for your hair type. Braided hairstyles are always in. Don't hesitate to be who you are. If you want to have your hair braided, go for it because of girls totally just like it.
One such hairstyle is the lemonade braid. The Lemonade braids are a type of braids used to style black women's hair. The hairstyle got its claim once when Beyoncé wore it in her visual album, Lemonade, in 2016.
25 Charming Lemonade Braids to Rock Your Appearance
Spiral Lemonade Braid
This is one of the very intrastate braids that have a spiral effect and is weaved from the very center of the scalp. This hairstyle is great for girls especially the teenagers. Women of all ages waiting their turn as skilled braiders.
Braids are hot. At times, it seems like there aren't enough braiders out there. This hairstyle can be combined with various beads and such other hair accessories. These long braids are gorgeous and will give any girl a stylish funky look.
Long Lemonade Braid
Our next Lemonade inspired hairstyle features thick side braids. In this hairstyle, you have both the Fulani style mixed with a little bit of cornrow hairstyle.
If the vibrant colors and funky accessories aren't your thing; you could go for braids that simple and beautiful like these.
These long braids are indeed elegant and will impart any woman a stylish, chic look. Always remember that the tresses must be braided towards the side.
Thin Patterned Lemonade Braids
It's not just new colors that can give your hair a stylish update. You can use patterns too. This hairstyle is known for showcasing thin braids creating a leaf-like pattern.
By this, you can get a unique look. There are so many kinds to braid your hair so that you can try different looks. This super stylish side braids will go perfectly with a warm blonde tone.
This hairstyle adds a lot of texture to your hair and thus provides a subtle volume as well. Be the glamorous you with this thin patterned lemonade Braids hairstyle.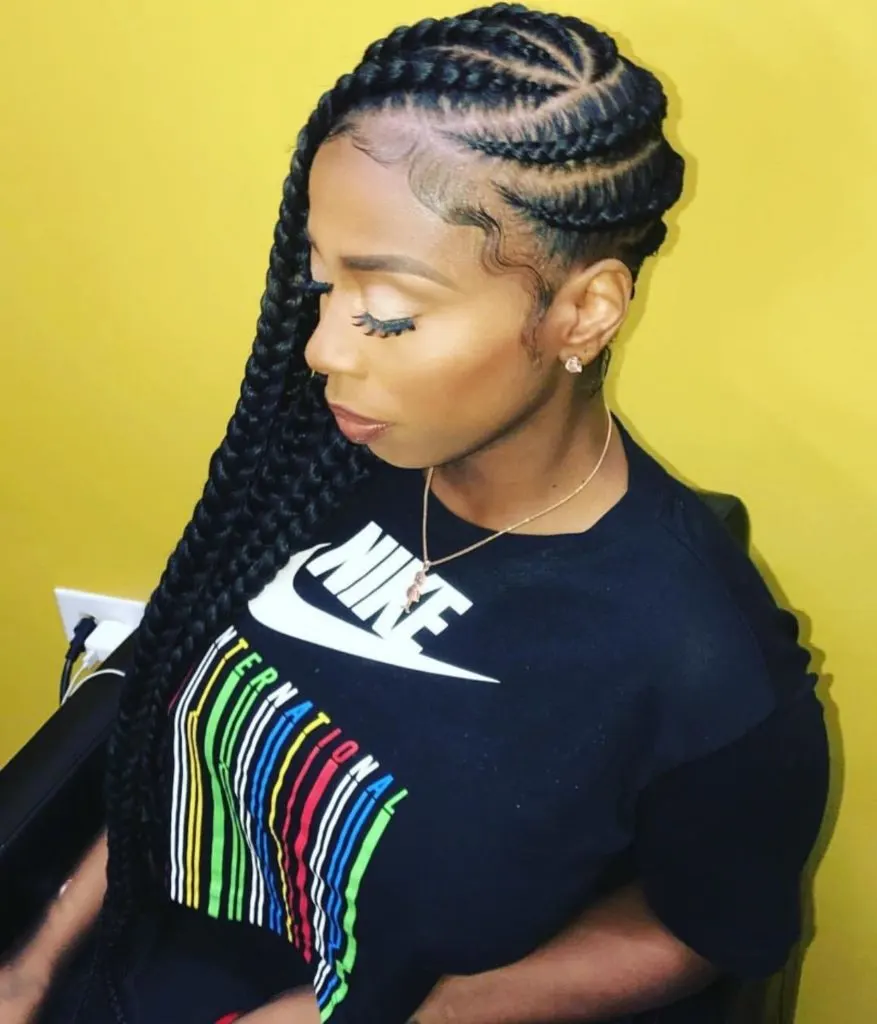 Lemon Tinted Lemonade Braids
Lemon-yellow blonde braids are the fashion statement. Make a side parting while making small gold-toned hair cuffs, the orangish shade will elegantly bring out the golden hues in your skin tone.
This hairstyle is a very intense one. The scalp area consummates a thick weaving of so what narrow micro braiding while the later have has braids with slightly broader diameter.
The stark comparison incorporated between the two forms of a braid and that too in the same hairstyle makes it all the more unique. This hairstyle has that style quotient that emphasizes your fashionable personality.
Crochet Lemonade Long Side Braid
Well have you known something exquisite out of the box? This is a hairstyle that can steal you all the limelight, get the glares on! This hairstyle is the one that can actually be the talk of the vent.
It has a definite dramatic edge to it and also as it is lengthy it incorporates hair extensions. This is a protective style. In fact, the length is something that you will just fall in love with.
Longer braids will give you the edge and look that can be the actual trendsetter. This Crochet lemonade long side braid is a sure try on thing for women who are in love with braids.
Warm Tone Lemonade Braids
We have featured a few lemonade braids with color and here is another example of how adding different colors creates an amazing look.
Running through this Warm Tone Lemonade Braid is just gorgeous with its side braid style having a warm shade. You can brighten up your look for spring and summer, by adding a lighter shade to pose for a contrast.
This hairstyle can be paired up with a solid color maxi dress to complete the look for a quintessential summer day. Bring the hotness in style. This hairstyle is one of the most versatile ones.
Ponytail Braid
This hairstyle is cute stylish and gets well with a college student or the teen group. This hairstyle incorporates braiding through the entire length of the head.
After you finish, gather all the braids, i.e., the multiple braided strands together and tie them up in a top ponytail. This hairstyle adds height and highlights the crown areas.
The topknot showcasing your long shiny braids coming from the center of the bun looks really ravishing on anyone. You can also style the knot by adding some glam hair broaches on it to add the element of glitter in it.
Full Scalp Patterned Side Braids
Take three to four strands and sectioning your hairs and start to subdivide and braid each individual strands. After you do it, there will be a braid consisting of the thinner strand from your hair.
Repeat through the whole hair. By the multitude of braids twisting and turning in every direction, no part of the scalp is left uncovered. Pewter-tone metal hair clips can be added to decorate just a few of the multiple braids.
This hairstyle tends to provide a lot of space to your face. So if you have a small face, then this hairstyle is just perfect for you as it will give you that breath which makes a face looks well defined.
Rapunzel Lemonade Braid
What comes in your mind when you hear of Rapunzel? It's definitely the length of the hair right? This hairstyle the Rapunzel Lemonade braid is one of the quintessentially long braids that are extremely bold and dramatic and a bit out of the box.
This hairstyle has the colored or dyed extensions attached to the braids and the fun [part is it is really long. The length adds to the USP of this style.
Trendy Pink Long Lemonade Braids
If you require a hairstyle that will look stylish for any occasion, then check out this look. The hair is styled with a subtle pattern, and the braids are simple and long.
The fun element of this hairstyle is introduced through the gorgeous bold pink color that is definitely very attractive. It is versatile and easy to wear hairstyle, that will keep you looking gorgeous from work to the dance floor.
Slit Braid Lemonade Hairstyle
This hairstyle is very elegant and stylish. This can be a perfect evening or a nighttime hairdo that can steal the show for you.
The uniqueness of this hairstyle is that it incorporates the braids, as well as the loose end style.
Princess Bun Lemonade Braid
From the name itself one can understand that this lemonade hairstyle is one of the pristine ones. This princess bun can hold a tiara and increase the royal feel of the style.
In this hairstyle after the braids are done the entire lot id taken and twisted to form a mounter bun on the crown area of the head. This is presumably the most fashionable way to style your box braids into a great updo.
The benefit of styling your hair in a bun is their variability. You can go for high buns which might be a bit heavy or loosely secured, more compact, simple, or tight, or may even be done with braiding.
Beautiful Braids to the Side
The next braided style is beautiful! These braids are very long and feature a gorgeous pattern. Hair like this looks effortlessly stunning and it a style that will keep you looking glam every day from work to nights out.
This is one of our favorites! This is a creative and unique way to color the hair. Recreate the look or try a different color. Either way, your hair will look amazing.
These Asymmetric braids which kind of looks like box braids are wrapped on either side of your forehead, gives you a smart look.
Trendy Lemonade Braid
These trendy lemonade braids are quite thick and have a fashionable pattern. Even though the braids are simple, still they will make you stunning in the crowd. This is another set of braids that will look awesome in another color.
Summer Blonde Braids
Looking for a new hairstyle for the spring and summer? Then these braids could be perfect. These braids feature multi tones. Different shades are running through the braids including black, brown and blonde.
The multi tones create a natural-looking, sun-kissed set of braids. However, in summers do take attention to the moisture content of the hair.
Ways that you can replace oils is to use a homemade spray consisting of natural oils such as almond or jojoba oil, water, and essential oils like lavender oil or tea tree oil.
Fulani Braids Lemonade Pony
These Fulani braids are mostly done with style to create unique styles which can vary from thin-to-medium tightly plaited braids which remain close to the crown part.
One can easily use hair extensions for this style. Combine them with symmetrically curved head braids and extra-long golden blonde extensions that pop out of the wrapped ponytail.
Classic Lemonade Braid
These cornrow-style braids are the typical Beyoncé style had in mind when she asked her faithful hairstylist to create a new look for her Lemonade visual album. Ever since they've been an example of classic lemonade braids!
The braids are Simple and straightforward. The cornrows are Intricate and uber-skinny, it's a style that works very well for women who have extremely thin and fine hair.
You can also add extensions to this as it will add up to that extra glam quotient. This hairstyle constitutes of two side partitions.
Thin Lemonade Braids with Highlights
We mentioned how trendy cuffs look on braids and earlier we showed you a braided hairstyle with gold cuffs.
The cuffs just give the hair a different finished look and are easy steps to accessorize. The highlights front end adds a bit of color to the hairstyle.
Cornrows with Artistic Beaded Twisted Braids
This hairstyle is definitely a piece of art. It is something so beautiful that it is bound to hook other's gaze. Collect all the braids in a angled way near the crown part.
Loosely gather them, back swept them and make a twisted bun which falls elegantly at the back, like a vertical "waterfall."
Beads of many shapes and sizes are artistically arranged in the bun and adorn the end of each braid. This hairdo is indeed a great one.
Geometric Blonde Cornrows
Whoever said that cornrows always have to go from front to back have obviously never seen this creative pattern?
This has a very twisted feel to it. You don't really need anything else in terms of jewelry or hair accessories because the hair color has got it all!
Blue Chunky Braids
In case you want to try some exciting, out of the box lemonade braids with color, this is the one for you.
Thick and curvy braids wrap throughout the scalp, taking on the form of a royal crown before cascading down to one side like a veil.
Bi-color Lemonade Braid
This hairstyle is cute and has quite a lot of spunk in it. The hear style is parted, and the braids are tied in two halves like two ponytails. One side has blue hue and the other pink. The entire hairstyle is cool and fun to sport.
Stylish Royal Blue Lemonade Braid
Braids can start anywhere on the head. These next braids start one side of the head and then are braided around to the front side.
This is a funky hairstyle as it looks fresh and stylish like a take on crown braids. You could recreate a similar look and even add in some vibrant blue colors to make the hairstyle unique.
Brown Lemonade Braid
The color brown are an additional element that you can introduce into your creative hairstyles.
The looks give a definite amount of sharpness to the face as well as the entire look. Pair the look up with a decent sleeveless shiny short dress and you are done.
Color Pop Lemonade Braid
There is a popup of green color that is knotted on the top of two ponies. The look exhibits creativity and originality that make your hair awesome and great.
Always take out some time to see the mirror. Take some time to select the styles that are best for your hair type.
This hairstyle is a very protective one. Be it in the harsh winter that tends to take way the moisture from your hair or the dry summers that make your hair dusty and oily, this hairstyle is so minutely enclosed that it protects the hair cells from friction or extreme weather conditions.
A large advantage of having braid hairstyles is that you don't have to shampoo your hair as often. In fact, if you do, you may end up making your braids frizzy or if you are using extensions, you may unfix them by chance.
However, once a week or once every two weeks you should be able to keep your scalp and hair clean by shampooing your braids.
As an ultimate guideline to shield braid hairstyles, always cover your hair at night with a satin or silk-like scarf. For protection, you can also use a hair net with large holes as well. So what is the wait all about? Try these hairstyles.
Choose from all the above-mentioned styles and look the gorgeous diva you are.