Winter leaves your hair looking uneventful and fragile because of the hibernation under the beanies for the whole season. But as spring arrives, with the trees and bushes growing new leaves and flowers, the hair also tends to be ready for the new change. For the new energy, in the new season, to get out of your comfort zone to attend the parties, late-night shows, proms and wedding events what would be a better way than to start making changes with your hair, giving it a new pretty and lively look with these trending Spring hairstyles. These hairstyles will leave you awestruck, say goodbye to your beanies till next winters.
To make each day better and glamorous in spring with the pretty looks, we have come up with some amazing hairstyles which you should definitely give a try. These hairstyles are not only cute and amazing but super-easy and adorable for the whole new look you are waiting for.
21 Spring Hairstyles to Outshine Your Beauty
French Braided Hairstyle
When you have such nice-looking highlights for your hair, hidden for 4 months of the winter season, the best way to out show is a cute French braid from the center tied with a rubber band, leaving the rest of your hair free, and to make natural curls using a curler. To make French braided hairstyle, take a portion of your hair from the front, divide it into 3, make the first braid and for each next twist take a strand from the right side for a left twist and vice-versa. Use French braided hairstyle for a casual day-time look best suited with the choice of your jeans.
Rolling Twists Hairstyle
Natural wavy hair freshly washed giving a beautiful and easy look with just some twists and rolls, rolling twists hairstyle is perfect for long hair with a neutral volume. Just take some strands of one side of your hair roll it, add some more strands, twist it and roll again and repeat till you reach the center and for the other side as well. Tie with a hairpin or a rubber band, and you are ready within 2 minutes with an amazing hairstyle. Suites with all kinds of dresses and it looks so lovely despite being simple.
Double Buns with Front Braid Hairstyle
The Super-versatile double bun has officially taken the place of half-up and half-down buns, and it is the trendiest girl hairstyle for the spring season. It is an easy and super delightful hairstyle. Simply made by center parting the hair, make French braiding on each sides to less than half of the length and rest of long hair is used to make a bun and with the help of bobby-pin, secure it. Repeat the same process for the other side. Twin bun with front braid hairstyle is funny yet super cute. Add more glamour to the style with a pair of cute shoes and a loose T-shirt.
Half Side Dutch Braid
A beautiful half side look with a cute Dutch braid gives you an appealing sensual appearance. A Dutch braid is similar to the French braid except for the strands in Dutch braid are crossed under the braid instead of over in French braid. It is also called "Reverse French Braid." Dutch braid usually looks better on the left side and keep your fringes outside the braid that gives more beauty to Dutch braid hairstyle perfect for a day on the beach with the people you love.
Twisted Bun Hairstyle
Stylish, cool, and easy to maintain, twisty bun hairstyle is a nice choice for spring. If you want to choose an elegant hairstyle for some important ceremony, then go for it. Just take some strands of your hair from one upside and twist after half-length and secure a bun. Repeat the step for the right side and then a big chunk remaining from the lower part. Apply hairspray to keep the bun in place for a longer time. So, few strands and a twist and secure it with hairpins for a well-stylish hairdo for weddings, proms or office events.
Chopstick Curls Hairstyle
As the name suggests, it is a super cool hairstyle, very familiar and so much liked by all girls over all ages for any kind of occasion. We have a unique way of getting curly hairdo without any heat. After washing your hair, comb the hair to remove the tangles. Hold a small section of your hair and twirl it around the chopstick and secure it using a hair tie. Do the same for the remaining hair and allow it to dry. Gently remove the chopsticks by taking out the clip or tie and the amazing curls are ready to rock.
Messy Bun Hairstyle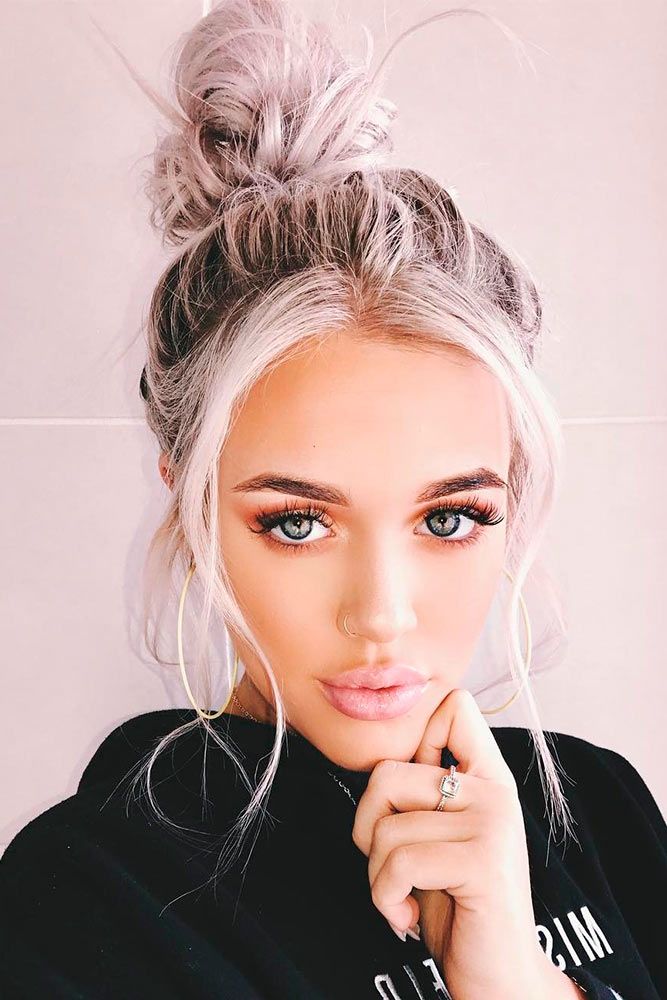 Best for Spring outings, where you enjoy the wind blowing without the worry of maintaining your bun. Updo bun hairstyle is messy still cute and looks delightful, and it is super easy. Just gather some sections of your hair like you would make a ponytail and twist it once and again and secure it with an elastic band leaving the ends out. Pin down any of the loose ends except the front two strands for a frizzy appearance.
Knotted Bun Hairstyle
An easy-going hairstyle especially when you have medium length hair and still want to tie. With no much effort, just gather up all your hair and wrap it in a low side bun with a knot. With the help of hairpins, secure the bun and let the fringes tuck behind your ear. You can try knot bun hairstyle with variations like to keep it in the center or adding some hair accessories to it. Knot Bun hairstyle is the easiest bun you could make still giving a cool and nice look for a casual day at work.
Interweave Ponytail Hairstyle
Looking for a care-free day at the gym with an amazing appearance then Interweave ponytail hairstyle is for you. Perfect for workouts when you want to keep your hair away from face yet stylish. Make a high ponytail leaving front section hair loose, then make a French braid for the front portion and remaining strands wrap it over the ponytail and secure with a bobby pin, and you are ready for the workouts.
Twin Bubble Pony Hairstyle
Perfect for curly hair, sporty look bubble pony hairstyle is in the new spring trends. Best for high school girls when they have a tiring day and lots of activities to perform daily. For casual looks, when you have a high volume of hair, it can be difficult to manage in a single ponytail. After making a ponytail, tie another rubber bad halfway to the ponytail and leave the loose front strands for a dreamy look.
Carrie Waves Hairstyle
Just let your natural curls rock the spring season keeping your straightener away. Carrie waves hairstyle is named on the carefree aesthetic hairdo preferred by Carrie Bradshaw, keeping her iconic loose waves open with a center parting. Center parting is the supreme trend for spring hairstyles with not so messy look. Suited for any occasion, party, function or festival when you have nice volume and naturally wavy hair.
Sandra Bullock Haircut
One of the greatest American actress, producer, and philanthropist Sandra Bullock's haircut is a nice choice for spring look if you want to keep up to shoulder-length hair. Works well with both straight and little wavy hair. Thin Layers to perfectly cut hair does not even need a hair tie or accessory for the whole season. You can try Sandra Bullock's haircut if you are planning for a medium cut with a little layered look.
Bob Cut
Looking for a jawline chop to feel fresh for spring then A-line bob cut is for you. You need to ask your hairstylist to cut your hair between the bottom of the ear and below the chin to keep it blunt and an bold. When your hair grows, a bob cut will allow it to be grown evenly. Try bob hairstyle if you are planning for a short haircut to look blunt, confident, fresh and be carefree this spring.
Bobby Pin Hairstyle
Don't want to keep running hands through your hair without ponytail or hair tie, pin up one side of your hair with two bobby pins. Take some strands of your hair from your right side and secure with bobby pins on both sides. To add variations, you can try different colors and shapes of bobby pins. Bobby pin hairstyle is a versatile hairdo with simplicity to add glamor to your appearance and helps you uncover the beautiful pair of earrings with your favorite outfit.
Extended Curls Hairstyle
A lovely hairstyle for all the girls with long hair. Extended curls hairstyle looks very attractive, super charming, and sexy for spring. Just like the bushes and trees growing new flowers, you feel fresh and lovely with the curly hairdo well-styled with a tiara or your favorite hair accessory. If you don't have natural curls, just use a curler for a super sexy look. Extended curls suites with printed outfits and highlighted long hair.
Updo Pineapple Hairstyle
For every curly hair girl, pineapple hairstyle is a must-know technique for keeping the curls frizz-free and well defined. Usually, curly hair girls prefer updo pineapple hairstyle before going to bed, but Rihanna has been amazingly maintaining her flawless ringlets with Pineapple updo. To achieve pineapple hairstyle, you need to pull all hair toward the top of your head, sweeping ponytail very close to the hairline. Secure the ponytail with a loose base and wrap your pineapple curls over the elastic band for a cute and sexy look.
Twisted Twin Ponytails Hairstyle
Cute and funky look pigtails are super easy and take less than 5 minutes to make. One of the must-try spring hairstyles is achieved by making two ponytails on both sides with center partition. Make a hole above the elastic and pass the ponytail through the hole. Add another elastic and repeat the process two times and so on based on the hair length. Add volume to the hair by just pulling the hair outwards at each step. Lastly, run your fingers throughout the hairstyle to make it messy and loose, and the final look would be amazing.
Beautiful Long Hairstyles for Fall
Scarf Hairstyle
Cute scarf hairstyle is perfect for medium to long hair length and looks lovely when the scarf is matched with your outfit, and it is a very easy way to tie your hair to get rid of the heat in summer. To get scarf hairstyle, take the scarf from the bottom of your hair to a height you like a ponytail and tie a knot to secure it. After the knot, pull your hair from each side above the scarf to get the volume to the hair and lastly you can secure the ponytail with a pin from the bottom. Scarf hairstyle looks adorable for prom, birthday parties or wedding guests.
Sky High Ponytail Hairstyle
Gorgeous Miley Cyrus is setting new Spring trends in the image with a pretty sky-high ponytail. If you want something sleek with a bit of sass, the sky-high ponytail is the solution to it. Just make a high ponytail placed near the crown of your head and secure it with an elastic band. Then take one strand of your hair and cover the elastic band by rolling it over the ponytail to make it invisible. Lastly, apply some hair gel or hair spray to give the beautiful style, a sexy and shiny look.
Stacked Bob Haircut
Get a stacked bob hairstyle if you are looking for a medium length hair cut this spring to look super cute and adorable. The stacked style has longer hair in the front, and back hair remains stacked. It is an awesome hairstyle as it is the kind of bob that is fashionable and chic, and you will gather everyone's attention with a stacked haircut. It has been a popular trend for a while, but there is a myth that you can not have stacked bob with medium length. So, here is the new haircut which you surely want to try out this season for a beautiful and cute look.
Ombre Twists
You get twists for all length hair with a lot of variation in colors. The blonde, black, and ombre twists are quite in trend from a while. If you want to try new braiding this spring by creating a natural, thicker and longer cornrows, try feeding synthetic hair extensions into natural plaits that easily blends with your hair and gives a curly, bouncy and natural look. Ombre twists are easily available online, and you can use these twists in many ways like side twists, updo, center parting or a ponytail, but it is best for a casual curly look which gives a fresh start for the spring.
Every season some of the stylish hairstyles become trendy, it does not mean they are new, but they gain popularity all of a sudden and can be seen everywhere – social media, celebrities, events, and parties. Switching up your look according to the seasonal trends is a must and hairdo are where you need to start from. It does not matter you have curly, straight, long, short, or wavy hairs; all need a change. So, rejoice the season with a fresh start by trying superb spring hairstyles.
Spring is not only the season of fun but also of experimentation, so do not forget to add a few variations to the beautiful hairstyles listed here. No matter which type of hairstyle you choose today, add a few decorative elements to it, like a braid, crown, tiara, bobby pins or hair accessories. New looks always make you attractive and give you adoring glances over the events you love and create appealing appearances where ever you go.