Bob styling is becoming very popular and trendy. It is loved and followed by many actresses and celebrities. Bob hairstyle suits mostly all face types such as oblong, elongated face, oval, square, or round shape faces. It can be carried on both straight and curly hairs.
As there are many styling options that you can go for, and sometimes it depends on the type of styling you chose will go well with your looks, face type, hair type, or not. Bob styling is one of the very easy and simple hairdos.
So if you don't want a frequent visit to the salon, they are perfect for you. Yes, you may consult with your hairstylist about products for your hair maintenance.
A huge number of women's population goes with this bob styling, but they get confused about which one to choose. So for clearing this confusion, here are 85 bob hairstyles that you can try in 2023.
Bob Haircuts and Hairstyles
Middle Parted Short Bob
This bob hairstyle is going very popular. The back hairs are short above the neck, the front hairs are parted from the middle, and the hair goes below the chin. It is perfect for those who want an elongated look. So, if you have a round shape face or chubby face, you can go for this short hair middle-parted bob style. It is best for straight hair.
The ends are not smooth; they look rough. The style looks great on the blonde hair; in this, it goes from dark to light. The hair roots are of natural color, and as it reaches the ends, the color starts to get light. This gives a cute and cool look to the one who wears it. So this season, go with this bob style.
Short Choppy Wavy Haircut
This looks like a new upgraded version of the classic bob. In this style, the long hair is there on the top with short tapered sides. There are spiky layers and undercuts. If you want to go with a tomboy look, then you can easily pick this pixie cut.
While going through this bob cut, you may lose your long hair, but in return, you will get a short easy hairstyle. A pixie cut is about half an inch to 3-inches in length with longer hair at the top and short hair at the back. It also helps in adding volume to your hair.
This is a modern style to go with. It gives you a cool tomboy look. For maintaining the look and layers, you can use hair spray.
Short Layered Haircut
It is a haircut where different layers can be seen—short layers on the top over long hair. The hairstyle looks awesome, and the layers help increase the thickness and the volume of the hair. This bob style is a trend and is followed by many young girls and women.
The front hair is short, and it increases your appearance when it falls on your face. Just like other bob styles, the hair is short at the back and longer at the sides. This bob style looks great if your hair is straight. It suits best on the round or oval shape face.
This bob style is very simple and easy to maintain; you can do this style independently. You don't need to visit the salon regularly. So style your hair with this stunning and gorgeous bob cut.
Sophisticated Short Hairstyle
If you have thick, clean, and groomed hair, this hairstyle is perfect for you. This hairstyle is one of the fancy hairstyles. The hair is cropped short at the back and longer at the front sides below the chin. In short, it gives a tomboy look at the back and is middle parted and longer from the sides.
This sophisticated short hairstyle looks best on straight and smooth hair. It suits the small round shape face and gives you an elongated look. To giving your hair a perfect volume, you can use hair spray. The back ends hair is inward, and the front-end hair is straight.
If you love to carry a short hair look and to do experiments on your hair, then you can definitely go for this short hairstyle. This short hairstyle gives you a funky and sexy look.
Razor-Sharp Bob Hairstyle
The hair in this style looks evenly sharp and fine. All are shaped in one frame by giving a straight hair look in the front and are a little curved at the back. It is a face-framing bob style mostly followed by the young generation who love to do experiments with their hair.
This style smoothly goes with straight hair and suits a small round shape face. This style covers your side areas and helps you to provide an oblong face. The hairstyle is very easy; you can do this at your home; it is simple and low maintenance. It gives you a relaxed look and is perfect for working-class women and college-going girls.
This style doesn't require thick hair, so you can go with this bob style if you have thin hair. After style, spray any good hair spray.
Casual Bob
It is one of the easy and convenient hair cut. The hair is chopped off the same size at the back and is slightly longer at the sides. The cut perfectly goes with the straight hair giving a reserved look. It mostly suits the round shape face, and its ends are smooth, but they appear rough.
The cut looks better on the blonde hair. The hair roots are of natural hair color, but as it goes down, the color starts to get light, and when it reaches the ends, it becomes lighter.
This modern bob style is among the popular hairstyles and is loved by women. It will give you a reserved and professional look. If you are a working woman, you can easily wear this style.
Chopped Haircut with Platinum Blonde
Another popular hairstyle when it comes to bob styling. It became more popular and trendy when an American model Isabella Khair Hadid carried it. The hairstyle is very beautiful and gives an elegant look. The hair length is below the ear and above the neck; in short, the hair covers the ear.
It goes well with thick and straight hair and suits all types of face shapes. The ends of the hair are curled inwards, which gives them an awesome look. The hair is parted from the middle and pops out eyes, nose, and lips perfectly. For curling the ends, you can use a normal hairbrush.
This bob style is very easy and simple. You don't require much effort in styling your hair. This gives you a gorgeous angelic look. so flatter your personality by wearing this new sexy bob style.
Elegant Bob with Long Fringes
In this modern world, an elegant bob cut with long fringes is one of the popular and trendy hairstyles. The hair at the backside is short length above the neck and is longer at the sides up to the neck. This bob styling is done on straight hair and looks perfect on all face types.
The fringes on the front are chopped very professionally and give a very stunning look. The hairstyle frames your face perfectly.
This hairstyle looks very easy, but it is not, so I would recommend visiting your nearby salon and letting your hair be done by any professional stylist. The hair gives you very different and beautiful. You can carry this bob style on both casual and formal looks.
Choppy Layered Hair
In this choppy layered haircut, the hair is cut in many short and long layers, helping to provide movement to your hair. The hairstyle gives a messy and frizzy look. The hair is parted from the middle giving an oblong shape to your face.
The hairstyle goes well with all face types and does perfect face-framing. If you have frizz straight or little curly hair, you can go for this bob style, but if you have only straight hair, you can use a hair straightener to make them frizz.
To get movement to the layers and create hair volume, you can use hair spray or hair creams. It is an easy and effortless hairstyle; you don't require frequent visits to salons. So this season, if you want to carry a messy and cool look, you can go for this choppy layered haircut.
Choppy Colorful Bob
This is a short undercut hairstyle, which gives you a tomboy appearance from the back and a leading lady effect from the front side. The hair is cut straight, the back hair is short, the side hair is slightly longer than them, and few long hair strands fall on the face. This hairstyle is very different and gives a unique look.
The layers have a smooth movement. It goes well with both straight and curly hair and is very simple to do. If you have a round or square-shaped face, then you can wear this bob style.
This bob style is not for thin hair, so if you have thin hair, you can go for some other bob style. For maintaining the movements of the layers, apply hair cream on your hair.
Layered Medium Bob
The simple yet trending hairstyle you can go for in 2023. The hair length is up to the neck .i.e., medium length. There are many different layers in this hairstyle, which gives your hair a wavy look. The fringes on the front are up to your eyes, and covers are your forehead area.
It goes well with all types of hair and looks better if you do this on an elongated face. The layering in this bob style helps in increasing and decreasing the volume of your hair. Its maintenance is very low, and it is very easy to do; you don't have to go to salons for a hair check-up. It gives you a very modern and perfect look to carry.
Chic Short Hair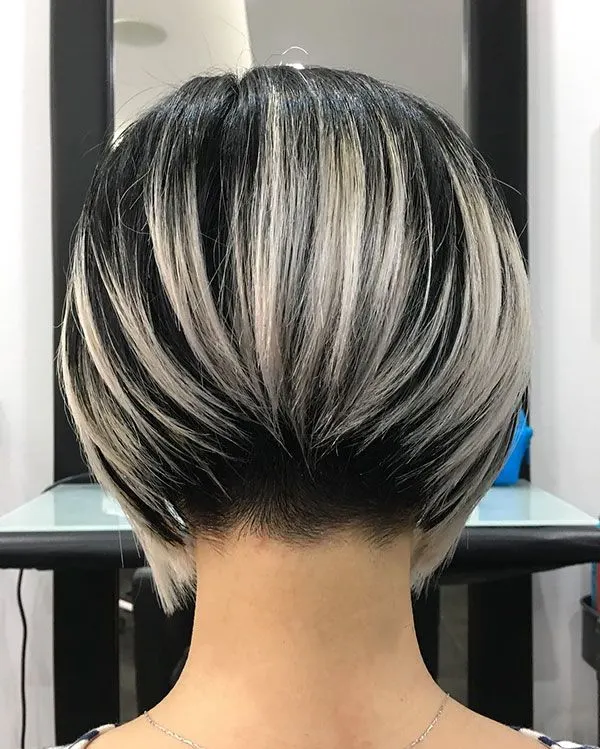 Chic short haircut is a very short undercut at the backside, and few long strands are there at the front. The hairstyle is very popular and trending, so you can go for this style in the upcoming year 2023. The hair is blonde and has a shiny, smooth look to your hair.
This hairstyle goes well with straight hair and best suits the round and oval shape face. To make the style best in their place, you can use hair spray. It is perfect for the one who wants to carry short hair and craves trying new hairstyles. This hairstyle gives one a very sexy look, and it looks super amazing on blonde hair with a dark base.
Messy Inverted Bob
The messy Inverted bob style is beautiful and looks very different. Hair is short at the back and slightly longer at the front. There is thick hair at the top and very short tapered hair at the back. There are many different layers that create volume and increase the thickness of the hair.
This suits best on the round and oval shape face. If you have thick hair, you can easily go for this bob style. Messy inverted bob is very popular and gives a relaxing look. You don't have to go to salons.
You can style it on your own it looks good on all hair types. So if you think of giving a drastic change to your look, this messy inverted bob is best for you.
Peppy Bob Hairstyle
The hair in this pep bob hairstyle gives a messy appearance. The haircut is medium up to the neck, and the hair is blonde; it goes from the dark to light, and as it reaches the ends, it starts to fade and becomes even more light. The hair is parted from the middle and gives an oblong shape face.
This hairstyle can be carried on round, oval, elongated, or square-shaped faces. This pep bob hairstyle is in trend for the past few years and is also in the current trend. This hairstyle goes well with all skin tones. You can wear this bob style on any partywear or any formal dress. This bob hairstyle looks very amazing and sober if you carry it.
Blonde Long Feathered Bob
This is a medium well-layered bob parted from the middle and is up to neck length. The layers in the bob haircut are uneven but provide a layer in the hair. And these uneven layers give the best appearance. This haircut works great on thick hair, so if you have thin hair, I would recommend that you not go for this bob cut.
The long hair from the sides covers the face and pops out the eyes and lips. It is one of the famous hairstyles, and suits are types of face shapes. This is a trending and fabulous hairstyle which you can carry. So this season goes for this blonde bob with a long feathered bob.
Black Sleek Bob Haircut
This sleek short bob is in trend for the past few years, and it never goes out of style. This is a simple classic weave hairstyle love by all age group women. This is best if you want to keep a simple and relaxed look.
This is a medium straight hairstyle above the shoulder. Therefore it will work great on straight hair, and if your hair is curly, you can use a hair straightener for the sleek finish, and for maintaining your hair for a longer period, you can apply hair spray or creams on your hair.
It is mostly done on an oval or elongated shape face. It gives a beautifully simple look and is easy to wear.
Curly Wedge Haircut
Curly Wedge bob styles give you brightening highlights and a messy look. The hair length is up to the neck, and the curly bangs give a super amazing look. To add shine and maintain curliness, you can use hair spray. This curly wedge haircut suits best on the round chubby face.
The highlight on the curls gives a bright shiny luster. It goes well with all skin tones. It is fabulous for curly hair, but you can go for iron curling if you don't have naturally curly hair. This is a fun-loving hairstyle and gives a very cute bubbly look.
Short Black Bob
Short black bob hairstyle is a new hairstyle that is getting trendy and is mostly done by women with dark tones. The ends of this hairstyle are curved inward, and the length of the hair is up to the ear. It appears as your ears get covered by your hair. The thick and long bangs in the front make it look more stunning.
The length of the bangs is up to the eyes. It is done on straight hair and suits all face types. It gives you a professional look, and for maintaining this short black bob haircut for a longer time, you can use hair spray.
It is not for curly hair, but if you want it on your curly hair, you can use a hair straightener before styling your hair. This hairstyle is best for working-class women.
Sexy Wavy Short Hairstyle
This pretty waved hairstyle is versatile, and the glossy golden blonde is just amazing. Recently, an American actress Dianna Agron carried this hairstyle, and after that, it became more popular. The hair is slightly layered at the lowered ends, and the waves are contemporary.
These waves create volume at the side, and there is a pretty side fringe on the forehead. This hairstyle is great for medium hair, and it needs thick hair for styling. This is a formal hairstyle and looks amazing and attractive if you want to go with this. These fringes look cute and enhance their personalities.
Sweet Choppy Bob
The right choice for you to try something new. This short, sweet choppy hairstyle with side bangs looks very attractive. It gives a messy and cute look. The hair has many short layers. This hairstyle is very interesting, and the lowest care is needed.
This hairstyle is easy to maintain and is one of the quick styles. It is best for all hair types and suits mostly the elongated and square face shapes. The hair is a golden blonde with a dark base and looks very amazing on the one who carries it.
If you don't have much time for styling your hair, you can carry this easy and quick hairstyle.
Thick Bob
Short thick bob is for thick hair and is of low maintenance. The hairstyle is very cute and of a medium length, i.e., up to the neck. The hair is black and mostly suits on round shape face; it highlights the face and looks great on the light skin tones. This is a versatile hairstyle since it looks very simple and cute.
This is one of the popular looks and is loved by young girls and women. For maintaining the hair texture for a long period, you can use hair spray. This is best for both college girls and working-class women.
Bob Hairstyle for Fine Hair
This bob hairstyle is usually done on thin hair. The hair at the back is chopped in short it is also called an undercut short style. It looks great on the blonde hair and gives you a unique look. So if you love experimenting with your hair, this hairstyle is only for you.
This hairstyle is very different, and you may use hair spray for providing shine and volume to your hair. This is one of the easy and trendy hairstyles to go with. This undercut version will give you a fun-loving look. So if you want to stand out from the crowd, you must wear this bob hairstyle.
Wavy Bob
This hairstyle shows a very wide range, i.e., from shoulder length to short crops. This hairstyle has curls and a side-swept curly fringe at the front. The fringe helps in smoothing down the cheekbones, jawlines, and chin. The hair looks wavy and gives a beautiful and amazing look to you.
The style suits oval or elongated shape faces and is best for curly hair. Though this hairstyle is not long-lasting, if you want to maintain it for a longer period, you can use hair spray or visit your hairstylist for some tips. This wavy bob will give you a sassy and classy look, so go for this.
Polished Straight Bob
It's one of the most incredible versions of the bob style in which the hair is highlighted in an angled lining, making it look more attractive on straight hair. The hair is of medium length, i.e., up to shoulders. This polished straight bob hairstyle looks unique and beautiful.
It is great for straight hair, and if you have curly or frizzed hair, this style is not for you. This is best for the oblong and oval shape faces. It is a very trendy hairstyle followed by all age groups of women. This hairstyle gives a stunning sweet look.
Shaved Side Undercut Bob
In this undercut bob style, the hair is shaved on the right side. It is shaved with a razor; therefore, it is also called razor undercut bob style. The back is shortly tapered, and one of the sides is shaven off, and the other side has a long hair strand.
This hairstyle gives a very different and quirky look, yet it is carried by many women who love the cool and funky look. This is best for straight hair and suits oval and elongated shape faces. It gives you an eye-popping look. It is one of the relaxed looks to carry.
Tousled Bob
A cool and stylish option to try out a bob hairstyle that even takes less effort and time to get ready for an occasion. Tousled bob hairstyle is a medium-length bob haircut that is given thick wavy layers and is kept a little longer for the front portion.
The tousled bob haircut is styled by giving a little twist with the help of your fingers. The thick waves of the blonde shade hair look really cool and classy and is a preferable hairstyle for young girls and teens to get a charming look for their daily casual hairstyle.
Razored Bangs
If you are looking for an extraordinary hairstyle to get a different and offbeat look with short hair, Razored bangs is a nice option to try out. Razored bangs are a short bob hairstyle that gives you a quirky appeal with the straight bangs cut using a razor.
The sharp ends with the long choppy bangs are unique and adorable and offer a carefree hairstyle. The hairdo suits on girls having short and round face type.
The edgy short bangs for the front can be styled towards the forehead. Overall, the hairdo looks unique and offers flattering appeal.
Unkempt Layers
A sweet and pretty hairstyle for the girls who like medium-length hairstyles. The dual shade of black and grey hair makes the look stunning and classy. Unkempt layers are the medium-length bob haircut styled in a shaggy way.
You don't need to be much tidy for your wavy layers as the unkempt way of styling your bob haircut gives a naturally pleasing look to the personality.
Also, unkempt layers are a carefree hairstyle that you can carry for a whole long day and suits with a casual outfit. Style the hair with a side parting keeping the short bob fringe over the face.
Dual Length Straight Bob
If you are a straight hair girl or like a clean and pretty hairstyle, a dual-length straight bob is a great choice for you.
It is a simple and attractive hairstyle that is achieved by having an equal length straight haircut for the back hair and a litter shorter cut for the front fringes. The straight bob haircut looks more appealing with a trendy highlight, such as milky white hair.
The short bob hairstyle with the dual length, i.e. a little short for front and equal for back, makes a decent and professional hairstyle that you can carry with your formal outfits.
Stacked Bob
A gorgeous look is guaranteed with the eye-catching hairstyle that offers a stacked bob haircut having soft and whimsical color shades.
Stacked bob is a short bob haircut where the back hair is cut till neck length and gradually increased towards the front. The choppy and sharp layers give a beautiful charm to the hairdo.
A stylish and winsome color like violet or purple makes the look more alluring and graceful. It looks great with casual winter outfits like woolen sweaters and jackets.
Edgy Layers
A different and stylish look can be achieved by the edgy layers bob hairstyle. It is a simple haircut that involves angled edges bob haircuts for short hair. The top section of the hair is kept more than the lower hair.
The layers are given a razor finish at the ends for a natural appeal. Style the short edgy layers bob hairstyle with a side parting. With the side parting hairstyle, the edges are styled a little towards the backside giving an attractive glaze.
The style suits the girls and women having a sharp face with rectangular or square face type.
Groovy Bob
A badass hairstyle giving you a bold and sassy look and is so eye-catching that everyone will turn their head towards you. The pleasing and attractive combination of purple and creamy white highlights make the look more stunning.
The style is achieved with the short bob haircut having an asymmetrical length. The front sides are cut long, and the back hair is cut short till neck length.
If you are looking for a punk hairstyle to give you an offbeat and stylish look in 2023, try out a groovy bob hairstyle with a funky shade.
A-Line Black Bob
Black hair is a natural, pleasing shade that carries a style of its own, giving a delightful look. A-Line black bob hairstyle is a choice for the girls with naturally black hair, and they prefer to have a short to medium length hairstyle.
A-Line bob is an angled bob haircut that starts with the back hair gradually increasing towards the front.
You can also add a small layered fringe with Razored ends to enhance the look of the A-Line black bob hairstyle. It is a casual hairstyle that suits girls having medium wavy texture hair.
Blonde Pixie Bob
A hot and lovely appeal can be achieved with this adorable and charming blonde pixie bob hairstyle. It suits girls having round or oval face types and prefer to have short hair length.
Blonde pixie bob hairstyle looks really sassy and beautiful with the light golden hair cut short till chin length. The pixie bob hairstyle is styled with a side parting, and the ends are styled towards the face giving a very graceful look.
You can style the pixie bob hairstyle with a black shade and a classy outfit for a day outing to get the dazzling appeal.
Asymmetrical Bob
Another gorgeous hairstyle for girls and women who are looking for a hairstyle that gives both casual and professional looks. The asymmetrical bob hairstyle looks decent and hot at the same time.
The golden-brown shade of hair enhances the glorious look of the hairdo. An asymmetrical bob hairstyle is achieved with a bob haircut for medium-length hair having an asymmetrical length and different layers.
When the hairdo is styled with a side parting, one side of the hair is longer than the other side, giving a unique and pleasing look for any occasion.
Shaggy Bob
A classic hairstyle that looks so charming and graceful for the girls with a round face type and adds more cuteness to the overall personality. Shaggy bob is for the girls who are looking for a short haircut and a carefree hairstyle.
The hairdo is super easy as you don't even need a comb to style it. Get a short bob haircut for your little wavy texture hair. Style with a side parting, and with the help of your fingers, give a shaggy look to the bob haircut.
You can have a dark shade highlight to add a twist on the shaggy bob haircut. It works well for both a casual date or a professional event look.
Sleek Bob
If you have sleek and smooth medium-length hair and are looking for a chic hairstyle, a sleek bob is a great choice for you to opt for. The silky and smooth texture of your hair makes the bob look more graceful and gives you a glamorous appeal.
The medium-length sleek bob hairstyle is achieved with a neck-length bob haircut with small fringes for the front till cheek length.
You can style the sleek bob with a half side parting for front hair and the back hair, style the hair towards the back. Let the curved sleek fringe cover the eye for a hot and sensual appeal.
Choppy Layered Bob
A fresh and carefree look is achieved with the choppy layered bob that has a lot of twists and styling options available.
The front fringes are kept long for the bob haircut, and the back haircut is shaped in a way that gives a diagonal haircut appeal while looked from the back. The whole hair is chopped into tiny layers giving an attractive and eye-catching appeal.
The hairdo looks great on the light golden hair and suits girls with an oval face type. You can carry a choppy layered bob hairstyle as a daily casual hairdo with a carefree look.
Side Swept Bob
Bob always doesn't need to be styled uniquely or differently. Sometimes, a simple side parting also gives a charming appeal to the hairstyle. Side swept bob is a medium-length bob haircut done on wavy texture natural black hair and styled using side parting.
The hair is swept to the side using a thick comb, and the natural wavy hair is left free to give a pretty glaze. Side swept bob hairstyle suits, girls, with a short or round face type and looks great with a casual outfit.
Ruffled Pixie Bob
A hot and sweet hairstyle that includes ultra-short layers for the short bob haircut. If you want a great hairstyle that doesn't take much time in style and looks amazing all the time, a ruffled pixie is a great option to try out.
Ruffled pixie makes your short hair look fuller and pretty. The natural black choppy layers give a trendy and stylish appeal. Ruffled pixie includes short and edgy bangs that you can style towards the side and covers most of your forehead.
The hairdo is quite pleasing and gives you a carefree and delightful appeal all the time.
Shiny Minuscule Hair
The minuscule hairstyle gives a gleaming and glossy hair texture on any girl's face. The hairdo is one of the easiest hairstyles to maintain and comes up with an enhancing gaze.
It is mostly suitable for girls having neck-length hair and hair with less amount of volume. It can be done by acquiring a short straight equal length haircut till neck and a curve crossing through the side-eyes part; even a hot iron rod straightener can be utilized to pose a shiny straight gesture.
A minuscule hairdo will look great with the ashy grey shade of the hair.
Shadowy Twirls
For rocking up the party look and getting embraced as a bold creature in the crowd, shadowy twirls are the perfect hairdo for girls who want to stand their lookout. It is an ideal Diva girl hairstyle, which is as easy to maintain as it looks.
In the hairdo, the hair is trimmed short as a connected way over the forehead and making it look shady stands, and the rest of the hair is expected to be in the twist pattern, which gives it a wavy and thick appearance on the head part. It looks great on any lady having neck-length hair type.
Slope Blunts
Girl's having short-length hair and wants to excite their hair look, then this is the one which you must be looking for.
In slope blunt hairdo, the hair is expected to be short in length so that it can be trimmed in a falling straight manner making an oval coverage at the entire surface of the head part, and the hair has sharp and pointed edges at the end tips.
It looks great with a little brownish shade of the hair because the shiny gesture can be relished with this shade on those falling hair strips.
Thin and Messy Waves
A hairstyle completely made for girls who are not so interested in getting their hair done every second hour. So, most carefree girls can definitely opt for a wavy hairdo and can even glare at their look without giving much attention to the appearance.
The hair is cut into disconnected short layers, and some of the stripes are left with an extremely short-covering pinch of the brow and creating a messy look at the top head part. It looks great and astonishing with the grey shade of the hair.
Frizzy Jogs
Frizzy jogs come under one of the easiest and coolest hairstyles as it doesn't need much of your attention and at the same time makes your look more attracting and graceful.
It suits girls having very short-headed hair length and has a good thickness in their hair volume.
The Hairstyle leaves a frizzy and open-pore layered texture at the mid-back part of the head and gives a great look with dark blackish hair color, any lady having a dark black shade of hair with a short disconnected layer can carry it with a middle parting.
Unpinned Greasy Puff
These are the sticky hair straps designed in such a way that it sleeks the top head part and make it look glossier and shiner. It is one of the very rare hairstyles and has a very astonishing carnival look.
Ladies appearing in business parties can surely appeal for this look and glare their gala party looks. A greasy puff is very suitable for short and thin volume hair, as the hair is separated from the side part, and by using a hair spray, another side of the hair can be puffed up.
The best part of the hair is winged behind the ear side, and hair spray is applied to the entire head part.
Nappy Hair
Nappy hair is a very uncommon hairstyle and can be obtained by girls having naturally kinky hair stuff. The hairstyle is quite difficult to handle and styled certainly but this gives a very unified look with its appearance.
The nappy hairstyle looks great on any of the occasions and can be styled for our daily going look. It can be done by trimming the hair in equal proportion and leaving some of the hair at the forehead part as crimped and wrinkled short head flicks. It looks good with a dark black hair color shade.
Lateral Glossy Waft
The glossy waft hairstyle comes as the glossy and wavy Gown part look and can be done very easily within a couple of minutes.
Lateral glossy waft hairstyle is suitable for those with neck-length hair and having a thick volume of hair type. It is done by using a hot iron curling rod, and the end tips are curled in the wavy gesture by dividing the hair in a lateral portion and curling the brow hair as a wave motion.
The hairdo looks great with Golden creamy hairs shade and leaves a stunning look with any a-shaped gown. It is one of the easy hairstyles to be maintained without taking much care with pins.
Temple Pall
Temple Pall hairstyle is purely suited for girls having short and bulky hair types. In the particular hairdo, the whole hair is observed to be thick and bulging, it can be done by having a thick bridge of connected hair at the forehead part, and it is also effective for the front-end appearance.
The rest of the hair is trimmed straight in equal proportion till the neck length. The hair shade of Milky white and golden mixture gives a very attractive look on any girl's face. Temple Pall hairstyle suits for any evening party look.
Shaggy Whisk
It gives a very astonishing hairstyle appeal because the pattern it carries attracts the attention of the crowd. Shaggy whisk hairdo suits girl's having a long thin face with neck-length haircut.
To get the hairstyle done, you need to use a hot iron rod for curling the hair straps and making it appear as a wavy curl texture.
The hair is of equal length and styled from the lateral portion of the head, making disconnected curls in the entire head portion. Shaggy whisk is a perfect party look hairdo and stuns the look on gowns or Dresses.
Pinned Hefty Nod
It is one of the unique hairdos which are not so practiced among girls, but it gives a very stiff and sophisticated appearance on any girl's face. The hairstyle can be done in very easy ways just by using a hair spray and counted the number of bob pins.
The hair is divided from the middle portion, and on one side of the hairpins are fixed very tightly with certain gaps in them, and the end tips are slightly twirled, which makes the end coming as a curled band. Hefty nod hairdo look amazes with the cherry reddish shade of hair color.
Feather Shadow Bridge
Shadow Bridge hairstyle gives a very cute gestures to the girl's face. It is even bouncy and shiny both together and can be maintained very easily without any external care needed.
In the particular hairstyle, you must trim your hair till the neck length as an inward feather cut, as the hair doesn't have a shard edge; they are done inwardly.
The hair is stripped at the forehead part as a connected layer making the bridge in both side head parts. It looks great on any school-going girl or any girl having short face length. Hair color shade with brown color enhances it looks more.
Narrow Jiggle
Narrow Jiggle hairstyle brings up the very bold character of any woman. It gives a carefree look as well as a stiff and tough appearance on any girl's face.
The hairstyle looks good for any kind of party or college and office going look. It can be done by having a layered cut of hair till the nape of the neck and maintained with a hair spray for that shiny and lumpy apparel.
Narrow Jiggle hairstyle suits in brownish hair shade of the color and will look good on tall height ladies.
Inward Bob
Bob hairstyles are the simpler and the sassier to attain for any girl. The hairstyle can be done by cutting the hair into inward waves till the neck length with equal proportion.
The end of inward waves is highlighted at the edges by taking thick bands of hair and shade of reddish at the tips make the looks more enhancing; some of the hair is trim till the forehead connecting both the sides of the head part with the middle parting from the top head. Inward bob look overall adores the girl's gaze.
Frizzy Crimps
Crimps are a very uncommon but trendy hairstyle and even easier to be handled all day long.
In frizzy crimps hairdo, the hair is above the ear part, but in a huge volume, so the disconnected crimps make it look kind of messy hairstyle. It can be acquainted with any of the office going look or even in your daily looks.
Frizzy crimps hairdo can be done by getting the hair trimmed in unequal proportions and using a hot iron rod for crimping the unlayered strips of hair. A pure black hair shade looks great on a crimps hairstyle.
Jaw Length Messy Bob
This is a not so perfect-looking interim of the cut. There will be several unevenly cut strands of hair, which gives a totally casual look. It is a totally cool look to don along with a summer dress.
Add a blonde shade of highlights to the tip of your tresses to give yourself a totally new summer look. Young and old can carry this lookout with total elegance.
The length of your shaggy hairdo can be decided by you, whether you like it totally short or you would like to have it at jaw length.
Jaw Length Chopped Bob
If shaggy isn't your style, then we have the perfect bob for you, which is the chopped bob. It has been around in fashion for a long time. It's easy to maintain and throws volume to your hair in a natural way thereby making it look thicker and voluminous.
This style allows the hair to perfectly chop at your desired length. You can add highlights or even dye your hair a bright shade and make it look light.
Shoulder Length Shaggy Bob
If shoulder-length shags are what you are looking for then this is the perfect look for you. A messy hairdo makes it a lot easier to manage the hair especially if you have toddlers at home.
You can blame them for the easy look, and nobody will complain about how you look. This look will go better with a backless dress as it falls up to the shoulders. It is a perfect haircut for the summers at the beach to let the hair play with the winds.
Perfect Yet Not So Perfect Tapering Bob
This bob is the perfect one for a woman who plays multiple roles in her lifetime. A busy business tycoon can go for the perfect straightened bob with the tapering ends. As she enters into a conference room, she oozed-out confidence is collected by others.
The night owl who chose to party with her girls will be the second look. An imperfectly arranged tapering bob is what she will wear. This look is easy to manage and maintain. Any woman short of time can try to make these two looks work.
Perfectly Ombre Blonde Choppy Bob
A blonde-haired woman isn't considered dumb anymore. She is the epitome of success and skill walking with blonde hair. So if blonde is your color this summer, go for the perfectly chopped bob.
It will make you look all the more successful and make you stand out in the crowd from the rest of the world. It is suitable to make your hair all the more voluminous and lush.
Short Messy Upside Down Bob
This is a short haircut, comprising of an upside-down bob. Upside down just means that it is shorter at the backside and gets longer towards the sides. This is not a perfect cut but more like the chopped version giving it an all the more classy look.
You can carry this look casually or in a semi-formal outfit. Be it jeans or a suit you will look smoldering hot in this hairdo.
Medium Length Bob with a Bangs
Bangs are totally the look one must always be aiming for. It makes you look cute at the same time sassy. Bangs are in fashion almost every season as you can't find a reason to abandon them.
Bangs help in making the forehead look smaller and cover a lot of areas if there is too much exposure. Keeping the bob at shoulder length is a great way to beat the heat. Also, maintenance gets easier, along with trending in style this summer.
One-Sided Asymmetrical Long Bob
Asymmetrical is the new trend in town. Be it in dresses or in hairdos it has gotten the attention of all the people. This is special because no two ends will be in symmetry using this style.
One side will be longer than the other side. This haircut calls for the hair to part sideways, then at one side of the head, the hair is at jaw level.
From this end to the other end of the head, the hair will gradually increase in length until the other side is almost halfway down to the back. The transition is a smooth one and the look is a classy masterpiece for the hairstylist to create.
Super Messy Upside Down Bob
This is an upside-down bob, where the hair is shorter at the nape of the neck while it gradually increases in length towards the sides.
This is suitable for wavy hair texture which along with a few blonde highlights can make your hair look like a masterpiece. It will be a super classy look to don and can be carried out with jeans or a summer dress.
Short Crop with a Bangs
This is a super short bob, with the length coming up to only the ears. Add a bang of a medium length to this and see yourself in a super hot hairdo. Short is everything in summers so why not go with this short style for this season.
Smoky eyes make-up with this hairdo will make you look super hot and sassy at the same time. It's a great combination to get the others worked up.
Center Parted Upside-Down Bob
A central division of hair is one way to balance out the volume of hair and keep an even head at all times. In summers the heat and the sweat can make your hair look like it has an uneven volume.
Go for this look to get a perfectly balanced hairdo that makes you look stylish and trendy at the same time. These chopped-up layers are balanced and arranges in a wavy manner creating the perfect balance between a messy look and a perfect look.
Smooth Straight Bob
Are you a simple perfectionist with your prim and proper hair? If this describes you well enough then this is the hairstyle for you. A simple bob smoothly cut and falls equally with perfection.
This hairstyle itself will show who is the boss in town. For the prim and proper you, nothing can be better suited than this perfect hairdo.
Whether you are a CEO or a simple personal assistant you can don this look and make heads turn in your direction.
Middle Partitioned Layered Bob
A layered bob is all about giving volume to hair. It makes your hairdo fall rounded instead of lying flat on the back of the head. This is the sort of look that is suitable if you are slightly on the plumper side.
It will complement a round face beautifully and it gives you a more homely look. It shows the world that you are an angel with a pretty little face and a beautiful smile to go with your looks.
Long Upside-Down Bob
If long is your favorite and you still wanted to have a bob, then this is the look that you should don this summer. It will complement the fierce woman in you and make your bold self all the more beautiful.
This look is created for every woman who seems vulnerable from the outside but is actually a strong-willed and amazingly beautiful person on the outside. Let your looks do you justice from now on.
One-Sided Edgy Bob
A perfectly-sided bob is smoldering hot this season. But to do it right you definitely have to be a fashionista and with a lot of attitudes to carry out this look. One side is perfectly trimmed to the jaw level and bob is in place.
On the other side, the hair is cropped short and shaped into a parallel strip. Keeping this look alive is the work of an absolute diva. Nobody could walk past you without a sideways second glance.
Layered Bob with a Side Bangs
Super upside-down bob is cut along with a large bang covering almost half the face is what's currently trending this summer. The bank is also a tapering one and ends where the side of the bob ends at.
This look is amazing if you are someone who is shy about showing your face to the world all so often.
This will keep completely hidden while you get to look at the world from behind your partitions. Add highlights to the hairdo to make it just the right look for this summer.
Layered Shoulder Bob with Extra Long Bangs
Perfect again if you want to hide those pretty eyes of yours. The extra-long bangs cover almost half of your eyes. The fewer people looking into your eyes, the better, right?
The hairdo makes your hair more voluminous and it is perfectly suited for wavy and curly hair textures too. Wear this look with dark hair this summer and catch a few eyes glimpsing your way. All the way this look is all about making you feel like an enigma.
Badass Bob
This look is all about being badass. This look completes your badass profile with even better results. Let the evil boss in you on the loose and kick some ass with this look.
The hair is chopped super short and keeps your face in the proper limelight giving it all due credits that it has been looking for all this while.
A clear view to your face is like a clear view to your soul and this means half the people will run at the sight of that face with an attitude fearing what you might do to them.
Side Parted Bob
This is a party girl look. One of classy and quirky combined together to make the perfect medley of a beautiful party person.
If your simmers are filled with parties and you want to be the center of those parties, then this is the look for you. Lower central hair with tapering ends making waves along the contours of your face.
It is absolutely perfect for a beach day or a picnic. Pair it with a bright-colored tassel or tunics to get the perfect look.
Short Bob with a Bangs
The shorter the better is exactly what one feels in the summer. Be it bum shorts or a crop top, the shorter the more air flows. The same goes with this hairstyle where you have a cropped bob, leaving you free and windy.
The bang on the other hand keeps you protected from the days of the sun and gives you a sassy look on the go. Messy or perfect, it doesn't really matter as long as you are in your comfort zone.
Sexy Shoulder Length Bob
This look is bound to make heads turn in your direction. A simple look that can complete any look you choose to wear. It brings out the sexy you from within.
It represents a free soul, waiting to find its kindred spirits in this world. Pair it with an LBD and see how many drinks you get for free at a party.
Mushroomed Bob
Who doesn't like a cute mushroom in a garden of roses? Choose to stay unique and look unique this summer with the cutest look in town. Your bang and your bob are in a perfectly shaped mushroom with your head making up for the stalk. It's a perfect look for a CEO this summer. It's perfect for the beachside Barbie too.
Just make sure you don't pair it with a white or off-white dress else people might mistake you for an actual mushroom and end up eating you.
Messy Mushroom Bob with Bangs
Nobody ever said that a person with curls can't do mushroom. If that's your hair texture, then do something different this summer. Go for a mushroom with your curls and end up with an absolutely stunning bob to suit your needs.
A messy bob is what's in style this summer. Add bangs to your mushroom bob and get a whole new look made to suit you. Be it a party or an official meeting, this is the look for you.
Smooth Layered Bob
A layered bob makes your hair look more voluminous. It kind of gives the edges a curvy look. This is a perfect t look to attend all your meetings in.
The coast look paired with a suit will go a long way in making new business deals. It can also be used on a date night when you really want the person to be impressed by your personality.
Shoulder Length Grey Bob
As you grow in age, so does your level of sophistication and wisdom that needs to grow with you. A triple layer will help to set a more manageable level of hair. It gets easier as the levels help in smoothing out the hair easily.
Also with summers in the peak, a shoulder-length hair is the most suitable option if manageability is what you are looking for.
This is more suitable for a very serious generation of at least to the people of our generation who want to be taken seriously. A very serious look for a very serious summer season is here for you.
Highlighted Bob
A plain upside-down bob is so mainstream this summer. With people looking to flaunt in bright colors and bikinis this summer, why don't you flaunt a shade for your hair. Violet is the perfect shade for summer.
Mix it and match it with shades of your choice and come ready to call in love with your new hair. This is an absolute work of beauty as it is so sensual and yet so sassy to be donned this season.
You can also choose to go with unicorn t-shirts and shorts to complete this look. Get gorgeously colored flip-flops to match your hair color. The funkier the color the more in trend you are this summer.
Quarter Bob of Gothic Queen
A regular sharp bob with a twist sounds fun right. Adding a patch of short trim to any hairstyle just gives it a Gothic look. This hairstyle has a tapering bob and one-quarter of the head is shaved or trimmed close to the scalp.
The look supposedly never goes of fashion too. Pair it with dark clothes and smoky-eyed makeup to end up looking like you just reincarnated from the Gothic era. On the whole, this look is a cold one which is just the right thing to beat the scorching heat this summer.
School Girl Bob
Every school-going kid has donned this look at some point of time in their childhood. It's the cutest in 5 years old and is just as cute in a 25-year-old too. This is one hairstyle that suits the young and the adult alike.
Because of its simplicity and easy maintenance, it has come back to fashion in adults this summer. For those of you who want to relive your childhood and for the rest of you who want to have a fuzz-free hairstyle then this one is for you.
From a frock to a suit, you can basically style anything with this look. And the end result will be just as stunning. In case you want to look older with this hairstyle then all you have to do is just add a highlight to your hair. That will probably save the day for you.
Bouquet of Curls with a Side Bangs
Curly-haired ladies out there, this one is for you. Usually, curly-haired women don't have many hairstyles to do. It's usually the regular ones or the reply drab ones. This one is perfect for you this summer to allow you some stress-free time regarding your hair.
Since it is shoulder length, the maintenance is less. Also, the curls fall perfectly to create an effect similar to that of a bouquet. This is a multiple layered haircuts, again which helps add volume to your hair.
It makes managing hair easier as they would be at different levels. Who can ever say no to a beautiful bouquet, and that's exactly how you will look.
Messily Chopped Side Swept Bob
A side bob is so in trend this season. Wear a messy version of it and you are ahead of the trend by an inch. This hairstyle is an absolute hit for teenagers and adults alike.
It makes you look like a free spirit and is an ever been style that doesn't usually lose its sheen over time. It's a great look at a party. Wear a sequined dress or a jeans and still look absolutely gorgeous with this look.
So go through all these hairstyles and choose the one which looks best on you. You can also consult with your hairstylist about the hairstyle, which can fit your personality and enhances your look.