Going with the saying, "Tall, dark and handsome," hairstyle plays a significant role in bringing out the personality of a man. Fade haircuts are the new trend of 2023. These hairstyles can enhance the overall appearance of both tall and short people.
Black men look even handsome with faded hair all around the sides. It works well with both long and short hair. Beyond any cut, you can get your fade started.
If you wish to rock your personality, try going for the taper fade haircuts. This haircut suits almost all kinds of locks, from wiry Afro-textured curls to fine and straight hair. Before visiting your barber, do take note of the following cut styles which we have handpicked just for you.
Best Taper Fade Haircuts for Black Men
Squared Hairline and Gentle Waves
The taper fade haircut for black men is very trendy, and sharing the hairline perfectly is a way to make it fashionable. This style has the top of the hair very wavy, and it runs from the hairline towards the back of the head. The sides have a high, tapered fade.
Tall Curly Spirals
This haircut's main standout is the tall, curly spirals that can be achieved using a curl sponge. The hairline is shaved tight and shared, and the area behind the ears is perfectly shaved, too. There's a slight taper fade on the sides extending from the top down and the front back.
Neat Curls and High Fade
The taper fade haircut for black men here has a mass of neatly styled curls on the top of the head, and the fade is very high up. Only the hairline has thick hair, and the rest quickly fades away into skin on a slight diagonal angle.
Afro Texture and Tightly Tapered Sides
Here the hair is in an afro texture, but it's not in a classic afro style. The hair towards the back is shorter, making the front the focal point. The fade starts around the hairline and quickly fades into stubble, then skin.
Turquoise With Stripes
This hair is shaved short and stands out by being a delightful, aqua/turquoise shade. It has a taper fade and very tight hairline, but the most interesting part of the haircut is the two black stripes in it with hard edges around them. Very unique!
Textured Curls and Rectangular Taper Fade
Here's a haircut with a squared hairline and a rectangular taper fade amidst a mass of very textured curls that are raised into slight ridges with valleys of shorter waves between them. The haircut is unique, but it's very on-trend, too.
Tall Tight Curls
Tall, tight curls are very trendy and are great for showing off your handsome face, as there's no hair to fall onto the forehead or get in your eyes. It's also easy to draw the focus to the hair as the taper fade starts high and is very subtle.
Braided Taper Fade Look
If you want another unique look, here's one. The hair has two braids on either side of the head, with a hard parting down the middle and around the shape of the braid. The hairline and sides of the hair have a taper fade that's very subtle.
Blonde Touched Hair and Zig Zag
This hairstyle is half orangey-blonde and half black. The hair is long and in a tapered shape around the head, while the hair on the sides and hairline are buzzed very short and gently fade to skin. There's a hard zig zag pattern shaved into the hair, adding interest.
Grey Curls and Fade
This is the perfect taper fade haircut for older men. The hair is a mix of black and grey, and it's short, but it's not too short.
The taper fade is on the sides and helps accentuate the wonderful squared hairline and sides. The hair is thick at the back but shaved to skin on the sides.
Rounded Temple Fade Haircut
This low fade haircut helps your cheeks more round and full by altering the silhouette of your face. The end result of this hairstyle is the mixture of vintage cut with the extravagant modern touch. If you are ready to step out of your comfort zone, then you should try this hairstyle for sure.
This hairstyle can actually make you take a dip in the immense ocean of fades. This hairstyle can bring about a significant makeover in your look and personality.
Taper Fade Mohawk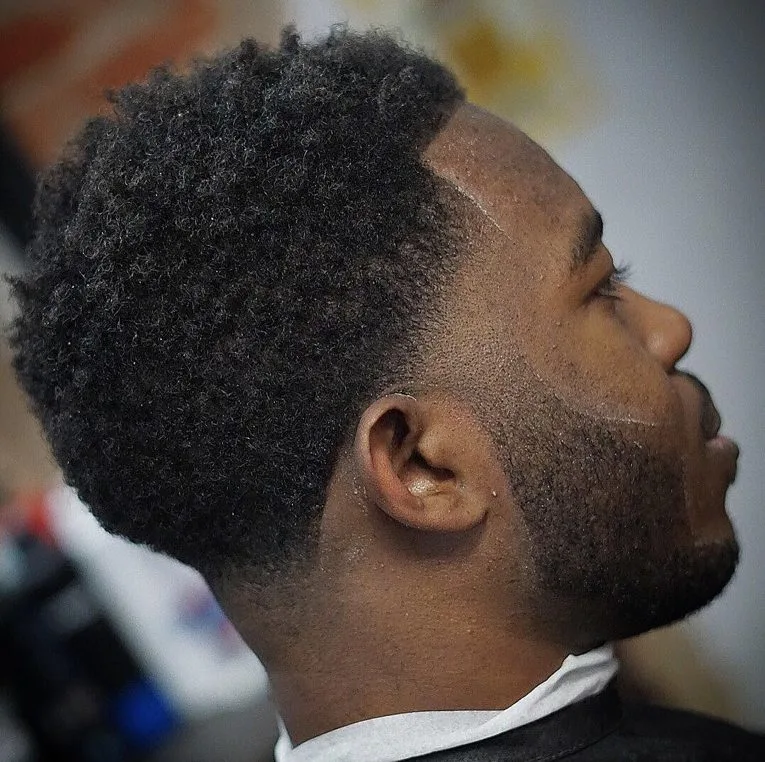 Mohawk can be short or long as per your choice and personality. But if you are the owner of naturally Afro-textured hair, then we would recommend you to go for a shorter Mohawk. You can also combine your Mohawk with sponge twists to experiment with a cooler look.
Mohawk makes an impressive variation from the traditional style to the modern style making it one of the trendiest haircuts of the year.
One of the main reasons for this hairstyle to become popular is that you can make your own unique Mohawk. Men can choose between a low, mid or high Mohawk depending on their hair length and get them tapered on the sides.
Taper Fade Short Afro
You should consider yourself lucky if you are gifted with Afros. Afros are the most compatible type of hair for taper fade haircuts. This haircut makes your hair maintenance easier and also comprehends your face type. It can be molded according to any shape of the face.
Only some barbers can give you satisfying results so choose your stylist wisely before making any decisions. These hairstyles are popular among black men of all ages.
This hairstyle is very straightforward and can be tried in several variations and styles. You can alter it with your own different design and style it according to your own goodwill.
Textured Temple Fade
This hairstyle leaves a lot of hair on the top so that you can give them a textured look. This fade is low at the temples and the neck. In this picture, they have curled the hair to give it a better texture and a newer look.
People also like to pair this hairstyle with a beard. Yes, that works wonders. It looks even better. But if you don't wish to keep a beard then also this haircut will serve you equally well. If you have a beard, this hairstyle will make your two sections of the hair meet with a crisp line.
Low Taper Fade with low Afro
Some people love having a big Afro while others go for a shorter one. This well-trimmed, short and fresh haircut works wonders when owned by black men. It gives a cooler and upgraded version to your personality. You will be awestruck once you try this.
High Taper Fade Pompadour
Taper fades are of two types that are low and high. In this picture, you can distinguish a high taper fade where the shaved part of the head comes closer to the top structure of the hair rather than near the ears and neck.
Like this only a lower taper fade where the shaved part of the head is far from the top structure of the hair than nearing the ears and neck.
Buzz Cut with Scruff
Military haircuts often inspire people. This modern and clean haircut is one of the examples of military haircuts. Just to give your military haircut a cool look, you can combine it up with taper fade. It will change your entire look for good.
Today young generations are highly inspired by military people and their outlook. Therefore this haircut is in high demand. Almost in all salons, this haircut is trendy. You can pair this hair cut with low as well high taper fades. Military haircut looks very decent. It gives your personality a boost.
Messy Locks
Have really short dreads? Don't worry! You can easily give them a taper fade to shape the lower part of your hair. This will become a shorter version of the taper fade dreadlocks hairstyle.
This hairstyle will even look better if you grow a beard with it. Therefore, another way to make you look even more handsome! This hairstyle can be carried out from black to blonde and straight to braids. This hairstyle is the most popular one in barbershops.
Although this hairstyle works well for black men, people from all races have endorsed this look with great satisfaction.
Short Taper with Back Fade
African American men are most commonly seen carrying this hairstyle. The barber cuts your hair short giving it a wavy touch on the top.
In this hairstyle, your hair is cut really small and you can save your barber's fee in the long run. This hairstyle is a dashing combination of a wavy top significantly complementing the clean lineup.
Wispy Layered Taper Cut
If you have straight and layered hair, you can opt for this hairstyle. This is a lovely outlook of taper fade haircuts which goes very well with the layered hair.
You need to shave down the sides and the back of the hair and just take a look at your overall hairstyle. This hairstyle amplifies the personality in a modern way.
Top Curls with Taper Haircut
Men with curly hair are increasing day by day and are being cooler as well. Black men with curly hair can also adorn a tapered fade hairstyle. The top layer of curly hair complementing the high faded bottom hair is the main feature of this hairstyle.
In this hairstyle, the shave is above the ears and the neck, making it high taper fade. You can decorate this hairstyle with a surgical cut to give a cleaner look.
Low Taper Fade with Waves
Your wavy hair was just waiting for this hairstyle. Giving a completely magnificent look to your personality, this faded hairstyle is generally owned by black men.
In this type of haircut, you can show off your wavy hair with a bit of style and class. Do ask your barber to keep the desired length of your wavy locks meanwhile turning them into the best of class and style.
Smooth Tapered Fade
In this type of hairstyle, your hair is cut short enough. With this length of hair, you can avoid your meeting with the barber for a significant period. It gives a lean look to your personality. This hairstyle can be combined with the low fade where the shave is near the ear lobes and the neck.
Smooth fades and clean lines make the look classic and slay all the trends. This hairstyle rightly depicts that taper fades are the combination of the best of both worlds.
Edge Up and Part
This is a perfect example of a low taper fade with partition. This hairstyle looks great on black men. If you have an Afro kind of hair, then this hairstyle is bound to suit you. The separation in the hairstyle gives it a fresh modern look.
Low taper fades are ruling the design era and are used by most stylists as their best shot. In Afro kind of hair, you get minimal choices of hairstyles so make sure you choose the best and the trendiest cut ever.
Low Fade with Twists
This new variation in the world of hairstyles is getting more and more attention. A low fade haircut gives you a cleaner look with easy-to-manage hair locks. Longer hair on top in this hairstyle is a plus point as they give us enough space and room to play with the area beneath.
This is a very simple and in-demand haircut. Young people are going bonkers over this hairstyle. Although it would cost you a little it is sure that you will get the unique and slaying look.
High Top Fade with Surgical Line Design
Almost everyone today knows the impact of surgical lines. This hairstyle proves its visual impact very well. If you are not willing to part your hair, the simple alternative is to get this surgical line embedded into your haircut. After that, just look in the mirror and feel proud of yourself.
Surgical lines are the ruling element of this world of hairstyles. You wonder and you get it done. Whatever you can think of can be put down as your hairstyle's design.
Line up Taper Fade
It is a burst fade style that has a sharp look. This hairstyle goes really well with curly hair. You just need to get your favorite high or low fade done and decorate it with this curvy surgical line.
The hair on the top will give a cool bossy look while the surgical line will show your modern avatar. Line-up haircut is also called the edge-up or shape-up haircut.
Taper fade suits best with all face shapes provided you have curly hair. You can decorate it with your imagination and creativity. This kind of haircut has become a staple among stylish and classy men.
Low Taper Fade with Beard
If you own a large beard, this hairstyle works perfectly for you. Taper fades complement even the largest of beards.
When visiting your barber, do ask him to shape the edges of your beard as well so that it suits your face structure and goes the best with your hairstyle. This style is bound to make you stand out in the crowd.
Designer Taper Fade
The dose of trends and styles has even more to offer. Modern-day youth is never satisfied with straightforward and easy to go options. This impressive haircut is very commonly requested by young people today.
For the guys who lay low and still show off, this is for you. Combining the tapered fades with any kind and shape of surgical cuts has become the modern day fashion.
Taper Faded Dreads
Are you worried about your dreadlocks? Kick your fear and take a look at this classy hairstyle. Shortening your dreadlocks and taper fading the lower hair is the new trend today.
Pleasantly shave off your lower locks and proudly show off your dreads. Yes, that's what this hairstyle can do. You also have the option of growing a beard with this haircut. It works well even without facial hair. Hence, this hairstyle is for both beard and no beard owners.
Textured Top Curls
This hairstyle is the best match for the ones with shorter height. The textured top hair camouflages a better height and gives your face an elongated look. Don't take this hairstyle to be simple and boring.
You can make it trendy by mixing it with innumerable twists and curling techniques. Although the things are kept tight at the back and sides you can personalize this look according to your own liking and personality.
Vintage High Top
This hairstyle is a cool mixture of vintage haircuts with trendy cut lines. Anyone can master this hairstyle as it suits all face shapes and color textures.
Many sportspeople go for this haircut as it is very convenient to carry. Any black man can make this haircut as it suits everyone almost and it is a cool mixture of vintage.
Shape Faded Look
The shape faded haircut is the most commonly requested haircut at the barber's shop. As long as you choose a skilled hair artist for yourself, you will get discrete and smooth results. This hairstyle gives a little bit of funky look as well.
It endorses both kinds of tapers which are high and low. Make sure you choose the best barber in the town for satisfying results. Every barber mostly recommends it, but the price varies according to the ambiance of the salon and the barber's work quality and experience.
360 Degree Duo-Tone Waves
Deep waves are also called 360-degree waves. These waves can give a smooth addition to your general taper fade haircut. If you wish to get your hair high tapered, these waves will go really well with you.
These 360 waves seamlessly connect with the shaved part of the hairstyle giving it a very exclusive look.
Sponge Twist Hairstyle
If you really wish to try a trendy look, this hairstyle should be on top of your list. African American men look great with this hairstyle. It best matches their personality and complexion.
The tight curls are a result of a very special sponge that the barber twists adequately. It is the creativity and art of the barber that makes this hairstyle look so smart. With this hairstyle, you are sure to outshine the crowd.
Making the Wise Decision to Upgrade your Personality
Everyone has his own choices and personality. These tapers are most suited to black men, but anyone can choose according to their taste and experiment with these cool looks on themselves. Before selecting the hairstyle that tempted you the most, do think about your face elongation and all-over personality.
There are some haircuts that suit certain face types only. To make that cut your own hairstyle, make sure your face structure is the same type as told in the description. Who can say which look will make you the hero of the town? These handpicked ideas are the best which we could bring to you.
These hairstyles may tempt you but make sure if you choose a great haircut for yourself then choose the best barber as well. Only an experienced and skilled worker can give you the best and satisfying results.
There are many salons which offer these services but make sure that you ask for their best men to work on your hair. Hair is one thing that can make or break your personality. Take a wise decision and act accordingly.
To choose the best and trendiest look is easy but to imagine it on your face is a task. It is better to be sure before running to the barber for the same. If you have a fixed hairstylist, you can ask him for his opinions and be assured of whatever it is; it will suit you. We wish you all the best for your upcoming outlooks.
We hope you look at the best and take the right decision for yourself.