Feed-in braids hairstyles have steadily grown in popularity over the years. Black girls are experts in flaunting such gorgeous looks, and with its rising popularity, it is only fit to share some of the best feed-in braids hairstyles with all of you. These hairstyles are mainly achieved by feeding in or filling in synthetic hair or braids to your original hair, thus giving it a very natural look. This is also how the name 'feed-in braids' came into being. So here are feed-in braid styles for you to check out.
22 Most Coolest and Fabulous Feed in Braids
Thick and Thin Mixed Dutch Braids
The Dutch braids hairdo is one hairdo that looks very cool and stylish as it is a beautiful mix of both thick and thin braids in alternate sections. It is a perfect look that is all about summer and holidays. To get this look, all you need to do is simply divide the hair into different sections or parts and alternately create thick and thin braids. You can also choose to color some of your braids to get a refreshing look.
Long Braided Ponytail
This is a look that is perfect for those girls who have really long and thick Afro hair. You can maintain your hair properly with such a hairstyle while also looking so cool at the same time. Just as shown in the previous hairstyle, this one too has been created by taking thin and thick braids alternately. They are pulled back and neatly tied up into a high ponytail. This style also looks its best when further accessorized with cute little stuff like beads.
Braided Afro Hair with Double Buns
Just like the ponytails, the bun is also a great element of fashion. It's easy to create a bun look and it is very classy too. As shown in this picture, the hair is divided into two equal sections into both sides and then tied up into two cute buns that simply look adorable. The rest of the hair is simply tied up in a braided style and parted to both sides. Hair cuffs are a great accessory that goes so well with bun hairstyles.
Feed in Braids with Ombre Golden Highlights
Braids are a gorgeous way of styling one's hair, and they are made all the more beautiful by the simple addition of any colored highlights to the hair. The hairstyle here is kept very simple with just alternate sections of thick and thin braids. It's interesting to note that only the thickly braided parts of hair are highlighted on the upper portion. The rest of the hair below the neck is simply then tied up into braids of the same thickness and let down falling freely.
Flowing Feed in Braids
This style is not a normal feed-in braids hairstyle. If you take a closer look at it, you can find that the braids look as if they are flowing from different directions. This effect is created by the unique style in which these braids have been tied up. They simply look gorgeous on any person's head when created in this flowing hairstyle. To further spice up this look and make it look a little bit more dramatic, then you just need to highlight some parts of your hair or even simply add in some hair accessories.
The Perfect Braid Look
Just like the name suggests, this is the perfect braid hairstyle that you can try out if you're looking for a hairstyle that is equally beautiful and equally classy. The braids have been pulled back neatly and all the braids are of equal length, which has a raw beauty to it. It is a hairstyle that you can wear to any type of event and wherever you are, it will still look gorgeous. It is also a very sporty look while also looking quite elegant.
Blonde Highlighted Beautiful Braids
While people are becoming increasingly creative these days by trying out a wide variety of colors on their hair, some people like to remain a classic by choosing the blonde color over any other shade. There is something quite beautiful about the blonde shade, no matter who is wearing it on their hair. That could also be the reason why this hairstyle looks so gorgeous. On the upper section, the hair has simply been tied up in alternate thick and thin braids, and then below the neck; the hair has been let down flowing freely in its natural curly texture.
Deep Red Highlighted Braided Hair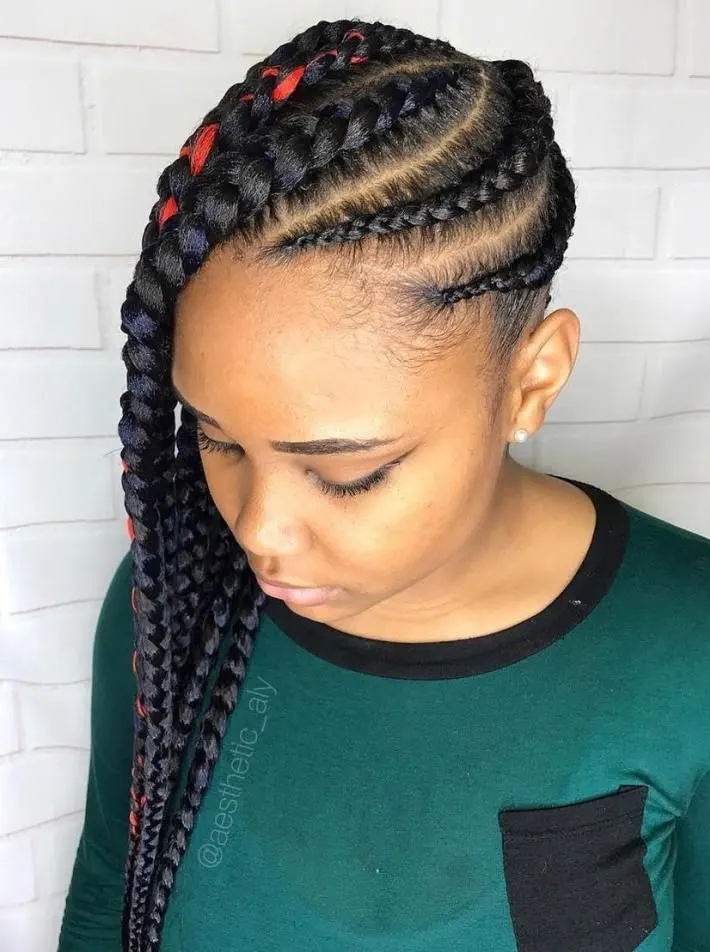 Simple highlights look with only a few barely there red highlights. The hair has been thickly braided across its entire length and has been styled in a style that is similar to flowy braids. The red highlights contrast beautifully against the dark black hair and make it look exceptionally beautiful. The thing about the red color is that it looks great on everyone since it goes well with both lighter and darker skin colors quite well.
Neon Orange Braids
Wow! A completely gorgeous braids hairstyle that looks so in vogue too. This hairstyle will surely take you by awe not just for the first time when you see it, but over and over again every time you look at it. All of the hair has been braided by completely parting it to one side, and while they may look uneven, it has a beauty to it since the hair has been braided in quite a thick manner. The glow of these neon orange highlights is simply irresistible. A great look that will help you steal the show no matter where you go.
High Bun Braided Updo
Now, this is a very unusual look and is not one that we always see. While it may be unusual, it still looks gorgeous enough. Bun hairstyles are always in style and the same goes for this one too. The highlight of this look is definitely how the braids have been tied up in an ultra-thin style. This is a style that takes quite a lot of effort and patience but once it is done, you'll have yourself one of the gorgeous styles to ever exist.
Zigzag Flowy Braids
The flowy braids style is one beautiful style s because of the way in which it looks as though coming from all directions. A little and fun twist is further added to this hairstyle by making it look like a zigzag shape with very thin and small braids on the top and upper section. The braids get relatively thicker as it goes backward. More sporty than classy, this look is surely going to give off major cool vibes about you. And on the bottom, you can notice that the braids have been made to look more beautiful by adding in cute and tiny accessories on the hair.
Fabulous Poetic Justice Braids
Simple Braided Look
Now, this is one of those simple and attractive feed-in braids look. While dramatic and bold looks are all the trend these days, some people still like to keep it low-key and elegant, and for that, all you need to do is choose a very simple and natural hairstyle. The hair has simply been braided on all sides in sections of medium thickness and cute hair cuffs are added in between the braids to make this style look quite refreshing.
Double French Braid
The French braid is a classic and popular style that has remained a favorite throughout the years. It is a symbol of womanhood. The hair here has been styled with a modern twist to it. Instead of the normal French braids, the feed-in braids have been styled that way after neatly parting both of the hair to the sides. The braids significantly grow in thickness as it comes down to the bottom. This is a very cool and sporty look that you can try out.
High Ponytail Braids with Beads
This is quite a refreshing look from other feed-in braids hairstyles. The hair has been divided into sections of equal length, and while the upper portion of the hair has been pulled back and tied up into a high ponytail, the lower section of the hair has simply been let down flowing freely. Almost all sections of the hair have been accessorized with beads that make the overall style look too adorable. This hairstyle is also a perfect summer beach look.
Double Sided Flowing Braid
This look is another work of art by the hairstylist. It's quite a simple and low-key look yet looks so in vogue. Instead of doing the normal straight parting onto both the sides, the hair has been parted in the direction of the flowing braids. From each of these parts, a section of the hair has been very tightly braided across the entire length of the hair. This is a casual hairstyle that you can wear to almost all events.
Thin and Thick Mixed Braids
This is a slightly toned-down version of the original dutch braid hairstyle. The entire section of the hair has been divided into many parts, and each of these parts has been tied up into thin and thick braids alternately. The braids have then been let down hanging just as it is. You can also add further charm to this look by simply adding accessories like beads or hair cuffs into different parts of the hair. Or getting your hair highlighted is also a good option to flaunt this look.
Cornrow Braids
The cornrow braids are one of the classiest looks ever. This look has some sort of elegance that cannot be explained by putting it into words. While these cornrow braids, as shown in the picture, do not have any extensions or anything, it definitely has some wired accessories which simply take a look to a whole new level. This style is a great braid inspiration that all of us should at least be checking out, if not trying out.
Classic Braided Look
This is one of the most simple and easy to style braided looks out there. The hair has simply been parted neatly to both sides and then braided up all the way down in thick and equal sections. Subtle highlighting that is done on the hair is also quite visible and brings out the beauty of the braids. This style may look very simple but it also looks just as pretty. And so, this is a convenient hairstyle that you can try not just for casual outings, but for events like parties too.
Stunning Braided Hairdo
The hair here has been divided into different sections, and then, thin strands of hair have been taken from both sides to create a thick braid that goes all the way down. A great hairstyle that is also quite visually appealing and can be worn to any kind of event with any type of outfits. Such is the versatility of this style that no matter how you wear it, it is still going to look fabulous.
Side Braided Hair
This is also a unique hairstyle and a refreshing one too, after seeing loads of similar pulled back braid hairstyles. Instead of the usual straight braids, in this style, the hair has been braided up by parting a section of the hair onto one side. The rest of the hair has then been pulled back and simply tied up and let down flowing loosely and freely. A great hairstyle for festive events that will surely make you look glamorous.
Long Braids with Visible Baby Hair
If you're someone who likes to flaunt your baby hair, then no better way to do it than this style, as shown here. It doesn't matter the length of your hair, the whole highlight of this style is on the minimal and elegant way in which the baby hairs have been styled. The hair in this picture is quite thick and textured so the thick braids are only suitable. Add minimal accessories to your hair and you have got yourself a great hairstyle.
Magical Blue Braids
And the final look is one for the records. How amazing does it actually look? Well, we have to say that this feed-in braids hairstyle is totally brilliant and what makes it look different from the rest is obviously the blue colored highlights that have been all across the hair on the area below the neck. And on the top too, the hair has been neatly parted to both the sides and twisted and braided. A great look that will make all eyes stare at you for sure.
You never know until you try out something for the first time, and we definitely recommend you to try out any of these hairstyles and help you stay in vogue. It is a simple and stylish hairstyle that will also help you to maintain your hair properly without having to put in too much effort.