Long lustrous black hair is a dream of every woman. And if the hair is designed by cut or style, then it can make any woman stand out of the crowd. Braids are one of the most beautiful and timeless hair designing or styling technique that is adorn and admire by every woman. Traditionally braiding style is originated from an African country. The tribal people from Africa used to braid their hair, and their unique style of braiding was used to recognize their different tribes. From generation to generation, this custom of hair braiding is going on. They are still following this custom of braiding and made it worldwide famous.
Braids protect your hair from pollution and the harshness of the surroundings. If your hair is damaged, it gets healed because hair is saved from the roughness of the environment by braiding. Braids commonly appear graceful and are versatile and protect your hair as well and will be in fashion forever. Only the style and appearance have changed but the technique and prototype are the same till today, may it be box braid, two-strand or cornrows. Many celebrities and film stars can be seen flaunting this beautiful style. Women are flattering this style in many different ways that look very stylish and amazing. Braids with bangs are again in the limelight and look voguish. You can flatter your braid with braided bangs, bobs or half cornrows box braids with bangs and even can show your creativity by weaving colorful beads. Obviously, there is a lot you can experiment with your braids with bangs. You just have to try out different bits and pieces and keep on experimenting with your braids for the head-turner style.
Braid with bangs is a common style where the hair is braided and bangs left covering forehead. This is the most common and easy way of styling hair. But braided bangs are in trend nowadays. To get the braided bangs style, you have to braid your hair normally and then the front bangs are braided into fringes so that you have some braids dangling on your forehead to make you look stunning. These fringes can be weaved or decorated with beads or with some other materials to make them look chic. These styles are very familiar with black women. But now you can witness these braided styles in fashion shows or any fashion-related events.
This braided style with bangs enhances your facial features especially your eyes and cheekbones get more highlighted. As this is a versatile style, you can style your braid in many different ways. You can lay it down at the back or even can tie a top knot or ponytail. You can make many thin braids and decorate them with different colors and sizes of beads. You can be creative by adding extensions as well. Colorful threads and wools can be weaved with braiding as well to make the style more amazing.
Some of the beautiful styles of braiding with bangs are described below to make you familiar with the trends that are in fashion nowadays. You can try them at least once while going to parties or some other events to look trendy and steal the show.
21 Most Vivacious Braids with Bangs to Look Super Cool
(1) Two-Tone Long Box Braids with Fringe Braids
This is a unique style of braiding that looks like a wig. If you want to execute this modern style of braiding, then you must possess very long and very thick hair. This style looks amazing with long uncountable braids that are hanging on both sides in front of the shoulders. To make the style appear extra-ordinary, at the front bangs of hair are braided to make fringes that are dangling on the forehead. If you have enough time to spare on hairstyling, then it is a great style for you. A little time consuming, but once done, can be conceded for days. The hair is bleached and dyed in a light brown color that is giving the style a two-tone character.
(2) Box Braids with Top-Knot and Straight Front Bangs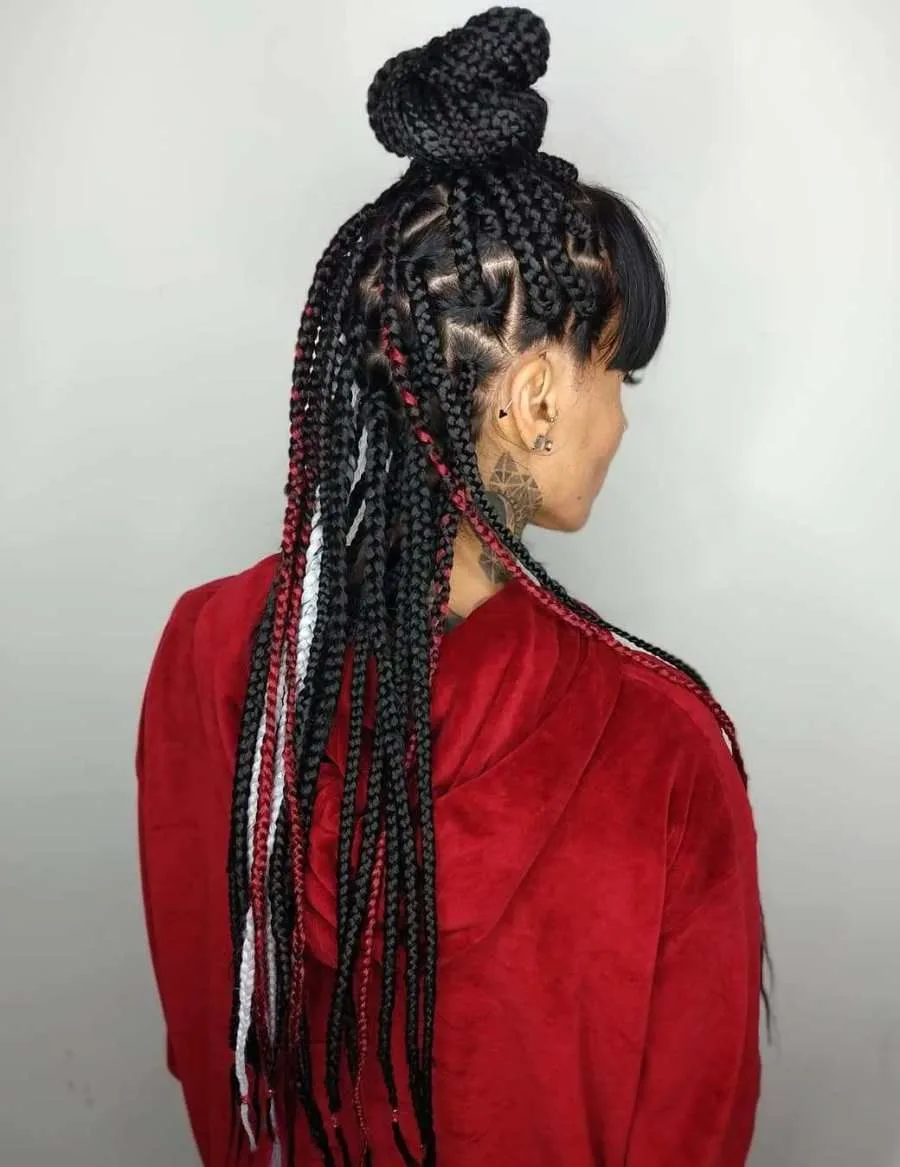 Braids have been taken to the next level of styling. This is a great style that is not covering the whole head indeed straight bangs on the forehead are left free making the style exclusive. The long and thick hair is braided in many thin braids, and some of them are weaved with white and red strings making it peek-a-boo style. The braids from sides are gathered above the head and are twisted to make top-knot. The rest of the braids are hanging at the back. This is a super cool style for college going girls.
(3) Purple Braids Hairdo with Braided Fringes
The creativity in this braiding style is showing the modern variation of styling the hair. The shoulder length thick hairs are divided into many thin parts and are braided with purple threads. At the front too, the bangs on the forehead are braided with purple thread to make fringes. Some braids on both sides of the shoulders are left hanging while other braids are twisted to make a little loose big bun at the back. This is a pure African tribal hairstyle that is presented with a little manipulation and scalp creativity. This style will enhance the facial features of women with a round face.
(4) Long Black Multiple Braids with Fringes
This is again an Afro-braided style with a twist. The hair needed to execute this style is to be long and thick; then only it will be styled gracefully. The hairs are divided into small parts and are braided to make many thin braids. The bangs at the front are braided as well and at ends, long silver beads are weaved making the style look jeweled. Black African women admire this type of style. But now it can be seen in many ramp shows with models displaying it. In this picture African model with fuller lips and nose-pins are looking chic in this style.
(5) Jeweled Braids with Fringed Bangs
In the fashion world of today, beaded braids with bangs are really a very hot style to flaunt. The secret behind this style is the patience to get so many thin braids to be done. The hair should be long and thick and divided into many parts. Each part is braided neatly and is beaded with many different sizes and colors of beads at the middle and ends as well. The long braids are asymmetrical in length and look amazing with colorful beads. They are hanging on both sides of the shoulders. The fringes on the forehead also are braided and beaded making a hippie look. Overall this is a stylish hairdo for modern women.
(6) Braided Hair-band with Straight Bangs in Coppery Hair
This is a vintage style of braid that English women used to flaunt earlier but is equally in trends nowadays. The long hair is braided and styled like a hair-band on top of the head and pinned to make it stay in the place. The coppery bangs, covering the forehead, are complementing the style. Few strands of hair on both sides of the face are left free to add an element to the style. The copper color is making the hair look shiny and chic. This style can easily be flaunted at any occasion or event.
(7) Blonde French Braid with Straight Side Bangs
Women with thin and medium length hair can style their hair in this way to make it look voluminous. The hair at the back is braided in French style and secured with a rubber band at the end. At the front, the bangs are swept at a side making the half forehead visible. Some strands of hair are falling at the cheekbones that make the style glamorous. This is an easy style that can look good on women of all age groups. The hair color is harmonizing the skin tone of the model making her look awesome.
(8) Twisted Huge Bun at Top with Long Blonde Hair with Side Swept Bangs
This style of the twisted bun at the top is of the next level, making the women live in a modern era. One has to be very confident to carry this style. To execute this style, very long and thick hair is needed then only the outcome will be awesome. The hair divided into many sections is twisted and then formed into a high top-knot bun. The long front bang is side-swept that falls covering the cheekbone till the jaw-line is giving a frame to the face. The blonde hair is complementing the fair skin tone of the model. Women working in the fashion industry will look great in adopting this style.
(9) Highlighted Twin Braids with Straight Bangs
On a daily basis, women with a busy schedule do not get much time in styling hair so this style of hair braid can be apt by them. The highlighted hair is parted into two parts and then made two French braids on both sides. The ends are secured with rubber bands. Both the braids are hanging on both sides of the shoulders. The straight bangs are covering the forehead making the style easy to go. Young girls going to schools or colleges can go for this style to look trendy.
(10) Messy Style Of Hair Braid with straight bangs
This style is often apt by bridesmaid that makes her look stylish. Long and straight hair is needed to make this style. Hair at the back is braided and styled like a hairband or crown at top. Bangs at the front are slightly angled swept giving an edge to the face. Some long bangs are falling on both sides at shoulders making them look more charming. This is a messy style that is giving an awesome look. Women can go for this style for any occasion or event that can make them stand out of the crowd.
(11) Long and Short Bangs with Two Neat Braids
This mid-length hair has been styled to make two braids to make the style unique. Mid parted from the back and at the front long and short bangs are left free to add a frame to the face. The braids on both sides are neatly done and secured with rubber bands, are hanging at both sides of the shoulders. The short bangs are very thick and are covering the forehead fully. The long bangs are falling till jaw-line. The texture of the hair is shiny and lustrous. This style will enhance the facial features like eyes and cheekbones of women with a round face.
(12) Braided Headband with Straight Side Swept
If you got bored of your same hairstyle every day and searching for something new that can make you feel fresh. Then bangs can totally transform your old hairstyle without cutting your rest long locks. Here in this picture, you can see that all the hairs are gathered at the back and braided. The braid is styled like a headband at the top and secured with hairpins to make it stay at the place. The bangs at the front are side-swept making the style look glamorous. Brides can go for this look on their big day to be a center of attraction.
(13) Side Pull-Through Braid in Short Blonde Hair
Hairstylists are working hard to make thin hair appear voluminous. They are coming out with new ideas for such. This picture shows a hairstyle that can be done in thin fine hair in short lengths. Women can carry this style on any occasion or event. Even bridesmaid can look gorgeous by this side pull-through braid hairstyle. The hairs are side parted and then some strands of hair are taken from the top of the head like a headband. It is tied three to four times by leaving some gaps in between. Then the hair is pulled from each gap to make it look voluminous. The bangs on forehead left loose to add an extra element to the style.
(14) Bangs with Braided Headband in Long Wavy Hair
Braided headband in wavy hair looks trendy and is much in the fashion industry. This style gives a chic look and easy to make. Nothing specific is needed to execute this style. Only a few hairpins can do the job. The long wavy hair is left open and few strands of hair are taken from sides to make braids. Then the braids are styled like headband securing with the help of hairpins. It is accessorized with a decorative stone pin to add extra shimmer to the style. The bangs are covering the forehead, is making the style glamorous.
(15) Braided Beaded Fringes in Long Hair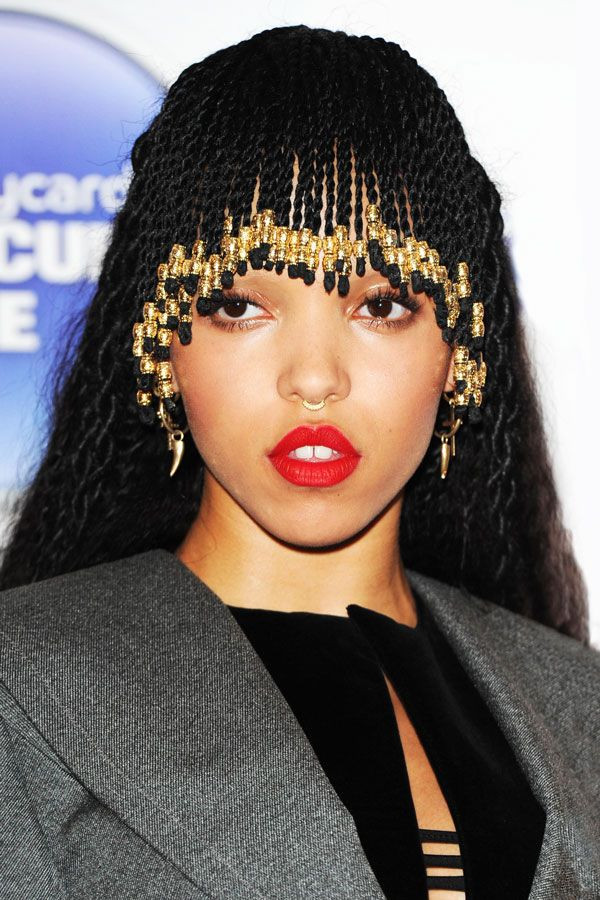 Afro style long box braids are never out of fashion. They can make you look glamorous and super cool. The front bangs are braided and accessorized with golden beads at the ends. Young girls will take up this style to set their own statements. Black African women would adore this style to jazz-up their look. As to make this style you need plenty of time to spend in front of the mirror, but once done, you will fall in love with it. The model here is looking super cool and stylish by wearing middle nose-pin to complement the hairstyle.
(16) Asymmetry Hidden Braided Bangs Hairstyle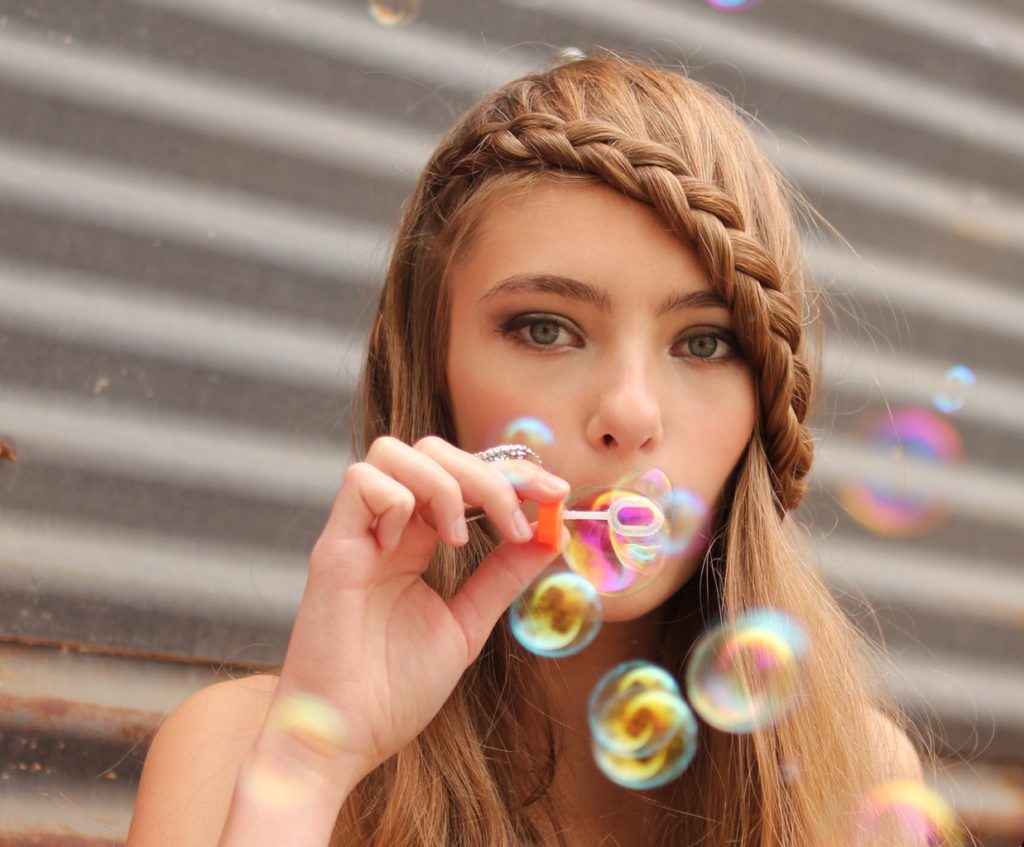 Bored of playing with bangs on the forehead! Want something new but you do not want to lose your bangs too. Then have a look at this picture and get amazed by seeing that beautiful hairstyle. If you have thick and long straight hair, then this hairstyle will make you look stunning. Few strands of hair are taken from one side to make a French braid. While weaving front bangs are added and making inclined towards the other side and pinned up at the back. The rest of the hair is left open making the style look amazing. This style will make you feel warm in winter weather.
(17) Highlighted Braided Up-Do with Blonde Bangs
Long hair can be styled in many different ways, and all the styles look equally beautiful. Here in this picture, you can see a big bun at the back with front bangs. The strands hair from one side is braided and the rest of the hair at the back is divided into small portions that are twisted to form a bun. The side braids are then styled as a headband and pinned at the bun. The blonde bangs on the forehead are complementing the highlighted bun. This is a cool style for summer months that can make you look stylish. Professionals and students can go easy by wearing this style in long hair.
(18) Side-Parted Messy Hair Style with Bangs
This is a messy hairstyle for young college going girls that reveals their carefree and lively nature. The hair is cut into layers keeping the length long and side-parted. From one side, a French braid is weaved till the back of the head. From another side, some strands of hair are weaved as well and pinned at the back to make the parting appear prominent. Long fringes are covering the forehead completely. Some bangs are hanging on both sides of the face making the girl look innocent. The overall style is making the girl look super cute.
(19) Fiery Orange and Black Messy Braid
Women who want to look different from others and want to set their own class, then this style is for them. This is a hot and sexy hairstyle that will make you stand apart. The Hair is highlighted with fiery orange that can put a spark in your overall style. The hair from the back is pulled at a side to make a long braid and made it dangle on the shoulder at the front. Some long and short bangs are left free to fly here and there on the face to make the girl look cute.
(20) Long Messy Braid with Uneven Bangs
There are different hairstyles in long hair women can apt to look stylish. Every style depends on different moods and occasions. Bangs with braids are very much in trend in today's modern world. This African hairstyle, with some variation, has become the most demanding hairstyle for modern women of today. Here in this picture, the long hair is pulled back to make a messy braid that is tied by rubber band at the end. The braid is hanging in front of the shoulder. The long bangs on the forehead are uneven in size that covers the eye area as well. This is a cool-cool style for long faced women.
(21) High Braided Up-Do with Long Bangs
This is a party wear hairstyle in thick long black hair. This braided hair up-do is unique in its style. From both sides, some hair strands are gathered to make neat braids. The rest of the hair at the back is divided into many small parts and is twisted and pinned to create a high bun. The braids from both sides are styled like a hairband and pinned up to make them stay in place. The long black bangs on the forehead are blow-dried to give some volume and shine are styled neatly. This is a gorgeous hairstyle that a bride can also flaunt on her big day.
Hence, this African tribal style of braiding hair is never out of fashion. It is increasing the enthusiasm of hairstylists to work on braiding to make the style more interesting. The fashion industry is also adopting this style with variations. Braids with bangs are very much in vogue and are clarified by the above pictures with details. From the above description, it is made easy for modern women to choose the best style according to mood and occasion. They can amaze the world by presenting themselves with different hairstyles. Braids are a complicated hairstyle that takes plenty of time to execute so patience is a must. You have to spend hours in front of the mirror to get the look you always wanted. Once done, the style can be easily carried for months. Braids with braided bangs are the art of creativity. You have to search for the right hairdresser that knows the job very well; then, only the outcome will be excellent. Women of all age groups can be apt for the style of braiding and it equally looks good on them. The different styles and techniques of braiding make each style unique. The braids with bangs can be a highlight with a different texture, patterns, color, beads, clips and shapes to make every style a head-turner.