Pageboy haircut was enormously popular in 1950-1960. It is a retro-style haircut that looks absolutely classy. It is so enduring that it is in high demand even today. People who want timeless and modern haircuts, the pageboy haircut, are a great choice. This haircut got its name as Pageboy as it was worn by the English'' pageboys''. In 1950-1960 women adapted this haircut to increase confidence and independence as they started practicing their own careers. The film actresses of that time used to flaunt this haircut and made the cut popular among modern women of that time. Earlier women of young age group were used to wear this pageboy hairstyle but as time passed, it became the more pertinent hairstyle for modern women.
The pageboy haircut is a short hairstyle that usually turns under. This cut is inspired by geometrical cuts that have clear lines, which is the most significant feature of this haircut. The length of the hair can be short or medium according to the choice and blow-dried inwards to give a super classy look. One can wear this style with or without bangs. This cut looks elegant in bright colors.
To give a classy look to the pageboy haircut with bangs, they should be cut straight and the sides also need to be in straight one line. The shortest version of this cut has very short hair that touches earlobes, and from the back, the cut looks like a boy's hairstyle. It adds an edge to the face by highlighting the jaw-line and cheekbones. Pageboy haircut has become the first choice for fashionable and modern women of today. It is very popular in the fashion industry and many celebrities can be seen wearing a pageboy haircut style. It looks good in black hair but looks elegant and great if dyed in bright colors such as red or orange.
Women with oval or heart shape faces can go for pageboy haircut. To highlight the fine features of the face, a pageboy haircut is a great option. Women with fine and straight hair can style their hair in pageboy cut with bangs to make the hair look voluminous. The reasons behind the popularity of pageboy haircut that makes it trendy and demanding are:
As this haircut does not need much hairstyling products, the cost of its maintenance is low and can be styled easily by applying wax or pomade.
Modern women of today are busy enough and cannot spare much time in styling hair, so this style is ideal for them. Do not need much time to style and looks trendy as well.
Short hair looks chic and fresh, making the women look younger in this haircut.
This short haircut is perfect for summer months, making the style look super cool, and one can flaunt the beautiful neck-line as well.
20 Pageboy Haircut for Bold and Babe Look
Below some pageboy haircuts with variations are illustrated, so check out and pick the most relevant one and make your personality look stunning.
(1) Long Pageboy Haircut with Front Bangs
This is the most stylish pageboy haircut in long hair. The pageboy haircut with bangs needs to be cut straight in one line without making the hair short. This type of cut looks perfect in straight long hair. Women with thin long hair can go for this type of cut as the bangs add volume to the style. It can be styled easily without spending too much time as its cut and shape will set on its own. In this picture, the haircut looks very appealing in the tint of brown color. The bangs falling on the forehead adds a frame to the face highlighting the fine features of the model.
(2) Short Classic Pageboy with Symmetric Bangs
Pageboy haircut can be styled in modern variation. This is a classy pageboy haircut that is short in length. But you can go shorter or longer depending on how long you want your pageboy or bowl cut to be. Here the length is kept till earlobes, and the bangs are covering the forehead till eyebrows. This style is easy to maintain and will look great in thick hair. If you are bold enough to carry this style, then this is the most stylish vintage pageboy haircut.
(3) Modern Pageboy with Undercut
The women's haircut has undergone a revolutionary change nowadays. One needs to have the courage to apt this super bold style of an extremely short pageboy haircut. The silvery blonde shade looks sleek and shiny, giving the cut a perfect look. The razor undercut at the nape of the neck is adding an edge to the short haircut. If you want a fresh and edgy haircut, then this style is for you that can make you stand out in the crowd. One can get creative and think of a pageboy haircut with a shaved undercut that goes well with bold ladies.
(4) Trendy Pageboy with Short Bangs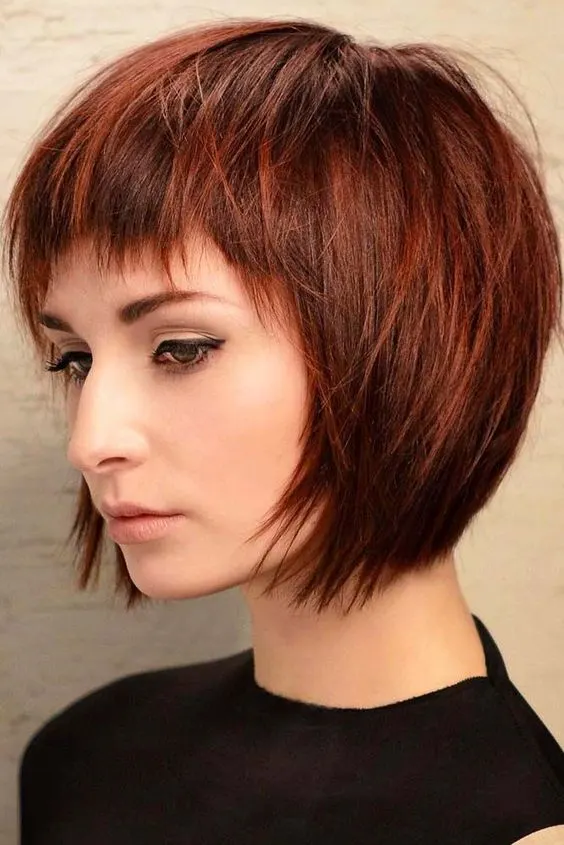 This is a modern variation of a pageboy haircut. The mahogany colored hair is highlighted with copper shade making the style amazing. Keep the hair length medium, just covering the jaw-line area. The contemporary layers with lots of texture are set to move freely so that they can add an element to the face. The short bangs with choppy ends at the forehead are giving periphery feeling. This style requires less maintenance and styling. Women with an oval shape face would look great in this haircut. Overall the look is very stylish and trendy.
(5) Pageboy Haircut Inspired by Blunt Bob
Pageboy haircut with revolutionary change is back again with bold cuts and style. The haircut displayed in this picture is a style that can be flaunted in any fashion event or even at a red carpet appearance. This is a messy style with a contemporary bob in medium length. The hair is dyed with honey gold colour at few inches above the ends and is highlighted at the roots making the style look wonderful. The fringes falling at the forehead are long enough to cover some parts of the eyes as well. The blunt cut till the jaw-line area is covering the cheekbones looks chic.
(6) Messy Pageboy in Wavy Bangs
Wavy hair can be styled in any cut and length. Women with wavy hair will be happy to see this picture as it reveals that the wavy hair looks equally awesome in dealing with pageboy haircuts as straight hair. The messy bangs at the front are styled carelessly which shows that this style does not need much to maintain the cut. The length is kept covering earlobes that add a frame to the face. This type of cut and style gives a fresh and cool feeling every time. This style can be carried off easily at anywhere.
(7) Classic Pageboy with Modern Touch-Up
This is a classic pageboy in medium length hair. Many celebrities can be seen wearing this hairstyle. This is a style with front layers that enhance the facial features giving a classy and modern look. The medium straight silhouettes are under turned and highlighted with chocolate and chestnut brown color. This style will look awesome in thick hair and will suit most of the face shapes. The bangs are covering the forehead completely, making them look super cute. Easy to maintain the style is in super demand nowadays.
(8) Mid-Parted Pageboy Bob with Blunt Bangs
Bob, with blunt bangs, complements each other perfectly. This is an elegant pageboy bob that is preferred by many girls. You can see this highly stylish cut in the runways of the fashion events. In this picture, you can see a classic pageboy haircut that is mid-parted. The length is short covering the earlobes with a blunt edge. The blunt bangs look amazing at the forehead with its sleek look. The style can be maintained easily by blow-drying and then flat ironed to give a sleek and shiny look. Highlighted with chestnut brown color the style is very fashionable.
(9) Sleek Silver Blonde Pageboy Haircut
Pageboy haircut can be styled in many ways from vintage to modern and look equally stylish. This is an original pageboy cut that is given a modern look by dying the hair in silver color. The bangs are sleek and blunt giving a clean look. One needs the courage to carry this style but you can spice up your special occasion with this look. This timeless pageboy haircut can be seen flaunting by models in fashion events. Create volume and play with color to achieve a more interesting appearance.
(10) Messy Layered Short Pageboy haircut
Pageboy haircut can be modernized by making the hair extremely short. The length of the hair is kept up to cheekbones. The layers full of texture and movement are massively styled giving a carefree look. This style does not need any specific hair styling product but only blown dry and left free to set by itself. Good for women with a hectic work schedule. The hair is highlighted with silvery pink shade making the style look awesome. Women working in the fashion industry and models walking the ramp flaunt this style flawlessly.
(11) Side Parted Medium Pageboy Bob Cut
Women can change their overall look by experimenting with different haircuts. As pageboy haircut is again in fashion nowadays, women are adopting this style with variation to look chic. This pageboy bob cut with side parting is very glamorous with hair swept at one side and some layers are rolled at the ends. On the other side, the hair is tucked behind the ear. The ends of the hair are highlighted with a chocolate brown color. The whole look is sleek and shiny that is effortlessly styled. This style will make oval face shaped women appear sexy.
(12) Side Swept Curls With Bangs
Curls are never out of fashion. They could be styled in different ways to make women look hot and appealing. Here in this picture, you can see that curls are cut into pageboy style in medium length. The hair is highlighted with different shades of light brown color that is adding a lot of texture. The hair is swept at one side making some curly layers falling on the forehead giving a frame to the oval face of the model. From the other side, the hair is pinned-up to make the style look clean. A smile will add an extra element of the style.
(13) Multi-Dimensional Bob Cum Pageboy Haircut
Pageboy haircut, in its vintage style, has always been around. Now you can be surprised by seeing its modern variation. Pageboy haircut is also known as pudding bowl haircut with its new version, will take you on a fashionable time travel journey. This picture describes every single detail of the cut. This is a modernized version of pageboy with a touch of bob. The style is designed with two different textures and highlighted with diverse shades of brown. At the front, the fringes are extremely short. The uniqueness of this cut is its variety of lengths and layers that can be a head-turner.
(14) Modern Version of Vintage Pageboy Haircut
If you love to experiment with your hair by adopting new haircuts every time, then with this artistic cut, you can do a trial. This is a pageboy cut from front and bob from the back, a very creative style that one will love to give a try-out. The fringes at the front are kept very short and the diversity in length is the main feature of this style. To keep the style in its shape, you have to visit your stylist frequently so maintenance can be on the higher side. But the inimitably of the style is worth to be apt.
(15) New Version of Pageboy in Layered Bob
The timeless pageboy haircut is always in fashion and now it is in trend with its new variations. It can be styled by mixing with other haircuts to make a new hairstyle every time. This is again an amazing style with a mixture of bob and pageboy haircut. The hair is bob at the back and from the front, it is giving a pageboy feel. The layers with texture are styled messily. It can be styled effortlessly with low maintenance and can be carried by women of all age groups.
(16) Medium Layered Bob With Cropped Pageboy
As time changes, the haircut and style changes in unexpected variations. Women are adopting different cuts and styles to remain in fashion. At earlier, pageboy haircut used to be of short length but now you can witness it in medium to long hair as well. This picture is an example of such an experiment. The hair is cut into layers till shoulder length and from the front, it is given a cropped pageboy look. The distinctive layers look awesome in chestnut brown color and are naturally styled. The front fringes are also not in a similar size.
(17) Modern Fusion of Blunt Bob and Pageboy Haircut
Modern women want to wear hairstyles that look unique and as well as easy to maintain. So the hairstylists are experimenting in fusion hairstyles that look amazing and fashionable too. This is a picture of blunt bob blended with a pageboy haircut. The hair is cut into a bob in medium length, and from the front, the bangs are covering the forehead giving a frame to the face. Highlighted with coppery shade, the hair looks sleek and shiny. Nothing much will be needed to style this haircut. This is a very cute hairstyle to suit most women of all ages.
(18) Messy Curls in Straight Short Bangs
If you want to change your short pageboy haircut, then let it grow without trimming it. Once it grows, it will make your tresses form another kind of style that will give you a new look. To make the style look distinctive just make the short bangs straight and they will steal the show. Long hairs always have room to show creativity. The curly layers are massively styled and the baby bangs peeping behind them are complementing each other. The style without extra effort looks very chic and voluminous.
(19) Side Swept Sleek A-Line Pageboy Haircut
If you got bored wearing the same hairstyle in medium length hair and want to refresh then try this modern version of pageboy in A-Line haircut. This will give you a new look and enhance your confidence as well. The hair is highlighted in varied shades of brown making the hair look shiny and lustrous. The straight hair is side-parted and under turned at the ends. To get the look, just apply some hair pomade and blow-dry before ironing to make the hair look straight. The style will complement the round-faced women with thin hair.
(20) Enchanting Pixie in Pageboy Haircut
This is a fashionable yet sporty haircut that will tempt anyone from young professionals to a celebrity. This style is blended with pixie and pageboy haircut. This is a great style for thin hair that makes them look voluminous. The hair is highlighted with a tint of brown and length is kept short. The bangs at the front are a bit long flattering the eyebrows and are left to style in their own way. Easy to style and maintain this fusion haircut will make you feel cool and comfortable. Great styles for the summer season that will make you look sophisticate.
Hence, the pageboy haircut in retro styling with variation is back again and much in demand. Modern women of today love this haircut as it is easy to maintain the style and looks trendy as well. You can look your best without compromising your comfort by choosing such type of haircut.