Fashion doesn't only consist of the clothes and shoes you wear. In order to be fashionable, you also have to pay attention to your hairstyle, because this is just as important as any other element of your outfit and image.
Just like in the case of women, most of the men wake up in the morning with messy hair and spend at least five or ten minutes in front of the mirror in the morning trying to fix it so that they can go out without covering their head.
It can be difficult to decide which haircut is the best to choose because it can make you look better or worse and that is really important for men. Of course, just like any other fashion branch, haircuts can change, just like clothes change.
It is even recommended to change your haircut according to the season, but there is one condition with whatever change you choose to make in terms of haircuts. It has to suit you. It has to suit your features and it has to match the shape of your face.
Based on the different changes which may occur, fashion trends in terms of haircuts usually change just as easily as with clothes or shoes, giving you a greater possibility to express yourself.
Fashion depends on a lot many factors- Hairstyles for guys vary depending with the length of the hair, the stylists that a person is working with and usually the look that a person wants to achieve.
Progressively more guys are today letting their hairs grow at the base of the ears. Such hair can easily be styled making use of layers or other creations which are easily attainable by using styling tools and products.
Most of the common products utilized in styling men's hair irrespective of their length include putty, molding paste, or wax.
Relaxing creams also are common use in hair care and styling for men.
Additional alternatives for rough hair consist of shaggy locks, dreadlocks or cornrows.
The increasing quantity of hair treatments, shampoos, and conditioners, along with other products makes acquiring fashionable hairstyles for African-American men a real possibility to many.
Among the natural issues that have needed to be overcome by hair designers includes the dry structure of the hair. With this, the hydrating conditioners and hydrating lotions are designed to hydrate the hair and also give it some radiant sheen.
Asian Men Hairstyles- Asian men aren't considered the most privileged when it comes to hairstyles, but that doesn't mean that there aren't some very fashionable choices for them when it comes to this fashion aspect.
Most Asian men are recognized by their straight hair and their ability to carry any hairstyle whether its comb-over, fade, slick back, top knot, undercut, man bun, crew cut, side part or angular fringe.
From trendy long or medium hairstyles to modern short hairstyles the best Asian haircuts will provide you volume, versatility, and texture.
It may just be their type of hair that provides them the versatility to style all these cool haircuts for Asian men or their willingness to be sociable and fashion-forward, but Asian guys certainly have some impressive hairstyles.
Asian Men Hairstyle Tips You Need to Know
Asian hair is beautiful, but we're going, to be honest– it does come with a few issues. If you want to style your hair perfectly, here are some of the tips that you should know:
Volumize your hair
One issue with Asian hair is it tends to become flat and boring. If you want to make it look stunning and gorgeous, you need to lift it up. You can do this by using a gel or a mousse to keep it looking modern and volumized.
Apply a strong styling gel or hair wax
Because Asian men's hair is fine and thin, it runs flat over time even if you apply gel or hair wax. To prevent this from happening, try to look for extra-strong gels and waxes so you can easily mold your hair to different hairstyles and preserve the look for longer.
Don't part your hair evenly
This look may work on other men, but it's not advised for Asian men as a hair part that's too even can emphasize how thin, fine, and flat your hair is.
Best Asian Men Hairstyles
Here are a few illustrations of what a contemporary Asian guy can look like. There are a vast collection of choices and these hairstyles suit straight, coarse hair that is common.
Half-Ponytail Charm
Do you like to keep your hair a bit long but don't want it getting in your way? The half ponytail is the best hairstyle to go for as it gives you the best of both worlds– the charm of long hair without the hassle that comes with it.
Tapered Messy Hair
Can't decide whether you should go for a neat or a messy look? This gorgeous Asian men hairstyle is the best way to go. The tapered sides mean business while the messy and tousled top screams party! Truly, the perfect work-to-night hairstyle for men.
Curly Tops
Here's another great example of a hairstyle that mixes business with pleasure. No matter what your age is, the curly top hairstyle will certainly make you look more youthful and approachable. The golden hair color is a nice touch too!
Bowl Cut
Of course, we needed to include the iconic bowl cut in this list. It was one of the go-to Asian men hairstyles for the younger generation, but now it's making a big comeback and is now being sported by Asian men of all ages.
But please take note, this is not for everyone– only men with hair that has lots of body can pull this off.
Pastel Hair Color
Do you dare to be different? If so, nothing will make you stand out even more than a pastel hair color on a modern and wispy haircut.
If you're not yet fully committed to the look, you can try using semi-permanent hair colors first so you can easily bring it back to your original color after a short while.
Two-toned Hair Color
If you don't have the courage to color your entire hair, why not give the hair color of your dreams a try by going for this two-toned look? In this way, you can try out the hair color you've always wanted without your entire hair at stake?
Faux Hair Color
This is a modern and more acceptable version of the mohawk. The faux hawk is a lot more forgivable as it has longer hair at the top. It also gives you more freedom to play around and experiment with how you would style the top portion of your haircut. If you want it spiky, make sure to use extra-strong gel.
Mohawk with Fade
For the ultimate badass look, the mohawk is the way to go. This cut would require you to have tapered and faded sides and a longer cut at the top of your hair. You can keep your middle cut spiky or curly– totally up to you!
Sideswept Mohawk
Another version of the mohawk is this sideswept charm. Since the front hair is styled to the side, this is considered to be tamer than the original mohawk but equally as badass.
Long Side-swept Fade
Don't want the idea of having a mohawk but fell in love with the side-swept style? This fade hairstyle is another gorgeous option that you may want to consider.
It may not be as badass as the mohawk but this one's more polished and perfect for casual days, formal gatherings, and even special occasions.
Messy Faux Hawk Hairstyle
This one is a classy hairstyle, best suited to men who don't like being conventional. It is a very original and unique hairstyle, suitable for men who like being treated like stars and who like being in the center of attention.
A very urban haircut, a very bald choice – these are probably the best terms to define this hairstyle.
Steer Cut hairstyle
This hairstyle has a steer upfront cut where the crown area of the head does not have much volume yet the front section extends in a shallow shift and the area in between the temples and the sideburns are trimmed clearly with straight lines with the help of a trimmer.
This look gives a very clean and stylish look and is great for Asian men.
Textured Side Part Hairstyle
This hairstyle imparts quite a lot of volume to the crown area. This hairstyle has a very flamboyant appeal to it. Use an average or comb that has got the wide tooth to add lots of fine touches.
Look for oil-based pomades, fiber, or wax, to get a movable look that can also be re-styled if necessary. This hairstyle can be an ideal date night hairdo that can work all the manly appeal and charm.
Short Pompadour Hairstyle
First of all this hairstyle exuberates smartness. Having this tougher and very confident look. Such an intense haircut shows a lot of confidence and class, too.
It can be a smooth surface as well and a tough one at the same time, making people look very sophisticated. Short pomp can be styled with fairly short hair.
This brushed back style has a simple finish that sets it aside from most pomp hairstyles.
Short Layered Mohawk Style
There is the textured crop, which is a rather traditional haircut, but also a very fashionable one. This haircut brings a lot of sophistication with it even though it is simple and which also outruns any traditional look.
It is very timeless and also professional, fitted to all intellectual men who care about their image very much. Stylish and serious, this haircut is one of the most modern ones with Asian men who are self-confident and like simplicity.
Clean Choppy Hairstyle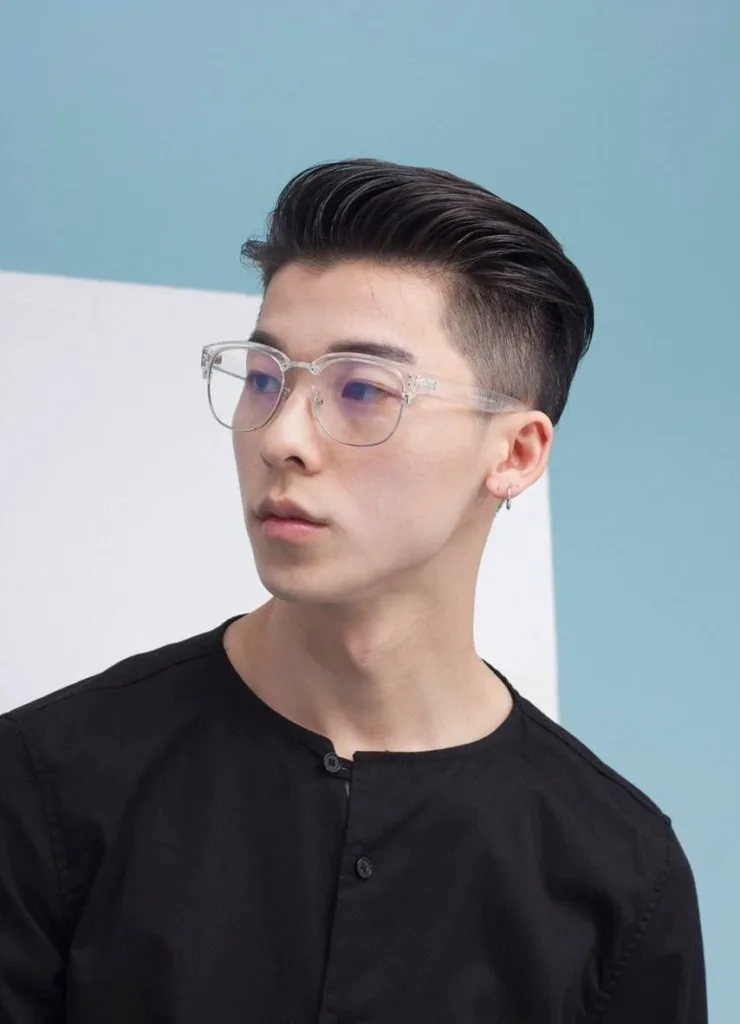 These are quickly coming up as the ideal hairstyles for men who want to keep short hair. Whoever is wearing this style, this brings out a great sense of style. It is the classic style for Asian models that have naturally deep-set black eyes and long black hair.
It emphasizes their natural looks and makes them even more charming and smart. It is the most suitable hairstyle for spring and hot summers.
Layered Mullet Hairstyle
The mullet is a stylish way to keep your hair in check. While the back and sides of the head are kept short and tapered, the hair up top is kept significantly longer.
If you have normally wavy hair, use a small product to define single strands. A curling iron will help you achieve this look, if your hair is on the sleeker side. With the best product, the style has the chance to last until you wash your hair the next time.
Hairstyle with an Undercut
If you are flattered by the disconnected undercut but don't want to go for a fully skin-shave cut, this one might be the best solution for you.
Keeping your hair buzzed at the lower layers which incorporate not being completely shaved will maintain the uprightness of the look while not exposing too much skin at once.
Hairstyle incorporate with Side Bangs
Give your facial features a little edge by adding stylish side bangs. This cut is characterized by an asymmetric line running beyond your temples, with one end being significantly less than the other.
Additionally, the top hair, which is kept longer, is brushed to the front to add volume and texture. For this look to work, it's best the keep the sides shorter than the crown. It is up to your choice how much shorter you want the hairstyle to be.
Top Knot Hairdo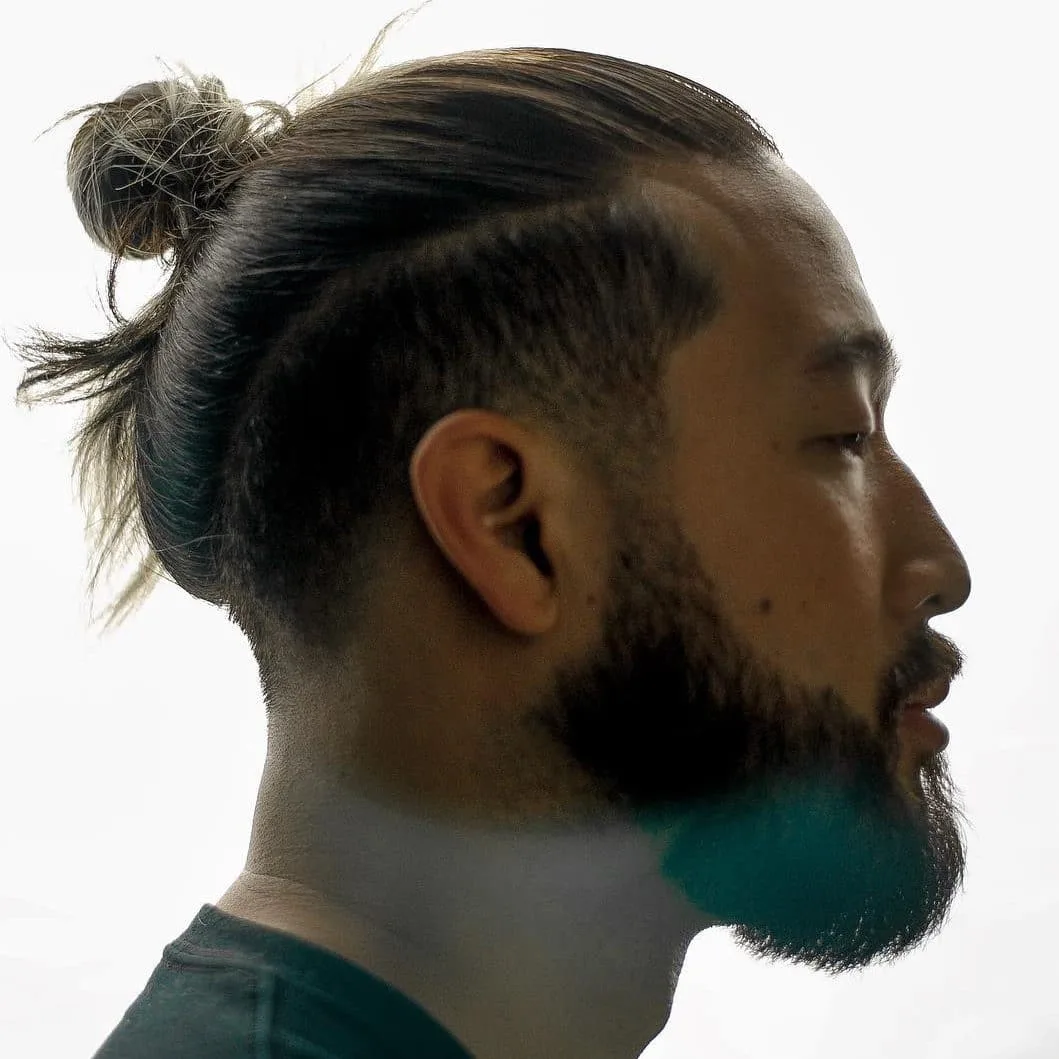 If anything is ultra-cool and oozes out a sensuous quotient then it is this hairdo. It is known that Asian men often have straight and long hair. The hairstyle incorporates a tight knot on top and the sideburns come conjoined with the beard.
This hairstyle is cool and fit for the Asian men and for the Asian climate. To style up this hairdo you require either hair gel or wax to create the smooth pull up or a comb can do the job if you have straight hair.
A Subdued Spike Hairstyle
By keeping your hair on top long, guys are able to style a messy yet stylish fringe. As Asian hair has a lot of potentials to be a style in various ways, you could also produce textured spikes or a comb-over.
Also With short sides and a side-swept fringe, this easy hairstyle takes account of the fact that Asian men often have thick hair that is easy to style.
Use a heavy pomade or wax for Asian hair to hold this look styled throughout the day. The high taper fade is traditional and classic for the ideal gentleman's haircut.
Wavy Top Hairstyle
These fringe on top and short taper fade on the sides becomes a very cool hairstyle for Asian guys. This famous Korean hairstyle for men is fashionable and outgoing with the touch to stand out in any crowd.
To keep this look styled all day use a strong pomade or wax for Asian hair. If you have normally wavy hair, use a little product to style individual strands. A curling iron will help you achieve this look if your hair is on the sleeker side.
The style has the potential to last until your next wash with the appropriate product. If you have real curls, flatter them to look more noticeable, because this is one of the most charming hairdos for men.
Fringe Hairstyle for Asian Men
Fringe is a multifaceted look as it can be used to compute depth and balance to almost any hairstyle of your choice. This cut emphasizes a tapered fade above and at the back of your ears.
The depth of the fringe is completely up to you. You may fancy a small trim or to let the fade evenly mingle into your skin; the full extent of this cut lies solely in your hands.
Caesar Cut Hairstyle
Caesar cut has a steady comeback. This classic look is defined by the short, horizontally cut bangs. The left top hair and sides normally are of the length of the front strands but you may go shorter if you wish.
Add a little versatility to add some individual trait to this hairstyle that can lighten up your taste. The possibilities are lot to make your own.
Edgy Long Hairstyle with Clear Spikes
This will give you a somewhat romantic, yet challenging look, enabling you to play with the haircut by clearing the hair back or wearing it parted to one side.
The hair on the sides and lower back is cut, whereas the crown hair continues at an average level. This is a very good haircut choice that you can wear for everyday environments like when you are out with your friends.
Spiked Asian Men Hairstyle
By spiking your hair, you can have a cool look which you can simply do using a hair goods and styling the hair with the tips of your fingers. Try some hairspray or hair wax. The disconnected undercut is a trendy haircut option that can be styled in a variety of ways.
Here we see a disordered brush back, but the comb-over and pompadour are also worth experimenting with. The lower part can be trimmed in stripes to add that cool quotient to the hairstyle.
It is minimalistic and certainly stylish. Trim the hair on your sides and use a gel or some wax to brush your top section to the right or to the left. The use of the spikes is that you can choose different edges and even sizes.
Side Part Comb Over Hairstyle
Comb over can be smart and very cool. This fresh style connects medium hair on head styled with the faded temples, and some thick flow at the back. Although not everybody
can pull the look off somehow it all works and looks great. Trim your hair short. A simple, yet effective look. You know what they say. Sometimes, less really is more.
Hairstyle for Short Hair with Loose Strands
It's of the easy to maintain hairdo which gives you a simple yet classy look and to maintain it, you wont have to use any wax or gel. It's the type of hairstyle that enables you to get out of the shower and run out of the door.
We're absolutely in love with this set of blunt medium bangs from one side and the variation of low fade on the other side and how modern and urban they look. Pair them off with the right clothes and accessories to ensure you have a stylish look.
Long Spike Fade Haircut
A slightly crop haircut for long hair giving you an irregular fringe that comes to a point that is on the crown area and the front portion one requires a gel that is hard and can keep the bangs stiff to a certain level.
It can also be styled in a forward fringe blunt cut across, on the diagonal sides. You don't need directions to pull off this type of hairdo. If you have average or long hair, the battle is half won. Take some hair gel in your hands and gently brush through the hair strands.
Comb Over Hairstyle with Undercut
This is just a change from the comb-over, but it gives you a more special and neat look. It is fairly easy to maintain and it goes well with essentially every choice of clothes.
No surprise it ranks high in the Asian men hairstyles top. It's moderately easy to pull one off and they don't need high resources, although it depends on whether you have curly or straight hair.
Pointed Spike Front Lap
This hairstyle can be incorporated effortlessly. The cut combines short hairstyle with low height spike fall on the top and narrow trims on the back. This hairstyle is all about flaunting the flamboyant side of you.
Also as most Asian men have hair that is straight this hairstyle looks really great on such style. It is a versatile hairstyle that can be sported to any occasion be it a formal meeting, a date night or an informal friend hang out.
This hairstyle can fit into all the puzzle gaps. Also to sport this hairstyle you do need a pro as the front cut has uneven edges and that's where the beauty of the style lies.
Cropped Hairstyle
This hairstyle is very new in the world of fashion as it accentuates the culmination of both crop and short hair. A somewhat longer crop haircut can have a front fringe cut short across, on the diagonal, or in this case fringe that comes to a point on the side.
With short sides and a swept fringe on the side portion, this simple hairstyle takes account of the fact that Asian men often have thick hair that is easy to style.
The taper fade is traditional and classic for the perfect gentleman's haircut. In this hairstyle, the front portion is the key area. It might also add a tad bit of height to you.
Long Flow Haircut
There is something very amicable and flamboyant about this haircut. Flowing hairstyles continue to look simply great on guys who can pull them off.
As the Asian men's airs quality is thick and is usually straight thus the cuts come out really well and sharp. This hairstyle exuberates style and is a very fashionable choice indeed.
Short Fade Haircut
This short fade haircut with layering and texture are a huge trend that started in Europe and has hit the US in a big way. It can be personalized for your, face shape, hair type and sense of style.
This crop haircut will give you upward spikes near the hairline which will lie towards the back of the head.
Cool Hairstyles for Indian Men
Classic Hairstyle
In general, professional hairstyles for men are clean cut. That can be either long hair styled or a short haircut. Classic men's hairstyles are also suitable for conventional work conditions.
This hairstyle is done on short cuts of the hair where the focus area is the crown portion and the backside and area beside the ear are trimmed to a minimum.
This hairstyle is great as it is simple sober and nothing about it is too much. It is indeed a classic hairstyle that is great for making a good first impression. Just a good cut is enough to achieve this look.