It is the dream of all girls to look as pretty and beautiful as they are. Hairstyles play an essential role in bringing out your beauty, but not all hair types can adopt intense hairstyles. Each kind has its own unique properties. Keeping this in mind, you can choose the best hairstyle.
Marley twist hairstyles are rocking the show nowadays. These twists give your hair a very natural look while keeping the maintenance costs at bay. Marley twists are a perfect get up and go style. It is simply gorgeous! It has two strands twists and is very easy to maintain, not to mention, you can play around with different styles.
Almost every African woman loves this hairstyle. It is one of the best ways to protect one's hair for a month or two. These are usually extensions which are coarse yet looks natural. They were originally named after Bob Marley!
Celebrities like Beyoncé, Janet Jackson, Kelly Rowland, Gabrielle Union, Danielle Monee Truitt, Tasha Smith have always rocked Marley Twist hairstyles. They don't just look good, but dang, we need to learn how to rock that look!
Here are some of the famous Marley Twist hairstyles, you ought to try!
25 Stylish Marley Twist Hairstyles You Should Try Now
Crochet Hair Marley Braiding
For this gorgeous hairstyle all you need is to shampoo your hair and dry it. Using a hair cream, you can slowly divide your hair into sections. Each section can then have a root. When you are done, you are good to go. Remember, the best look is when you divide your hair into perfect sections. The best part about this is that there are no loops and can be folded neatly. They're tight, very simple to use and available in all natural colors.
Waist Length Marley Twist
Love long hair and Marley twists? Then why not combine and look hotter than ever? This hair is up to waist length. You can have a long ponytail or just a simple bun on the top. This is usually the hairstyle that almost every school and college girl loves!
All you need is just get a few hair roots and slowly make a bun. Secure it with hairspray and just add a few hairpins, and you are good to go! You can rock this look on a denim jeans jacket with a tank top! Do not forget to wear makeup and simply look stunning!
Marley Twist Bun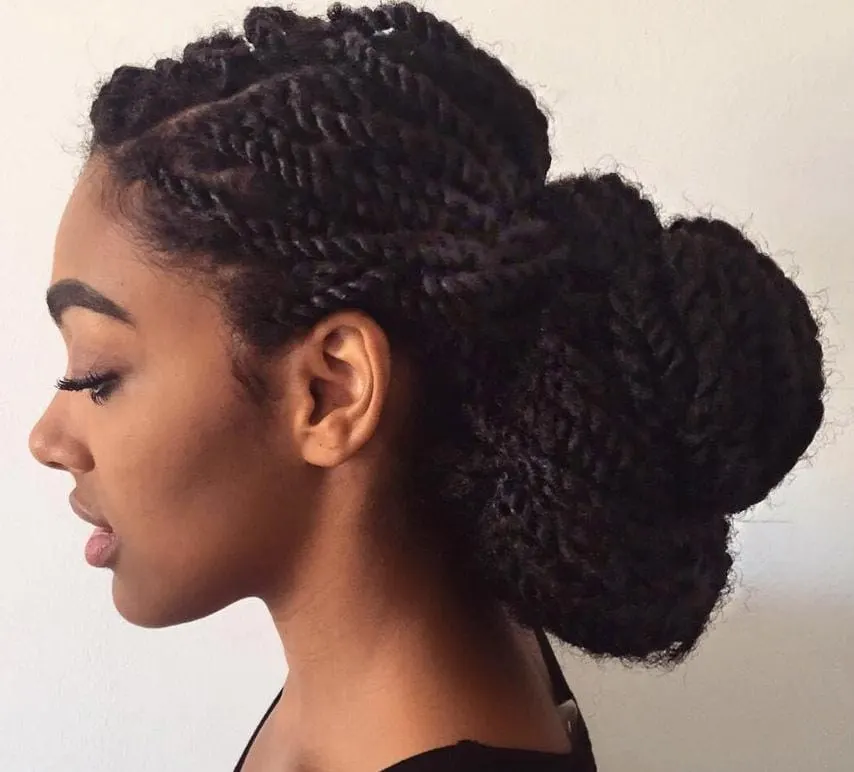 Looking for something eye-catching yet trendy for a party wear? You can try a beautiful thick twisted low bun. For this look, you need to first take a few hair roots from the top and tie into a knot with a rubber band. You can then start braiding your left hair all the way to the middle and then tie a rubber band around it. You can then slowly start tucking the hair into the lower ponytail. Lastly, you can untie the top hair, separate into two halves and then slowly tuck the hair in the bun. It may look messy, but the after look, looks amazing.
Extra Long Spring Twist
You can always get the simple look with nothing too extra special except extra long hair. Yup sometimes, all you need is to just get extra long hair extension, and that's it! You can just get some good extensions and go for a Marley Twist.
Just make a middle partition and keep the hair aside. It is a simple look, but with perfect makeup and outfit, you are ready to look awesome as ever. Just make sure, that you use the right amount of hair cream to keep it moisturized and flawless throughout the day! This is one of the natural hairstyles that most of the people prefer since its beings out the sleekly look.
Havana Hair Twist
Do you have expensive taste? Want subtle luxurious feel while your mane looks gorgeous? Well, this look would definitely suit you. Havana twists are quite costly and can cost you almost $100!
Your hair looks fuller and fluffier. It is almost like a mermaid feeling, to be honest. You can look sexy just by adding a few golden cuffs to your hair. They're one of the best hair accessories. These are the adjustable size and just goes perfect for dressing up your hair.
Flaunt this beautiful look anytime and make your friends envies of you. Look perfect, be perfect!
Waterfall Long Braid Style
This hairstyle is also super perfect for any occasions be the street look, swag look or even at a party. Yes, it is perfect and suits every form of clothing style. Now, this is a simple look, where your hair is partitioned equally and is adorned with Marley Twist extensions.
You can just get the look and feel free to flaunt it in front of your friends and family with high jeans and a tank top! And yes, don't forget to wear a nude makeup and take a perfect selfie. After all, your looks deserve social media attention!
Red and Brown Marley Twist
There is nothing wrong with getting non-black and colored hair extensions. It not only alters your looks but gives you a fresh look and feel. So, if you want to experiment your look, for a light hair color such as red and brown Marley Twist.
You can slay this look with a jumbo and medium twist, suitable to your taste. This particular look can be further enhanced with authentic African beads. Wouldn't make this look, pretty killer? Just need a perfect application of makeup and outfit, and you are good to go.
Brown Marley Twist
You can always get a double shaded look. If you got black hair, you could get light brown Marley twist. While you are done attaching extensions, you can definitely feel the two shades making it super-hot!
This look will not only make you feel great but will give a new meaning to your personality. You can always try new colors to feel sexy and beautiful. Don't forget to flaunt this look with perfect makeup and dress. Best way to draw attention is always experimenting with your looks especially when there is two color combo.
Leigh-Anne Pinnock Braids
In 2016, Leigh Anne Pinnock got her famous look on Teen Vogue. It gave a 90's nostalgia, and almost every girl was obsessed with her looks.
It is a great look for someone who wants a classic look yet sexy at the same time. A carefully styled hair and combined at the top with a band, leaving the hair flow is beautiful.
Like a beautiful waterfall flowing. Get the best heels, denim jeans, and you are good to rock the look.
Spring Marley Twists
This is a fantastic twist created by tapering your natural style. You get these amazing extensions from Amazon. You can start partitioning hair all over the head with some clips. Take few hair, and you can attach these hair roosts by slowly braiding it. It will take time, but the results will be amazing! You can adjust sizes according to our style!
Marley Havana Twist
You can get your hair twisted just as you like. They can be as thick as you wish. Havana and Marley twists are almost similar. They are used on the same type of hair. Even their pattern of installation is also the same. The only difference lies between their sizes. For two or three Marley twists you get one Havana twist.
Havana hair twists are thicker and fuller. As you loosen the hair, the thicker the twists will appear. These twists can also be done on kinky hair type. The primary reason for choosing these twists is that they keep the hair light. Because of the hair being light, you can opt for bigger twists as well.
Jumbo Twist Crochet
Crochet twists are sometimes also called as Senegalese twists. These twists have shown their reoccurrence in the glam world after being hit in the early 90s. Other than being fabulous, these twists are perfect for your hair.
Before choosing jumbo twists, you should be prepared to devote time as these twists take no less than two to three hours. In some cases, the time limit has also reached eight hours.
Make sure you talk to your hairstylist clearly before opting for the same. I am sure you would not like a half crochet head just to realize that you cannot devote time.
Blonde Marley Twists
Blonde hair these days give a super cute look. Making twists out of your blonde hair adds up to the style. Ask your hairstylist to color your hair blonde before getting them twisted. Do take care of the time as well. It can take you really long getting your hair colored and twisted. Or else you can just opt for blonde twists. Do make sure that they blend perfectly with your natural hair.
Once you have got your hair twisted, you can try any hairstyle. A high bun really suits twisted hair. You can also add a colorful scarf to make your twists pop. This style will surely make you stand out of the crowd.
Simple and Pretty Style
You can opt for a simple yet pretty hairstyle. Go for this natural and protective way if you don't want your weaves to show up. Choosing this type of twists will allow the weaves to blend with your hair naturally. Its twisting method is such that it gives a very natural look making you look even more fabulous.
You can also decide the length of your twists depending upon the density of your hair. Marley twists are inexpensive and very easy to install. You can go for bigger sections if your hair density is thin. Small sections will suit highly dense hair.
Deep Pink Marley Twists
Colorful hair brings color to your personality as well. Add vibrant colors to your twists this season. Deep pink is the color of the season. These colored twists represent your taste and fashion sense as well. Show off your colorful and quirky look with these glowing twists. You can also try other vibrant shades like red, purple and electric blue to get your groove on.
Empress Bun in Marley Twists
You can try this cool empress bun with your short or medium length hair to amp up your twists whenever you wish to do something new. It is a swift hairstyle which makes you ready on the go. Forget spending time in front of the mirrors just to get your updo in place.
There are innumerable videos available online from which you can learn to make this easy empress bun and get ready just in a few minutes. This bun gives an exquisite and pretty look.
Jumbo Short Marley Twists
The major reason for having jumbo twists is to protect your afro-textured hair from the environment around you. With these jumbo short Marley twists, you can rock the backyard BBQ party. The thickness of the twists depends merely upon the volume of your hair. You can get thicker or thinner twists suiting your hair density. It is easier to maintain and install short Marley twists.
Colorful Twists
Jazz up the party with your colored Marley twists. You can add any color to your Marley twists to make them look vibrant and cool. Let your hair be the wow factor of your personality. With this flash of purple color in your twists, we are sure that all eyes will be on you.
The combination of purple with a tinge of black is sure to slay all the fashionistas. This style looks terrific and is the most trending in the glam world. These eye-catching and gripping twists are a must try for all the young ladies out there.
Side Sweep with Loose Twists
You can also side sweep your Marley twists to give them a sultry edge. Just tell your hair artist to give you a side partition so that it is easy for you to sweep your tresses on the side. This side sweep makes the hairstyle even catchier and glam.
You can choose loose twists as per your liking and the nature of your hair. Consult your hairstylist and do let him know about your preferences so that he can guide you his best.
Jumbo Twist Top Knot
These twists are most known for being used as the top knots. Long twists are purposely made so that a top knot can be worn. The longer the tresses, the easier it is to create this hairstyle. To make the knot look larger, you need to handle thicker twists. People with long hair generally opt for this hairstyle. Top knots have entered the industry with a loud bang.
Curly Hair with Twisted Braid Hairstyle
Looking at this Marley Twist hairstyle reminds of the kinky and casual look which was very famous once. This hairstyle looks adorable especially on the girls with the long or oval shaped face. With the side parting, start taking a small part of the hair and divide them into two strands. Now, start twisting them to get this look. While twisting them, keep in mind that do not make very small or tight twists. Let them look natural with the curly twists. For medium hair length, this will give a great look, as the hair will look full of volume. You can carry this look for any party or event.
A Marley Twist High Updo Hairstyle
Are you a fan of huge and big buns? If yes, then this hairstyle is definitely going to be in your look book. The black girls with long hair can style this hairstyle. But remember, it is a time taking one, as you will have to form a lot of Marley Twist Braids to get this hair look. So, start with making the usual Marley Twist by twisting two strands together and making many thin braids. Once, you are done with the Marley Twist Braids, it's time to make them up into the high bun for a high updo hairstyle. Make sure you have enough pins to secure the bun. Keep wrapping the twisted braids and form this high and huge bun. Be an attention seeker with this bold and twisted hairstyle.
A Bold and Big Twisted Hairstyle
Can you relate to this hairstyle other than the Marley Twisted hairstyle? Yes, this hairstyle has a resemblance to one of the popular hairstyles, and that is the Bob hairstyle. This twisted and neatly side-parted hairstyle is making this look like a big voluminous bob hairstyle.
If you have really thick hair tresses, of medium length, then you can rock this look. As you have to form some big twisted braids using your hair tresses. Make sure that these twisted braids are of the same size and they should look neat. Once you are done with making the Marley Twists, it's now time to part them. To achieve the same look, do a side parting by pulling the twisted braids at one side and bring them to the front. Leave the other side's twisted braids at the back of the ear for a perfect and bold look.
Long Marley Twist with Extensions
Many ladies like to try Marley Twist, but as it requires a good volume of hair, it is not possible for everyone to get the Marley Twist hairstyle. But there is a way; you can get ready with Marley Twists no matter even if you have thin hair tresses. As we have hair extensions which can make our hair look beautiful and we can try such hairstyles also. The best part about hair extensions is that they come in different colors, so you can choose the one which you want. But for adding hair extension to your hair tresses, you may need help from a professional hairstylist.
In this long hair Marley Twist hairstyle, you will see that this is a simple hair look, but the twists and the colored extension is making it look different. While making the twisted braids, make thin twisted braids, so that you have them more in numbers. Leave some twisted braids on both your shoulders and the rest at the back.
Short Hair Rooted Marley Twist
Is this hairstyle not looking the African-American hairstyles, by the way, they are made? However, these are some asymmetrical twisted braids. Making these many Marley Twists from short length hair is not possible. That is why we have the extensions for styling them. So, be it the small length or medium or long length, now you can style up this hairstyle with any length of hair.
The hairstylist has started making these twisted tiny braids just from the root only. As you can see that near the root the braids are very thin. Making Marley Twists from short hair may not take much time, but it definitely requires a lot of effort. During the summers, this hairstyle is good to go, and you can carry the look for as long as a week or a month.
Give them a Try!
You must have heard the song, "Everybody, twist!" Marley Twists are ruling the glam world. Especially the African women are adopting the trend of these twists as a ready to go hairstyle. This is a protective hairstyle to beat the heat and air from damaging your tresses. Marley twists last for about eight weeks if you maintain a proper routine and take the right hair care steps.
Not only do these twists make you look glamorous but also make your hair appear thicker. Marley twists are effortless to maintain and install. Twists are a hairstyle in themselves but still if you wish to change your look after some days, you can do so in just five minutes.
This low maintenance hairstyle allows leaving your hair just as they are and watch them grow! So what are you waiting for? Choose a Marley twist for yourself as well!
Hope you liked our top styles this year. Remember your hair defines you. Always make sure to moisturize it and avoid harsh chemical products. Marley twists are fantastic, but yes, it takes true dedication to maintain your hair health.
If you like this post, do not forget to share with your friends.