If you find it difficult to manage long hair and decide to go for a haircut, then don't go for something simple, look bold with the best short hairstyles in town.
Now you get to select from a variety of the best short hairstyles to accentuate your appearance at all times.
30 Best Short Hairstyles for Beautiful Women
Balayage Asymmetric Bob
Get a charming outlook with a balayage asymmetric bob. Make sure to get a haircut in an asymmetric fashion with the length of the hair being shorter at the back than at the front. Fill the hair with balayage highlights for the stylish feel. This cool asymmetric balayage cut can be achieved very easily and it looks fabulous too.
Black Pixie for Older Women
Appear extremely attractive without worrying about your age by styling your hair with a black pixie for older women. Make sure to have sharp edgy cuts so that the spikes stand out. Look as sexy and sultry as Kris Jenner does in this style and get everyone's attention.
Blonde Balayage Short Wavy Hair
Gather a modern vibe for yourself by sporting a blonde balayage short wavy hair. Create unevenly textured layers and make sure to accent the wavy layers with subtle blonde balayage highlights to make the texture more pronounced. This one is another coolest example that you can rock it on any event or party.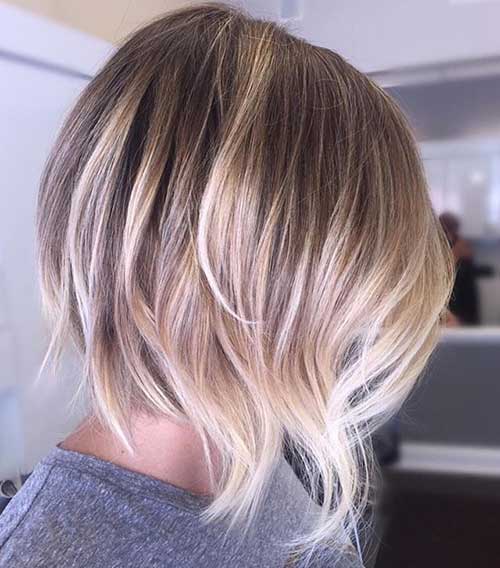 Blonde Bob with Layers
Add a touch of elegance to the routine look by going for a blonde bob with layers. Make sure that your hair is well complemented with a perfect shade of blonde that suits your complexion. Short hairstyles will make you look charming and stylish and it works on most women. So get yourself this nice looking hairdo and glam your appearance.
Blonde Cropped Pixie
If you have short locks then pixie is one of the coolest option to make for yourself. Make this celebrity inspired pixie for you and fancy up your look. This stunning cropped blonde pixie will surely enhance your face complexion. Women with heart and round face shapes can wear this hairstyle very easily. It will give more femininity to their face.
Bouncy Bob
Get a relaxed and carefree look with a bouncy bob. Make sure to create voluminous waves and unkempt textures for the added bounce and movement. We know bob is the most adorable option for lot of women who have short hair. So what are you waiting for just opt for this bouncy bob and rock your look.
Braided Shaved Haircut
If you think that having a short hairstyle is a very common look and does not offer a unique appeal, then you are highly mistaken. A braided shaved haircut offers style. You need to shave the hair at the sides and create braids at the center to get the look. This braided style is very unique and looks beautiful too.
Feathered Pixie
Another pixie style but slightly different, so wear it for gorgeous appearance. Garner a childishly fascinating look with a feathered pixie. You need to blow-dry the cropped locks of your pixie hair upwards to create the feathery layers and apply a hairspray to maintain the look.
Messy Short Hair
Get a young and energetic vibe with messy short hair. Make sure to create lots of waves by using a curling iron and mess them thoroughly for the shaggy look.  Milla Jovovich wore this fabulous hairstyle and looks like a diva. You can also looks as ravishing as her by wearing this messy short haircut.
Messy Undercut Pixie
Appear super sassy with a messy undercut pixie. Manipulate the layers of your hair in the pixie by creating a messy texture throughout the head. Go for an undercut so that your hair appears to be tucked at the back. Look as Gorgeous as scarlett johansson does by wearing this amazing pixie cut.
Middle Parted Sleek Bob
You can get a very formal outlook with a middle-parted sleek bob. You need to check that the entirety of your hair is completely sleek and is parted at the center of the head. This lovely looking middle parted sleek bob hairstyle will give you most elegant appearance for sure.
Ombre Short Layered Hair
Gift yourself a refreshing vibe with ombre short layered hair. Make sure to use a curl enhancer to create distinct layers and color them up with ombre to highlight your precious tresses. If you want to try something different and stylish then believe us try this ombre style on your short hair and shine like a star.
Rolled Back Wavy Bob
Add a new and unique dimension to your hair by going for a rolled back wavy bob. You need to go for a bob cut and then roll back your whole hair. Create subtle waves in the layers to finish the look. You can see bobs on literally on many women, there is no logic but the bob style is very suitable for short hair. So style this classy rolled back wavy bob and make the difference.
Short Curly Hair
Embrace an exciting appeal with a short curly hair. You can make use of a curling wand to add a handful of curls to the layers of your hair. Increase the style with color highlights. If you have naturally short curly hair then this dazzling style will enhance your beauty for sure.
Short Edgy Hairstyle for Black Women
Become a superstar with the short edgy hairstyle for black women. Let the layers remain sharp and crispy but see that there is a side-part over the forehead to frame the face. If you are fed up with your boring hairstyle try this short edgy haircut for your next look and fancy up your style.
Short Haircut with Bangs
Short hairstyles always look stunning and stylish. Get complimented by everyone when you go for a short haircut with bangs. Make sure that your hair is cut until the neck level at the back and then provide shattered bangs at the front for a stylish appeal. The short hairstyle is very versatile and looks awesome if you wear it in such manner. So try it and believe it.
Short Layered Hair
You can get a versatile appearance with a short layered hair. You need to provide your hair with soft layers that are filled with strategically placed color highlights so as to look stupendous. This hairstyle is very simple and looks sophisticated too.
Short Straight Fine Hair
Get a no-nonsense look with a short straight fine hair. It is simple but classy and requires not much maintenance. All you need to do is straighten your hair and use a spray to avoid the frizz. No need to worry if you have fine hair wear this splendid short hairstyle and amaze everyone.
Short Twisted Hairdo
Appear as if you are ready for a party 24*7 by wearing a short twisted hairdo. Make sure that you separately twist all the layers in order to create a differentiation among them right from the top. If you are a bold enough to make this style then we bet you will surely looks like a super model for sure.
Short Wavy Bob
You can appear like an exquisitely beautiful lady even with your short hair once you choose a short wavy bob. Make sure to lift the layers by creating wavy strands and color them up with bright shades. Waves are such a fun and looks very beautiful on short hair, so grab this style for your next hairdo.
Side Parted Lob
If you want a look that suits your official meetings and conferences, then, you must try a side-parted lob. You should see to it that there are long feather-like locks that create a proper shape around your face. Make sure to have a side-parting. Glam your look by wearing this classic lob cut and appear as diva.
Side Parted Straight Pixie
Flaunt your short and thick hair with a side-parted straight pixie. Keep your hair straight and sleek but make sure to provide a deep side parting for getting a chic look. We all believe that pixie need no introduction. It's a very common hairstyle in short haired women, so wear this pixie and rock your look.
Side Swept Short Straight Hair
If you desire to have an evergreen look which will give you a perfect silhouette, then go for side-swept short straight hair. Make sure that all the layers of your short hair are styled in a straight fashion and that a major portion of the hair is completely swept towards one side.
Side Swooped Short Hair
You can get a red carpet look by going for a side swooped short hair. Keep your hair silky and straight and go for a deep side part that will provide more length in the front. This is a very classic style to wear, you will surely get everyone's attention by having this glamorous haircut.
Slicked Back Short Hair
Obtain a bold and dauntless appearance with a slicked-back short hair. Let there be very short layers within your hair. Make use of hair gel and slick your entire hair backward for a modern facade. We want you to get more wow in to your look by wearing this classy hairstyle.
The Pixie
Another charming pixie cut for your inspiration. Sienna Miller has rock this pixie cut for marvelous appearance. So wear this celebrity inspired pixie haircut for your short hair and looks exactly the same.
Tousled Bob
You can elevate the charm of your hair with a tousled bob. You need to create a tousled texture throughout your hair in such a way that you can easily run your fingers through the layers. If you are tired of your same boring short haircuts, try this wonderful tousled bob and give your hair a totally fresh and new look.
Wavy Bob with Curls
Gain glamour by choosing a wavy bob with curls. Make sure to stack your bob with loose waves that are curled with a large barrel curling iron. We all know why we cover lot of bob style because this style will always remain in trend for sure. So look trendy and beautiful by wearing this bob on your short hair.
Wavy Curled Bob
Get a college lady look with a wavy curled bob. Make sure to provide lots of waves and curls to the layers by using a large barreled curling iron. This style looks different and lovely too. So you have the inspiration for your next look right?
Wavy Lob
You can be the chicest of all by sporting a wavy lob. You need to add lots of extra layers at the back and the sides to create a flick to your hair. If you want to look bold and beautiful then try this lob cut and achieve it.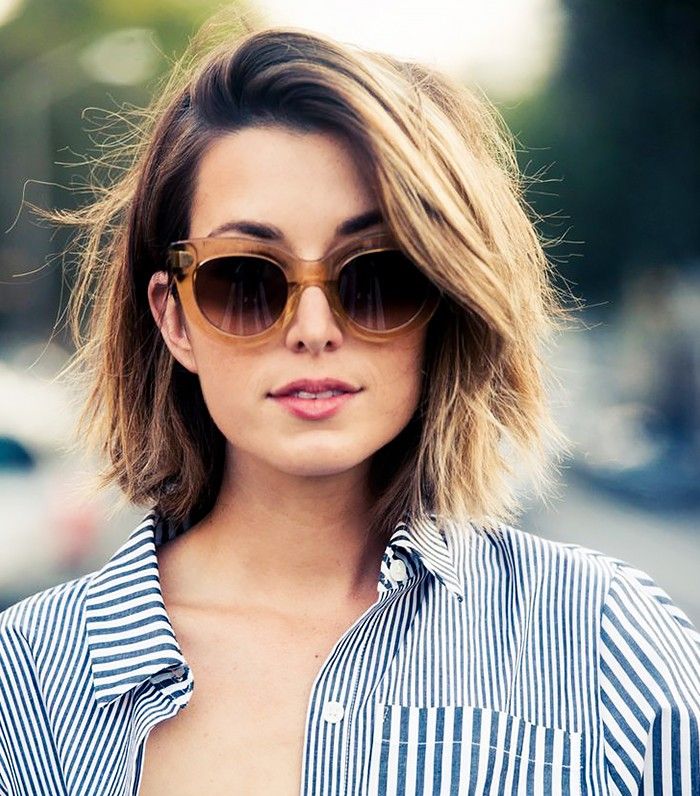 All of these are the best short hairstyles that can provide you a ravishing appearance at any occasion. So, go ahead and enjoy the prettiness of your new style.