Bob Hairstyles are a comfortable hairstyle for any weather and season. The versatile look and the styling options are huge with the bob hairstyles. Girls often look for some trendy and appealing options these days, and now that new year is approaching, new hairstyles will offer a charming and different look with the coming year. Different types of haircut suits girls with varying types of face and that matches their personality, and bob haircuts offer you the options to choose from a versatile list if you prefer to have short to medium length hair. The ease of styling and fewer efforts for bob hairstyles make them a great option these days.
If you are also looking out to get a new hairstyle in 2020 with your short to medium length hair, we have got some amazing and classy bob hairstyles that would get you the delightful and pleasing look you are looking for.
30 Must Try Bob Hairstyles 2020 for Trendy Look
Tousled Bob
A cool and stylish option to try out bob hairstyle that even takes fewer efforts and time to get ready for an occasion. Tousled bob hairstyle is a medium length bob haircut that is given thick wavy layers and is kept a little longer for the front portion. The tousled bob haircut is styled by giving a little twist with the help of your fingers. The thick waves of the blonde shade hair look really cool and classy and is a preferable hairstyle for the young girls and teens to get a charming look for their daily casual hairstyle.
Razored Bangs
If you are looking for an extraordinary hairstyle to get a different and offbeat look with short hair, Razored bangs is a nice option to try out. Razored bangs is a short bob hairstyle that gives you a quirky appeal with the straight bangs cut using a razor. The sharp ends with the long choppy bangs are unique and adorable and offer a carefree hairstyle. The hairdo suits on girls having short and round face type. The edgy short bangs for the front can be styled towards the forehead. Overall, the hairdo looks unique and offers flattering appeal.
Unkempt Layers
A sweet and pretty hairstyle for the girls who like medium length hairstyles. The dual shade if black and grey hair make the look stunning and classy. Unkempt layers are the medium length bob haircut styled in a shaggy way. You don't need to be much tidy for your wavy layers as the unkempt way of styling your bob haircut gives a naturally pleasing look to the personality. Also, unkempt layers are a carefree hairstyle that you can carry for a whole long day and suits with a casual outfit. Style the hair with a side parting keeping the short bob fringe over the face.
Dual Length Straight Bob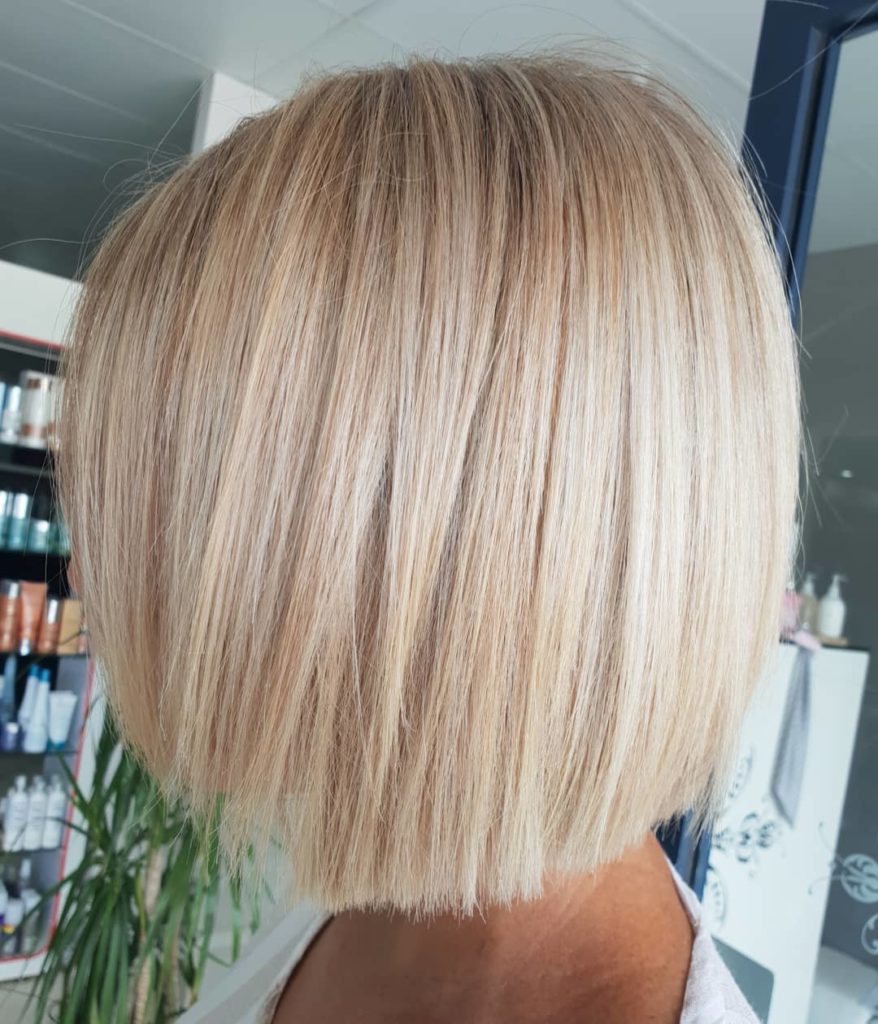 If you are a straight hair girl or like a clean and pretty hairstyle, dual-length straight bob is a great choice for you. It is a simple and attractive hairstyle that is achieved by having an equal length straight haircut for the back hair and a litter shorter cut for the front fringes. The straight bob haircut looks more appealing with a trendy highlight, such as milky white hair. The short bob hairstyle with the dual length, i.e. a little short for front and equal for back, makes a decent and professional hairstyle that you can carry with your formal outfits.
Stacked Bob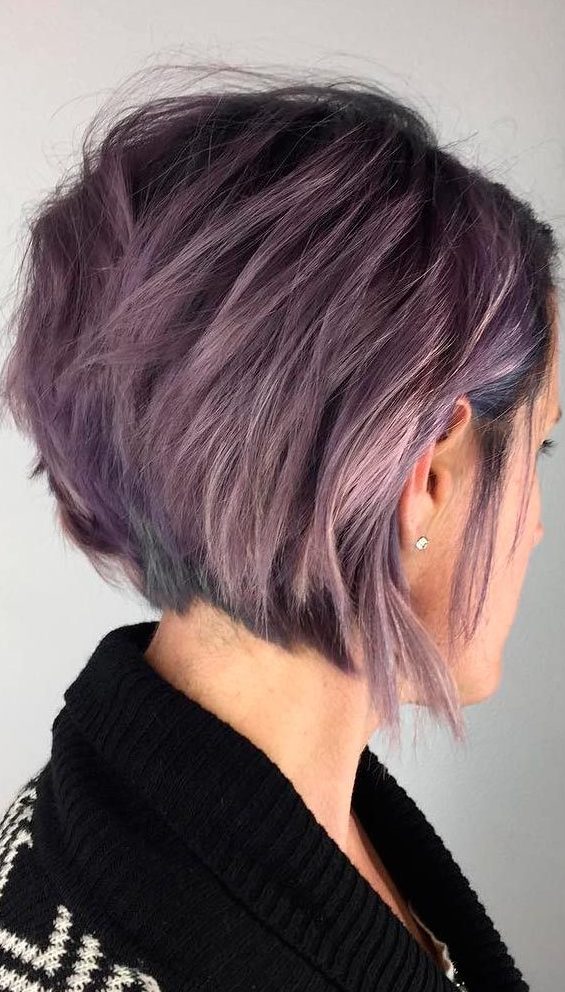 A gorgeous look is guaranteed with the eye-catching hairstyle that offers a stacked bob haircut having soft and whimsical color shades. Stacked bob is a short bob haircut where the back hair is cut till neck length and gradually increased towards the front. The choppy and sharp layers give a beautiful charm to the hairdo. A stylish and winsome color like violet or purple makes the look more alluring and graceful. It looks great with the casual winter outfits like woolen sweaters and jackets.
Edgy Layers
A different and stylish look can be achieved by the edgy layers bob hairstyle. It is a simple haircut that involves angled edges bob haircut for short hair. The top section of the hair are kept more than the lower hair. The layers are given a razor finish at the ends for a natural appeal. Style the short edgy layers bob hairstyle with a side parting. With the side parting hairstyle, the edges are styled a little towards the backside giving an attractive glaze. The style suits for the girls and women having a sharp face with rectangular or square face type.
Groovy Bob
A badass hairstyle giving you a bold and sassy look and is so eye-catching that everyone will turn their head towards you. The pleasing and attractive combination of purple and creamy white highlights make the look more stunning. The style is achieved with the short bob haircut having asymmetrical length. The front sides are cut long, and the back hair is cut short till neck length. If you are looking for a punk hairstyle to give you an offbeat and stylish look in 2020, try out a groovy bob hairstyle with a funky shade.
A-Line Black Bob
Black hair is a natural, pleasing shade that carries a style of its own, giving a delightful look. A-Line black bob hairstyle is a choice for the girls with naturally black hair, and they prefer to have a short to medium length hairstyle. A-Line bob is an angled bob haircut that starts with the back hair gradually increasing towards the front. You can also add a small layered fringe with Razored ends to enhance the look of the A-Line black bob hairstyle. It is a casual hairstyle that suits girls having medium wavy texture hair.
Blonde Pixie Bob
A hot and lovely appeal can be achieved with this adorable and charming blonde pixie bob hairstyle. It suits girls having round or oval face type and prefer to have short hair length. Blonde pixie bob hairstyle looks really sassy and beautiful with the light golden hair cut short till chin length. The pixie bob hairstyle is styled with a side parting, and the ends are styled towards the face giving a very graceful look. You can style the pixie bob hairstyle with black shade and a classy outfit for a day outing to get the dazzling appeal.
Asymmetrical Bob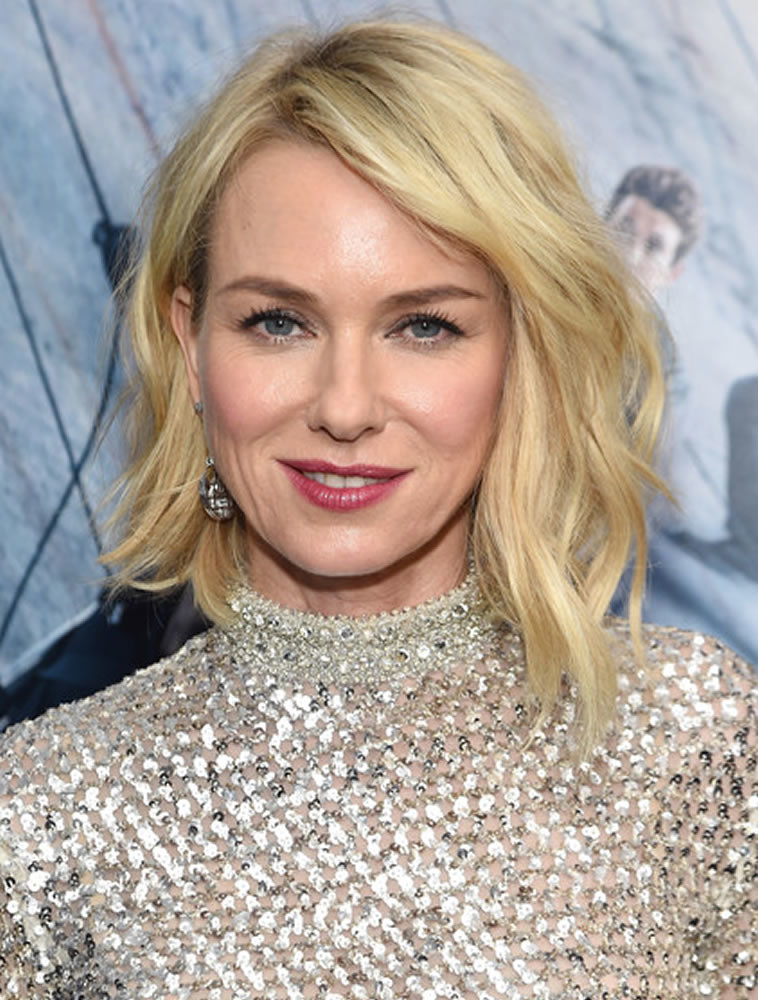 Another gorgeous hairstyle for girls and women who are looking for a hairstyle that gives both casual and professional looks. The asymmetrical bob hairstyle looks decent and hot at the same time. The golden-brown shade of hair enhances the glorious look of the hairdo. Asymmetrical bob hairstyle is achieved with a bob haircut for medium length hair having asymmetrical length and different layers. When the hairdo is styled with a side parting, one side of the hair is longer than the other side, giving a unique and pleasing look for any occasion.
Shaggy Bob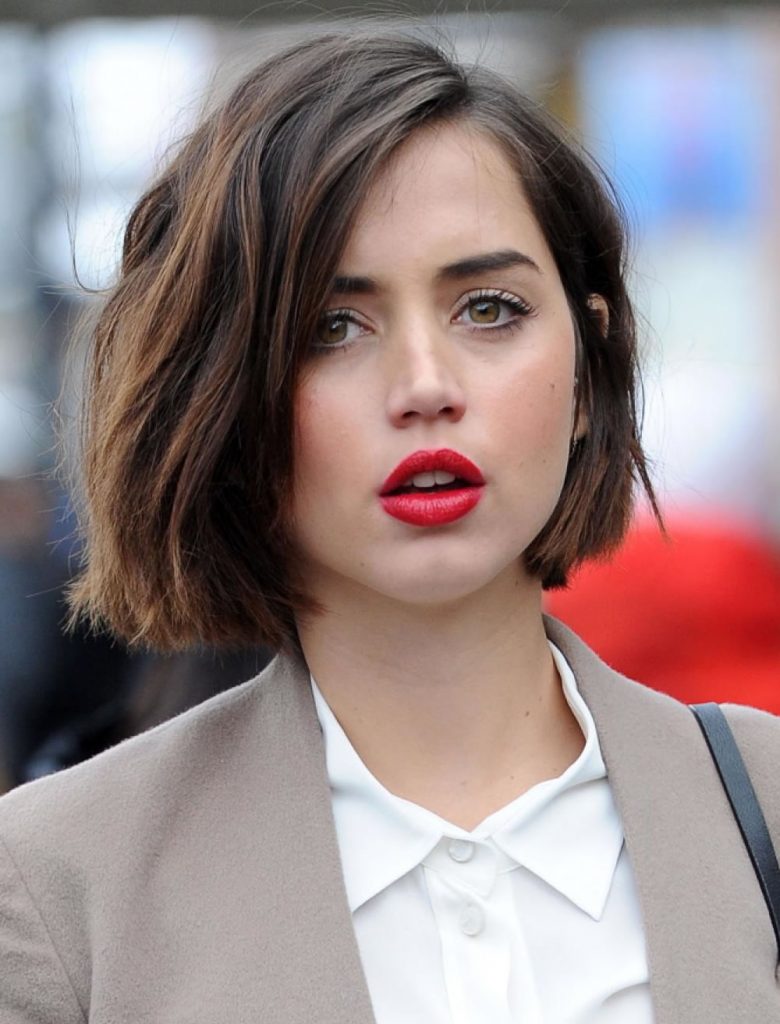 A classic hairstyle that looks so charming and graceful for the girls with a round face type and adds more cuteness to the overall personality. Shaggy bob is for the girls who are looking for a short haircut and a carefree hairstyle. The hairdo is super easy as you don't even need a comb to style it. Get a short bob haircut for your little wavy texture hair. Style with a side parting, and with the help of your fingers, give a shaggy look to the bob haircut. You can have a dark shade highlight to add a twist on the shaggy bob haircut. It works well for both a casual date or a professional event look.
Sleek Bob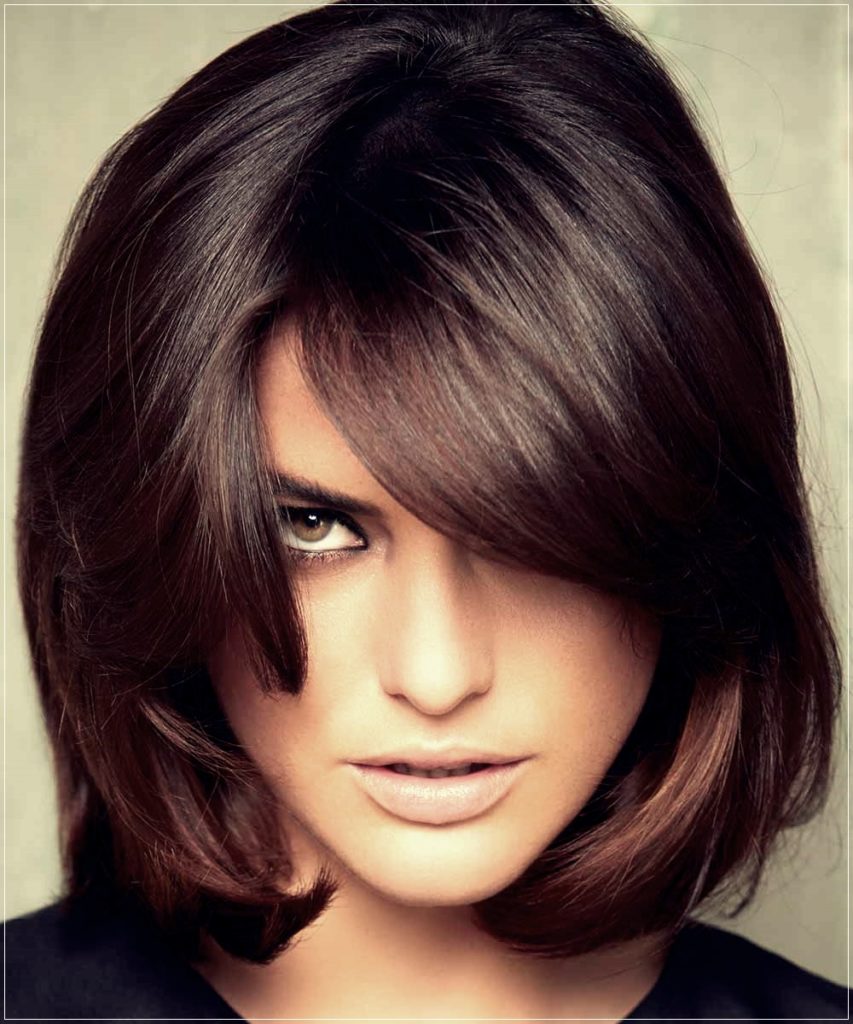 If you have sleek and smooth medium length hair and are looking for a chic hairstyle, sleek bob is a great choice for you to opt for. The silky and smooth texture of your hair makes the bob look more graceful and gives you a glamorous appeal. The medium-length sleek bob hairstyle is achieved with a neck length bob haircut with small fringes for the front till cheek length. You can style the sleek bob with a half side parting for front hair and the back hair, style the hair towards the back. Let the curved sleek fringe cover the eye for a hot and sensual appeal.
Choppy Layered Bob
A fresh and carefree look is achieved with the choppy layered bob that has a lot of twists and styling options available. The front fringes are kept long for the bob haircut, and the back haircut is shaped in a way that it gives a diagonal haircut appeal while looked from the back. The whole hair is chopped into tiny layers giving an attractive and eye-catching appeal. The hairdo looks great on the light golden hair and suits girls with an oval face type. You can carry a choppy layered bob hairstyle as a daily casual hairdo with a carefree look.
Side Swept Bob
Bob always doesn't need to be styled uniquely or differently. Sometimes, a simple side parting also gives a charming appeal to the hairstyle. Side swept bob is a medium length bob haircut done on wavy texture natural black hair and styled using side parting. The hair is swept to the side using a thick comb, and the natural wavy hair is left free to give a pretty glaze. Side swept bob hairstyle suits girls with a short or round face type and looks great with a casual outfit.
Ruffled Pixie Bob
A hot and sweet hairstyle that includes ultra-short layers for the short bob haircut. If you want a great hairstyle that doesn't take much time in styling and looks amazing all the time, ruffled pixie is a great option to try out. Ruffled pixie makes your short hair look fuller and pretty. The natural black choppy layers give a trendy and stylish appeal. Ruffled pixie includes short and edgy bangs that you can style towards the side and covers most of your forehead. The hairdo is quite pleasing and gives you a carefree and delightful appeal all the time.
Shiny Minuscule Hair
Minuscule hairstyle gives a gleaming and glossy hair texture on any girl's face. The hairdo is one of the easiest hairstyles to maintain and comes up with an enhancing gaze. It is mostly suitable for the girls having neck length hair and hair with less amount of volume. It can be done by acquiring a short straight equal length haircut till neck and a curve crossing through the side-eyes part; even a hot iron rod straightener can be utilized to pose a shiny straight gesture. Minuscule hairdo will look great with the ashy grey shade of the hair.
Shadowy Twirls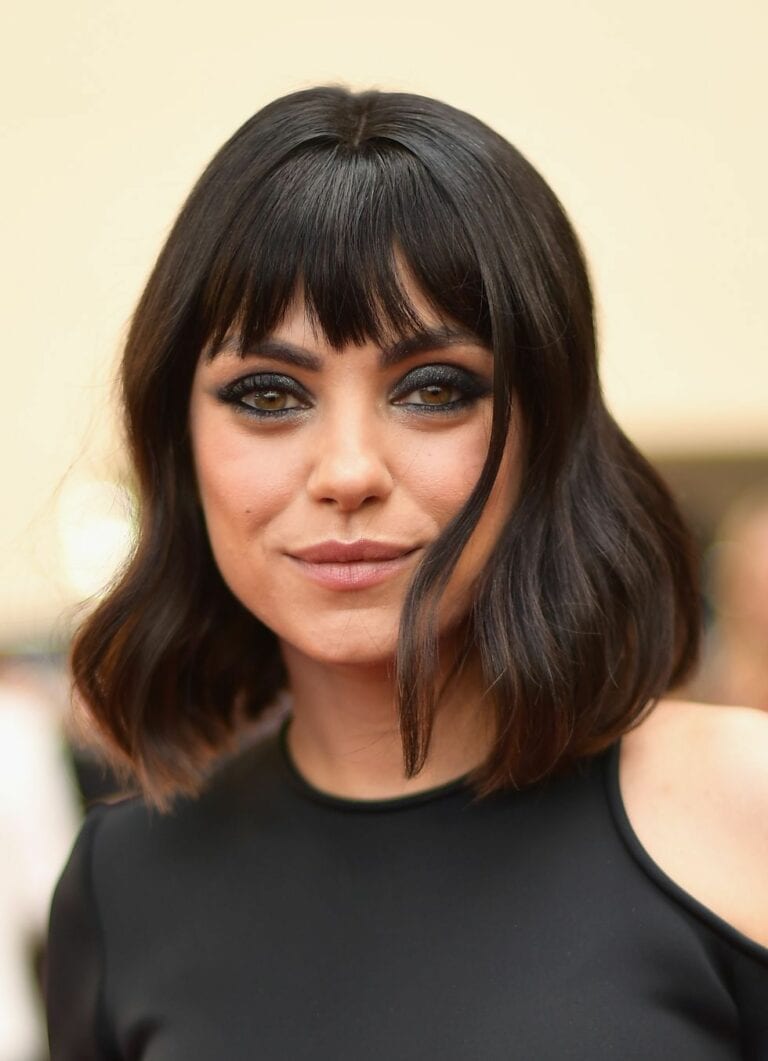 For rocking up the party look and getting embraced as a bold creature in the crowd, shadowy twirls is the perfect hairdo for girls who want to stand their lookout. It is an ideal Diva girl hairstyle, which as easy to maintain as it looks. In the hairdo, the hair is trimmed short as a connected way over the forehead and making it look shady stands, and the rest of the hair is expected to be in the twist pattern, which gives it a wavy and thick appearance on the head part. It looks great on any lady having neck length hair type.
Slope Blunts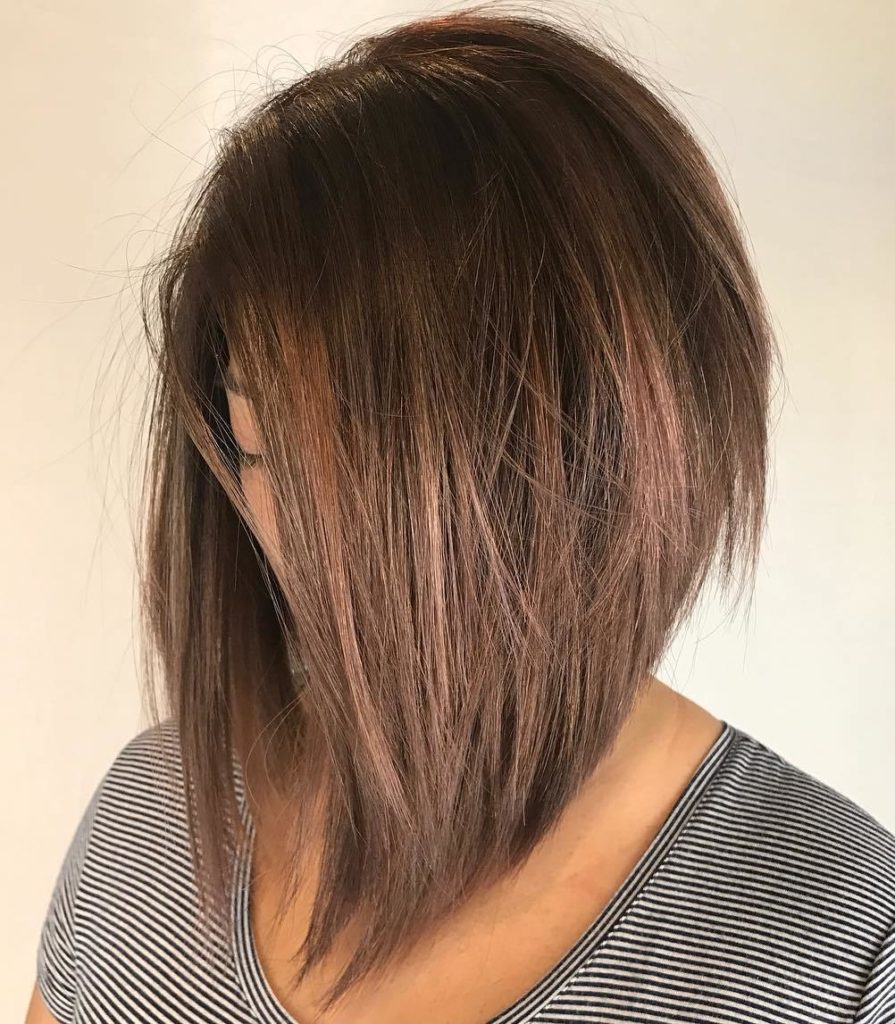 Girl's having short length hair and want to excite their hair look, then this is the one which you must be looking for. In slope blunt hairdo, the hair is expected to be short in length so that it can be trimmed in a falling straight manner making an oval coverage at the entire surface of the head part, and the hair has sharp and pointed edges at the end tips. It looks great with little brownish shade of the hair because the shiny gesture can be relished with this shade on those falling hair strips.
Thin and Messy Waves
A hairstyle completely made for girls who are not so interested in getting their hair done in every second hour. So, most carefree girls can definitely opt for a wavy hairdo and can even glare their look without giving much attention to the appearance. The hair is cut into disconnected short layers, and some of the stripes are left an extremely short-covering pinch of the brow and creating a messy look at the top head part. It looks great and astonishing with the grey shade of the hair.
Frizzy Jogs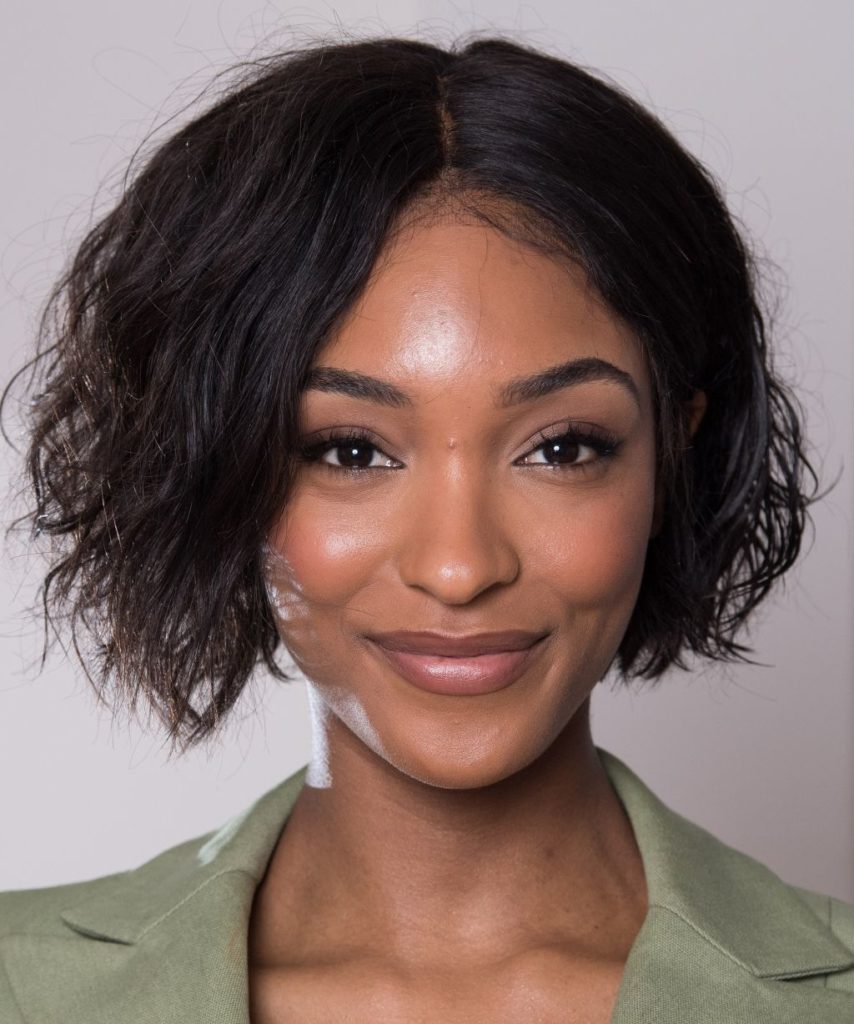 Frizzy jogs come under one of the easiest and coolest hairstyles as it doesn't need much of your attention and at the same time makes your look more attracting and graceful. It suits girls having very short-headed hair length and has a good thickness in their hair volume. The Hairstyle leaves a frizzy and open-pore layered texture at the mid-back part of the head and gives a great look with dark blackish hair color, any lady having a dark black shade of hair with short disconnected layer can carry it with a middle parting.
Unpinned Greasy Puff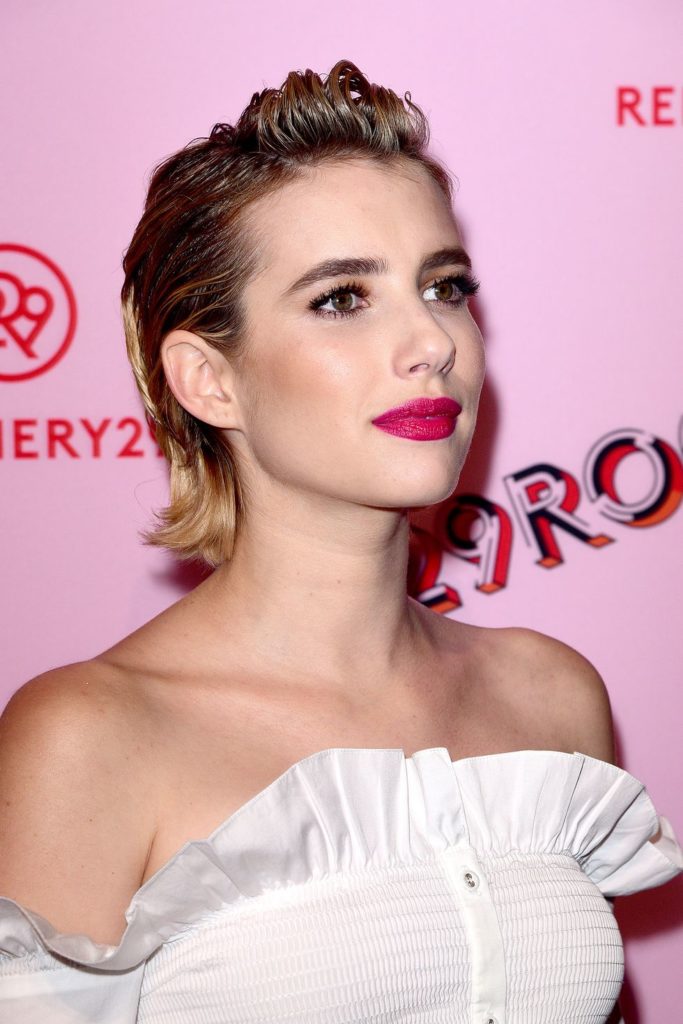 These are the sticky hair straps designed in such a way that it sleeks the top head part and make it look glossier and shiner. It is one of the very rare hairstyles and a very astonishing carnival look. Ladies appearing in business parties can surely appeal for this look and glare their gala party looks. Greasy puff is very suitable for short and thin volume hair, as the hair is separated from the side part, and by using a hair spray, another side of the hair can be puffed up. The best part of the hair is winged behind the ear side, and hair spray is applied at the entire head part.
Nappy Hair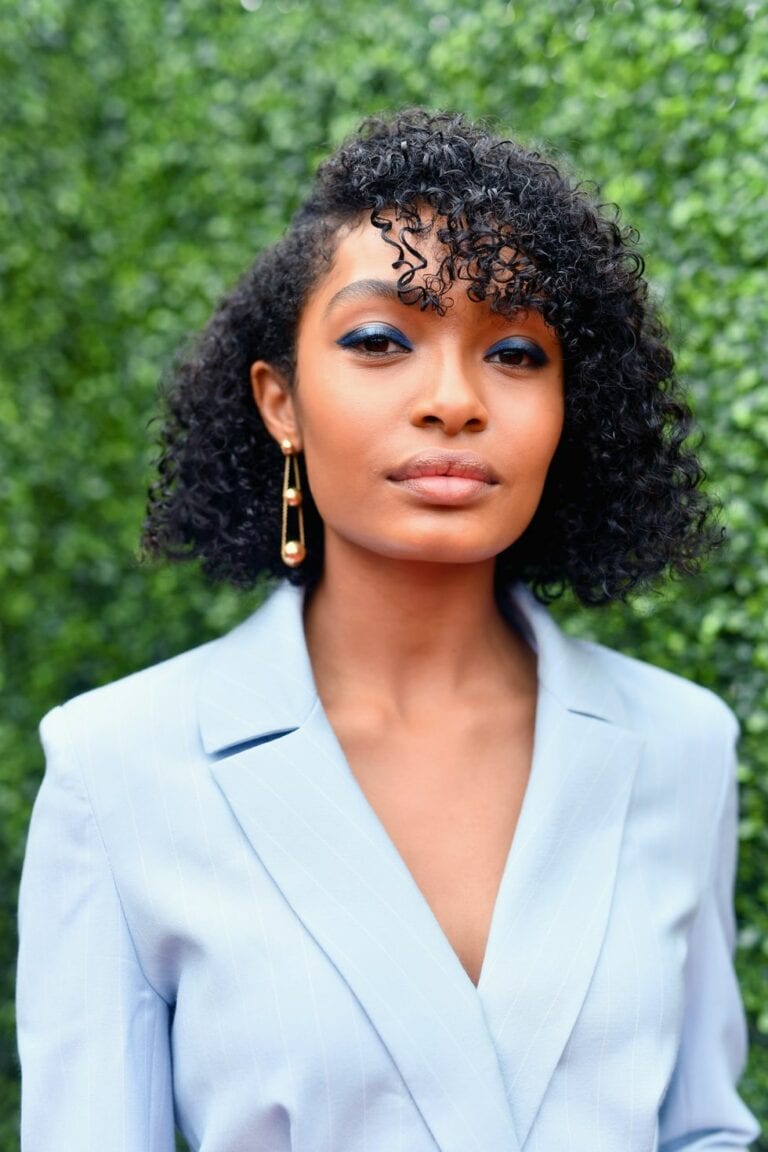 Nappy hair is a very uncommon hairstyle and can be obtained by girls having naturally kinky hair stuff. The hairstyle is quite difficult to handle and styled certainly but this gives a very unified look with its appearance. Nappy hairstyle looks great on any of the occasions and can be styled for our daily going look. It can be done with trimming the hair in equal proportion and leaving some of the hair locks at the forehead part as a crimped and wrinkled short head flicks. It looks good with dark black hair color shade.
Lateral Glossy Waft
Glossy waft hairstyle comes as the glossy and wavy Gown part look and can be done very easily within a couple of minutes. Lateral glossy waft hairstyle is suitable for those with neck length hair and having a thick volume of hair type. It is done by using a hot iron curling rod, and the end tips are curled in the wavy gesture by dividing the hair in a lateral portion and curling the brow hair as a wave motion. The hairdo looks great with Golden creamy hairs shade and leaves a stunning look with any a-shaped gown. It is one of the easy hairstyles to be maintained without taking much care with pins.
Temple Pall
Temple Pall hairstyle is purely suited for girls having short and bulky hair types. In the particular hairdo, the whole hair is observed to be thick and bulging, it can be done by having a thick bridge of connected hair at the forehead part, and it is also effective for the front-end appearance. The rest of the hair is trimmed straight in equal proportion till the neck length. The hair shade of Milky white and golden mixture gives a very attractive look on any girl's face. Temple Pall hairstyle suits for any evening party look.
Shaggy Whisk
It gives a very astonishing hairstyle appeal because the pattern it carries attracts the attention in the crowd. Shaggy whisk hairdo suits girl's having a long thin face with neck length haircut. To get the hairstyle done, you need to use a hot iron rod for curling the hair straps and making it appear as a wavy curl texture. The hair is of equal length and styled from the lateral portion of the head, making disconnected curls in the entire head portion. Shaggy whisk is a perfect party look hairdo and stuns the look on gown or Dresses.
Pinned Hefty Nod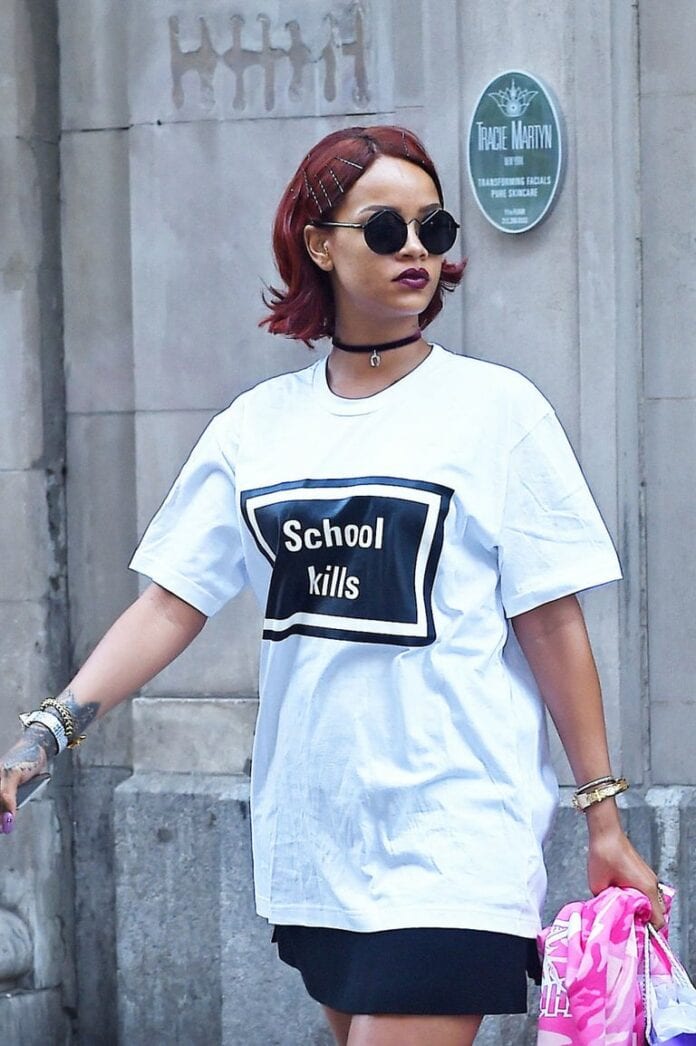 It is one of the unique hairdos which are not so practiced among girls, but it gives a very stiffed and sophisticated appearance on any girl's face. The hairstyle can be done in very easy ways just by using a hair spray and counted the number of bob pins. The hair is divided from the middle portion, and on one side of the hairpins are fixed very tightly with certain gaps in them, and the end tips are slightly twirled, which makes the end coming as a curled band. Hefty nod hairdo look amazes with the cherry reddish shade of hair color.
Feather Shadow Bridge
Shadow Bridge hairstyle gives very cute gesture on the girl's face. It is even bouncy and shiny both together and can be maintained very easily without any external care needed. In the particular hairstyle, you must trim your hair till the neck length as an inward feather cut, as the hair doesn't have shard edge; they are done inwardly. The hair is stripped at the forehead part as a connected layer making the bridge in both side head parts. It looks great on any school going girl or any girl having short face length. Hair color shade with brown color enhances it looks more.
Narrow Jiggle
Narrow Jiggle hairstyle brings up a very bold character of any woman. It gives a carefree look as well as a stiff and tough appearance on any girl's face. The hairstyle looks good for any kind of party or college and office going look. It can be done by having a layered cut of hair till the nape of the neck and maintained with a hair spray for that shiny and lumpy apparel. Narrow Jiggle hairstyle suits in brownish hair shade of the color and will look good on tall height ladies.
Inward Bob
Bob hairstyles are the simpler and the sassier to attain for any girl. The hairstyle can be done by cutting the hair into inward waves till the neck length with equal proportion. The end of inward waves is highlighted at the edges by taking thick bands of hair and shade of reddish at the tips make the looks more enhancing; some of the hair is trim till the forehead connecting both the sides of the head part with the middle parting from the top head. Inward bob look overall adores the girl's gaze.
Frizzy Crimps
Crimps are a very uncommon but trendy hairstyle and even easier to be handled all day long. In frizzy crimps hairdo, the hair is above the ear part, but in a huge volume, so the disconnected crimps make it look kind of messy hairstyle. It can be acquainted with any of the office going look or even in your daily looks. Frizzy crimps hairdo can be done by getting the hair trimmed in unequal proportions and using a hot iron rod for crimping the unlayered strips of hair. A pure black hair shade looks great on a crimps hairstyle.
The gorgeous hairstyle offers you the looks from adorable to sensual with a variety of choices. The short hairstyles are very easy to carry and maintain, and you can even style them without comb if your hair is not much frizzy as the little messy look also gives a pleasing appeal at times. When you are carrying a bob hairstyle for a casual look, you can style them simply with a parting, and for some occasions, you can style them using pins or hair accessories for a stylish look. Bob hairstyle with a pair of offbeat fringes makes them look trendier and classier, giving you a stunning appeal.
30 Must Try Bob Hairstyles 2020 for Trendy Look
was last modified:
December 30th, 2019
by