Women over sixty often dread the thought of getting their hair styled. The obvious reason behind this is losing a bulk of their hair, that too at an age where their hair is losing its natural charm and thickness.
Fear not ladies, here are some of the hairstyles which you can try without worrying about reducing the volume of your hair. Remember one thing that there are so many options to fancy up your look and make you feel younger and stylish.
32 Hairstyles for Women Over 60 To Look Stylish
Blonde Bob
If you have worn your long all your life and for a change want a hassle free hairstyle for your sixties, try out the simple yet elegant cut- the blonde bob which won't make your regret losing those extra inches of your hair.
So go blonde and give your hair a totally fresh and fabulous look by having it.
Blonde Layered Straight Hair
The blonde layered straight hair is a must haircut for women who want to age gracefully. This haircut even makes your annoying white hair look revived and the layers makes gives them an interesting touch. This style is very youthful and easy to gain on any face shape.
Blonde Wavy Lob
Blonde wavy lob are ideal for those who are skeptical about having short hair in their sixties. Having a blonde wavy lob makes ageing even more beautiful.
This haircut also makes your jawline look a little more perfect for the way it shapes your blonde hair. So ladies it's time to enhance your beauty with this blonde hairstyle that suits every women for sure.
Bob with Bangs
Women over sixty often sort to bob cut for the obvious reason that it makes them look younger. To make your bob look different from the others, combine your bangs with bangs on either side of your face. Wear this classic combination of blonde with bangs and rock your look.
Bob with Layers
Bob with layers is another way to wear your bob to make it look more fascinating and it the layers adds a refreshing look to your usual bob cut this making it look different from the rest of the crowd.
Jane Fonda is a style icon and admired by almost every older women. We want you to wear this classy haircut and looks exactly same like her.
Brunette Hair with Blunt Bangs
Brunette hair in the sixties are tough to maintain due to the change in color and texture which changes with age.
The best way to carry your brunette hair in your sixties is with blunt bangs which gives your hair a shape which is suitable for any texture of hair. Achieve the best and comfortable look by wearing this beautiful Hairstyle.
Choppy A Line Bob
This haircut is not a preferable option for most women over sixty. This cut is for the ones who do not shy away from being a rebel to ditch the usual basic looks of women over sixty.
This choppy bob comes with confidence, and is a fabulous hairstyle to ensure a great look.
Choppy Layered Hair
Choppy layered hair gives a vintage vibe to your facial features. This cut can make you look ravishing when you style it with an elegant vintage gown for a big night like your anniversary or your birthday.
This choppy, layered style is ultra modern and totally looks gorgeous if you wear on any event or party.
Classic Curls
Classic curls are for an all time classy look that any woman over sixty with a busy social life. To wear your curls gracefully even when you age also adds to an irresistible charm to your personal.
We want you to look younger every day with this flattering hairstyle.
Curly Bob with Bangs
Curly Bob with bangs is a deadly combination and suits those women who do not hesitate to be bold and beautiful every day even after turning sixty. This haircut lifts your esteem and will make you love your appearance even more.
Edgy Pixie
Pixie cut is one of the most favorite hairstyle among older women. This edgy pixie is an ideal haircut for those women who feel age us just a number and follows no boundaries of fashion according to age. This haircut can give you a look which can give some complex even to a teenager.
Grey Pixie
Women over sixty who want to start afresh for a second innings in their life and are looking a new dynamic for their appearance with their grey hair must try out the grey pixie cut.
If you are an older women who have short and natural white or grey hair. try this amazing pixie for charming look.
Layered Blonde Bob
Layered blonde bob is the best way to make the most out of your thinning blonde hair. The layered bob makes the hair look short and bounty enough so you don't need to worry about your reducing volume of hair with age.
This is a great short hairstyle for women over 60, so what are you waiting for opt for this dazzling style and glam your look.
Layered Bob
A bob is the one hairstyle which is liked by almost every older women, and this one is the coolest example to prove it why?
People who don't want to experiment much with their hair for the simple reason of losing a bulk of their hair at an age where hair growth rate is extremely low should try the layered bob, which gives proper shape to your hair and retains it for a long time.
Long Beachy Waves
Sarah Jessica Parker is the one celebrity who can give you various hairstyle inspirations, specially if you are searching for older women hairstyle.
If you're a woman over sixty, retired and want to be in a relaxed mood or go for a vaccination, then first get yourself a long beachy waves haircut and get ready to enjoy your life after retirement.
Long Wavy Hairstyle
Women who have wore their short for a very long time due to their busy work schedule and want to wear it long now should try out the long wavy hairstyle which is easy to maintain and also easy to pull off.
Flaunt your long locks by wearing this elegant looking long wavy hairstyle and appear as diva.
Medium Haircut with Choppy Layers
Those who are tired of getting a bob cut every time they visit a salon and aren't very confident to carry lob can try the medium haircut with choppy layers.
This maintains the natural flow of your hair and is always a better option from your usual bob cut.
Messy Layered Curls
Women in their sixties and older often look for a hairstyle which won't need much maintenance and styling with accessories whenever they have to go to a social gathering. The messy layered curls is the haircut that fits right for their need.
Middle Parted Hair with Ombre Layers
When you haven't figured out whether right parting your hair aligns better with your face than the left parting all your life, you should finally settle for middle parted hair.
Try out middle parted hair with ombre layers and see your face fall into perfect symmetry with your hair.
Piecey Pixie Haircut
This one is for all those ladies who have been making up their mind for a pixie cut but aren't sure exactly how they want it to be aligned.
Piecey pixie cut goes well with almost all face shapes. It will surely give you more younger feel then ever.
Shaggy Bob with Bangs
Bob is the most popular cut amongst the women over sixty but it also becomes very regular and boring at times. To avoid this, women prefer to get shaggy bob with bangs which ensures to keep your look great in any circumstances.
Shaggy Lob
If getting a lob cut is your favorite but you want to have a bit of a variation then try the shaggy lob which is a very adjustable haircut as it can be styled in various ways according to the occasion.
Ensure the most younger and beautiful look by wearing this ultimate lob haircut for yourself.
Short Grey Haircut
Short grey haircut is the one cut for all those women who believe in growing old with dignity and embrace their grey hair because after all they are the proof of the wonderful experiences you have had in your youth and going to have in your after retirement life
Short Layered Hair
Appear bold and beautiful by wearing this gorgeous short layered haircut. To keep it short and yet trendy, try short layered hair. It's easy to manage and can be teamed up with almost any accessory for any occasion.
Shoulder Length Hair with Curls
Some haircuts can never be retained to a certain age group, a certain shape of face or to a certain generation. Shoulder length hair with curls was, is and always will be a fashion statement. We want you to wear this wonderful curls and jealous younger ladies with it.
Side Parted Long Hairstyle with Curls
If you're comfortable wearing your hair long but want to spice it up a little try right parting or left parting (whichever suits your face the best) and curl up the bottom end of the hair.
Create this timeless and classic hairstyle and standout drop dread gorgeous among others.
Sleek Straight Bob
Sleek straight bob is that haircut which is bound to turn heads when you're having a reunion with your high school mates. Once you get yourself this cut, enjoy all the attention (even from that ex-crush of yours in high school).
Stacked Bob
Stacked bob is the haircut for women over sixty who just don't want to be an old lady yet. This haircut will keep people guessing your age and the best part of getting a stacked bob is you don't need to bother yourself for another haircut for months.
Straight Bob
Relive your teenage years and wear your hair in Bob cut straight and be amazed at how easily you can pull it off efficiently even after turning sixty. It's time to be young and care free again!
Trendy Hairstyle for Women Over 60
Hairstylists after several experiments and styling different celebrities I'm their sixties have come up with an efficient hairstyle which will suit almost all women over sixty. So the next time you make up your mind for a cut, you know the haircut you want.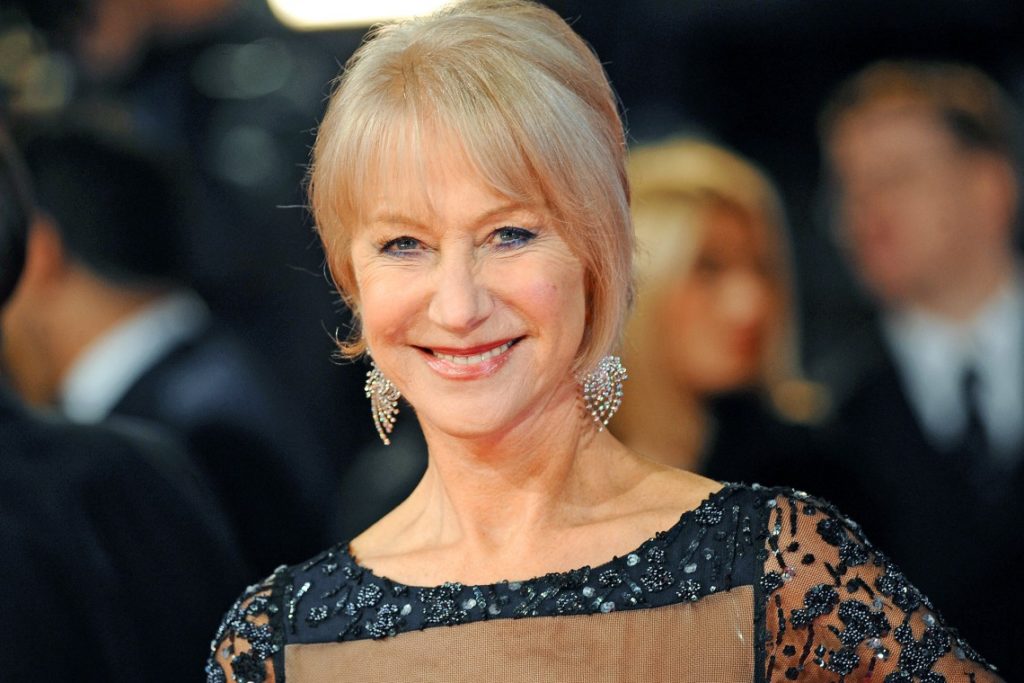 Wavy Blonde Bob
You can not neglect bob cut when it concerns to older women hairstyle. Blonde hair and bob cut has always been a safest option for a women of all age groups and to team it up with a tincture of waviness gives you a natural and flawless look.
Wavy Curly Lob
Wavy curly lob is a moderate hair length cut which is best suited for women having a round face. A mixture of waviness and curling, this haircut gives a wild perspective to your ageing face.