Braids exist in many forms. African braids, French braids, fishtails, Dutch braids; the list just seems to go on and on. They are the most versatile hairstyles with a lot of space for innovation too.
Braids have been in style since a long time ago and still continue to do so. We have listed here some of the best braids hairstyles that are becoming huge trends in 2023. Browse through this list and we are sure that you will find a braids hairstyle for every type of hair.
Braids to Look Glamorous
Long Box Braids with Golden Highlights
Long hair at its best is what can be described for this perfectly styled hairdo. It is the best way to protect your long and luscious locks of hair simply by transforming your hair into a stylish look.
The hair has been tied up in the normal box braids style and has been divided into a thin section of equal thickness.
The hair has then been braided all the way down its entire length to create this stunning look. The blonde golden highlights really do stand out in such a braids hairstyle.
Simple Braided Ginger Hair
No list of hairstyles is ever truly complete if it doesn't feature at least one redhead hairstyle. Redhead styles are an amazing way of changing up your hairdo into something much more fashionable than your basic style.
So if you're someone who is blessed with natural red hair, you should definitely do something about it so that you can flaunt it in the best way possible. This is a very minimal hairstyle so it really brings out the color and makes it pop.
Curvy Cornrow Braids
The black people are blessed with such beautiful hair, and this hairstyle only proves that fact. The thickness and texture of the hair are so clearly visible in this hairstyle and is sure to make anyone jealous if you have been pining for such good hair
The hair is maintained at a very long length and is styled in a very simple cornrow braided hairstyle. The cornrow braids are maintained in a curvy style on the top of the head instead of the usual straight hair look.
Long Curvy Braids with Accessories
Well, this hairstyle has something about it that will make you look like a goddess. Maybe it's the simplicity of the look or the perfectly placed hair accessories, but something about it simply makes it look extra gorgeous.
If we are to examine closely, then this hairstyle is also a very simple one and is as basic as it can get.
But what makes it stand out is the brilliant way in which it has been styled by braiding the hair in cornrows style and then leaving it hanging on both sides. The accessories surely do add bling to the look.
Double Dutch Braids
Here is a very refreshing braids hairstyle. It simply pleases the eyes so much and is sure to become one of the biggest hair trends in this new year and decade.
The hair has been parted to both sides, and the hair on either sides have been braided in the style of big Dutch braids. The big braids help to create some volume and significance to the look.
The hair is braided further down and then tied up into a tiny ponytail. This is the perfect look for weddings and parties, or even just one that will look great for your beach day pictures.
Braided Bun
The perfect hairstyle for brides to wear on their big day. The hair is very beautifully done on the top in a bun hairstyle but instead of the usual bun hairdo, this style features braids all along with the buns.
This hairstyle is very elegant and classy, so you can be rest assured that with this hairstyle, you will really look your most beautiful self. Few strands of hair have also been pulled out in the front and they really are some face-framing layers that add a soft glow to the look.
Stylish Braided Hairstyle
An extra chic hairstyle for an extra chic you. This is a very stylish and unique hairstyle that people will have you in awe about because, to be honest, it's a very rare style, and not everyone is seen sporting it. You can definitely steal the show wherever you go with such a hairstyle.
On the upper crown section, the hair has been divided into 5 thin sections and all of these sections have been firmly braided back and tied into a knot as it comes down so that it blends easily with the rest of the hair that has been let down in a short bob hairstyle.
Inverted Braided Ponytail
Here is a creative look for when you are bored with your everyday hairstyles, and you want to add some spice to your look.
The black roots of the hair also feature golden blonde highlights across the entire lower section of the hair, so this makes the inverted style really pop out.
Simply tie up your hair in an inverted braids style and just tie up your ponytail at the top of your head rather than the bottom, and you have yourself a cool and chic look.
Multiple Bun Hairdo
The stark whiteness of the dyes hair simply looks surreal. A fantastic hairstyle if you are someone who loves to break free of conventional hairstyles and instead would like to try something bold and new.
The hair has been styled by dividing into more than a couple of sections and then a few strands of hair from each section are thinly braided till the middle or top part of that particular section.
These are then tied up into cute little buns all over thus creating a multiple bun hairdo.
Side Braided Hairstyle with Pink Highlights
How adorable is this cute and girly hairstyle? If you're here for some style inspiration for your little girl, then you are in the right place. Along with the many styles listed above, this one is also a perfect style for small girls as they will surely look extra cuter.
It's a simple hairstyle where the hair has been done in a side braided manner and then some parts of the hair are highlighted in a beautiful shade of neon pink. The pink color really pops out and makes the whole look very vibrant and interesting.
Weave Style Braids
Most braids hairstyles feature large and thick braids that are full of volume. But here is a style that looks really great on people who do not have so much thickness or texture to their hair.
Yet the hair stands out in this style due to the intricate patterns that have been weaved by the braids. The braids are in a zigzag weave style, and we have to admit that it looks pretty good.
It helps out to erase the fact that the hair lacks texture or thickness and instead highlights the hair in all its beauty.
Side Braided Ponytail
We have all seen many hair accessories that range from beads to stones to even small hair elastics. A ribbon, though is an unusual hairstyle and maybe that is the reason why this hairstyle looks so refreshing and cute.
The pink ribbon also adds a girlish vibe to the look while the loosely done side braids add to the overall charm of the look. It's a perfect hairstyle for casual outings, summer parties, beach days, etc. You can go boho chic with this look by wearing a cute dress and sandals.
Large Braids and Ponytail
Well, here is another chunky braids hairstyle for those who have long as well as voluminous hair. This is the perfect hairstyle that you'll need to make sure that your hair stays in place without causing you any discomfort and also looking stylish simultaneously.
The hair on the upper front part has been divided into major sections of hair. They have been braided back all the way down very firmly and then all these sections are combined together and tied up into a low lying ponytail. The golden blonde highlights also stand out and add beauty to this look.
Twisted Braids and Bun Updo
This style is simply art and looks very elegant. The perfect hairstyle for those who have very long and large hair. It helps to tone down the overall volume of the look and makes it look much more presentable.
The hair on the front part has been styled in a twisted weave style braid. The braids are very loose too, so that they help in giving off a messy and relaxed vibe. The rest of the hair is again tied up into a kind of messy bun and your perfect hairstyle is ready to go.
Voluminous Grey Knotted Braid
You simply cannot stop gushing over the beauty of this look since it looks that amazing. The volume, the texture, the color, the style. Everything about this look is perfect in all ways.
So go ahead and get this adorable hairstyle before anyone else does. The knotted braids in the middle stretch all the way down creating the impression of a faux hawk and this will definitely help you to have everyone's attention on you.
Thin and small knot braids have been stretched from the sides too and the rest of the hair is simply let down.
Double Fishtail Braided Hair
A double-sided ponytail looks are cute and classy all the time and are also one of the most popular back to school looks among teenagers and young girls.
The hairstyle is a pretty basic one here and you do not need to spend much time on it if you already know how to do your hair in a fishtail braids style.
The braids have been done on either side and the face-framing layers on the front also look great on this style.
Simple Braided Wavy Hair
The gorgeousness of these blonde locks of hair is simply irresistible. There is nothing that looks better than a good hair day and we're sure everyone wants every day of their life to be a good hair day.
While that is not always possible, with hairstyles like this, you can make sure that you always stay ahead of the style game and look amazing at any given time.
This is a simple look where the hair has been parted to both sides and let down falling in loose waves. A thin strand of braids also adorns both the parted sections of the hair.
Side Braids with Hair Elastics
This is a cute hairstyle for anyone with medium or short length hair. The hairstyle is very simple and basic as it only features a side braid and the rest of the hair on the upper section has simply been slickly pulled back and let down flowing freely.
The blonde color of the hair really glows when paired with a stunning and easy hairstyle like this. You can make this style your go-to look for any type of event as you can easily do it too, within no time. Black hair elastics have also been used on the hair to make it look more beautiful.
Braided and Tied up Hair
Most hairstyles feature braids that flow freely flaunting their entire length. Well, this style is an exception in that case since the braids have been neatly tied up and tucked into a low lying bun hairstyle.
The hair has been very neatly parted to different sections and then all of these sections have been tied up into braids. The braids are then tucked in at the length of the nape making it a very comfortable style giving you a professional and elegant look at the same time.
Inverted Side Braids
Inverted braids hairstyles are becoming all the trend these days and this hairstyle is no exception to that fact.
On the sides, the hair has been divided into many sections and thin strands of hair have been loosely braided towards the upper part and then the rest of the hair is done in a parted hairstyle leaving it as it is.
A cool and edgy look for when you need something to go with your fun outfit. It definitely is pleasing to the eye. Try adding in different colored hair highlights to get a cool look for yourself.
Medium Length Wavy Hair with Dutch Braids
Dutch braids are amazing and they can surely transform any basic hairstyle into a very stylish and elegant one.
And this beautiful hairstyle also features a beautiful transition from dark hair to light blonde hair as it comes down towards the bottom making it look great.
The side braids have been tied up very loosely making it quite an elegant hairstyle that can be worn to weddings, parties and other such events.
Blonde Bun Hairdo with Colorful Highlights
What an amazing and vibrant hairstyle that will surely have people staring at you for all the right reasons. It simply is brilliant and popping with so much color and energy.
The perfect hairstyle that you need to bring out your bold personality and make a great statement about yourself.
The hair has been divided into thick and thin sections of hair and then braided up into cute little buns on either side and the colorful highlights on the golden bleached hair simply look gorgeous.
Long Braided Hairstyle
This is a simple hairstyle that you can try out at your own home itself. It's a very protective hairstyle that is guaranteed to help you keep your hair protected for many days at a stretch.
This hairstyle is best suited for those who have really long hair, and the hair has been tied up by dividing it into various thin and thick alternate sections of your hair.
All of these have then been combined together and tied into a bun at the top.
Lace Braided Hair with Floral Accessories
The hair has been maintained beautifully by tying it up in an amazing braids hairstyle that simply looks amazing. The perfect bridal hair looks for your bid gay or you can even wear this hairstyle even if you're just the bridesmaid.
The hair has been loosely but firmly braided along the sides and then beautifully tucked in with the rest of the hair at the length of the nape. The floral accessories are great at adding a feminine and vintage charm to the overall look.
Braided Bob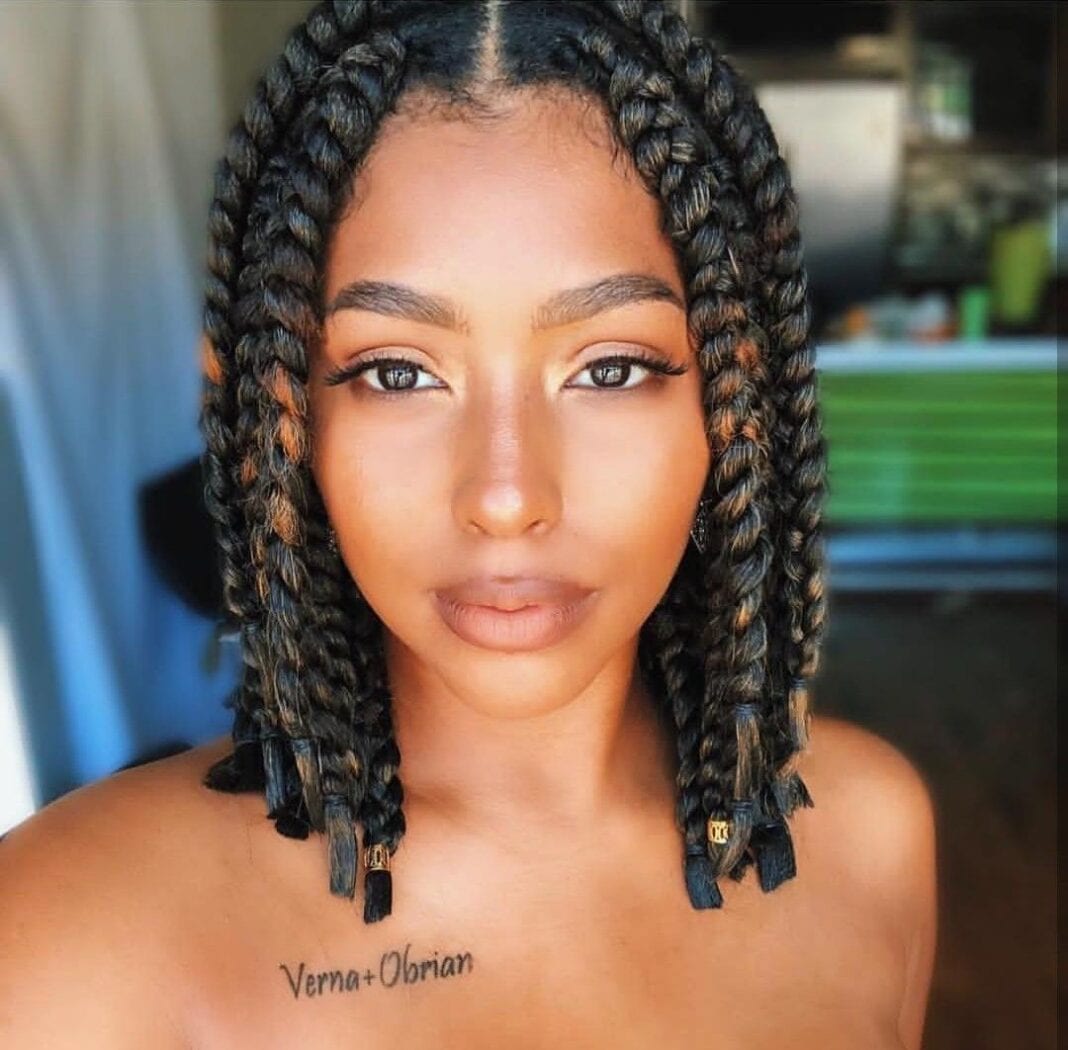 For braided hairstyles like this, short bobs are not always seen, and that makes this look really special and unique. The hair has been chopped at a shoulder-length bob with straight and slick locks of hair.
The hair has then been neatly middle-parted to both sides and then tied up in the basic braids hairstyle. The braids consist of medium thickness sections and have been done neatly and perfectly.
A great professional as well as a casual look that also protects your hair for days without you having to put too much effort or spend more money on this.
Neon Orange Short Bob
Here is a neon look that is all sorts of glowing. You simply cannot get over the sheer beauty of this look with just a single glance. The richness of the bright orange color is very visible and is what makes this hairstyle so good.
The hair has been maintained at a short length itself and has been styled by parting it to both sides and then tying up these in thick sections of braids. At the nape, it is then tied up into an adorable ponytail. The entire hairstyle has something positive and radiant about it that is surely going to spread smiles.
Braided Crown Updo
This hairstyle is perfect for those who are looking for a much more low key look that can be created with braids hairstyles.
While this hairstyle is not exactly that low key thanks to the different glittery hair accessories that have been featured in it, you can surely create a minimal look with a hairstyle like this by simply braiding it throughout the crown section and then tying it up in a wide bun hairstyle. It helps to achieve a professional touch to your look.
Yellow Braided Hair
We've just gotten over the beauty of the neon orange look. But here is yet another look that is brimming with the glow of the beautiful yellow color.
The hair has been maintained in a basic style by simply middle parting it to both sides and then tying it up in braids across its entire length.
The yellow highlights look amazing and there is simply no perfect word to describe its beauty. Go bold with this yellow look and you can steal the show everywhere.
Boho Chic Braids
Boho chic trends are all the rage these days, be it on your outfits, accessories, footwear, makeup or anything else. The same style has caught upon in hairstyles too, and that is pretty obvious in this amazing hairstyle here.
The redhead hairstyle naturally looks beautiful, but if you want to add some more spice to your hair, then this look would be perfect for you.
The hair has been tied up in loose and messy braids across its entire length and for accessorizing, it makes use of simple elastic hair bands and then in some hair beads at various places.
Magical Braids Look
Emphasizing the word magical again because surely this hairstyle looks straight out of a fairytale. Not only is this hairstyle highly fashionable but it can also be very easily styled with very less effort.
This style can be created by taking two-inch sections from both sides of your hair and then tying it into a braid. Then wrap both of these braids around the forehead in the opposite direction and voila! Your hipster and magical look are ready in no time.
The rest of the hair has been let down flowing in beautiful waves and all in all, this hairstyle is all sorts of magic.
Braids are elegant, fuss-free, and make you look instantly attractive no matter what type of hair or what length you have. Your outfit also isn't at issue here since braids go really well with almost all types of clothes. So what are you waiting for. Go ahead and try out any of these amazing 30 hairstyles that have been specially curated to bring you the topmost looks.