The fast-moving trends of the modern era make it necessary for everybody to stay up to date always to look trendy.
A perfect hairstyle is always a tough choice to be made, especially for older women who usually don't want to experiment much. So here we have some super cool hairstyles for you which are as decent as to match your age as well as are super trendy.
Most Youthful Hairstyles for Older Women
Naturally Curly Bob with Bangs
Naturally curly bob with bangs is the perfect option for naturally wavy hair. This haircut is strong and balanced. It has layers which visually so voluminous. This haircut looks very cute. Bangs are used for face-framing.
You can add some clips or pins to look more beautiful. This hairstyle does not require any special hair sprays or any hair styling tools.
Multidimensional Brunette Pixie
When a woman approaches their 40's, the only thing they worry about is how to look magnificent in their 40's age. They must know the trick on how to look elegant while having a youthful vibe. This brunette look is perfect for covering grey hair.
In this multidimensional brunette pixie cut, side-swept bangs add that modern look. In this pixie haircut, you can add some honey color highlights to make it more eye-grabbing.
You just add some jewelry to your overall look. The main advantage of bangs is that you can style them according to your face structure.
Short Wavy Pixie
A woman with very short hair does not have many options to choose from when it comes to hairstyle. This pixie haircut is best for those who have naturally curly or wavy hair. Sometimes you do not have to color your hair to preserve your hair's natural look.
All the hair is cut from top to bottom according to its texture or waves. This wavy pixie haircut is simple but looks elegant. You can use some hair spray for proper styling. Just comb your hair and put on eyeliner, and you are ready to go for any occasion.
The Shag
Every individual has different types of hair. Some have curly, fine, thin, thick, black or blonde, etc. like its unique name, this shag hairstyle is unique and perfect for thick hair that has some natural wave. Highlights are the major part of the attraction in this haircut.
From the layered front, bangs are hanging freely on the forehead, and side bangs cover all your ears. To look more attractive, you can wear long diamond earrings with bold eyes. Most Hollywood actresses like this hairstyle for red carpets etc.
Pastel Pink Hair with Undercut
In today's fashion industry, different types of hair colors, accessories, hair sprays, etc. are available. Many hair treatments change your overall hair look. So pastel pink highlights are something different from the normal highlights.
If you have grey hair, then these pastel pink highlights look so perfect. In an undercut front, hair is longer, and sides and bottom are shorter.
You don't need to do heavy makeup or wear shimmery clothes with this hairstyle because of the pink color. This hairstyle is very simple but extremely beautiful.
Short Chocolaty Flipped Out Bob
Bobs are the most popular short hairstyle. Layers are used in many different types of haircuts. Layers enhance the volume and texture of your hair. This hairstyle is perfect for everyday wear because of its simple look.
This hairstyle is a perfect choice for broadhead people. Flipped-out layers are always cut according to chin length. You do need to wear any heavy jewelry with this bob. Only a professional hairstylist can make this hairstyle.
Medium Length Hair with Choppy Layers
This hairstyle is widely used by Hollywood actors on the red carpet. This is happening because of their elegant and authentic appearance. This hairstyle does not need any beautiful face to make it vibrant; every woman can choose this.
The appearance of this hairstyle includes medium-length hair cut at irregular shape at the bottom of every hair strand, after that brown and blonde color is added, (in most cases one side is colored entirely blonde, and the other side is left untouched). This hairstyle goes with semi-casual attire.
Lightly Layered Cut
Medium-length hair is perfect for women over 50. Medium-length hair never goes out of style. The perfect haircut depends on your hair texture, face shape, etc. Long layers should be cut in the front to frame the face.
Layers look best on every complexion. According to your preference, layers can be drop-down in any direction. You can also use a curler or straightener for different hairstyles. Medium hair layers can be converted into a bun, ponytail, etc.
Feathered Bob
Feathered out bob is a classic hairstyle for older women. This short bob includes feathered-out edges and side-swept bangs. The feathered cut looks like feathers on your head. This bob style is perfect for an everyday look.
In older age, long hair is not easy to maintain. Feather-cut hairstyle also comes in different styles. Feathered-out bob looks so simple and elegant not for older women but also young girls.
Layered Pixie with Textured Bangs
Another classic haircut for thick hair is a layered pixie with textured bangs. In this hairstyle, every hair strand is cut at finger length with textured bangs on the sides. If a normal person sees this hairstyle, he or she will describe it as a combination of a pixie cut with messy hair.
Every outfit looks perfect with this hairstyle. If you have naturally black hair, then you just add blonde color on the ends of every strand to give a more attractive look.
Splendid Haircut with Bangs
This haircut is one of the best haircuts. A splendid haircut with bangs is perfect for fine hair. In this hairstyle front, forehead hair is cut at eyebrows height, and the remaining hair is cut in bangs of medium length.
This haircut is mostly liked by pop stars, actresses, school girls, etc. You can also style inside bun or wavy waterfalls etc.
Ultra Short and Ultra Blonde Bob
This hairstyle gives you a natural, soft, and classy look. That is the reason why it is very suitable for old age women and is liked by all. As you age, your hair starts to get thinner and greyer. This hairstyle keeps in mind all these features and makes a perfect hairstyle.
The side bangs and layers added to the short bob will cover your thin hair and add texture. The ultra-blonde shade highlights all your features very nicely.
The side-swept half-bangs look very cute and soften square forehead or round face. The chin-length bob is kept very short from the front and grabs all the attention to your jawline.
Frozen Shoulder Length Bob
The frozen princess showed us so perfectly that how gorgeous grey or ice-colored hair could look. The grey color is gradually getting darker at the ends, which are highlighting it even more. The glossy straight hair is another feature that will help you look some years younger.
This hair, when cutting into a shoulder-length bob, looks gorgeous and makes a perfect hairstyle. It will cover up your side face drawing all the attention to your features. The length is perfect; it draws direct attention to your clavicles and will make you look young.
You will not have to make any changes to your natural grey hair color if you opt for this. Shoulder length bob looks good with other hair colors also.
Soft Blonde and Curled Bob
This is another way of styling a shoulder-length bob. As we told you earlier, how gorgeous a shoulder cut can make you look by drawing attention to your collarbone, clavicles, and eyes, this picture and hairstyle is proof of that.
If you have thin hair and are not sure much about straight sleek hair, adding soft curls is all you need. They not only add texture and volume to your hair but gives you a messier look and make you look younger.
The curls are looking more gorgeous because of the blonde and brown hair color. This chic and layered bob is perfect for all shapes of faces. The side-partying compliments this hairstyle completely and very nicely.
Natural Lengths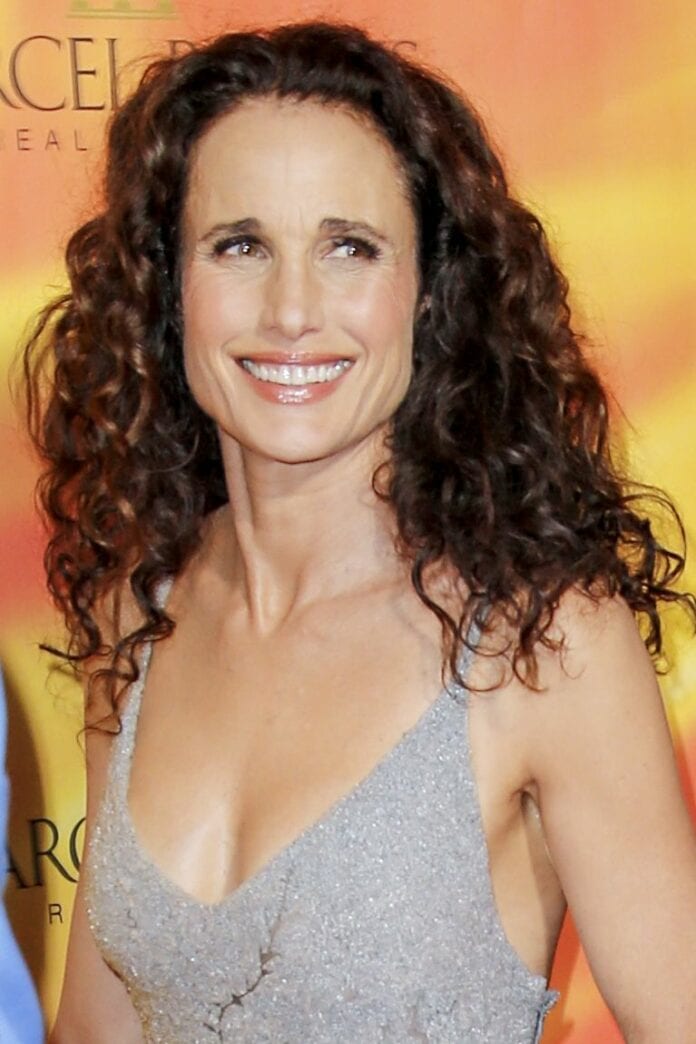 Talking about all the bobs, it could feel like going short is the only way to look younger. But that's not true. Going short doesn't become necessary as we age and is not the only option.
If you have good textured hair, don't be afraid to keep them off the length they naturally are. Giving them a trim, coloring, and styling them in a new way is all you need to shed some years of age off your face.
The chocolate brown color and curls and making the awkward length hair look so gorgeous. The no-partition look is adding a unique feature to the hairstyle. It will give you a trendier look.
Keeping it Natural
What's better than keeping yourself natural and simple. This is a perfect hairstyle that shows; it's not always important to go beyond your needs to make yourself look younger.
Sometimes keeping some things as they are can look more gorgeous. Especially if you have good hair, all you need is to style them in a trendy and fashionable way to make yourself younger. Keeping your curly hair open makes you look bold.
You can use hairsprays or gels to style and make your curls look healthy. The natural black color of hair makes you look classic. There is no specific haircut that is given to the hair. They are kept as natural as can be. The center partition adds a trendy touch very effortlessly.
Still Young
Some hairstyles make aging look effortlessly gorgeous. And this hairstyle is one of them. This is a short and cropped cut, but the layers added are giving the effect of lengthening. The layers are kept longer, which are helping in creating more angles.
This cut will work for all shapes of faces. This chic, short pixie-like cut looks timeless. It may not help you lose years off your age, but it will definitely make your aging look gorgeous.
And it will make surely make you fall in love with that part of your life. The blonde color with brown roots is suitable for this hairstyle.
Less is More
Focusing only on your age while choosing a haircut is not the right choice. The texture of the hair is another important feature to be kept in mind while you choose your hairstyle. In fact, the texture is more important than age. It will help you choose the right hairstyle.
You can rock any hairstyle even older age. Because age can never determine your hairstyle or your choice of how you want to look or carry yourself. So, Your first focus should be your hair texture, thickness, and type of hair.
Thinning of hair is common with aging. If you are one of them, getting shorter is the best option for you. It will help your hair look thicker. A strong bob of fine hair looks perfect.
Young at Heart
Who says headbands and curls are for the baby girls only. You can pull off any hairstyle at any age if you have the guts to. All you need is to be young at heart, and anything will suit you. She looks effortlessly beautiful and young with that headband and curls. She looks so young and youthful and full of energy; so can you.
The best thing to do is that If you like something, just go for it. Your happiness will reflect on your face and will automatically give you that glow and make you look younger.
The dark brown color and curls compliment the hairband with side-partition s perfectly. Be young at heart, and you will always look gorgeous.
Sleek High Ponytail
Another way to style your long hair as they are and look young is by styling them in a ponytail. The sleek high ponytail instantly changes your look. It helps you add that girly or feminine hint to your look. The shades of brown make it look even more gorgeous.
The ponytail is made to look even more extra by wrapping some hair around it. It makes it look even thicker. It takes all the hair away from your face and draws all the attention to all your features. It will help you show off your makeup even more. You will be free from your hair and will smile more.
Show off Your Greys
Nothing is more beautiful than showing off your real self. Also, because it will always be low-maintenance. No one likes spending hours daily to style oneself. This becomes more irritating to women as they age.
Therefore, short bobs are always perfect because they are always low-maintenance. Also, because they help your hair look thicker and healthier.
Middle-partition is trendy and will help you look fashionable. The best part is keeping your hair color natural. All you have to do is straight your hair, and you are all good to go. The overall look looks very classy.
Go for Bangs
Another feature that, when added to your hairstyle, will definitely take a few years off your age is the bangs. They will always be in style. They compliment any face shape. They instantly change your look.
They make you look young and sexy. They cover your face and the fine lines on the forehead. They might look a little risky, but you should definitely go for it at least once.
You will not regret it. Keeping the same look and hairstyle can make you look older than you are. Keeping it young, you need to change your look. The best way to do it is by adding bangs. The bangs will look best on a short bob.
Easy to Go Hairstyle
Short hair has always been in trend and suits every woman no matter what age, skin tone, or face shape she has. The older women can easily style their short hair by just combining them backward.
These can also be styled by a side partition. The blonde hair color adds more grace to it. Short hair has always been preferred because it doesn't need much maintenance and can be styled within a few seconds.
The Neck Length Waves
The decision to get a haircut is always a difficult one, especially when it comes to deciding the length you want. The not very short hair and nor a long one may be your perfect choice. Neck length cuts are the choice of many these days. The textured waves make it look prettier.
They can be styled, may it be a routine day, a formal look, or for a party. Just a side partition or a center partition would give you a ready-to-go hairstyle.
Beautiful Long Waves
If you want a change in your hairstyle without sacrificing your long hair, layered cutting is the best option for you. The loose waves can be added to it with the help of a curler to give it a fantastic party look.
Black long hair is always an attention seeker. Adding some blonde highlights to the black hair gives it a trendy look. It would go for every skin tone and every face shape. Moreover, long hair can be styled in numerous ways.
One looks first judges One's personality, and our hairstyle is a prominent part of our look thus, it should be attractive and trendy as well.
Here we have got some decent hairstyles for short, medium, and long length hair for the older age women so that you don't have to experiment much. I hope it has helped you.