Short has become a new trend! Women today prefer keeping short hair rather than long locks. Especially when it comes to black or brown colored hair, short hair cuts just slay the look.
Talking about the brunettes, the contrast of the light skin color with dark short cut hair looks fantastic. The personality comes out to be incredible, and you get to meet a new you!
Also, with so many fabulous benefits, there is one thing you need to work hard for, and that is the maintenance. Maintaining short hair requires excellent tools and the right products. Do talk to your stylist about these technicalities before going for a short cut.
We have hand-picked few short hair hairstyles, especially for the brunettes. I am sure you will like these. These hairstyles can give you major hair goals, and maybe your new haircut lies just beneath this text. So explore to know more!
20 Short Brunette Hairstyles for an Awesome Look
Cute Bob Cut
Bob cut is suitable for short hair length to medium hair length. Sometimes this hairstyle is carried by men as well. In this, the hair is cut around the head to a length above the ears, below the ears or above the shoulders. It is totally your choice to opt for whatever hair length you want. Your hairstylist can better assist you in what hair length will suit your personality. This haircut brings out your personality in a better way. It has the power to compliment your beauty. Make sure you choose the best tools for this super hairstyle.
Bowl Cut
Just as the name suggests, this haircut is done as if there is a bowl of hair placed on your head. A bowl cut is very simple and plain. Here, the front hair is cut with a straight fringe while the rest of the hair have the same length. The hair on the sides and the back can also be cut short.
This hairstyle was popular in ancient times as well and now the trend has returned again. Previously the barbers used to keep a bowl over the Customer's head and trim off the hair below that. It was a very common hair cut at that time.
Stretched Roots and Overlapping Layers
If you have thin hair and wish to opt for a short hair length then this hairstyle is for you. Straight hair looks the best when they are layered over each other. These overlapping locks add volume to your thin hair as well as give an outstanding look. This hairstyle is the perfect makeover for your hair as well as your persona. This hairdo brings an illusion of thick hair. If you are the owner of thin locks and wish your hair could be better than this hairstyle is the right choice for you.
Choppy Bob Haircut
Bob haircuts do not need any introduction as they are really popular. Same is the case with their cousins, choppy bobs. Flat hair never looks good. You need to give some volume to your locks. Even if the hair length is short, the volume is a must. Flat hair gives a flat overall look as well. It is just like a curtain in front of your beauty. You can bring some fluffiness to hair through choppy bob hairstyles. Volume is added to your crown while there are short layers at the back of your choppy bob cut.
Short and Wavy
Messed up with your wavy hair? Do you wish to have a short hair cut? Don't worry! This hairstyle will suit you. Although wavy hair doesn't look much neat and clean just as the straight ones do, but don't envy them. Even this hair will make you look beautiful. Most women wish to cut their curly locks short in summers but are hesitant because of the styling issues. You just need to care for your hair properly then the styling process becomes really easy. Use shampoos, masks, conditioners and everything that keeps your hair moist. This will help reduce the frizz in your hair and make them easy to style and manage.
Short Spiky Cut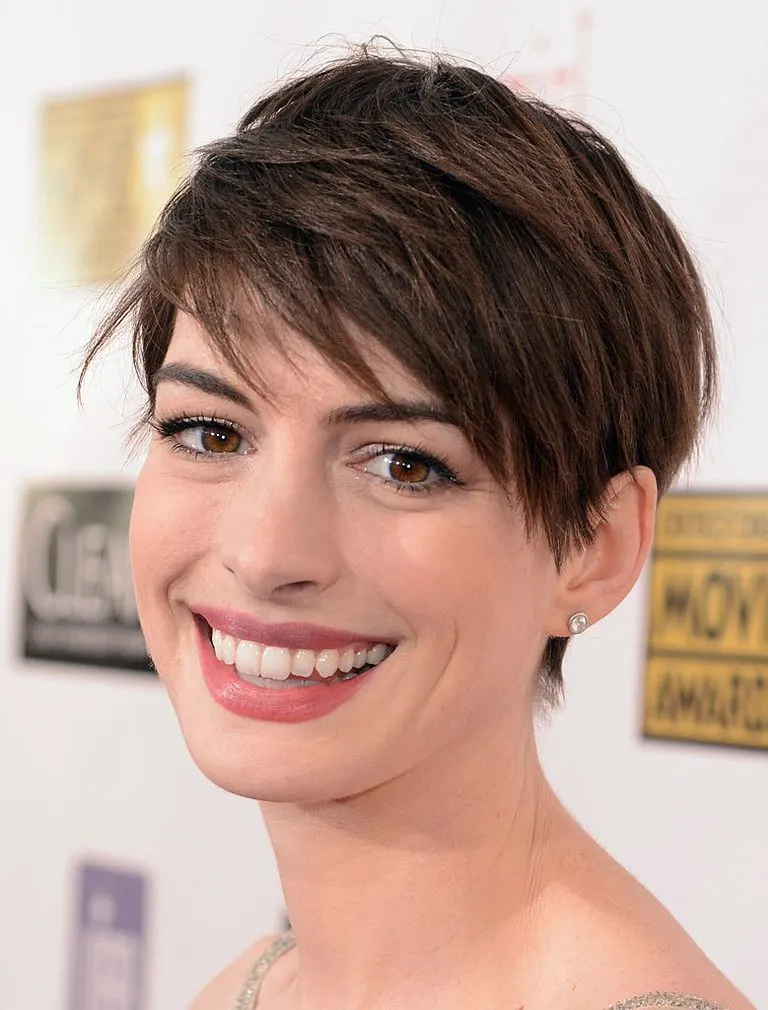 When you feel it is really hot you should cut off those hanging locks. Even Anne Hathaway did the same. Just don't worry and go for a pixie. It is sure to look good on you. It is a good idea to choose pixie these summers. Along with beating the heat it also boosts the effects of layers. This undercut lifts your lock layers and gives a tousled effect. You may even get a spiky cool look.
Layered Bob Haircut
Bobs can compliment straight, wavy and curly hair. The key to a better bob haircut is its dimensions. You can even choose for a blunt cut or a bland one. It is completely up to you to opt for the dimensions and cuts. But do take assistance from your hair stylist as well.
Bob haircuts are often layered but these layers are generally kept at the back. Putting on too many layers will not give the hairstyle a bob effect. So keep it simple yet sassy. Along with being beautiful, bob haircuts are timeless. You can go for this haircut just whenever you want. It has the power to compliment any face shape.
Chin Length Haircut
Who says short hair is not fun? Chin length hairstyles totally rock the show. You just need to keep in mind the color and texture of your hair. The ones who are afraid to have a mom bob hair cut can confidently choose this hairstyle with blunt cuts. Ask your stylist to take care of your jawline while doing this hairstyle. The length of the locks should follow the jawline. This hairstyle looks cool on every face shape. A quick blow dry and some waves make this hairstyle even better to carry. You can use a finishing cream or a spray to add finishing to your hairdo.
Short and Layered
Layered styles have acquired much popularity these days. It adds charm to your dull hair. This attractive hairstyle suits all face types and shapes. These hairstyles are edgy and fashionable and make your hair chicer. These are very easy to maintain and can be paired with blunt bangs. Opting for this hairstyle keeps your hair safe and avoids damage.
Your hair appears to have much volume. So even if you have thin hair, you can go for this hairstyle. These hairdos are versatile and can be altered according to your choice. Before going for this hairstyle, it is highly recommended to get assistance from your hairstylist as well.
Bob with Bangs
Bob haircut with bangs is an edgy haircut which can be paired with fringes. You can keep the length of your hair according to your will and satisfaction. The length can vary from ears to the neck. This hairstyle is for easy to go ladies who cannot spare much time for styling. This hairdo looks stylish even if you devote less time to it. It does not need much of maintenance and fewer products are engaged to get this look. It is vital to choose the most suitable fringe that will compliment your face shape and go well with your hair type. For this, you can ask your stylist to oblige you. Bangs can change your look completely so it is better to take assistance before opting.
The Classic Pixie
This is a completely classy look with short hair cut in a very simple way. It is very easy to maintain this look and also very easy to grow out as well. This hairstyle will make you look even more young and energetic. This hairdo is chosen by ladies of all age groups and it looks magnificent on all. This cute look is timeless and ageless. You do not even need to think about your face shape or face complexion. It is bound to enhance your beauty irrespective of your face type.
Wavy and Short
Embrace your wavy hair rather than trying to smooth them down. Let your waves describe your personality. Try to make them soft and see the magic they cast over your personality. Short hairs with wavy locks are rocking the show and are sure to make you stand out of the crowd. So stop being ashamed of your curls or waves and enhance them to look out of the world. This look is sure to intensify your beauty and give you major hairstyle goals.
Medium and Highlighted
How about highlighting your hair? It looks super cool. You can try this magnificent look on your medium length hair as well. Adding waves will serve as adding beauty elements to your hairstyle. Gone are the days of neat and smooth hairstyles. Waves and curls are trending the most in the market. So why hide your waves? Let them come out to strengthen your character and make you look soft and bold at the same time. Highlighted hair needs much care and damage proof products. Make sure you do not neglect the health of your hair while looking at the hairstyle only. Your hairstylist can give you perfect dos and don'ts to take care of your locks.
Edges and Curls for the Thick Hair
Edges give a modern look t your identity. Adding curls adds trend to the style. The combination of edges and curls is a deadly combo of being beautiful and bold. This hairstyle suits thick hair the most. This is not recommended for thin hair because thin locks require a hairstyle which can imitate to add volume to the hair. This hairdo shows up best on thick hair. So put your locks on work with this voguish hairstyle and you are ready to rock on the red carpet.
Brown and Curly Hair with Highlights
This hairstyle dates back to 1980's and is successfully back in the industry in the 21st century. Many women find it hard to carry long locks and are opting for short hairstyles. Thick waves are ruling the trend. People with curly hair will feel lucky to have natural curls as this hairstyle look the best on naturally curly locks. The ones with straight hair also need not worry as they can also get their hair curled to carry this beautiful hairstyle. Do not forget to use good quality products on your hair.
Short, Curly and Messy Hair
If you do not want a much of professional look, you can go for this messy curls hairstyle. Opt for cropped cuts that define your curls and hair texture. Make sure your hair is healthy enough. Healthy hair looks even better in this hairdo. Let your curls be your identity.
Straight Locks
If you have a round face, you should definitely go for this hairstyle. Make sure you do not combine it with blunt bangs as they will make your face look even more round. Choose anything that makes your face look lengthwise and creates a fluffiness over your head. Straight hair is never out of trend. Opting for this hairdo will make you look modern and stylish throughout.
Flyaway Style
Taking care of hair and hairstyle is quite difficult. You need to choose products very carefully and check whether they suit your hair type or not. This hairstyle lets you fly away from this burden. This hairstyle has very low maintenance costs and also gives you a neat look. Just tell your hairdresser to add fringes to your hairdo to make it look more modern and trendy. This is a perfect choice for women who have a round face.
Tousled Curly Bob
Messy hair has never looked better in any other hairstyle than this tousled curly bob. With those natural curly locks hanging down just near a beautiful face, this hairstyle is sure to make you look stylish and unique in its own sense. You can choose the length of your hair according to your choice. This hairstyle will do justice to any hair type, length, color and texture.
Straight and Natural Hair
As mentioned earlier as well, straights never go out of fashion. If you have straight hair, just let them flock around naturally. This natural look adds innocence to the face of the carrier. It is entirely your choice to keep your hair long, medium or short. Generally, women prefer short hair, especially in the summers. If you have natural waves in your hair, consider it as a plus point to add on to your beauty.
Have you made your choice?
Say thanks to the trend of mix, match and contrast. This blend mingles and jingles of different hairstyles with different cuts and techniques have given beauty a different definition. Adding bangs, edges and fringes was never this much fun. Trends cannot be hotter than this! It has given different lengths of hair a different meaning, while all define beauty at its best. Bringing on symmetric and asymmetric hairdos to the world is truly amazing.