Are you a Mom? Tired of same old hairdo? Why not go for something new! Who wouldn't like a new, classic and glamorous look on you?
Being a Mom is great, but tiresome. We always take care of the house, kids, family, friends, pets, and always make our beauty the last priority. But hey, everyone does want to get a new look. The new look is cool!
So, if you are like me who wants a brand new hairstyle; a new look, try one of the given haircuts. Not only will you look fabulous, but you'll fall in love with your look. Look new and young!
50 Most Beautiful Mom Haircuts to Look Gorgeous
Short Brown Bob Cut for Thin Hair
The short brown haircut is suitable for moms. It is a fun, stylish short bob with styling versatility. The thin hair will amaze the style. Moreover, the oval-shaped and round-shaped faces can easily carry the hairdo. The medium-sized earrings amazed the hairstyle.
The short bob is easy to maintain. It offers a stylish look with a natural tone. You can easily adapt the hairstyle for an everyday look as well as for a professional look.
Medium Parted Wheat Blonde Layered Cut
A classic wheat blonde can charm anyone's look. Layered hair always offers a stylish and elegant appearance. So, no matter of age, you can easily use the hairdo. As the blonde hair is sexy and simple. The medium-cut offers a macho look and can go for any attire.
The long hair touches shoulders can easily carry the haircut. It gives a distinctly summery appearance. People with straight and heart-shaped faces can easily use the hairdo.
Pixie Feather Cut
The haircut is quite fascinating and works well for thin hair. The pixie cut is always considered a stylish and modern cut. So, the white color with pixie cut gives a natural and fancy look to your appearance.
Further, moms with oval-shaped, long-shaped can try the hairstyle. It is one of the best mom haircuts.
Honey Lob With Inward Curly Ends
Round edges with a short-length haircut look versatile. The honey lob gives a fascinating look. It appears simple and fancy hairdo. It is easy to maintain and gives you a signature look.
You can easily carry the hairstyle for casual as well as professional work. It is also a party hairstyle. So, if you're a party person, then go for it.
Medium Length Brown Balayage Curly Hair
Balayage makes your tresses look like they have natural highlights. The curly hair always fascinates everyone. Medium length with brown balayage is making the hairstyle glossy and incredibly sexy.
To add more charm, you can use black color with brown-golden fusion. It is easy to maintain and works well for the party and casual looks.
Creamy Layered Lob
A pixie cut is a short hairstyle for women of all ages. Creamy color enhances the hairdo and makes it sexy and stylish. The short length is easy to maintain and can go for an everyday look.
The hairdo is simple and natural. It works well for your casual and professional life.
Wheat Ombre Sleek Cut
The hairdo is fun, sexy, and adorable. Wheat Ombre gives a warm look and appears natural. The haircut goes well for thin hair and is easy to maintain.
It is the best example of a simple and stylish look. If you are looking for a hairdo that gives you a signature look, then go for it.
Messy Grey Balayage Pixie
Messy Grey Balayage is a cool color and gives effect to the look. Pixie Cut looks incredible as it gives a natural and simple look. Moms can easily adapt the look as appeals to the style with a simple look. It is perfectly suitable for mom haircuts.
Moreover, the haircut is impressive for the casual look. It can also go for professional and important occasions.
Shaggy Lob
Shag cut is a classy approach for any age. The brown color gives an elegant look. It is quite natural and simple. But it gives the perfect appearance for casual looks. The round and short-faced can easily go for the hairdo.
Black Upper Bun
A classic bun always enhances anyone's appearance. It can be adopted by any age group quite effectively. The straight black upper bun style is quite natural but gives a fancy tone. So, any casual looks and occasion looks will amaze the style.
Long Layered Straight Haircut
If you have long hair, then this is for you. It is simple, yet very classy hair-do. You will definitely look fresh and stupendous. It has this Mom look that will definitely suit you and will make you look much hotter.
It is a simple haircut. Your hair is combed, and all the split ends are chopped off, making your hair have a flow. And further steps are taken and voila! Your hair is then straightened, and now it is ready to shine!
Messy Punky Pixie Cut
Want to have the recent look of Scarlett Johansson? It is simple and just unique. It actually suits both genders and is quite classy. You'll look sexy and hot in that haircut.
I mean common we all Mothers did have long hair, and obviously, we want it short. Short hair doesn't just look good on kids and teens, but believe me, this is absolutely brilliant. When I had my first short haircut, people didn't stop complimenting it. They loved it, and so did my kids and husband.
Sleek Bob
I personally love this haircut. It is really sexy on anyone who wants to update their look at the next level. If you want to be at the center of attention, try this haircut.
You'll look glamorous and that sleek cut on your side will just be the jaw-dropping site. You can definitely look hotter with a trench court and goggles. Almost like a spy!
Shoulder Length Wavy Hair
You can always highlight your hair, and look fabulous. Highlights are just awesome, it makes you brighter and always uplifts your looks. And yes, why not make your hair wavy?
Wavy and highlighted hair looks amazing, to be honest. It is something every woman in their 30's must try. It makes you a hot Mum and gives you the confidence to be happy with your looks.
Beachy Wavy Bob
If you love the bob cut, why don't upgrade it into something unique? Why not a beachy wavy look? It is a better version of the bob, and makes you look all energetic!
Yes, it gives the vibe that you love fashion, and is a cool Mom! If you want to be a classic new generation Mom with trending hairstyle, get this haircut!
Side Parted Straight Hair
Want to look extra awesome? Well, this haircut is just for you. If you love to show off your smoky eye-makeup. Then this look can is made just for you.
This haircut is simple and just keeps one side a little longer. It gives you a look where you can enjoy your hair on any side of the face. Go with a smoky eye look, and be the center of attention.
Bouncy Lob
Well sometimes, we mothers want to look young as we were in our 20's. So, if you want that black and white Hollywood movie look, go for this style.
Your hair is cut and then given a curly wavy look. It is simple and so beautiful for anyone out there. So Mothers, if you want this look. Go for it. Add a red hairband, and you're good to go!
Center Parted Layered Hairstyle
Well not everyone can pull off this look. If you love having your hair divided perfectly from the center, then this look is for you.
In this haircut, your hair is given a layered. These layers all together make your hair absolutely amazing. This haircut is again for everyone! And yeah, as a Mother, there is nothing wrong in looking fancy and classy.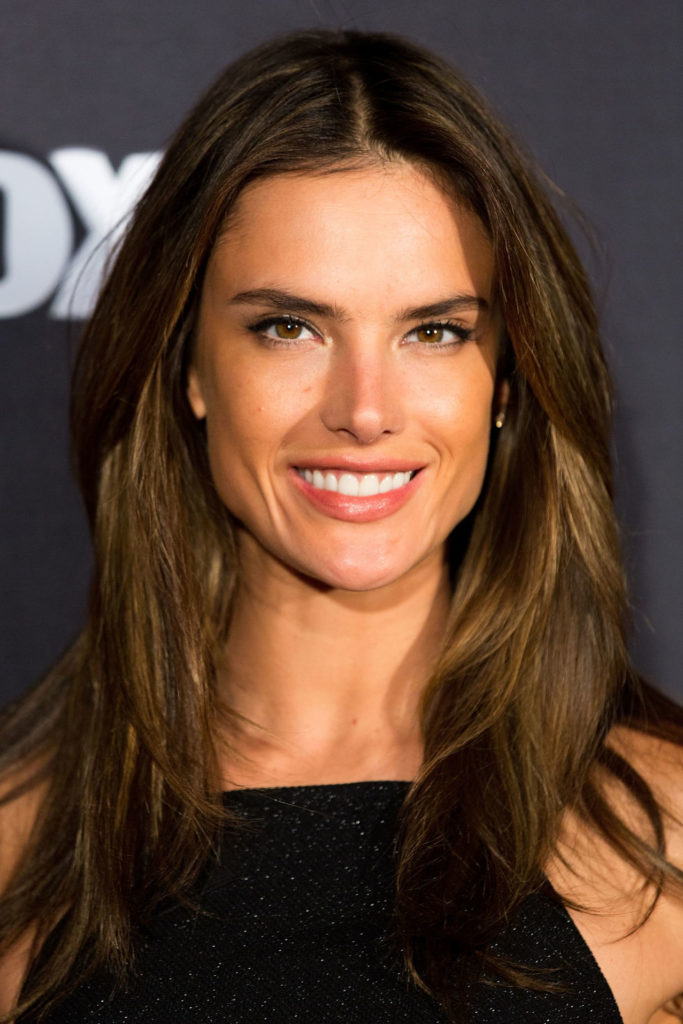 Textured Pixie
If you want a unique yet dashing look, go ahead and get this look. If you want short hair that absolutely redefines your looks, then sure go ahead.
It is a simple haircut that completely changes your look. You only need to style them with hair wax and you're good to go!
Layered Hair with Flip Ends
Love bangs? Well, it is time, you get them! Bangs may have been something that young girls may have had, but hey, you can pull this off too!
A simple haircut such as this covering your forehead and hair on both sides is pretty much a great look. These can also be a layered haircut with a bang! Simple and awesome.
Side Part Bouncy Bob
A perfect look for working women! As a Mother, we often don't take care of our looks. But don't worry, a simple haircut can uplift your looks.
These are short, and partially bob! A simple curl is given from the bottom and you're good to go. If you want to be fancier, wear a hairband! Simply perfect.
Wavy Hairstyle with Uneven Bangs
There is nothing wrong in getting uneven bangs! These are also trending look that every woman definitely would want to pull off.
This haircut is simple, really. Your hair is given a wavy look with added uneven bangs. And yes, if you do have highlighted hair, this will definitely do good on you.
Layered Hair with Ombre Ends
If you want shoulder haircut with something simple, yet elegant. Try getting this hairstyle. Your hair will be cut in layers, and then bleached from the roots. These are then given a brown shade and ombre shade. These make your hair look dazzling.
You can get this hairstyle, and change your look. You can definitely grab the attention of many people at the party. Your kids will love it!
Medium Layered Haircut
Confused between long or short hair? Why not get a medium layered haircut? Sometimes you need to stay in between. Stay medium I mean!
Get a medium haircut, and if you want, you can even highlight them. This is again simple, and yes, it will upgrade your Mom look. You'll now be a fashionista! Wear something bright and enjoy your new look.
Center Parted Wavy Hairstyle
If you love the luxury of long wavy hairstyle, then try this amazing look. You have your hair done in any salon and get a protein pack. This will help your hair get back the lost protein. It will deeply condition your hair.
You can then just straighten them out and get some curls at the bottom. Simply divide your hair in between, and you'll look gorgeous! Wear a nude makeup and you are all set to go!
Asymmetrical Bob
Looking for something short, yet sweet? Well, ladies, it's time to get this hairdo! You can now feel the hair behind the neck, and enjoy the cold breeze!
This is bob, but asymmetrical. Your hair won't be in a level, but will completely change your face. It'll look brighter and super awesome! To make this great, you can just keep your hair on one side, and you're good to go!
Side Swept Pixie
Pixie cut but in a sassy style, if that what you are looking for, then this is the hairstyle for you. Buttery blonde hair with this style will not only look amazing on a long face but will also makes you look more confident.
It's easy to curate and simple to maintain too, that's why it's quite popular amongst the working mom's. Side parted hair, with side swept bangs, makes it more attractive.
Choppy Lilac Bob
Ladies, if you're looking for something absolutely mind-blowing, get this haircut. I know being a Mother, we get a lot of criticism of wearing too much makeup, tight jeans, and etc. But hey, it is you, and you should be proud of you.
This is great hairdo where your hair is short and in lilac. The color will definitely help you get the sexy you've looked for. It a bob haircut and with few bangs, you'll be a sexy Mom!
Subtle Wavy Hair
Again this is a simple haircut. It is shoulder length and has a wavy touch. If you love them both, go and get this look.
Your hair is given a wavy subtle look. You can definitely make this better with some hair highlights at the end. It simple again, but believe me, it will suit you if you love wearing great dresses. A perfect dress and a perfect haircut!
Side Parted Blonde Ombre Hair
Love blonde and ombre combination? Well if you have long silky hair, try this haircut. Your long hair will be given a new look with all the spilled ends chopped off. And then your hair will be colored with two colors such as blonde and ombre.
This is a rather bold look, so if you want them, you can go for it. This may or may not suit you, so you better check with your beautician. But yeah, if you pull this off, I am sure, you'll get the hottest look from everyone!
Millennial Pink Wavy Hair
Pink hair has been trending in young millennial girls. But yeah, if you love being a modern and trendy Mom, then go for it! If you normal to long hair, you can just get this color.
This is a bold step for Mother's like us out there. It is simple, new, yet unique, but absolutely great. You can pull this off on any dark dress, and yeah, you'll look awesome! Don't forget to get a nude makeup done on you. You'll definitely grab some attention!
Medium Length Wavy Hair
Not long, not short, just medium. Love medium haircut, well do go and get this look. You can get an ombre look on you, and also, make your hair wavy!
Ombre is the new fashion. It makes you stand out. It uplifts your look at the next level. Your kids, husband, and family will definitely be amazed at your new style. And again, a simple nude makeup will make you flawless.
Signature Faux Hawk
If you want to look super awesome with a cool style, try this short haircut. Your hair will definitely stand out in the crowd. I mean common P!nk loves this hairdo1
If you want to be like P!nk, try this hairdo. It is bold, to be honest. But hey, you only live once. So, yeah be a cool Mom with this new haircut. And yeah, if you love the pink color, get a light shade on you. Wow! You'll definitely look great with it.
Long Blonde Straight Hair
If you want to stay blond or be a blond, go for this style! Your blond hair will be straightened out, and placed on either side.
There is nothing much to it, but yeah, you can get a protein spa for your hair. You can deeply condition it, and after straightening and all, your look will change and yeah, you'll look 5X younger than your age. Believe I tried it. It works amazing!
Messy Wavy Hair
Don't we all Mom's have messy hair? Well, let's make them wavy shall we? Just kidding! If you want a messy hair with wavy texture to it, go and get this hairdo.
Your hair wavy, messy, and curly will just give you a different look and feel. If you're naturally blond, you can get an ombre highlights on the top. It again very simple, yet a classic look. And yeah, as a Mom, you'll look beautiful as ever.
Cute Bob Haircut
If you want really short hair that can be simple enough to handle, trust me this is the one. Yeah, as a Mother, we need to do a lot. And yeah, do not care for our hair, so yeah, this is it, girl!
It is short bob haircut that will definitely do the trick. It will simply simple, and you'll definitely be happy if you are a busy person! And yeah, as a Mom, you'll get a new look that'll be loved by your family.
Graduated Bob
If you want to have the ultimate look that'll get you a younger look, go and get this immediately. It is just too amazing!
It is again a bob, but your hair will be given an extra inch at the front end. It will cover your jawline and will give you a bold, classic look. And all you need is a perfect cat eyeliner and a bold red lipstick! Voila! Simple great!
Side Swept Sleek Hairdo
Love straight and short hair? Want to get a classic Hollywood hair? Get this hairstyle!
Having straight hair is great, but yeah, you definitely need to get it right. You can get this sleek hair, and get it on one side. It will again uplift your look and give you bold look and feel. Straight and short hair, simple the best haircut a woman can have.
Side Swept Messy Pixie
If you love really short hair that will change your look and feel, get this hairdo now! It suits Scarlett Johansson, the black widow! And yeah, it will suit you too. It is short, and you have styled it however you want.
You can use some hair straightener or even a curler to change your short hair look constantly. And yeah, you can definitely get a blond look with some ombre shade here and there!
Uneven Lob
If you love lob and that too uneven, why not go and get this one! This haircut will surely give you a unique look partially covering your one side. Aside hair will longer than the other side, and yeah, it is cool.
You can wear some great short dresses, and a simple makeup, and voila! You are absolutely gorgeous. If you are going for blond, or if you are naturally blond, you can get some light brown shade at the top hair.
Sleek Straight Long Hairstyle
Want long and silky straight hair? Well, all you have to do is, go to a salon and get your spilled ends chopped off, and get a complete hair spa.
Get a deep conditioning and voila you are absolutely ready, girl! You can go blond or brunette, this will certainly give you a professional, uptight Mom look.
And yeah, being a Mother, we do want to look great and awesome without family. So what are you waiting for?
Boy Cut
If you just want to get rid of the messy, long, and unmanageable hair, why not go for this hairstyle? It is very short and very bold to go for this look. But hey, you only live once.
You can get this hairstyle, and just be super amazing! This look is again quite bold, but not everyone can pull this off. If you think you can, definitely go for it.
Middle Parted Beachy Waves
Want the latest party look? Well, this is simple beachy wave hair, that looks fabulous! You love it, you go get it, girl!
It is simply amazing how this look can change your face completely. It will uplift your look completely, and yeah change you. Your kids and family will definitely fall for your new hot look.
Classic Pixie Cut
Love short hair? Pixie look is something very gorgeous indeed. If you would want to get this look and stay fabulous in your shoes! Get it, now!
Pixie haircut is a bold move, but yeah, it will give you a sexy new look. And yeah, I am saying this from my personal experience, whereas a working Mother, I would just look great always. You'll look great in your professional suite, home clothes, parties, and all. It is awesome!
Teased Bob
Love short and simple look? A teased bob is just for you! You can have your hair on either side and just get the best look on any dress.
You can upgrade your look by side earrings, and even a simple tattoo below your earlobe. It looks so awesome that even if you go for a ride, you'll definitely drop the cool vibe.
Layered Hair with Choppy Bangs
Layered hair has been trending for a decade, but never fails to give the best results. If you want shoulder length haircut, get this one.
You can have your hair layered, and to make this more awesome, get some choppy bangs. Choppy bangs will definitely make you sexier! And yeah, simple goggles with a red lipstick will get you the attention you want. A cool looking Mom you will be!
Retro Bob
Sleekly and sexy! And this is the perfect hairdo for you. This bob is retro and is simple without any bangs. Your end hair is just curled a little, and voila you'll look gorgeous.
You can go for a blond look, and if you are already, you can some dark shade on top of your hair. Get this hairdo, and be sexy as always.
Glamorous Waves
Waves such as this is a must to get. Want to get a different look to your hair, well try this immediately. You can go blond, and add some highlights to them.
These hair are then curled, and a wavy look is given to them. You can enjoy the look on any dress you'd like. You can even look super hot on jeans with a perfect shirt to go with.
Wispy Layered Haircut
Get a haircut that makes you look super sexy. Get an ombre look, and yeah try a layered haircut.
Layered hair makes it so beautiful as you leave your hair open. It matches all the dresses you'll wear and will make you hotter and hotter in every dress. You can definitely get some great compliments to form your kids and family.
Messy Bob
Want a bob? Go get a bob? Make sure to make it sexier with a messy look. You can add some curls to it, and get the wavy look. You can either be a blond or a brunette to pull off this look. And yeah, don't forget to get a perfect nude makeup with a perfect red lipstick. Sexy you and beautiful you.
Cheers to all the Mothers out there like me who want to look sexy, fit and healthy. And not to forget fashionista! I know as a Mother, we just have no clue as what is going on and what is the trend.
But it is okay. We are Moms, and we deserve a new sexy look. Just book a beautician, and get a new look. If you loved any of the above, go and get them, girl! You deserve it!