Hairstyles are something that defines a person's personality.
The way you wear your hair is a testament to how you are as a person – bold or unadventurous, risk-taker or comfortable in the predictability of life. The thing with medium style hair is that one can adopt multiple kinds of hairstyles without a problem. A lot is said about brunettes with medium hair. People say that brunettes are usually intelligent and decisive in nature. Although that's still debatable, it is an indisputable fact that brown length medium hair on any woman opens up a world of possibilities! They can wear it straight or curly or can get funky highlights to create a fashion statement.
For all those women who have medium length brown hair, here are some amazing brown, medium length hairstyles for the festive season to stand out amongst the crowd!
Super Tight Curls With Nice Ombre
If you have a funky looking curly hair, super tight curls with nice ombre can give you an amazing look. Slight changing of shades from dark to light can give an outstanding look to your beautiful face. This curly and full hair goes well with all kinds of makeup and dresses. A casual denim with a lovely shade of lipstick with open curly hair on the sides can enhance your personality to great degrees. A layer with a lighter shade and going up to darker is the style that you need to try! Give yourself a new look that you very much.
Feathered Lob With Eye-Skimming Bangs
A casual new hairstyle can enhance your personality in several ways. If you have straight hair, you can try the feathered Lob with Eye-Skimming Bangs dropping casually on your forehead. It can be carried as a casual out of the bed look, or you can carry it when you are out at a party. Be it any place, the hair falling on the sides of your hair with nicely placed eye-skimming bangs will do the work for you and give you a stunning look.
Wispy Baby Bangs
For a medium style hair, you can always go for the wispy baby bangs. When your hair is falling on the sides till your shoulder, a little enhancement on your forehead with tiny bangs can do wonders. Slight wispiness in those bangs also make it wonderful and gives you a subtle sexiness. Try the wispy baby bangs to get a sharp and sexy look. You will definitely stand out in the crowd with it.
Bouncy Flippy Ends
For medium style hair, you can go for bouncy Flippy ends too. They are always in the trend and gives you an outstanding look. It is not even high maintenance. The bouncy and Flippy ends gives you a look of fullness. If you have straight hair, you can just go for it. You can brush your hair after your shower and blow dry a little to get this perfect style. The best thing about this hairstyle is that it does not require you to put in too many efforts.
Wispy Side Bangs
Wispy side bangs is an all-time elegant looking hairstyle that you can carry easily for a party or a casual outing. The best thing about this hairstyle is that it goes perfectly well with all kinds of dresses. If you have a round face or a long face, wispy side bangs will do justice to you. Try out this low maintenance hairstyle to give you a stylish and sophisticated look.
Ultra Chic Super Versatile Lob
If you want to try out an ultra-modern and funky looking hairstyle, then this is the one for you. You can color your hair from the bottom and have a versatile lob. On one side, you can have a shorter hair while on the other side, you can keep it longer. A messy look from the bottom can also go well with it. A nice brown color gives it a sophisticated yet fashionable look. It could be your hairstyle of the year.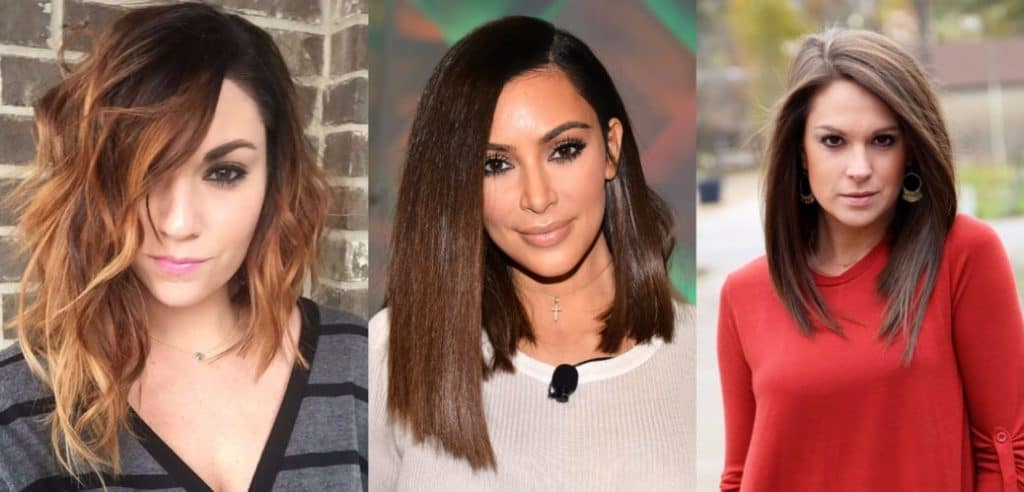 Beachy Crimped Waves
Beachy crimped waves in your medium sized hair are easy to handle and would wow anyone with its laid-back and natural look. This effortless hairstyle is hassle-free and very convenient to restyle as it doesn't take a lot of your time and energy to manage it. This easy-going hairstyle doesn't take much effort and looks quite sexy and charming at the same time!
Lightweight Disco Curls
For women with medium length hair and beautiful curls, lightweight disco curls can be the perfect match. You can color your curls with brown that gives it a subtle highlight on the top. If you got the curls, you have to use them in a way that makes you look funky. It is the best hairstyle that goes with formals as well as casuals. A little makeup with it only enhances your hair. Try it out this season and give yourself some pampering.
Chic Bouffant Style
The chic bouffant style is perfect for Halloween owing to its unconventional and eccentric look. It basically involves a huge bun on the top of the head with a few wisps of hair flowing about the face. The hairstyle leaves an impression of an ultra-chic and funky woman who doesn't shy away from trying different modern hairstyles!
Long Bangs With Flippy Waves
Long Bangs with Flippy Waves is a very sexy hairstyle, to say the least! This casual yet refined hairstyle reminds one of beaches and ballrooms at the same time. For all the brunettes with medium-length hair, these bangs with Flippy waves lend an air of immense refinement and effortless style that has an added bonus of easy management too!
Breezy Bangs
Mixing some brown with blonde can be an exquisite style and can enhance your look immensely. The Breezy bangs covering your forehead is a new style that would make your outfit and makeup look graceful and decorous. It doesn't even require too much to invest. You just need to get the haircut and brush it nicely before you go out.
Naturally Frizzy Hair With Blunt Ends
Naturally, frizzy hair has their own elegance. You can make it better by coloring them with light brown shades and giving it blunt ends. A tasteful style that would go with your persona, this hairstyle does not require a lot of efforts. You can easily pull it off with all kinds of dresses and outfits.
Whimsical Braids
This single braid hairstyle is ideal for women with brown, medium length hair. This is a hassle-free and very convenient hairstyle that can be worn at any event without any qualms. The laid-back hairstyle lends an air of refinement and would especially suit the women who have a somewhat peachy and creamy complexion. Add a bright red or fuchsia lipstick to go with this hairstyle, and you will get yourself a killer combination!
Pinned Back Hairstyle
This pinned back hairstyle for brunettes is another one of those hairstyles that never go out of fashion. This hairstyle for medium length hair would look gorgeous on any brunette hands down! It is a relaxed hairstyle that is pinned at the back and has wisps of hair floating around the face. It is a definite winner in terms of elegance and grace as it goes with all kinds of outfits and is fit to be worn at all sorts of events and occasions!
The Perfect Pony
For all the brunettes out there with medium straight hair, now getting a perfect pony isn't quite so much a challenging task anymore! You can get a perfectly straight and elegant pony to go with an evening dress and be the talk of the town forever. This retro hairstyle involves a medium ponytail that looks elegant and refreshing on any evening. This hairstyle is perfect to go with a cocktail dress on a night out with friends or a dance night. You can even wear it to a professional meeting or an interview for a pro look.
So these were some popular choices of brown, medium length hairstyles that cater to women with all kinds of medium brown hair out there! Now getting a new hairstyle each day isn't a distant dream anymore! With these 15 top hairstyles for brown, medium length hair, you can wear your hair in a novel way every single day and for different occasions without any hassle at all. So what are you waiting for? Try these hairstyles today and stand out for your unique style statements.
Please share the below image on Pinterest