When we hear the word HAIR, a picture of black, long and healthy hair comes in our mind. Women are more possessive of their hair than men because from ancient times, hair is known as their crowning glory. History shows that hair is an emblem of femininity.
Hair is a reflection of our identity because man and woman can be distinguished by their hair. In ancient times women used to wear their hair long, which was the symbol of their beauty. It is not just because we think that appearances are significant, but our hair represents our personality, thoughts and beliefs as well.
It is said that there is a strong relationship between hair and self-confidence of women. Their self-esteem gets affected if their hair is not healthy. If they have gray hair that is frizzy and dry, their beauty gets hamper and spoils their entire look.
Hair enhances your beauty and hairstyle adds charm to your look. Hairstyle changes the whole personality of women. They represent them shelves differently through different hairstyles they apt.
Today, as women take more responsibilities, they do not get much time to style their long hair hence they prefer to keep their hair short so that it can be easy for them to look after their hair daily. Women are more noticeable when their hairstyles match their profession. They look chic and perform their duty with higher confidence.
It is necessary to pick the right hairstyle and hair color to match the shape of the face and complements the skin tone adding an element to the features which make you feel stylish and more capable. The good hairstyle looks stylish when the hair is healthy, shiny and voluminous, which again reflects that you take care of your hair.
Having long hair that is unhealthy, frizzy, dry and damaged is no longer preferred by women. They keep their hair short so that they can manage them properly. Many short hairstyles are in trend nowadays. One can look chic by choosing the right short hairstyle to look pretty cool.
They can cut their hair in style, according to their hair type because some have thick hair while others can have thin hair so some are blessed with straight hair and some with beautiful curls. You cannot follow all the hairstyles blindly because every style is not meant for everyone.
One has to choose the right hairstyle which suits the facial shape. Some style looks good on an oval shape, some on round and some on square facial shape. Getting the right hairstyle makes one look cool and trendy. Let us see some short hairstyles which are in trend nowadays.
20 Short Layered Hairstyles to Look Beautiful
Short Chic Layered Bob
This is a beautiful short layered cut in thick hair. This hair cut is meant for a modern woman who loves to keep her hair short. The brown color of the hair looks cool and trendy. The length of the hair is kept up to the upper neck and the layers are defined clearly.
Messy hair is giving a fresh look and the bangs of hair falling on the forehead are adding an edge to the face. And above all, the beautiful smile is complementing the whole look. The style will suit tall figured women with a long neckline and is appropriate for the summer season.
Two Toned Short Layered Hairstyle
To flaunt your fringes with style and that too at the comfort of having short hair; you must opt for this kind of hairdo. The two-toned hair color is adding charm to the hairstyle and making it look more stylish and classy.
This is a comfortable Hairstyle to carry that maintains the cute girly look on your face with the front hair slightly falling on the forehead with elegance. Also, the blend of Matt finish and glossy radiant hair texture with two different colors makes the hairstyle look more playful and progressive.
This style is befitting to adorn the personalities of all age groups and goes well with almost all kinds of attires.
Uneven Bob Cut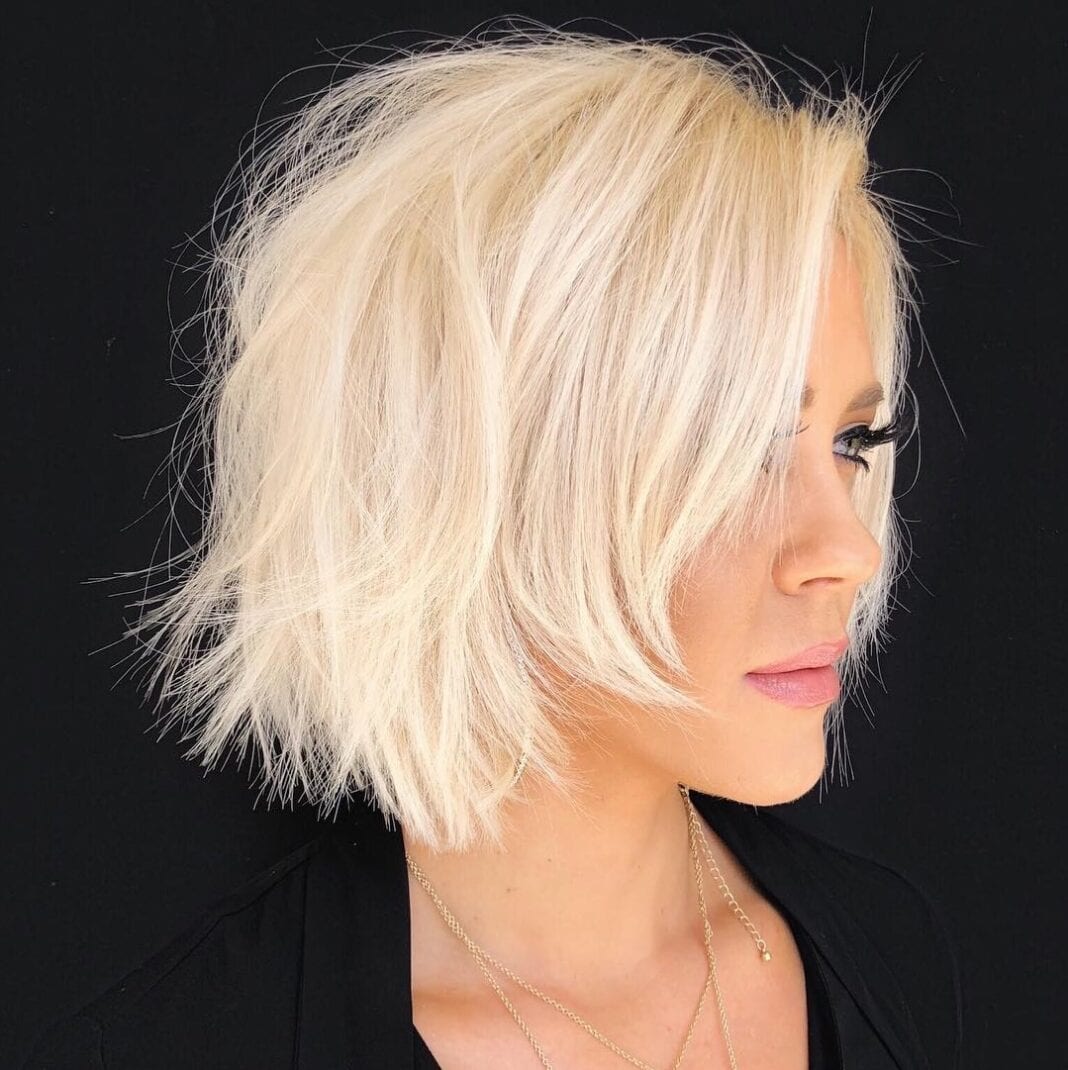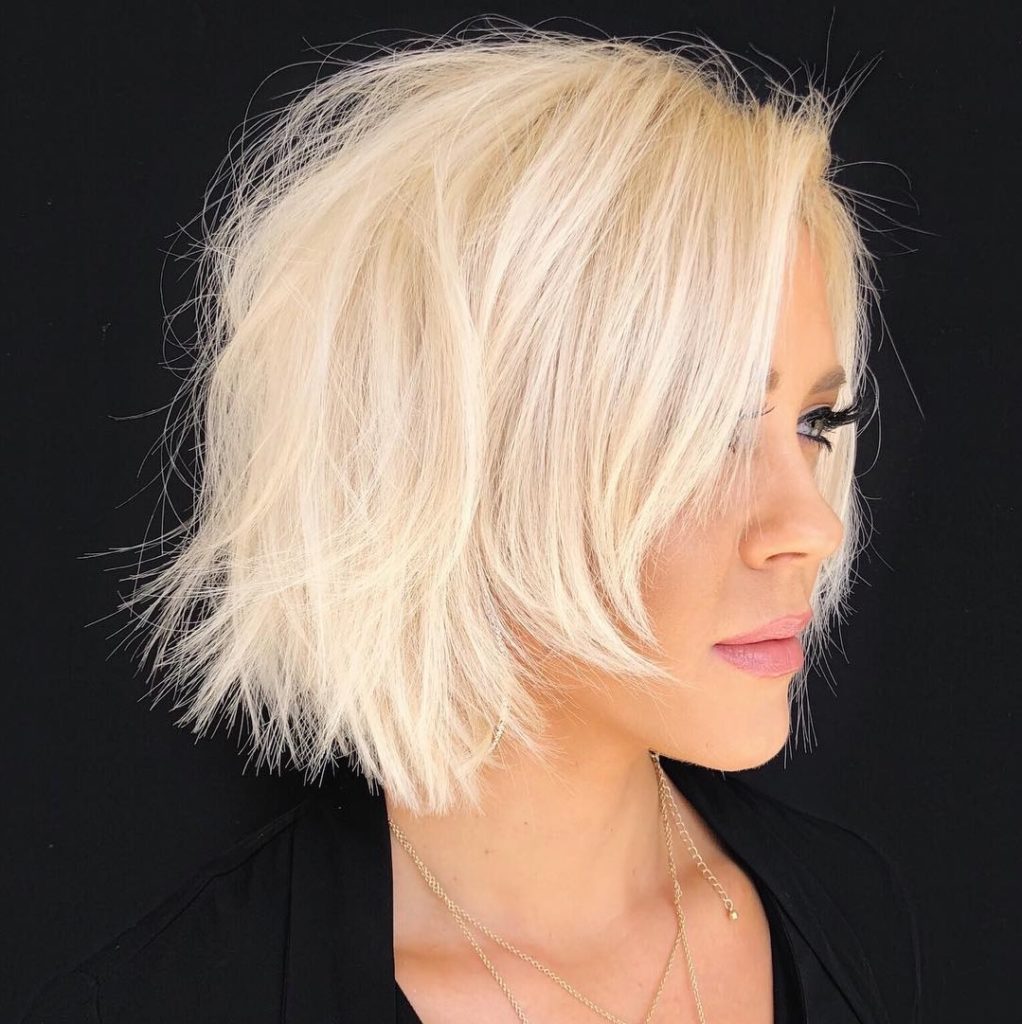 This hair cut is for a woman with thin hair. The hair has been cut unevenly to give them volume. The length of the hair is up to the neckline. The side-parted hairstyle is covering the jaw-line area from both sides of the face to balance the facial shape. This style will look good on a square facial shaped woman. The bleached hair is complimenting the fair complexion of the skin.
Unconventional Snowy White Hairstyle
Experimenting leads to innovation. This saying is suiting aptly with this hairstyle. Gorgeous milky white hair cut very short to make fine layer all over the head is actually complimenting the lady shown in the picture.
It brings a combination of both, a fierce look along with a carefree funky look. This hairstyle is mainly targeted to the younger generations, but if the elderly women with naturally white hair want to try something funky, then this hairstyle is definitely a perfect option.
At the back, the ends of the hair with a razored finish, complementing the overall look and making it apt to carry in a professional world.
Roughly Cut Waved Hair
This hair cut in thick hair is easy to maintain. The hair is roughly chopped in an uneven bob cut and looking awesome with highlighted in brown color. The little wavy look of the hair, making the style looks contemporary.
The front layers on broad forehead making the style distinguished. Working women, who have less time to spare on hair, would be happy to adopt this hairstyle as it is short and easy to maintain. This style would mostly suit the heart facial shaped woman as it will give stability to her look.
Cute Layered Pixie Cut
Short hair is super easy to style. This hairstyle is cut in high-low layers. The hair is kept short from back and a bit long from the front side giving a cool and comfortable look in hot summer weather.
The side-parted hair looks a little messy with a tint of brown highlight. From one side, the hair is tucked behind the ear and some layers at the side bun, making them look sophisticated and from other side hair are dropped to cover the cheekbone area, making the look stunning.
Radiant Platinum Backward Hairstyle
To achieve this type of hairstyle, the hair quality should be superb. The glossy and smooth finished texture in the silky straight hair is the prerequisite to add the elegance in the hairstyle.
In this hairstyle, the hair is kept reasonably longer to give it a backward combed look. The glossy texture with the excellent platinum ash hue is complimenting the hairstyle and adding an ultra-modern touch into it.
To dress for a party or any big event, this is an appropriate look to carry off with a dazzling gown. The young women can carry it more gracefully and create their own style statement.
Short Hair with Fringe
In this hairstyle, the hair has been kept up to jaw-line. The thick curly hair is styled into soft curls that are making the style more adorable. The inclined fringes are covering the forehead is making them look sassy.
This brown color hairstyle will enhance the beauty of a woman with a long face because the tassels falling on the brow will balance the facial shape, giving modernity to the look. And the cute smile is adding extra bonus to the look.
Mid Length Bob Cut
This mid-length bob cut has been styled in uneven layers to make the style unique. The middle-parted black hair looks little wavy. A little messy and sleek hair is adding feminism to the style. The hair falling on both sides of the face is adding a frame to the face.
This hairstyle will suit almost all facial shapes. In the winter season, this style will give a warm look. And above all the naughty smile is making the style supper cute.
Unique Short Pixie Haircut
Pixie cut in short hair is really hot in fashion. Short hair can be styled in many different ways. In this picture, the hair cut is giving a boy's cut effect from the backside. The side-parted hairstyle appears wavy and little messy.
Some layers of hair, falling on the brow, is making the look stunning. From one side, the hair is tucked behind the ear giving the face a clear look.
A short pixie cut style is a fabulous option when one wants a neat and chic way to style the hair. This style will look good on all age groups and will add modernity to their style.
Short and Messy Bob Cut
Short hairstyles look trendy and are very much in the fashion industry. These styles give a chic look and super easy to maintain. Here in this picture, you can see a short bob cut in maroon brunette hair color.
The hair are kept shorter at the front with Chinese cut whereas the hair at the back is till ear length with curly outwardly.
As the hair is kept very short, the outward curls are kissing the cheeks beautifully and are adding an element to make the whole look stunning. In hot weather, this is a cool style to look modern.
Natural Mid Length Curls
Gone is the days when curls were not in fashion. Women with curly hair were used to visit salons very often to make their hair straight to survive in the fashion industry. But now curls are welcomed equally.
The model in this picture with soft curls, look fashionable. The coiled bangs on the forehead making the look super cool. The chocolate brown color is perfect for this style. The curls are giving an adoring look by adding a frame to the face. This natural textured curly hairstyle is simple yet unique.
Cool Layered Bob Cut
Women running out of time are now dares to wear their hair short or a chin-length. Short hairstyles also give them a professional look. Here in this picture, you can see how the short layered bob cut style is emphasizing the beautiful features and enhancing the whole look.
This style is suitable for a woman with straight hair. The fringes on the forehead are swept on one side to give a youthful look. The hair is up to chin length at one side and the layers look stylish as they have tapered edges. The black color looks classy and makes women feel confident.
Multicolored Asymmetric Layered Hairstyle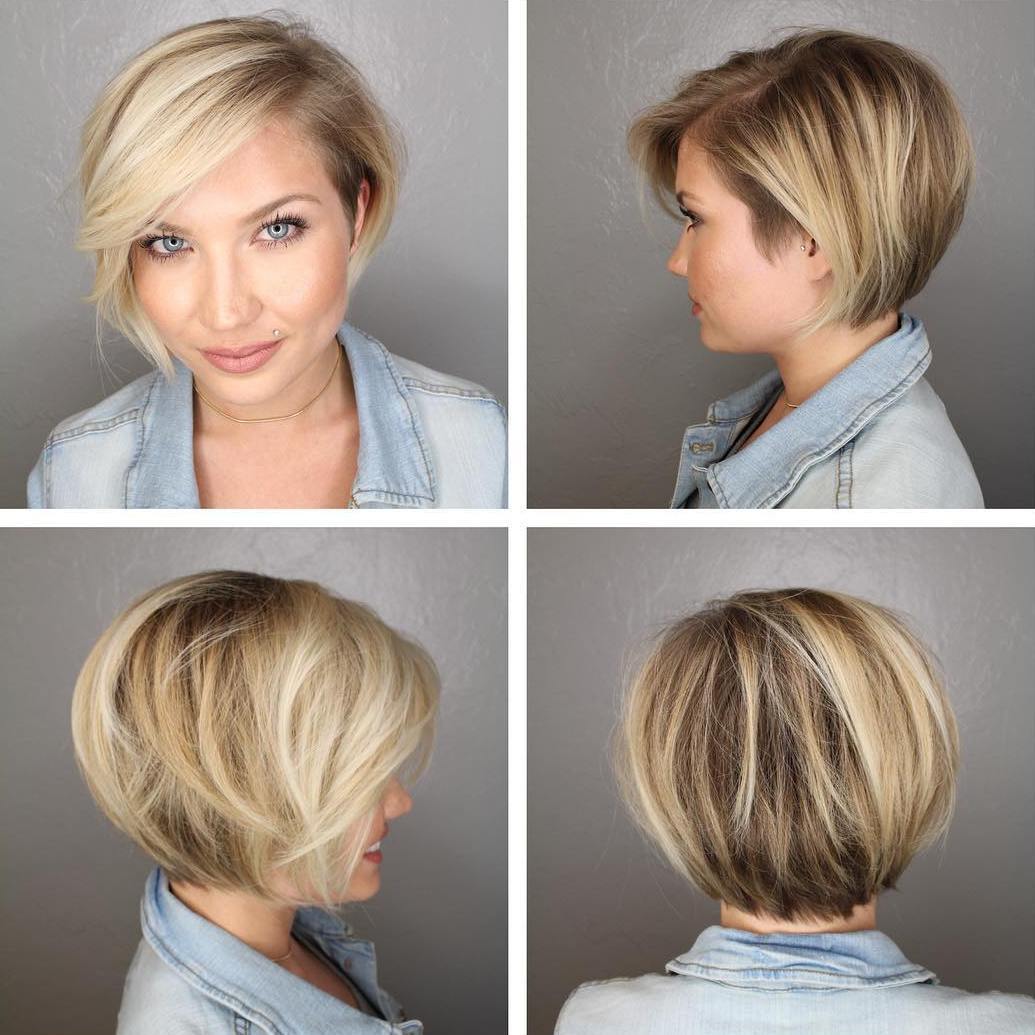 Multiple hues of beige and brunette blends in a friendly way and enhance the texture of the hairstyle. The playful and attractive shades with a combination of Matt and glossy hair add a classic touch to the overall look.
The hair is cut in asymmetric way keeping the front hair with sharper streaks as compared to the hair of back.
The beautifully placed hair color with milky off-white at one part of the front side and dark brunette to the other part adding depth to the hair and making it look voluminous. Style with this look and cast a spell on the onlookers with this unique, stylish appearance.
Blonde with Black Root Short Hairstyle
Short hairstyles are in trend now. If you want a new hair cut, then you can always go for a short hairstyle. That will give you a new look and make you feel gorgeous. This blond hairstyle has layers in mid-length which are wavy and chic.
The roots are left black to give a natural look. This style is suitable for women with a round-face. The crimped layers are styled neatly to give a celebrity look. The style will look trendy to beat the heat in the summer season.
Golden Glossy Gradual Hairstyle
The continuity of layers in such short hair is making the hairstyle look intense with dense hair. Glossy textured hair is what makes the hairstyle a sophisticated one to carry off.
If the same hairstyle is touched up with Matt finish hair, it will become a funky look with a hippie touch that suits the younger girls the most.
With the glossy golden finish, this hairstyle makes it a way for females of all age groups from college-goers to professionals to elderly women. Pair this style with formals, semi-formals, or party dresses to steal the attention of everyone.
Brunette Blend Waves with Edgy Ends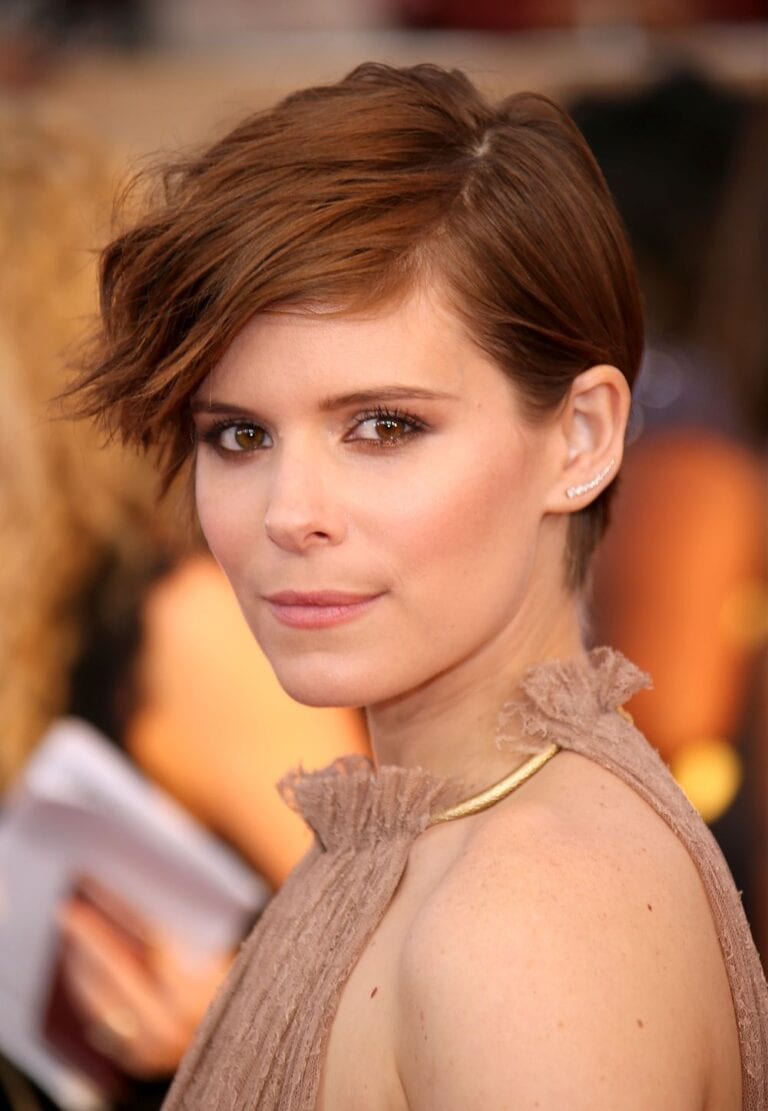 Those who like to keep their hair short but do not want to compromise in styling, must opt for this look. The dark hazelnut shade of brunette is adding a perfect dose of futuristic look to this hairstyle.
The hair of the top head has kept longer than the rest of the hair, in order to give the hair streaks a bland wavy touch. Also, the edges of that semi-waved hair are formed in a flowing way to add some eccentric look into it.
If paired with denim and jackets, you can look really charming with this hairstyle. However, you can pair it with formals and semi-formals too.
Chin Length Bob Cut
Bob cut in layers are so much in trend that many celebrities are setting their hairstyles a fashion statement. Easy to carry and easy to maintain, this bob cut hairstyle has become the first choice for modern women.
Here, the model is looking chic in a chin-length bob cut. The wavy layers descending on the cheekbone area, giving a very fresh and youthful look.
The hair is highlighted with a tint of brown color, which again gives a smarter look. This is a cool and trendy style for all seasons and women of all ages.
Top to Bottom Asymmetric Layered Hairstyle
This is an amusing look where you do not have to keep your hair longer for a perfect feminine look. However, the hair is kept reasonably longer as compared to other hairstyles with ear length.
In this look, you can see the number of layers from top to bottom to add depth and distinctive texture to the hairstyle. The radiant hair with brown chestnut hair color makes it a suitable hairstyle for everyone.
This is an everlasting look that does not require any specific kind of dressing or styling to compliment with. Try out this cool and sassy layered hairstyle to be a center of attraction of all the parties you go into.
Blonde Short Pixie Cut
This pixie cut in thick hair look more glamorous and fashionable. The layers of this short hairstyle are boosting the texture and volume of the cropped locks. The hair is highlighted with silver metal color, which is giving a silvery metallic look.
This is a unique hairstyle that is kept shorter from the backside and the front part a little longer. The hair at the forehead is swept at one side, giving the face a super cool look. A little messy style that is full of volume and movement delivers a stunning look.
The short hairstyles described above is to make you familiar with the haircuts which are in trend nowadays. Long hair is not much preferred as women get less time to manage them, as most of them are working today.
Short hairstyles are super easy to handle and women feel more confident and attractive. But you cannot follow every hair cut which is in fashion because each facial shape is different from others. So be careful while choosing a haircut.
Whatever we had said at the above, it shows that, despite inherent qualities, the first and foremost thing is the apparent look. To make the look stylish and to be in trend, hairstyles have a vital role in women's world.