With time, women start experiencing various hair related issues. It is not always possible to prevent or eliminate these problems from the root.
But with the right hairstyles, you will be able to rise above your issues and be the center of attraction at any event. In this article, we will attract your attention towards some of the most popular Easy Hairstyles for Women over 50.
As the name suggests, you will not have to spend a fortune for acquiring these unique hairstyles. If you are going to a party, attending a meeting, you will find a style that will suit your needs, enhance your beauty at the same time.
Some of these hairstyles are so easy that you can try them at home. You need not go to the stylist every time you have to step out. Another interesting fact about these hairstyles is, most of these can be combined with other hairdos.
It will give you new variations that will not only positively affect your looks, but will also assist in rediscovering "new you" every time. This is the right time to select a hairdo and head towards the salon. Ask your hairstylist whether it will look good on your hair.
If he/she is confident about that particular hairstyle, you can rest assured that you will turn heads after getting a makeover.
Best Hairstyles for Women Over 50
Shoulder Length Hair With Rolled Out Edges
Shoulder-length hair is styled in a simple haircut with the hair side-parted and kept sleek and straight. Roll out the edges loosely using a curling iron or heat rollers to get the flicked-out effect.
Rolls add more volume than simply flicked-out and look lovely. The rest of the styling is done by the salt and pepper hairdo.
Silver Hair With Fringe
Leave your sleek silver hair open and carefree. The peek-a-boo dark hair in the inner sections makes your hairdo fresh and pampered.
The sharp cut edges give a feathered finish which gives an extra bounce to your hair. Blow out the short fringes at an angle to give your face slight curves.
Snow Afro Curls
The tight spiraling curls maximize the volume of the hair. They give a rich and healthy texture to your hair.
Paired with bright snow hair color, your hairstyle looks winter-ready. The hair surrounding the face brightens up a warm skin tone and adds width to a small and thin face.
Untidy Blonde Waves
Show off your playful and carefree personality by opting for an untidy out-of-bed hairstyle. Let loose your naturally wavy hair and embrace your frizz. Use a dry shampoo to maximize volume and for the dry effect. Blonde hair color gives a glow to your complexion.
Peach Brown Reverse Ombre
Peach brown hair color resembles light brown color with copperish shine. Grey hairs on the top blend well with peach brown creating the beautiful color melt effect. Further paired with shadow roots, this hairstyle is sure to attract all attention.
Bold Pixie
Cut your hair short for a hassle-free and easy-to-maintain hairstyle. A pixie is a great way to deal with thinning hair with aging. Playing with colors is not reserved for the young.
This short hairstyle for women over 50 combines platinum purple hair color with violet lowlights creating a striking pop hairstyle.
Long Layered Hairstyle
Let down your long hair and add successive layers to create movement and prevent your hair from weighing down. Incorporate subtle light brown highlights in your naturally dark hair to enhance the layers. Let your hair move with the wind.
Curly Lob With Golden Highlights
Soft curly hair looks best in a medium-length hairstyle. Tousle your curls in a side part to create a messy effect. It is a hairstyle for women over 50 with shiny golden highlights glam up your hair making your hairstyle red carpet ready.
Permed Copper Hair
Perm your straight hair to step your style quotient. Curls add immense texture and bounce to your hairstyle. The sizzling hot copper hair color gives off the autumn vibe and will make you stand out.
Tight Curls With Wine Red Edges
Cut short your tight curls in a long bob trickling over your neck. Blow out the curls on the top to fall on your forehead, creating short bangs. The edges of the hair are dyed with wine red streaks to contrast with the dark hair color.
Layered Short Hair with Highlights
One should always try to reinvent herself in different ways. It makes life that much more interesting and keeps others interested in you as well.
If you believe in this, then rediscovering your beauty with a Layered Short Hair with Highlights styling will come in handy.
With this look you will be ready to face the world with new enthusiasm. The uneven haircut will give an asymmetrical look. You can also opt for fringes in the front portion.
Messy Curly Blonde Short Hair
Curly hair is hard to manage, but the right hairstyle will make matters easy for you. If you love your curls, then opting for a Messy Curly Blonde Short Hairstyle will enhance your beauty dramatically.
Let your locks take the form they want. It will import a natural look to your hair. In case your locks are very frizzy, you can apply hair setting gel to keep them under restraint. This hairdo looks good on all face structures.
Edgy Grey Short Hair
Are you still conscious about your grey hair? Then you will be happy to know that according to the latest fashion trends, grey hair is "in".
If you love to keep your hair short, then opting for Edgy Grey Short Hair style will meet your demands. You may opt for uneven razor cut or add layers on the top of the head to create an illusion of voluminous hair. To attain the edgy look, you can opt for reverse spikes in the brow area.
Curly Wavy Short Bob
The Curly Wavy Short Bob hairstyle has been popular since a long time. This cut will impart feminine quality not only to your hair but also to your personality. The very nature of your hair will highlight the curls.
If you suffering from age-related hair loss, this hairstyle will assist in covering the empty areas effectively. In case you want a neat and maintained look, applying hair gel on the locks will give satisfactory results.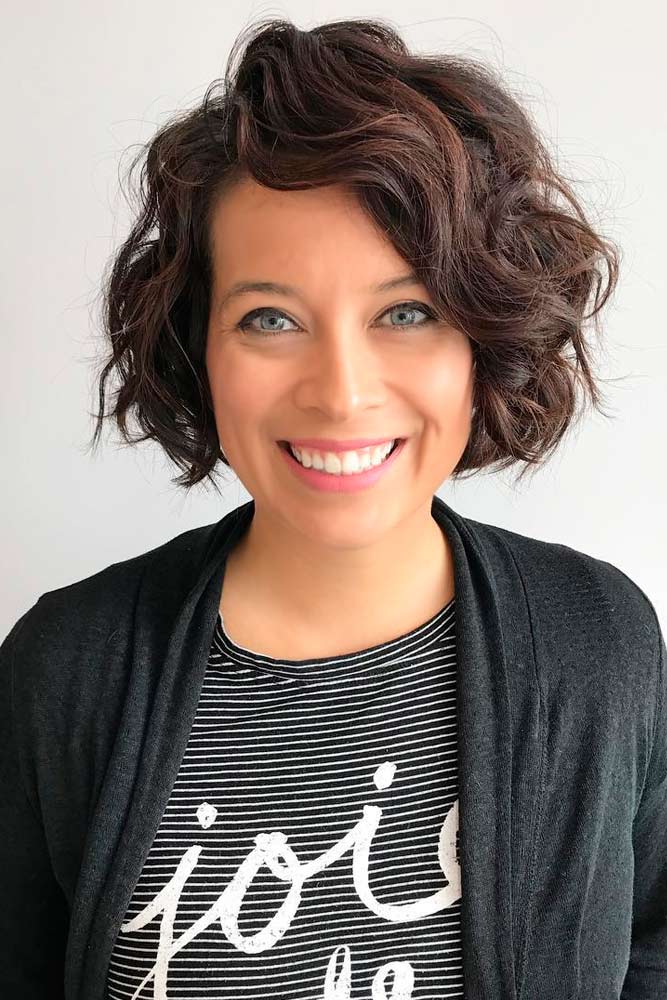 Messy and Sassy Short Pixie
Women who do not shy away from challenges, and are prepared to make a bold statement, irrespective of their age, will opt for the Messy and Sassy Short Pixie look.
Here, your locks will be trimmed adequately to keep them short. Short pixie hairstyle not only makes your hair manageable, also highlights your full face.
To add an extra charm to this hairdo, you can opt for proper spikes in front. Contrary to popular belief, this hairstyle will complement even an evening gown.
A-Line Shaggy Wavy Bob
If you have short to medium hair length, the A-Line Shaggy Wavy Bob hairdo will look good. No matter what type of face shape you have, this hairstyle will highlight your pretty features properly.
To add some drama to this hairdo, you may opt for soft curls on waves. It is the right hairstyle for a red carpet event or a casual dinner date. On days when you are short on time, quick brushing will be enough to maintain your hair.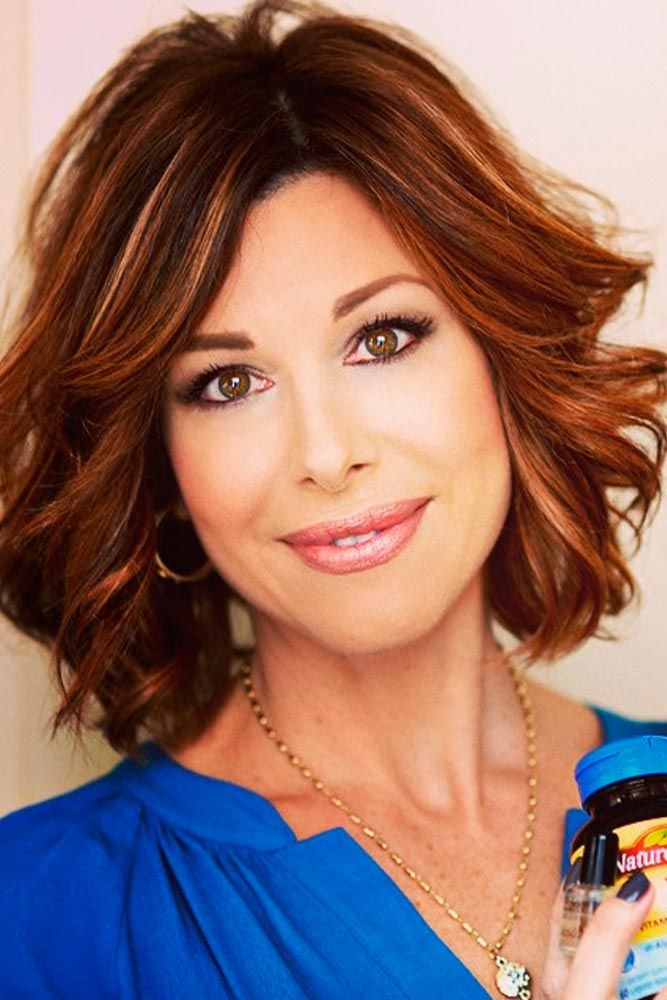 Messy Blonde Layered Short Hair
Contrary to popular belief, women with short hair can opt for various hairstyles. Thanks to the efforts of hair stylists, you can create your own style statement by combining two or more hairstyles.
One touch hairdo is the Messy Blonde Layered Short Hair. As the name suggests, it will look best on women with short locks.
If your hair is straight, the layers will be defined, adding volume and body to your hair. It is not easy to acquire the uneven look, requires a significant amount of time to prep this hairdo.
Asymmetrical Blonde Long Pixie Cut
Many celebrities have been sporting the Asymmetrical Blonde Long Pixie Cut on major red carpet events. Thief you to desire to achieve this style, then you must cut your hair short.
The beauty of this hairdo is, you need not worry about the texture of your hair. Though the hair is cut in an uneven fashion, you will be able to manage it without any hassle. Women with broad foreheads can hide it with front fringes.
Dark Brunette Classic Straight Bob Cut
Some hairstyles remain constant over the years. One such classics hairdo is the Dark Brunette Classic Straight Bob Cut. You can have various styles combined with this particular cut to meet your requirements.
Originally, it was meant for women with straight hair as the tresses on both sides of your face will act like a frame to highlight your facial features. Bangs and fringes can be added according to the customer requirement.
Blonde Wavy Lob Haircut
Recently, the Blonde Wavy Lob Haircut has gained immense popularity in the fashion arena. In this hairstyle, you will get uneven cuts, which will fall uniformly over your entire head.
Though the waves or soft curls look messy, you need not spend hours to maintain them. With frequent brushing, your locks will remain in their place, imparting you with a neat and maintained look. Set your tresses with some gel and you are good to go for the entire day.
Blonde Bob with Side Bangs
Blonde Bob with Side Bangs is another option that is considered safe for women who are over the age of 50. It is a classic look that anyone can pull off with confidence.
The presence of banks on both sides will add volume to the hair, while providing definite frame to your face. This hairdo can be constructed with middle or side parting.
Short Layered Blonde Hairstyle
For those women who are not confident about carrying a bold hairstyle, it is better to opt for something that is classy yet has an innate uniqueness.
The Short Layered Blonde Hairstyle is one such option. Your hair will be trimmed very short, but it will have an asymmetrical look. You will have short fringes in front; which will settle on your brow bone.
Shoulder Length Blonde Straight Hair
Women with straight hair often opt to grow it long. If you have such locks, then you can easily opt to give yourself a new look with the Shoulder Length Blonde Straight Hairstyle.
It is one style that never goes out of fashion, and celebrities have proved this time and again on the red carpet. Straight locks falling over your cheeks will make your face look elongated or oval, thereby enhancing its beauty.
Tapered Short Hair with Layers
Tapered Short Hair with Layers is another unique hairdo that will never fail in grabbing attention of others. As the name suggests, the hairstyle has a tapered structure. The length of hair in front is longer than that at the back.
Overall, it will impart perfect frame to highlight your facial features. Whether you are preparing for a corporate meeting, or planning a night out with friends, this hairdo will hit you compliments.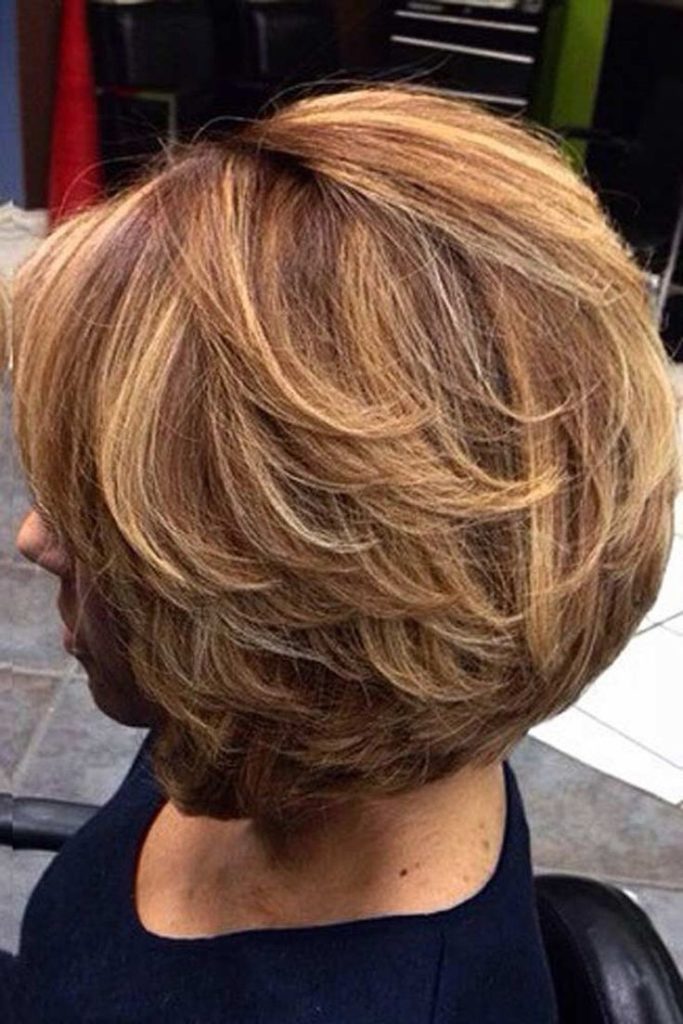 Cropped Hair with Side Swept Bangs
If you want hairstyle that will set you apart from the crowd, then the Cropped Hair with Side Swept Bangs is the best option. It is effective in giving you a younger look, without compromising with your femininity.
The presence of light fringes on your forehead will import a trendy look, while the overall short hair can be managed without much hassle.
Blonde Bob with Fringe
Another hairstyle that has been doing the rounds in the fashion industry for some time now is the Blonde Bob with Fringe.
The presence of fringes in front will effectively cover your wide brow, and also impart a definite shape to your face. On the other hand, hair on both sides of your face will highlight your entire face.
Side Swept Grey Long Bob
Women, who love their grey hair, will surely appreciate the beauty of Side Swept Grey Long Bob hairstyle. Beauty is all about owning up what you have naturally.
By parting your hair on one side, you will allow a certain segment of hair to cover your forehead. It will take many years off your face immediately.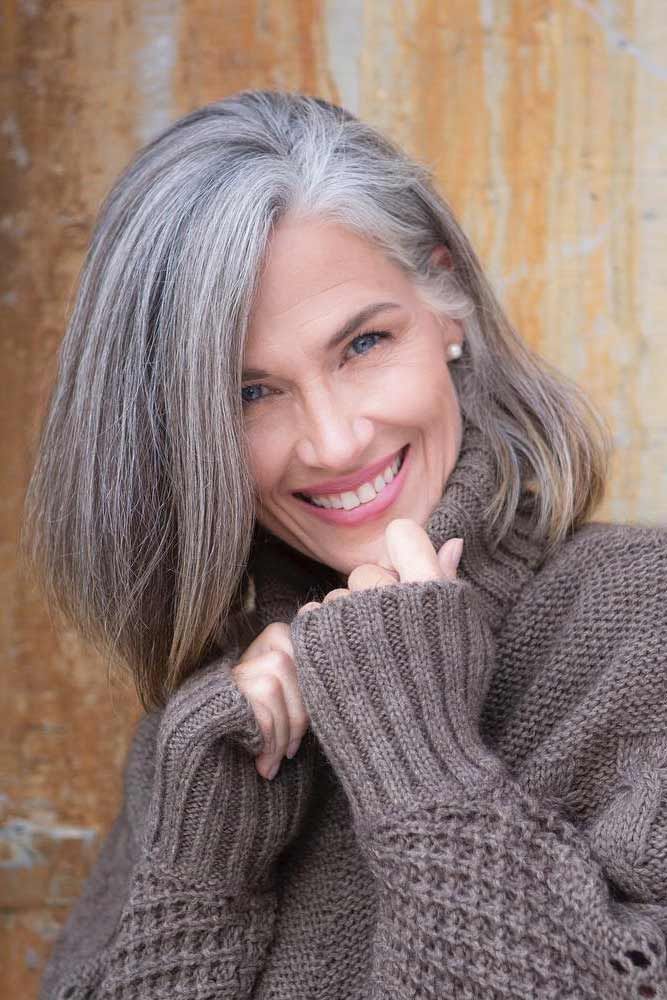 Short Pixie with Side Bangs
Many celebrities have been spotted with the Short Pixie with Side Bangs hairstyle. The topmost part of your head will have uneven and messy locks, formed with sharp cuts.
As you go down towards the neck, you will have finally trimmed hair. The front portion of your hair will also be trimmed in similar manner, making uneven fringes.
It is a perfect hairstyle for summer months, and for those who like to sport a bold look.
Messy Wavy Short Shag Cut
The Messy Wavy Short Shag Cut will look amazing, provided you can pull it off with confidence. Not many can carry this hairdo, and it is best to keep it reserved for the Halloween parties.
If you are daring enough, you may find a few takers for this hairstyle, on a daily basis.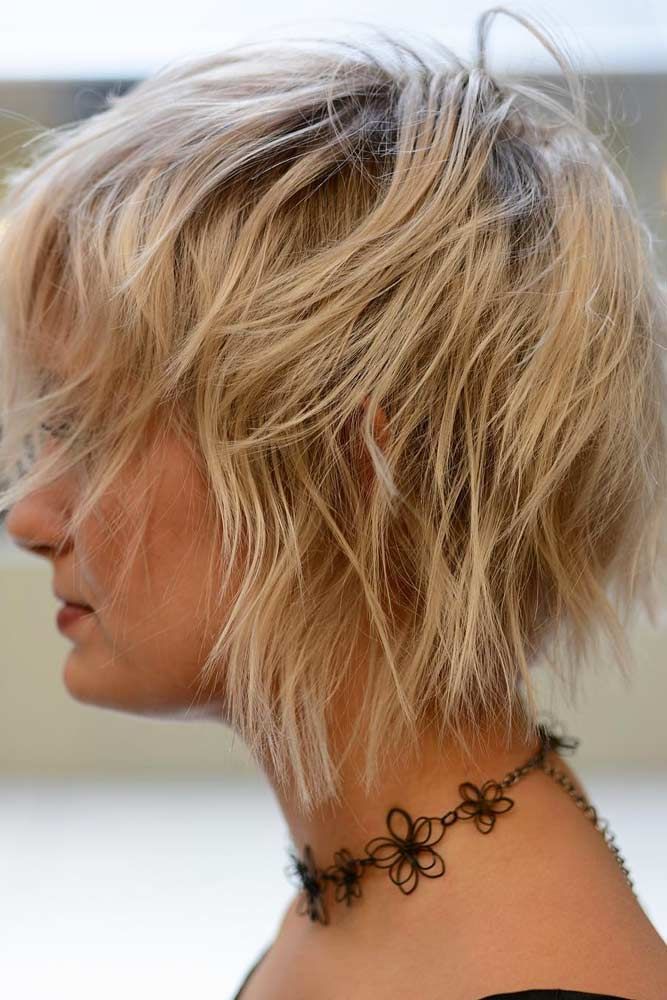 Side Swept Long Blond Bob
The popularity of Side Swept Long Blond Bob will never go down. If you are conscious about your increasing age and want to play it safe, this is the right hairstyle for you. It looks best when hair is parted on a particular site.
That way a significant segment of your hair will fall across the brow, thereby masking it and creating an Illusion of thick hair. You may also style the end of your locks to form beautiful curls.
Pastel Blonde Bob with Bangs
Hair thinning is a common women face in their advanced age. Once hair starts to fall, there is no way of getting it back. So, you have to depend on unique hairstyles to mask your problem.
The Pastel Blonde Bob with Bangs is one such option that will come to your rescue. Apart from the sharp cuts, and definite frame, the choice of a pastel hue, will add vibrancy as well as character to your hairdo.
Middle Parted Straight Bob
The Middle Parted Straight Bob has been attracting the attention of aged women since a long time. Most women, who fall in the age group of 50s and above, feel comfortable in this hairstyle.
With little hassle of maintenance, you will look your best at any event. The length of locks in front is longer than the tresses at the back of your head. When viewed from a side the hairline has a gentle slant.
Medium Length Blonde Layered Hairstyle
Just because a woman has attained the age of 50, it does not mean that she cannot look glamorous. If you want to look ravishing, then the Medium Length Blonde Layered Hairstyle will satisfy your needs.
It is a combination of different hair styling patterns. To accentuate the look, you can add gentle curls or waves, if you have straight tresses.
Auburn Long Wavy Hair with Side Bangs
Women are generally fond of long tresses. The longer the hair, the more styles you can do with it.
If you have such long locks with waves or soft curls, then the Auburn Long Wavy Hair with Side Bangs is the ultimate choice. In case you have a wide forehead, the bangs in front will mask it effectively.
Layered Blonde Bob Haircut
The Layered Blonde Bob Haircut has been spotted on several red carpet events. When celebrities opt for a certain hairstyle on more than one occasion, you must try it too.
This is one such option that will add sophistication to your personality. It too has a slanting hairline from back to front, with longer hair in front.
Blonde Swept Back Curls with Bangs
If you are looking for a hairstyle that is unique, then the Blonde Swept Back Curls with Bangs will meet your requirements. The most distinguished feature of this hairdo is the presence of long fringes in the temple area.
Whether you have a wide forehead or not, this hairstyle will add a spark to your overall appearance. You can use a curler to make soft curls at the end of your locks.
Side Parted Long Blond Hair with Swirls
Side parting has many advantages, and thus, the popularity of hairstyles, which involve side parting, is also high. One such style is the Side Parted Long Blond Hair with Swirls, and one can opt for it only if she possesses long locks.
With special tools, you will be able to create swirls at the end of hair strands. It will add femininity to your overall appearance.
Center Parted Blonde Beach Waves
Like side parting, the popularity of middle parting has always been in high. Women who are not conscious about their wide foreheads prefer hairstyles, which involve center parting.
If you have soft curls or wavy hair, then you will look good in Center Parted Blonde Beach Waves. When the medium to long tresses fall on both side of your face, your facial features will be highlighted.
Grey Feathered Pixie Cut
If you have already completed 50 years of age, you will start having grey hair. If you want to look your best for any occasion, you need to embrace your natural locks attributes.
Thus, the Grey Feathered Pixie Cut will enhance the beauty of all women who have stepped into this advanced age category. The hairstyle contains several spikes, which have been formed by trimming the entire head uniformly.
Blonde Hair with Bouncy Curls
Long hair tends to bounce up and down when you move at a significant pace. This movement of locks has influenced the Blonde Hair with Bouncy Curls hairdo. It will look good on women with long locks.
You can add character to the hair by making soft curls at the end of strands, and leave a gentle wave along the rest of the strand length. You can also get front fringes or bangs to hide the forehead.