Fifty is referred by women as their second youth.
This is the time when you are more settled in life and can finally take a good amount of time to pamper yourself. Just because you have turned fifty does not mean that you stop loving yourself or your hair.
There are no limits on the styles that you can try out on your hair just because you have hit a certain age. A woman deserves to be trendy and fashionable no matter what age she is in. It is, however, suggested that you go with cleaner cuts as you age and preferably add some bangs to your hair.
The great thing about Hairstyles for women over 50 with bangs is that the bangs make the woman look a lot younger. So, try out any kind of bangs that you like. Go for the straight, wispy or curly bangs.
If you are used to wearing bangs for so long then it is even better and do not ever think of giving up on the idea of bangs. The whole point is to look like the fashion diva that you always have been. So, whether you are fifty or more than that, this is your time to shine.
Hairstyles For Women Over 50 With Bangs
Tapered Short Haircut
This one is for the woman who loves to keep her hair short and stylish. This has been called tapered as the hair looks like it is tapering from the top of your hair down to the sides.
There are layers added to the hair to give it a tapering look. The bangs in front of the hair fall nicely on one side of the forehead. You can carry off this look for any occasion and with all kinds of dresses.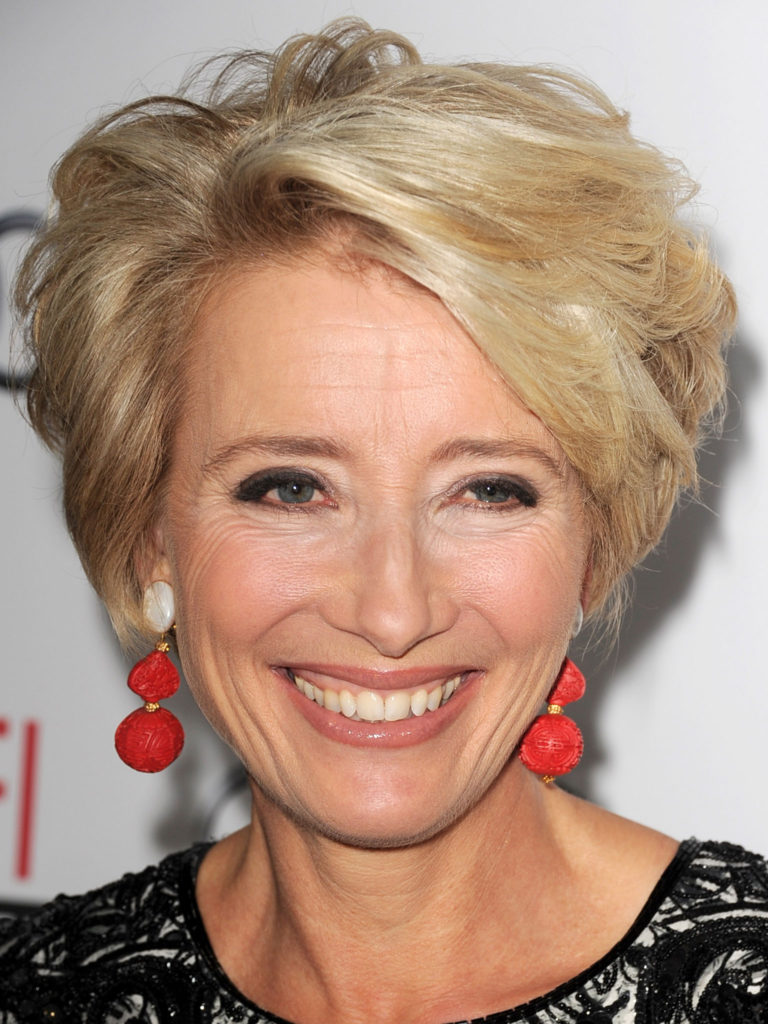 Waves With Side-Swept Bangs
Wavy hair is always a blessing to have. And nothing to worry if you don't have it as there is always the hair curler to help you. So, make those waves to your long hair and let the bangs swept to the right frame your forehead- your look for the day is complete.
You can go one step ahead and add nice blonde and caramel highlights to the hair. This is such a soft and feminine look that you are bound to fall in love with it.
Afro American Curly Bob with Flip Out Bangs
If a boring bob is just not your thing, then this hairstyle is something you will definitely love. Give a stylish spin to the bob haircut by putting well-defined curls to it.
The curls are even extended to the bangs in this one. The ends of the bangs fall right till your forehead, and they are swept on to one side.
This one is really a cute and fun way to look fashionable. Try this hairstyle with your dresses.
Voluminous Shag with Several Layers
If there is one hairstyle that looks super sassy and sexy on the woman over 50, it is this one right here. It will be your best bet to try out if you have thin hair or hair that is steadily thinning.
It just adds so much volume and texture to your hair that you will forget that it was ever thin and lacked in volume. Add several layers to your hair to bring out the style in a much better way.
Medium-Brown Highlights with Long Fringes
This hairstyle is for the dames with shoulder-length hair. In this hairstyle, you need to keep the bangs long. The bangs just over your forehead are kept short, and it gradually lengthens on the sides.
This one frames your face really nicely and is perfect to bring out the softness of your features. Give medium brown highlights to your hair to add the finishing touch to your look. This is the ideal hairstyle to do for the formal events or office parties.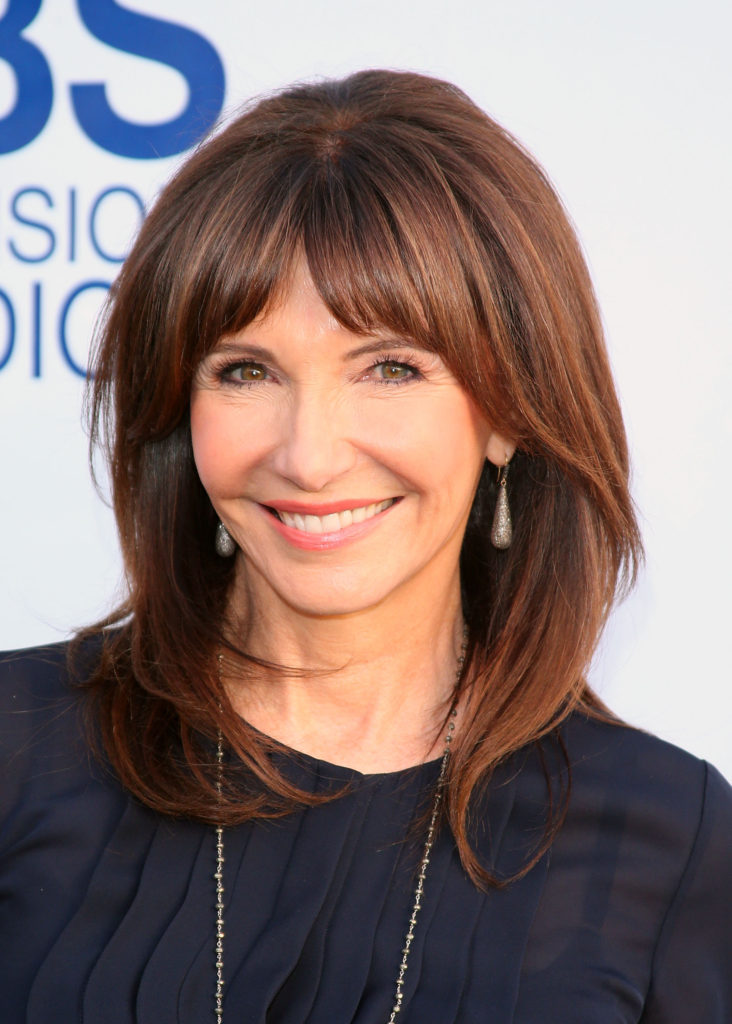 Side-Swept Bangs with Barrel Curls
Barrel curls are well defined big curls that look great on women who have turned a gorgeous fifty. Start putting curlers in your hair yourself or ask your hair stylist to do it for you.
The side swept bangs which are kept on the left side of the forehead completes this look. You need to have hair that reaches below your shoulders for these curls to stand out. Wear this type of hair with your nice shirts and tops.
Versatile Blonde Bob Hairstyle
This is the typical symmetrical bob hairstyle that looks great on blonde hair. You can try this with brunette hair as well. Put nice short bangs to cover your forehead.
The hair needs to be parted in the center to be divided into both sides. Brush the hair well, and you are ready to take on the world with your style.
The versatility of this style stems from the fact that you can do so many different styles with the bob. You can curl it, color it, or highlight it- just as you wish.
Straight Lob with Wispy Bangs
Just because you are trying out the very tried and tested hairstyle of bangs does not mean that it has to be boring and this look proves that. Begin with asking your hair stylist to give you a lob haircut- which is nothing but a longer version of the regular bob.
Get wispy bangs in front which means your bangs have to be asymmetrical and thin in nature. This style will look just amazing with your one-shoulder or off-shoulder dresses.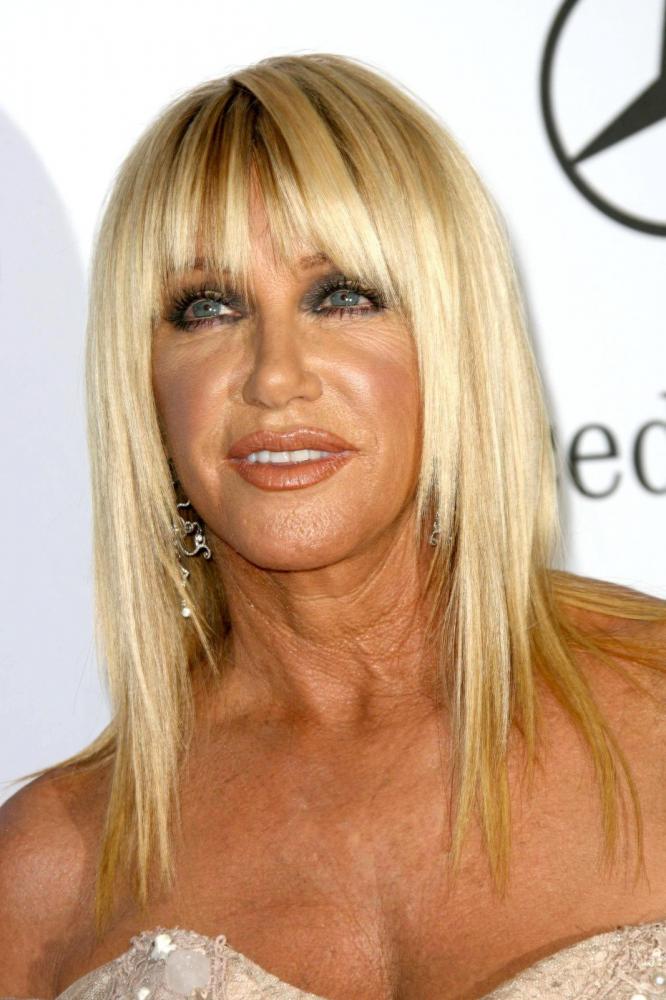 Asymmetrical Side Swept Bangs
This one is for the gutsy women who are not afraid to go for a hair makeover. Keep the hair really short all over except in the front where you will have to cut the bangs.
The thing about these bangs is that they need to be really long but not symmetrical. You need to sweep them to any one side as you may prefer. This one is great way to highlight the sharp features like your jawline.
Flipped Out Bob
This one is perhaps one of the most stylish takes on the classic cut. After getting the bob haircut done on your hair, you need to take the help of your stylist to ensure that all the hair is flipped outwards.
Only the bangs need to stay in place and sway on your forehead. Add as many layers as you want to your hair to make sure there is enough volume and texture put in to carry off the style.
Natural Gray Hair with Messy Curls
You are truly lucky if you have the really rare natural gray hair color. The only other option is taking the daring route of getting your hair colored in gray to rock this style. Make nice well-defined curls to your hair and then mess it up using your fingers.
Make it as messy as you can. This will really help to add volume to your hair if you have very thin hair. Let the bangs also be curly and fall to a side for this style.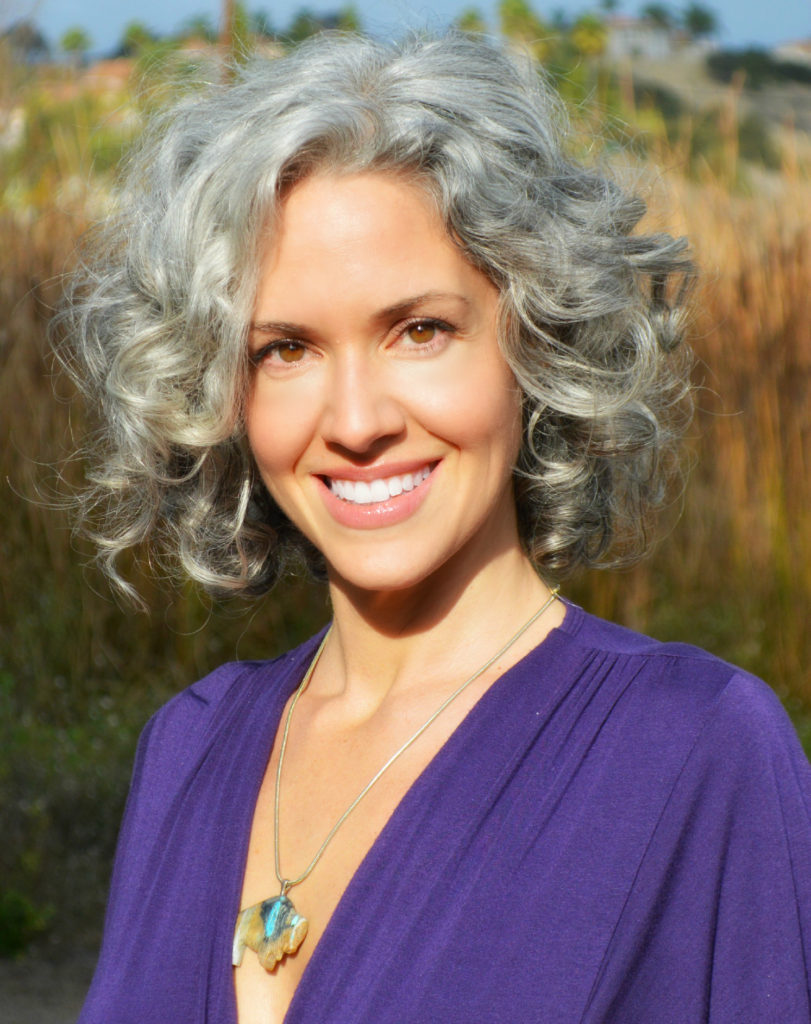 Feathered Layered Hairstyle
If you have shoulder length hair or are planning to cut your hair to that length, then this style is just the ideal fit for you. Cut your hair into layers to add some texture to your regular hair.
The hair in front must be swept outwards to resemble the look of a feather. Make sure that there is parting done through the center of your hair for this style. Get some great highlights put in your locks and hit that party in style.
Soft Layered Lob
Bring a nice and soft touch to your regular hair with this style. The good thing about this one is that it is sophisticated enough for your office but cool enough to rock the party. It looks good with both sharp suits as well as glitzy dresses.
Get the long bob with layers cut to your hair with side swept bangs. Comb your hair nicely and get ready to be the star of any place that you head to.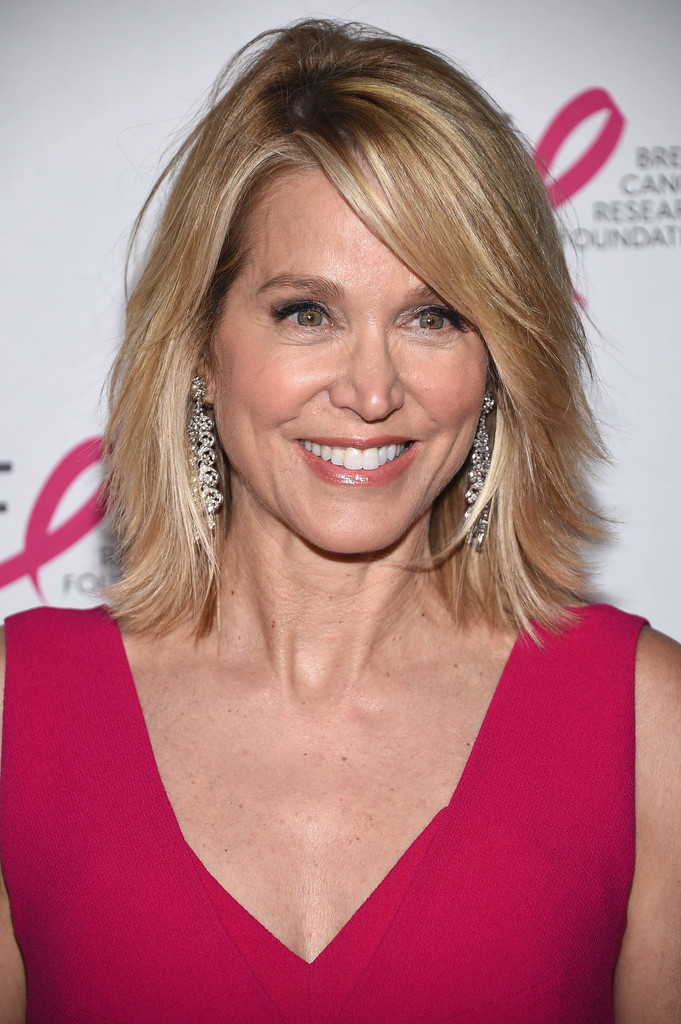 Classic Bob with Bangs
This is the typical hairstyle that has wooed woman around the world since a long time. It is the style that you were looking for if you have a round or square facial shape.
Make short and symmetrical bangs in front to cover the forehead. This one is such a versatile look that it suits all kinds of hair colors and any dress that you decide to wear for the day.
Sweet Shoulder-Length Curls
This one is really a sweet and cute hairstyle that looks great if you have hit the glorious age of fifty. This is fashionable without being too over the top. Pick up that hair curler and make proper curls to your shoulder length hair.
Let the curls frame your face and your shoulders for this hairstyle. It looks so pretty that you will definitely like it and love to repeat it more times than one.