It's 2021, and we're also nearing the end of the decade. Nobody has the time anymore to simply follow trends that pop up out of nowhere and disappear as quickly as they came. Instead, in the present day, the trend is about embracing all your natural features.
And when it comes to your hair, nothing better than embracing your naturally curly hair. There are various ways in which you can style your curly locks, too, and the options are unlimited. Listed below are some of the major curly hair trends that have been making the rounds in 2021.
20 Cute Curly Hairstyles for Women
Curly Hairstyle for Natural Hair
Those with medium length hair and beautiful curls can go for this look. It is a natural style, and you don't have to do much in terms of styling or maintenance of the hair. You can just let it be as natural as you want.
This haircut is also made more stylish by the addition of a simple bun on the top. The hair has been colored in a beautiful shade of bronde- which is a mixture of brown and blonde. The hair has been cut in layers and falls in a V-cut hairstyle all across the face.
Short Curly Hair with Bob
Bobs are all the rage these days, and everyone seems like they want to get a bob for themselves just to stay up to date with the trends. This hairstyle is the perfect example of how beautifully you can manage your naturally curly hair.
The hair has been given a more sleek look by giving it a medium length bob. The hair locks have been highlighted in a gorgeous shade of burgundy.
This color also complements the skin tone of most people very well, which is the reason for the popularity of burgundy shade.
Messy Top Knot Hair
For many years, only straight hairstyles used to rule the runway. But currently, fashion trends and the entire industry has been trying out something different from the usual conventional paths it used to follow over the years.
This gave rise to the trend of curly hair at its natural best. Curly hair is difficult to manage, yes. But with the right hair length and hair cut, maintenance isn't going to be that much of a task.
Top knots are the most basic yet curly hairstyle. It's quite easy too as you have just to pull up all of your hair and secure it in a tight ponytail. Leave a few strands on the front of the face to give it a naturally messy look.
Short Bob with Curls for Women Over 40
Once you hit a certain age in life, most people do not look to try out crazy trends on their hair. All they're looking for is a hairstyle which is easy to maintain and one which will give them a stylish and elegant look
. As we age, there also arises the problem of intense hair fall and dry hair. You can easily rock this hairstyle with a short bob.
If you have frizz in your naturally curly hair, you can easily resolve it by using products like conditioners or any other water-soluble leave-in products on your hair.
Shoulder Length Simple Curly Hairstyle
This hairstyle looks so good. It isn't too short or too long, and it's shoulder-length making this hair cut suitable for any occasion be it going for work, going to a party, or even just a casual day or night out.
The curls are short and very bouncy as the hair has been cut in layers all across. You can also see long side-swept fringes on the side. On can style these fringes either naturally and let it just be, or you can straighten it using a flat iron to give it a more sophisticated look.
Big Natural Curly Hairstyle
This style looks just amazing. The hair has been maintained at a short length and had been colored dark, which helps to suit the skin tone of the model.
Bangs have also been cut on the front of the face, which helps to give shape and dimension to the face and accentuate the features.
The curls have been styled very big, and it helps to add enough volume to the hair. A few baby-lights have also been painted here and there giving a soft and glowing look.
Long Hair with Natural Curls
This no-makeup look combined with messy hair totally looks on point. Everything about this look and hairstyle looks stunning. The hair couldn't get more natural yet look fantastic.
The hair has been styled with few layers that which fall as gentle and loose waves that help to frame the face perfectly.
No additional hair coloring or even highlighting is done as the hair has been styled just the way it is. With curls and thick strands like these, no need to complicate the look by doing additional styling.
Short Pinned Back Hair
Curly hair looks so in trend, and it looks like this trend is here to stay. As people are rushing to get themselves curly locks, those with natural coils and curls have a wide variety of options to choose from for everyday styling.
This is one such style that has been spotted sporting by many celebrities for various events and on the red carpet. The short curly locks have been pinned back neatly giving a clean and minimal look which also has a hint of sophistication to it.
Curly Pixie Cut
This look is very simple yet has an edge to it. Stylists are going crazy over this look, and they recommend such a style for brides who have pixie cut hair to style on their wedding day.
Because, after all, no one said that you couldn't rock your short pixie cut hair on your big day. It's all about what one loves and what style someone is comfortable in.
You don't have to follow traditions for your wedding look and instead can try out your own way. Style your pixie cut by adding some loose curls all across your face. This look really makes one stand out.
Fiery Red Medium Length Curly Hair
How gorgeous does this hairstyle look? One won't be bragging if they say this style looks straight out of a Disney movie, the one where the princess has amazingly beautiful reddish-orange hair.
This color is a brilliant hue of cobalt red and is a perfect shade for anyone those have been dreaming of being a redhead but have never actually taken action.
This is just the look you need to debut as a redhead. And with your naturally curly locks, it'll only look more amazing. Maintain the hair at shoulder length and part it to the sides on the front to frame your face.
Medium Length Curly Hair with Ringlets
The task of maintaining your natural curls is not as easy a task as it sounds. The struggle is real. But the very point of this article is to help you through those bad days when you don't want to be stressed about maintaining your hair amongst many other things.
Especially when your hair isn't just curly, but also has many tiny ringlets to it, it is quite a daunting task. But you can easily style it either by adding a few layers that keep in place or simply cutting it at one length.
Moisturizing is the best method to keep your ringlets in place. When styled with the right cut and complementing highlights, you have yourself an amazing hairstyle without much effort.
Long Curly Hair
Short hairstyles have been currently ruling the fashion industry, but the beauty of long beautiful locks will always remain an evergreen style.
Gone are the days of straightening your hair so sleekly, curls are here to take over all traditional norms of hair-styling. Style your long hair with gentle loose waves that fall all across your face and body in perfect layers.
A layered haircut is also key to maintenance especially since the hair is very long. Paint your hair is any shade you like with beautiful highlights and streaks that will make your hair definitely stand out.
Curly Hairstyles for Black Girls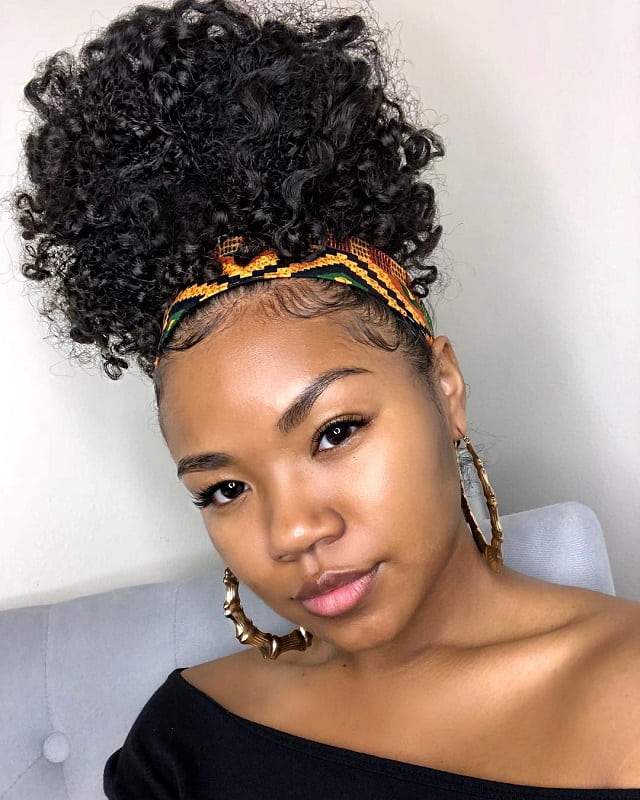 No one can pull off those natural curls more than black girls who have been blessed with these beautiful spirals, curls, and coils. Pull it up into a bun on top of your hair or pin it back to get a clean and neat look.
Pinning back or pulling up also avoids the problem of the hair being too messy to manage at all times. Style it with a cute or colorful headband or any other accessory to spice up your look.
Make sure the hair has enough space to breathe as stuffing it up will only cause further issues like lice or dandruff due to locked-in moisture.
Short Curly Hair
You might need a second or two to regain your composure after seeing this hairstyle. But seriously, this look is everything beautiful, stunning, and surreal. This look instantly makes one want to be a redhead.
And those beautiful sunset shades that have been painted on the hair? They look as beautiful as a fiery red sunset would look. The colors also make a gentle yet revealing transition from a darker shade to a lighter shade all across the hair.
The hair has been maintained at a shoulder-length bob, and the tiny spirals have been styled so beautifully with this haircut.
Messy Black Curly Hair
Wow. Messy hair couldn't have looked better than this amazing hairstyle. The way it has been styled is doing a great job at giving a clean yet shaggy look so effortlessly.
This look is simply all about tress-chic. The short loose waves are also standing as though they are defying even gravity with a simple hairstyle.
No additional coloring has been done, thus maintaining the dark black roots. The hair also isn't too long and falls just a little bit below the ears making the entire look so flawless.
Natural Black Curly Hair
This is another brilliant example of how you can style your naturally curly hair even on the red carpet, and Viola Davis's personal look book has inspired the style.
Just maintain your short curly hair; however, the way it is and adds the only styling you'll need is to add any hair products like mousse cream or anti-frizz cream to help your hair stay in place. You don't even have to blow dry it.
Just let it air-dry, and you have an amazing hairstyle without much effort or expense. This look is ideal for those who aren't fond of too much styling and like to keep things just the way they are.
Side Swept Messy Curls
For short hair, its one of the most sassy hairstyle. It will give you a confident and sexy look. If you have naturally curly hair, then you can simply side swept the front bangs towards one side and let the hair fall loosely on your neck.
In case you don't have curls, worry not. Use a curler to get these sexy curls and rock any party or event, pairing it with any attire you like.
Short Black Bob
This is yet another example of how you can style your natural black hair. Most people are after coloring or highlighting their hair, and while coloring takes your hair to a whole another level, there is something about the sheer beauty of natural dark black hair as seen in this picture.
This look is ideal for black women with short or medium length black natural hair. This style looks so natural yet so beautiful and doesn't require much styling.
There aren't too many curls and the hair falls across the face as loose waves. A layered haircut for these type of hair will also help to frame the face and accentuate the features.
Long Red Hair with Loose Curls
Yet another example which only proved that the beauty of long hair is truly unmatched.
And when you paint it in a shade of brilliant sunset orange or red, you simply become the star and are sure to turn all eyes on your hair for all the right reasons, but mostly because many people are jealous of your hair.
This is for sure, the style that queens and princesses were made to slay. And you too can slay this look if you have long hair by styling it with layers and loose wavy curls.
Natural Blonde Curly Hair
Although Taylor Swift now sports straight short hair, she has always remained the queen of the fashion industry with her impeccable sense of fashion and hair-styling. As seen in this look, this was Taylor's most popular look as she debuted.
Her naturally blonde hair with loose curls are great at defining her facial features, and this hairstyle never failed to make her look gorgeous. So if you have natural blonde and curly hair, worry not.
If Taylor Swift could pull off this natural simple hairstyle do effortlessly, then pretty much anyone else with the same type of hair can also do it.
Although the styles listed above are the ones that are currently in trend in 2021, there are still many options you can choose from. The main point behind styling your hair is that you shouldn't just blindly follow trends.
Find yourself a good hairstylist and understand that each person has different hair and hairstyles that may suit them. So before you decide to get yourself a haircut you saw on Instagram, try to know the texture and the various requirements of your hair.
For your hairstyle to really stand out, it is also vital that your hair complements the shape and angle of your face. With the help of the right stylist, this will not be a problem, and you can just choose the hairstyle you want to try or even make some modifications to it suiting your needs.