A wedding is a day that every girl dream of and the time when she wants to look a gorgeous girl on the earth. On the wedding day, your hairstyle deserves the same attention as your outfit and makeup choices that would make all heads turn towards you.
You might have gone through a variety of options for the hairstyles between buns, twists, ponytails or braids but might be confused to choose the best hairstyle for your big day feeling besieged by all of the choices.
Your wedding hairstyle can include hair clips, rod sets, smooth and textured blow-dry as versatility to your natural hair.
You should consider various aspects while choosing your hairstyle for your wedding like the hairstyle should go with the outfit; it should work best with the atmosphere, i.e., winter or summer and also should be comfortable to carry for the day.
Here, we have got the best and stunning hairstyles that would perfectly complement your wedding look with your natural hair whether you have short or long, curly or straight hair, the choices are below.
21 Most Beautiful Natural Hairstyles for Wedding
Side Cornrows with Natural Bun
An adorable and natural hairstyle for your wedding day is side cornrows and a natural bun hairstyle. If you have a round face and Afro hair and are looking for a pretty hairstyle, bun with the side cornrows is a perfect choice.
Easy to carry and maintain, to achieve side cornrows braid 5-6 strands of your hair close to the scalp and secure with bobby pins.
Gather the rest of the hair, and tie into a natural bun and to enhance the glory, add a beautiful accessory between the cornrows and the bun to give a beautiful look.
Natural Pompadour with Side Cornrows
Wild and elegant hairstyle for black women with a natural pompadour and side cornrows is best suited for a summer wedding.
Natural Pompadour is inspired by a retro hairstyle which includes rolling the natural hair and making an upward pompadour and combined with the side cornrows in an upward direction to give more appeal to the gorgeous side look.
Additionally, hairpins or hair accessories can be used with a beautiful pair of earrings to give a more natural and lovely appeal.
Updo Natural Curls with Clips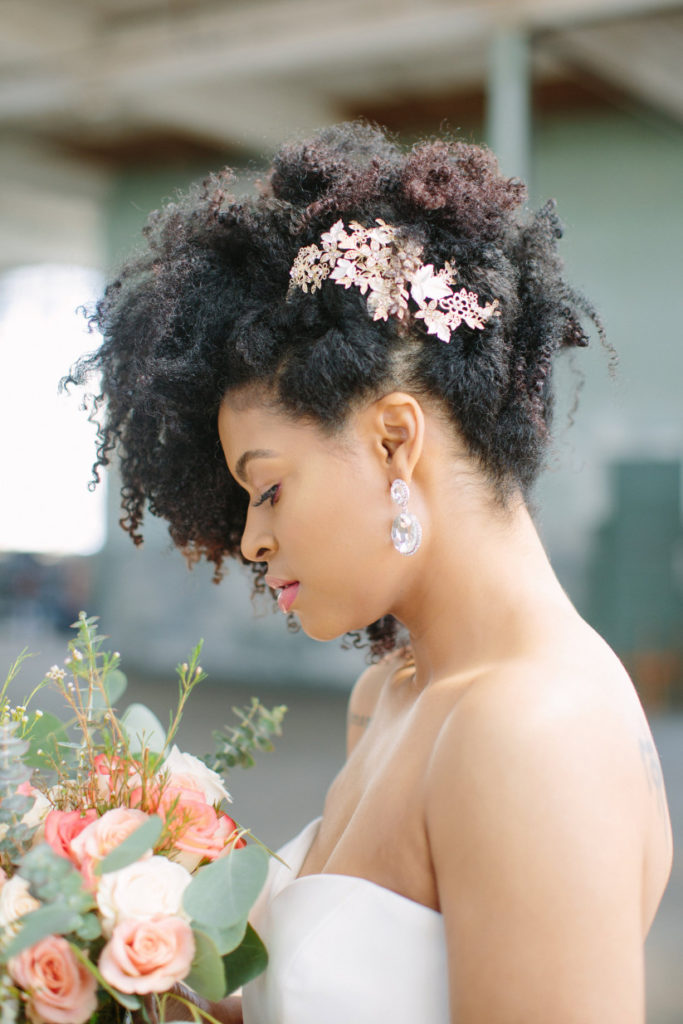 Updo curls are a natural hairstyle with a huge elegance and attractive persona. A very easy hairstyle with a beautiful appearance for your wedding day and suits bests in summer or spring season as it is easily maintained.
To get natural updo curls just take few strands of your hair give two or three rolls based on the hair length and secure it with hairpins and repeat the same step for the rest of the hair and leave them free in the side direction.
Lastly, use some hair clips for an astonishing look.
Natural Bun with Short Veil
Bold and graceful hairstyle to try out if you are going to marry in summer and do not want to have a big veil which would be difficult to carry.
Natural bun with a short veil is a creative idea to handle your veil with your natural hair. The simple and beautiful hairstyle doesn't even require much time or hair accessories.
To achieve this hairstyle, tie up your hair in a ponytail, taking the veil from forehead to your ponytail, create a natural bun with the help of veil and secure the rest of the veil with hairpins to avoid removal.
Rolled and Secured Braids Hairstyle
Unique and lovely look with the help of rolled braids on Afro hair is a beautiful natural hairstyle for African American brides. To achieve this look, side partition your hair.
From the long hair side, make six to seven braids and roll them one by one and secure it in an upward direction with the help of hairpins.
Do the same for the rest of the braids and secure the rest of the hair in a bun. For finishing look, add a hairpiece to the back-side bun and apply hair gel to the side hair to make your rolled braids shine.
Creative Updo with Cornrows
One of the creative and prettiest hairstyles which are eye-catching because of the unique updos with the cornrows on both sides in the middle of natural hair.
For Black women, who are looking for something unique on their wedding day using their natural Afro hair, creative updo with cornrows is the best choice.
The style is achieved by taking a few strands and making updo then cornrows and updo and repeating for the rest of the hair with adding stylish hairpins for an overall stunning look.
Braided Bun with Crown Hairstyle
Braided bun is a lovely choice for the brides having a round face as the bun gives a very cute look for the Afro hair and an easily manageable hairstyle for long hair in a summer wedding.
To achieve braided bun hairstyle, few braids at a distance are added up to make a braided bun, and the lovely look is enhanced with the hair gel for the sleek look and a golden crown at the center for a more stylish and charming appeal.
Pretty Curls with Flowers Hairstyle
Your pretty curls deserve the attention on your wedding day, so keeping your short natural curls free is a cute and lovely option for the wedding hairstyle.
Simplicity and grace beautifully emerge from the pretty natural curls hairstyle. But your wedding hairstyle needs something special, so decorate your curls with the fresh roses and pretty flowers to make them look more stylish.
Twisted Sleek Bun Hairstyle
A simple and sleek natural hairstyle helps you bring out the inner natural beauty of yours on the wedding day with some modern twist to the natural hair.
Twisted Bun hairstyle is a natural hair bun with some twists added to add up more elegance to the hairstyle.
To keep the Afro hair sleek to show up the beautiful twists and turns to the bun, you can use some good hair products like spray or gel to keep it long-lasting and maintain the graceful appeal.
Short Curls with Hairpiece Hairstyle
Short curls are a gorgeous fashion hairstyle, especially for the autumn wedding. The natural hair with short curls pinned in an upward direction gives a naturally cute and elegant look and suits best with a strapless white wedding gown.
To add up more shine to the beautiful outfit and the short curls, use a white hairpiece or the accessory diagonally on the forehead for a pretty unique look.
French Braid with Short Bun Hairstyle
Adding a heavy French braid on the side and securing it in the natural bun hair is a lovely hairstyle for the African American brides.
Starting from the top with three strands and gradually adding the strands from sides with each twist to the braid makes a natural heavy side ponytail and secure the rest of the hair in a bun. Add a few white hairpins on top of the braid and a long white veil for the graceful bride look.
High Bun Natural Hairstyle
High Bun is an elegant choice for natural hairstyles to wear on your wedding day.
High Bun hairstyle is a tremendous hairstyle to show up the facial features with a simple and elegant bun tied at the top center of the head by gathering all the hair as high as possible and securing in a natural bun using a colorful and flowery band.
Suites the women having an oval or sharp cut face for a bold and polished look.
Low Bun Afro Hairstyle
Low Bun Afro hairstyle is an exciting hairstyle for the natural Afro hair brides. Afro hairstyle features an easy low bun which gives the comfort to keep the Afro hair out of the face in a secure way, especially when you have your wedding in the summer season.
To achieve low bun Afro hairstyle, you need to do a middle parting, add lots of hair gel or spray to keep the hair in place and secure it in an easy down bun. To give a more exciting and shining look to the natural Afro hairstyle, add golden sparkle in the middle parting.
Messy Natural Curly Hairstyle
If you don't want to get into a bun or ponytail and want to show up your naturally curly hair, you can perfectly walk down the aisle with your natural bouncy curls to show up the naturally graceful personality of yours.
Messy natural curly hairstyle is a heat-protective wedding hairstyle where you don't need any kind of heat process to style your hair, and you can add more textures to the natural curls by combing it with fingers without any parting for a cute messy look.
Updo Mohawk Hairstyle
The beautiful natural hairstyle shows up all that you have with a nice updo Mohawk hairstyle. Mohawk hairstyle is the hairstyle in which side hair is very short or faded with volume top.
To achieve this wedding hairstyle, make few very sleek cornrows at the side to give the Mohawk side look and the volume hair at the top.
For the top hair make a huge volume braid and secure in an updo bun hairstyle and repeat the same for the back hair. Updo Mohawk is a very graceful natural hairstyle for a pretty and lovely bridal look.
Beach Wedding Hairstyle
Getting married near a beach and looking for a cute natural hairstyle, then beach wedding natural hairstyle is the perfect choice for you.
Natural beach hairstyle features the Afro curls and natural Afro volume hair with colorful beach flowers to decorate the hairstyle.
The natural beach hairstyle suits girls with any face type having short to medium length Afro hair and a golden gown multiplies the beauty of the beach hairstyle.
Tapered Cut Short Hairstyle
Women who love short hair with tapered cut would love the tapered cut hairstyle for their wedding day.
Tapered cut having volume hair at the top and gradually shorter hair towards the side is a beautiful and elegant natural haircut that can be styled with the pretty hairpieces or hairpins for the short sides to get ready for the big day featuring the natural wonderful facial features and a short haircut.
Long Curly Hair with Veil
Long curly hairstyle is the amazing hairstyle if you are blessed with the gorgeous long curly hair as you can style your natural hair without any flat iron, curlers or rollers.
The trick here to show up your beautiful naturally curly hair is to add some hair spray to the naturally damped hair after washing and let them naturally dry after the hairspray to get a wet and matte-finished hair look and style it with your veil for the charming appeal.
Rod Natural Hairstyle
Rod set natural hairstyle is an attractive and delightful hairstyle for black women having short hair to style on their wedding day.
To achieve the rod set natural hairstyle look, ask your hairstylist to set your short natural hair with the help of tiny rod rollers and add texture to the rod rolled hair by keeping it towards the face. The natural hair rolled and settled forms a perfect hairstyle, giving a charming and elegant wedding look.
Half Updo Hairstyle
A cute and pretty idea to style your naturally curly hair on the wedding day is to do a half updo hairstyle. Half Updo hairstyle is an easy hairstyle that would not require much time or effort to pull off.
To achieve half updo hairstyle, gather a few strands of your hair and secure it backward with the help of hairpins and leave the rest of your hair freely to up your natural curls. Run your fingers through your hair for a more textured and realistic look.
Side Swept Sisterlock Hairstyle
Sister locks is a great hair-styling option that creates small and stylish locks in natural hair creating a woven framework in small strands of hair using one's own natural hair.
With no extensions or attachments, Sister locks are the best wedding hairstyle option for African American brides.
To add the more versatile look for the pretty hairstyle, pull half of the hair strands backward and pin-up using the beautiful hairpin accessories and other side hair-styling in a side-swept way.
Showing up the natural curls and Afro hair on your wedding day is a precious and memorable experience for the bride giving the feel of the luckiest girl to style her natural hair for the biggest day of her life.
Natural curls are a very romantic option for the wedding hairstyle with an effortlessly glamorous look with no extensions that are difficult to handle for the long day rituals.
The natural hairstyles offer you a carefree traditional look that can be easily managed for the whole day with the unique and stress-free feature as you have the habit of carrying it.
Not only the natural hairstyle is an easy option, but they also help you maintain your dignity and pride and show the real personality you have got with an elegant appearance.
African American brides can get a natural and gorgeous bridal look with the sleek and silky updos, free flow, textured curls, bohemian locks for any length of hair and any hair they carry naturally like wavy, curly, coils, kinks or locs.
You can try out a variety of hairstyles with your natural hair before your wedding day to make sure you choose the best and perfect hairstyle for your wedding that matches the overall look you want to achieve on your special day.