When you have all the cute outfits, beautiful jewelry and a curly hair, all you need to do is check out for the prettiest hairstyles.
Half up half down hairstyles have become a never ending trend so learn a few variations and you are set for this century. Given any outfit, an half up-half down hairstyles are simply your thing that would fit. An half up half down hairstyle barely takes a few minutes. Let us know some beautiful variations of the same.
25 Most Attractive and Beautiful Half Up Half Down Hairstyles
Creative Half Up Knot
A Creative Half Up Not adds beauty to the regular pulled-back hairstyle. The style not just looks creative but is intricate. With no practice can you come up with this regular hairstyle for a daily-classy look. This radiates effortless fashion sense in hurried mornings.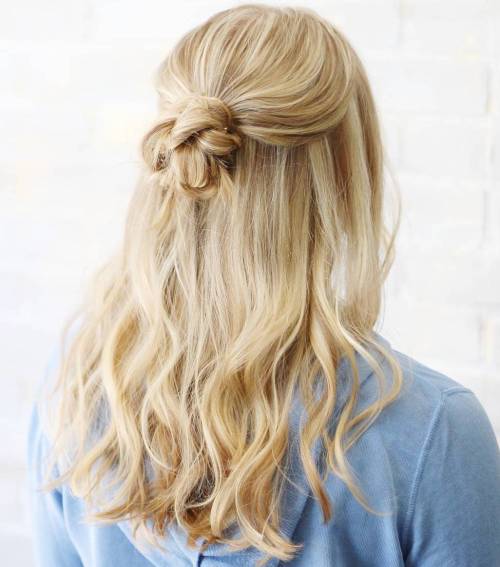 Formal Wavy Bouffant Half Updo
For your wavy hair, half updo bouffant is just a sassy add-on. To add that daintiness to the entire setup, you can wrap a thin ribbon on the style. It looks rocking on ladies who have natural wavy hair.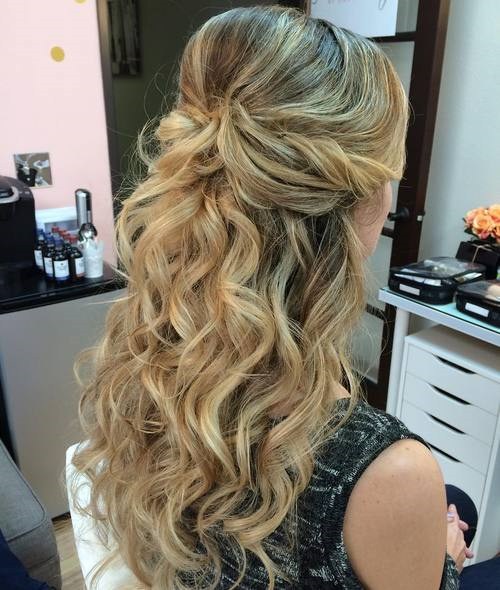 Half Updo with a Crown Twist
So many of us like the duct crown twists. What has ruled as a trend is the half updo in it. This could look so easy and effortless and that exactly is the charm of the style.
Braided Half Up Half Down Hairstyle
Be it four-stand or a snake braid, you can try any style you wish. Just keep it half up and use the chosen strands to pin the braid. Some tiny side clips must suit as an amazing accessory on this style.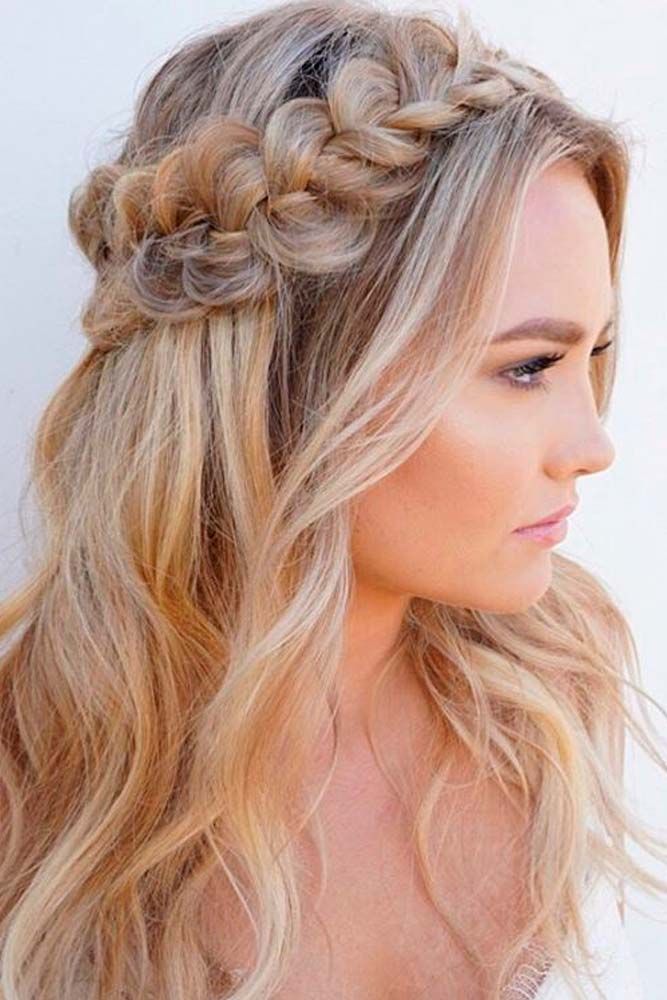 Spiral Curls
Spiral curls are something women crave. You do not really have to use heat if you are scared of it. Use rollers and make tight locks or loose ones according to your comfort and sleep the night off. No one can stop you from getting the super cozy spiral curls. An half up half down style must be more attractive with this. This one is a good idea for short hair though.
Fishtail Floral Braid
Forget investing time in curling your hair, Fishtail braid does the job. It helps you give a totally ladylike look. The soft wave and the pretty plait will look just as gorgeous as you. You can decorate the fishtail braid with enough flowers. It would probably look like a short Rapunzel style.
Bouffant Braided Updo
Give loose curls to your hair and take up a good volume of hair so that the bump at the crown looks like an actual crown. Take minor strands and braid it to get the look. Rock any outfit with this easy updo.
Half Up High Ponytail
This is the new Hun hairstyle trending in 2017. Start the look with a textured hair as flat hair is not the right key to achieve the style. Split your hair off at your temples or pull the section back in a triangle shape. The Half up ponytail is going to make you look positive and young.
Crown Braided Long Hair with Blonde Highlights
This hairstyle is more of forming a hair-made crown naturally on your head. Give medium curls to your hair and let some strands decorate the sides of your face. Now, section the rest of your hair for a general half updo and pin up the braids in 2-3 lines. You will have to come up with two braids from each side to achieve this. Pin them up tight and you are all set to go.
Brunette Hair with Blonde Highlights
If you have got a brunette hair, leave major strands on the sides and section your hair from above and behind your ears to pin it up. Make sure the ends are highlighted with blonde color. Or you can just highlight the braid or pinned places of your hair at the back.
Half Up Half Down Hairstyle with Accessories
The super-gorgeous bridal hairstyle is so simple now. Section your hair for a usual half updo and pin it behind. Now, accessorize with some white jasmine flowers or similar artificial one. Let the loose curls be set with a gel. Your hair now must be just as gorgeous as your dress and you!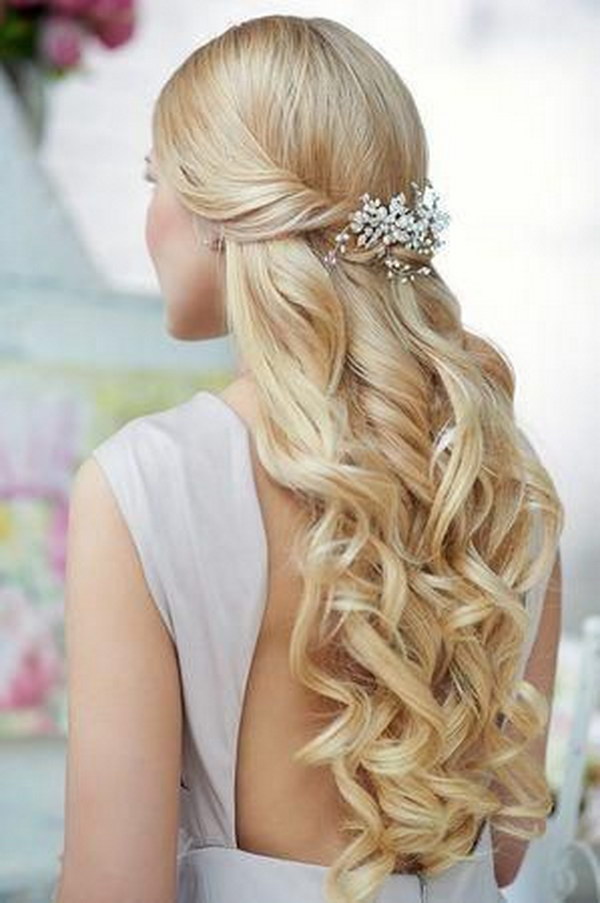 Sleek Hued Waterfall Style
If you do not want curls and you have got a natural straight hair, then do the usual half updo with some criss-cross overlapping. This is a casual hairstyle and will suit any given occasion and outfit.
Half Updo For Short Hair
For super short hair, say bob cut, this half updo is a better idea. Take a section of your hair and work on the overlapping so that it looks like one horizontally pinned braid. You are good to go to a beach party with a nice dress!
Braided with Loose Hair
For shoulder length hair, you can pick some hair from the sides and braid the section in a criss-cross manner. The section from the right should overlap and pin with the one from the left. Leave the ends uncurled.
Flower Braid
Braid is beautiful. How about not just pinning the half up hair? Instead, make a flower plat at the back. Make sure it looks like 5-6 petals and pin them at the right place. In fact, you can give some shades to the two three petals according to your hair color. That'd look cooler!
Long Curly Updo
Use heaters or set the curl and sleep the night off. Make sure you have the right set of curls – not too loose nor tight. Now leave some strands of hair in the front. Form a bang kind at the crown and pin the look right there.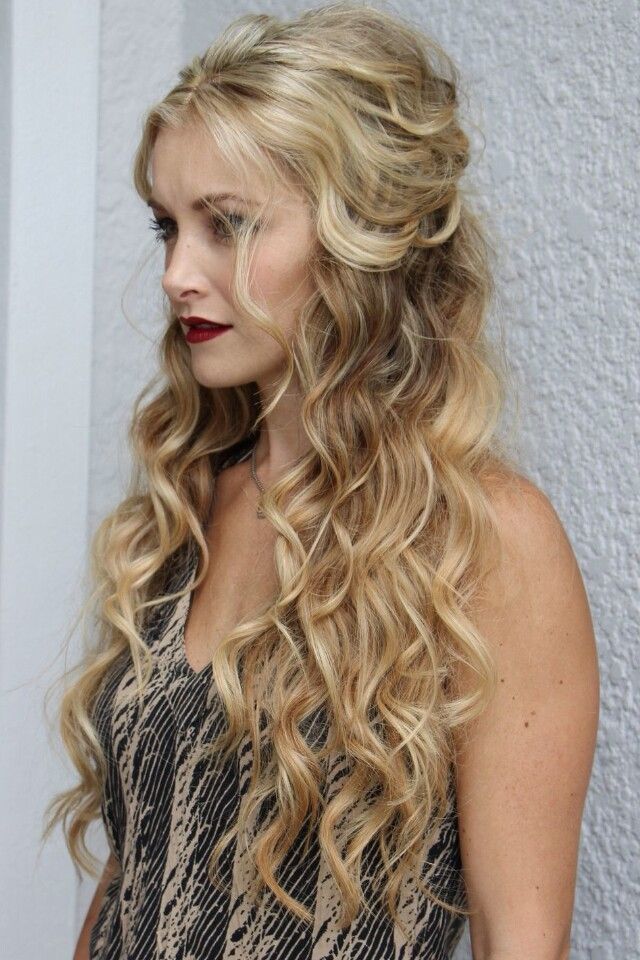 Down Do for Long Hair
This is an easy, sassy bridal hairstyle. The overall look of this style will be pretty intricate. Not just it is apparently pinned yet looks like an effortless, organized loose hair model.
Loosely Pinned Up
You cannot find a better hairstyle than this one if you are confused on choosing a cool hairstyle that can be performed with no efforts. Just leave two strands on the sides and take a section of hair from sides and pin it up. You are all set!
Bun with Fringe
If you have had enough loose hairstyle for your fringes, rock the office looks and casual looks equally with a half up bun. Make sure to leave equal amount of hair down so that the cozy bun is highlighted and your hair looks dense.
Loosely Braided Crown
If you are looking for an extravagant hairstyle, here comes the braided crown. Have loose curls, now take a huge part of a side hair and give thick braids. Now, not only will your hair look thick but will make you glow like a pretty party woman.
Blunt Strands with Half Up Half Down Style
Started on a popular note by Beyonce's looks, Bump It haunts our style books in every angle. Just a bump or a plait with a bump or just any, will always be handy. Give some blunt edges to make your look complete.
Swooping Strands
Just to give you the look of a mermaid, this overshadowing medium-hairstyle is a charming choice. The look will present a vibe with a sophisticated finishing. Be it the prom dress or the office looks, Swooping Strands can always be your choice.
Swept Back Updo
Now, that is something from our favorite looks of Angelina Jolie. Give loose curls and take the entire part of your hair from the front end and pin it loose. The messy hairstyle is the beauty. Spray it off so that the messy updo stays messy all day.
Bridal Updo for Long Hair
Is your big day nearing? Get an extravagant bridal up for your long, gorgeous hair. Nothing goes better with a wedding dress like a half up half down bridal updo. These fancy curls will match your pretty dress. Criss-cross the thick strands from your sides and make it decorate the back of your head. Now, the rest of your hair that is free – let it speak the rest.
Braided Crown with Flowers
For all sorts of casual summer picnics to concerts, you can make a braided crown with flowers. Take two three strands from the sides and make braids and pin it overlapped at the back of your head. Accessorize the messy hairstyle with a flower crown or some pinned flowers on the sides or at the back of your head.
Simple braids and no hairstyle looks are so yesterday. Find the stylish finish of you with these super easy yet classy hairstyles.