Most of the internet is filled with a new, stylish and unique hairstyle for beautiful women but we always try to bring a new cute hairstyle for both our audience. In this particular article, we are going to talk about fresh looks for or handsome males. If you are looking for something new or a fresh hairstyle or even a haircut to get more attention this summer break, then you have clicked the right article. To get summer ready for this season and look cool, you just have to style up your hairstyle or get a modern new haircut. Want short hair on the sides, long on the top, all these upcoming hairstyles are one of the fashionable and trendy for summer break. Want to go for a fade or undercut along with short, medium, or long hair there is the number of easy-to-style hairdos and cuts which we have summed up in this article.
We have considered all types of hairstyles from undercut hairstyles to taper fade haircuts or hairs on the side or back to guys styling there gorgeous natural texture as messy we have it all. We have also gone through some of the favorites from 2019 that are French crop, side part, fringes which are fashionable and comfortable to maintain. Considering all these, we have chosen 25 top hairstyles which will make you stylish and trendy for this summer season. All these hairs are for all whether you have thick, thin, or natural wavy texture; you can try them. So let's keep going and check out all new and fashionable hairstyles for you guys.
25 New Hairstyles for Men to Look Dashing and Dapper
Low Fade Cut with Long Hair on Top
Fades cut are one of the best options for men to chose. The various types in these cuts provide us with plenty of opportunities to go with, which will be best suited to us according to one's style and personality. In our very first hairstyle, we have gone for a low fade haircut with long combed hair at the top. From the picture, we can see that the long hair on the head is combed side words, which are providing a cleaner look to the fade hair cut. This hairstyle with long comb hair with a low side cut offers a bold yet classy hairdo for gentlemen.
Messy Quiff Hairstyle
The quiff hairstyle is one of the best hairdos for guys this year. This hairstyle has been continuously voted to be a popular style. The simple quiff is known to add volume to the haircut, and when it presented messy, they provide not only capacity but also a cool vibe to your personality. In this hairstyle, the quiff is done messily, which is providing a fresh, edgy look to the man. The fade hair cut shows more skin near the ear area, which all over enhances the height to the top hairs and gives a neat, clean look to the hairstyle. This hairstyle requires your hair to be 3-4 inches long on the crown area. This will provide you with the advantage to go with a pullback clean look or pomade wax moderate hairstyle in the future.
Textured Pompadour with Side Fade
Pompadour hairstyles are considered to be one of the hottest and sexiest styles for men. This is another good option for this season and will make all head turn to you. The clean-cut fade hair cut on the side is adding the edgy vibe to the hairstyle. The disconnection between the side haircut and the crown hair is a fantastic line-up. The natural straight, silky texture of upper pompadour hair is undoubtedly going to get you some attention. People often misunderstand this hairdo as they think that the hairstyle is too difficult to achieve and will consume a lot of your time but let me clear that misunderstanding by saying that they are effortless to make.
To style a proper pompadour hair and to maintain them all day long, you just have to apply an excellent waxed or pomade to dried hair, and then you can blow-dry for a smooth effect. The next step would be to comb your hair either backward or with a slightly side twist as done in the image to provide height and volume to the style. For a more stable look, you are free to yours a hairspray.
Undercut with Messy Taper Hair
Playing with your natural hair texture is one of a good thing to do as they are easy to maintain hairstyle, plus they make you look cute and care-free. Whether it is your messy or curly texture, you can try this cut taper hairstyle for this summer season. If you think your messy curly hairs are a curse to you, then you are wrong to try this cut taper natural messy hairdo, and your beliefs would change forever. The 2-3 inches long hair on the crown area, specifically in the front and shorter or about 1 inch on the other part of the crown area, will work in this hairstyle. The sides are skin shaved or have a fade haircut which is a bold touch to the style.
Side Slicked Hairstyle with Fade Haircut
As we have discussed before how adding fade along with some longer strands gives you an edgy look. Here is one more side slicked hairstyle with a touch of the fade haircut on sides. This simple and easy to maintain style with very low maintained needed is perfect for your 2021 summer season. The little messy spike texture on top is adding volume and height to the hairstyle. The front side swap slicked hairs are simple, decent style, and at the same time, they are adding curtness and innocents to your character.
Long Pompadour Hairstyle
Having long hair works both sides meaning for women as well as for men. Long hair provides you with choices of unique rang of beautiful hairstyles. There are plenty of different ways to wear your gorgeous long hair for men, and here we present one of them. This long pompadour neatly pushed back in style is very easy and straightforward to achieve. The flat and clean look on sides and all the volume and height is all this hairdo is about. The contrast of flat and puff is so much in trend and will make you look more handsome every day.
Colored Back Pompadour Hairstyle with Fade Cut on Sides
This hairstyle is very similar to the hairdo we have discussed before. The pinch of violet color added to the puff is a very unique and versatile addition to the haircut. This hairstyle is perfect for making quite a statement. Neatly swept-back pompadour with more sin showing fade is a perfect example if you are planning to have lots of parties this summer. The fluffy puff on the head draws up attention to your longer, slicker hair. The side skin fade cutting is the part that is going to stand out in the hairdo.
Faux Hairstyle and Fade Cut
With so much of men going for sharp spiky texture makes you feel pressured to choose one of them though you are not a spiky person, then this hairdo is defiantly one for you. As along with spikes, faux haircuts are also gaining a lot of popularity this year. Here we have combined two trendy hairstyles with a twist. This modernly stylish look is achieved by fade cut, but the fade is not too deep and does not reveal much skin. The long upper hairs are textured and are standing in spikes. Twist her is this that spikes are not sharp; instead, they are curvy, which adds a lot more volume to hair along with uniqueness to the trendy style. This hairstyle will be perfect if you grow little beard on your chin area.
Spiky Fade Haircut
Hairstyles changed according to time and trend. There is a variety of short to long hairstyles like undercut, fade, pompadour, etc. Most guys like messy and textured hairstyles. Spikes are full of texture and sparky. The idea of a short fade with Mohawk is too bold. It requires proper styling with pomade and uses a brush to pull hair up. To style your spikes, always use your fingertips. This hairstyle is perfect for young boys because they have time to styling; on the other hand, businessmen don't have enough time to style or maintain their spiky hairstyle. It is comfortable for winter or autumn season.
Messy Taper Hairstyle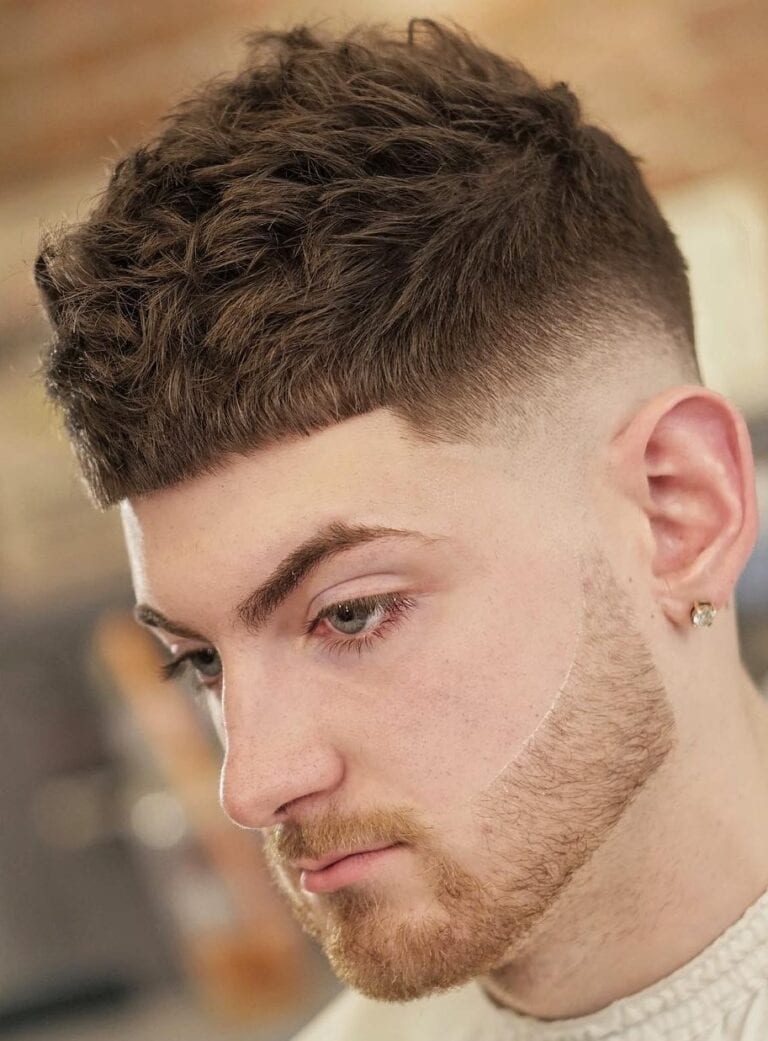 Messy hairstyles are trending among men and women. Messy is a new way to style curly or wavy hairs. Fine hairs don't have thickness or volume to show the messy effect. This thick medium length modern style is surely a big hit. Front and sides are trimmed with edgy lines. The volume on the top and taper adds some classic edge. It is suitable for a pub crawl with a full beard. Style with your favorite shine wax. This simple hairstyle is stylish.
Textured Pompadour Fade
Pompadour is a good haircut for guys. It is a trendy and neat style. This brushed back hairstyle is for long fine hairs. This textured pompadour is sure to turn heads with a disconnected undercut with an amazing lineup. For styling, all day just apply wax and blow dry properly. Start by brushing your hair back and create a perfect height from the front. You can also style this hairstyle with a trimmed beard. Highlighting with bright colors are in trend so you can also highlight some strips on the upper part of your hairs.
Medium Side Swept Hair
In today's modern time men are crazy for long hairstyles. The long hairstyle gives a hot badass look, especially when combined with a thick beard. It is perfect for those guys who have natural thick straight hairs. Side-swept hairs look best on the right side, and the left side hairs are very short with a thick, sleek line. Front and back are different which the best part of this style is. Side-swept is a long hairstyle that needs time to style and looks great on the young ones.
Disconnected Quiff
The disconnected quiff is one of the most popular hairstyles for boys. The quiff has many variations like short, long .the high skin fade with blonde highlights looks amazing with an undercut. It provides height to your face and increases contrast. Choose your hairstyle according to your age, hair quality, and skin color. It requires styling products for a perfect outcome like gel or cream. The front top quiff is higher than the sides and back of the head. It compliments with a beard or off-bearded man.
High Top Fade
Some hairstyles from the 80's and 90's are back in trend. High fade looks so simple but attractive. Top and middle part is high and divided by a clean line up. It shapes your face and shows off all your tattoos or ear studs etc. The length of this hairstyle depends on your choice and hair growth. It is a high maintenance hairstyle perfect for weddings or occasions. The skin fade on the sides with trimmed thin mustache complete your style statement. Curly or Afro haired men also wear this hairstyle.
Line up with Low Bald
If you want something different, then line up is the best option for you. Not everyone has thick hair, so line up design makes your bald look more fashionista and cool. Abstract and geometric designs are available at your stylist's salon. It is a very low maintenance hairstyle full of patterns. If you have a thick long beard, then this bald look is fabulous. Line up attached to head to beard provides extra drama to your side look. It is not comfortable for desk jobs; that's why most of the models, actors seen in this hairstyle.
Perfect Sheer Hairstyle
The sheer hairstyle is a versatile style for every aged man. A clean-cut makes your look more prominent. If you have curly or wavy hair this round with high fade on sides looks professional for the office. Some hairstyles are not convenient in the summer season. All you need to comb your hair and look amazing all day. A short beard balances the look with shaved sides. Add some short fringes to highlight your round hairstyle. If you have tattoos on your neck, then wear this hairstyle for a showing of.
Comb Over Hairstyle
Mostly comb over hairstyle is for long hairs, but this hairstyle suitable for 3 inches of length. The sharp fringes with long top easily frame your face. Combed over clearly shown on light-colored hairs like blonde, light brown, etc. You can wear a funky over-sized shirt and ready to go to the gym, music class, etc. Make sure you take help from a professional hairstylist for the desired look. Most of the people admire film stars, pop singers and want to achieve their red carpet looks.
Pompadour Merging Fade
For the pompadour haircut, you need 3 to 5 inches of hair on top. It is an easy hairstyle and requires only a good pair of clippers. You can do fade cut and undercut on sides and back. We love how in this hairstyle, the pompadour and the fade sides are merging into each other and making one a complete hairstyle. Also, there is no specific demarcation. To go more extra, design and two bald lines are made in the fade. It looks very cool. Styling your pomp requires a quality pomade or wax; this allows you to add height and style.
Side Fades with a Blue Quiff
The quiff has been trending very much this season, and we can clearly see why. It looks hotter than it sounds. Also, it works for all types of hair. Curly or straight, styled hair or un-styled hair, it always looks good. For quiff, you need at least 3 inches of hair on top of your head. The sides are buzzed into a taper fade, leaving the top hair. It depends on you how short you want to keep the fade. You can choose from options of a high, low, mid, or skin fade. You can add a very short clipper setting in your fade hairstyle that will create a lot of contrast; this will give you an extreme look. For the quiff, you can also add highlights of different colors to enhance it more. The blue looks extra-ordinary and so handsome.
Messy Pompadour
Pompadour does not always need to be sleek. The messy pompadour, along with fade cut, is the perfect combination. The fresh low bald fade and messy pompadour lines up the balance between the messy textured hairstyle up top and clean lows. By working a small amount of pomade into hair, you can create a natural look that stays in place all day. You can style your pompadour in many ways when you want it or leave it in a natural and messy looking. It looks good both ways. This is perfect for college going boys because it gives you a casual and funky look.
Partitioned with Sleek Top
With fade cuts at sides and straight top hair, this is a good idea to style your hair. A partition is made in the top section, which is giving a completely new dimension to the hairstyle. If you are looking for a completely new hairstyle, this is a nice and easy way to upgrade your old look. If you have messy or curly hair, you can straighten them to achieve a sleek look. You can also use gels to set the hairstyle for a special occasion. This will look very good if you have to attend the marriages of your closed ones.
The Spiky and Fringed Top
Another new trend in the men hairstyle industry is this funky hairstyle. This one is spiky top and cropped fringe with a fade cut. The cropped fringe features so perfectly with a high bald fade. This could be styled in a natural or a textured way. This hairstyle is suits guys of any hair type, including fine or thin hair. Combine low skin fade with a spiky side-swept fringe and short textured hair in the back, and look oh so handsome. Make your look more upfront by combining it with a cool beard and make the girls swoon.
Trimmed Sides and Sleek Top
The sleek back hairstyle has traditionally been a retro style, but now it has a modern version also. When combined with a fade cut not only becomes trendy but also looks so cool. It works best worn loose and textured. You can use gel to set the top. The hair at the top is combed backward and is kept sleek and straight. It looks very professional hairstyle but also looks very cool. It is perfect for businessmen. If you have a meeting and have to attend parties also, this will work for both purposes.
Fade Cut with Long Side Fringe
Keeping your top extra long with your sides trimmed may seem extra, but the outcome is worth all the risks. This combination looks so gorgeous and cool. If you are a die-hard fan of funky and cool stuff and love to look that way, just go for this hairstyle. This will change your entire look, and you are going to love it. This hairstyle is made more upfront and cool by making these cool designs in the fade cut. Comb the long hair on one style and keep them messy and natural. You can use gel and sprays to style the side fringe.
Short Gelled Top
Want to go extra-short? And extra-classic? This one is for you. The fade cut is combined with an extra short top. The whole hairstyle is washed with the gel, which makes it more glossy and different. The short top is set with gel and makes this hairstyle a very tidy and clean hairstyle. This will give you a very classy look. The best part about this hairstyle that it is very low-maintenance but so trendy. This is perfect for sports boys and schoolboys.
So these ongoing and upcoming trends in the men hairstyle industry. These will make you look trendy this year. This year we are going to see lots of variations of the most popular haircuts like fades, undercuts, pompadours, comb over's, quiffs, slick backs, and even man buns or top knots. Your hairstyle should be trendy and also something that you like and pull it off. Therefore, we bought you a variety of all sorts of new trends. So pick what you like. We hope this will be helpful.