It's finally the year 2023. Not only are we entering a new year, but it's a whole new decade as well.
Styling plays an important role in today's world, and as a result, to keep up your personality and attitude, it always helps to know and be aware of the latest trends in the industry.
In this article, we have curated different hairstyles for men that will surely level up your style quotient in 2023.
Best Haircuts and Hairstyles for Men
Men With Short Blonde Hair
This is one of the best hairstyles for men who like to keep it neat and minimal. The length of the hair has been cropped shortly and suitably that also goes along well in defining the thickness of these locks.
And the faded yet golden blonde highlights on the upper section of the hair only prove how coloring and highlighting look gorgeous on men just as much as they do on women.
On the upper section again, the hair has been maintained in long lengths that fall gracefully across the face and towards the sides, the style resembles an undercut with very short hair.
Stylish Hair with an Undercut
Well, this will not be the first time that you see this look since obviously it is one of the most trending looks in hairstyles for men, with everyone from young little boys to older men trying it out.
It may look quite simple but we have to admit that as simple as this style gets, it definitely has a hint of sophistication to it that simply makes it stand apart from the rest of the hairstyles.
The upper portion of the hair has been maintained in thick locks of hair while the sides and the back have been cropped into a no-fade undercut.
Side Parted Undercut
Another one from the various ways in which you can style your hair with an undercut. This one is also a classy look that will help you to look effortlessly stylish.
The hair has been neatly parted to the sides, and while it has been maintained in those long layers on the longer side, the hair has been cropped very short on the other side.
This then transitions first into a slightly faded undercut and then towards the bottom into a zero fade undercut.
Short Hair with Faded Undercut and Beard
Nothing to make a man look more stylish and classy than a thick beard and a cool hairstyle. It's just the perfect combo to take your look to the next level.
The length of the hair is quite short on the top and has been styled in beautifully falling tresses. The subtle transition of the hair from thick locks of hair on the top to a faded undercut is simply ravishing.
A great hairstyle that gives you a laid back and stylish vibe without having to put in any effort really.
Side Parted Wavy Hair
This is one of those looks that took the internet by storm when it was first introduced. And if we take a closer look, we can surely understand why people went so crazy over this look. It is purely a work of art.
The hair has been very neatly parted to the sides and on the longer side, it has been let down falling in loose and soft waves that really frame the face and highlight your eyebrows.
On the shorter side, though, it is a slick look with a beautifully faded undercut which only gets lighter on the area around the ears.
Textured Undercut Hairstyle for Men
Looking for a classy hairstyle but with an element of fun to it? Then look no further because this might be just the look that you have been searching for. It looks dashing yet doesn't make you look too sophisticated for people to approach you.
On the top, the hair has been styled with short and crisp layers of hair just falling loosely while on the sides, the hair has been styled in a textured undercut with not much detail of perfection given to it, thus making it look kind of like a messy hairstyle.
High Fade and Side Brushed Hair
On the side, the hair has been styled in a high fade manner and has been slickly pulled back on the too to achieve this hairstyle.
This really has an edge to it since it has been done with much perfection that surely gives you leverage on anyone if it's about looks and style.
The high fade undercut has also been combined with a side brushed hairstyle on the top, and both of these hairstyles surely make this one a killer hairstyle.
Thick Wavy Hair
This is the kind of hairstyle that dreams are made of. It is simply flawless, and the more you look at it, it only becomes more and more stunning.
The perfect hairstyle for those who have really thick hair and are looking to maintain it in quite a stylish manner.
The long layers of hair on the upper middle portion have been beautifully styled so that it falls perfectly and the rest of the hair has been cropped into short and crispy layers on both the sides and below the upper middle portion.
Short Blonde Men's Hairstyle
Are you a blonde with short and thick hair but with no idea about how you can style it? Worry not because this list is widely varying and surely includes solutions for almost anyone with woes on how exactly they can style their hair.
The hair, as you can see, has been cropped into short yet crispy layers on all sides of the head. The blonde richness of the hair surely stands out with a hairstyle like this.
Pair it with a beard or even without a beard and we can surely say that no matter what style or outfit you choose, this hairstyle will surely go very well with all of those.
Thick Hair with Neckline Undercut
Undercuts can be styled in many different ways, and this one here is a testament to that. It's a cool and hip hairstyle and one that is quite rare too, so you don't have to worry about your style looking similar to somebody else's.
On the upper portion right till the area below the ears, the hair had been maintained in very thick and wavy locks and with a slightly faded undercut.
And below this portion, the undercut has been styled in quite a peculiar shape. You can ask you, stylist, to also do it in any style that you see the most suitable.
Messy Quiff Hairstyle
It is another hairstyle to try out if you are looking for a classy and stylish haircut, but with a playful hint of messiness too.
The upper portion of the hair has been styled in a messy quiff style which is also another trending one in the industry these days. Best suited hairstyle for younger men and boys.
Towards the bottom, the hair has then been styled in a faded undercut which helps to give a clear and bright look to your overall hairstyle. It is also super comfortable despite the messy outlook it actually has.
Short Cropped Hairstyle
This is a variation of the classic Caesar cut hairstyle and is most popularly known as the French cut style. It gives a neat and clean look especially with the hair cropped really small.
It is one of the easiest hairstyles when it comes to maintenance and styling. In the middle, you can notice a long-hem and towards the bottom, it has been styled in a faded undercut style.
This hairstyle is also best suitable for those who have really thick locks of hair.
Taper Haircut with Long Layers
A tapered haircut is the best idea if you are searching for a hairstyle that is the perfect combination of both a tapered and faded hairstyle.
Not only does it help to produce a very visible length course, but it also looks absolutely stunning uniquely if you have styled your hair with long layers on the front portion.
But the length obviously gets shorter as it comes down towards the bottom and the sides. It has a great hint of sophistication to it that is simply undeniable.
Mohawk Caesar Haircut
The Mohawk haircut couldn't get any cooler when combined along with another favorite style, which is the Caesar cut.
Hair in this style is kept short and on the upper portion, it has a punk vibe to this style with the faux Mohawk cut.
This is a great hairstyle to show off your bold attitude without having to put another effort for the same. And on the bottom and side, it has been styled in the classic faded style itself.
Shaved Hairline and Drop Tapered Hairstyle
This could literally be the coolest hairstyle for men out there because surely there is something irresistible about shaved lines on a clean and clear head.
Not only will it make you stand out with your own personal touch to your hairstyle, but it's also quite funky and a fun hairstyle that will give out major fun-loving vibes.
Just the modern hairstyle needed for this decade's modern men. This is also a great style option for those who have long hair and are looking to keep it with low maintenance.
Pompadour Hairstyle for Medium Length Hair
Not all men like the idea of keeping their hair too long or keeping it too neat and short. Well, that's where the medium length hair comes in.
There are so many ways to style your hair, given it has a considerable length. This pompadour style as shown here is also great for those who have thick strands of hair too.
Pompadour hairstyles are taking over the trends again and this time you can fully trust it to look classy without being too high-maintenance.
Grey Men's Hairstyle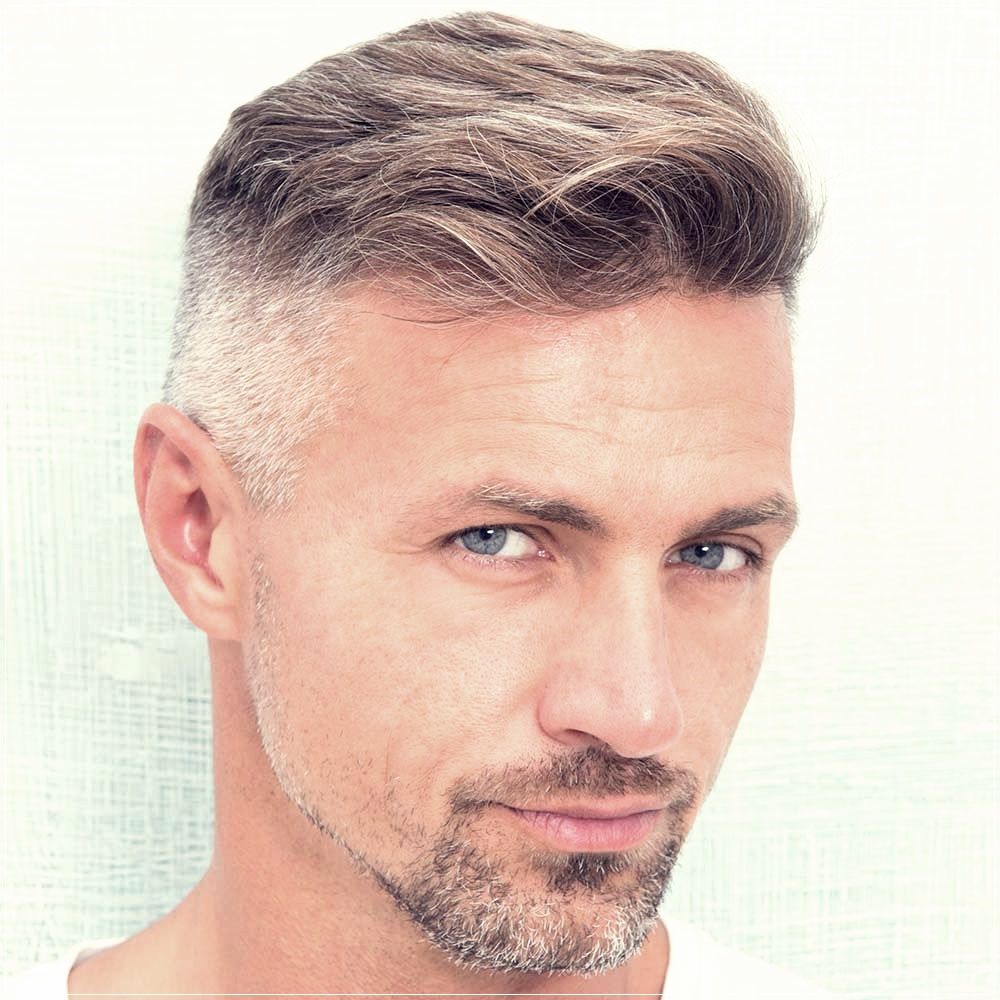 Who said that grey hair is only suitable for older men, and most importantly, who said grey hair has anything to do with aging?
Well, in a way, it does. But when it comes to fashion and styling, age is no barrier so that shouldn't hold you back from getting a cool and trendy hairstyle like this one here.
It is one hell of a classy haircut with medium length layers of hair on the front and a faded style on both sides. The hair is not entirely grey and only in some parts and this helps to add a bright and vibrant look to the overall hairstyle.
Wavy Pulled Back Hairstyle
Shawn Mendes is one gorgeous human being, and with this dashing hairstyle, he only looks more incredible. It is a great hairstyle choice for those who have medium length curly or wavy hair.
Hairstyles like this are great at defining your jawline and perfectly framing your face. These hairstyles are anything but boring and we're sure it will look great on you.
Taper cut hairstyles like these are hugely trending and are sure to trend for a long time this year.
Cool Pulled Back Hair with Undercut
This Mohawk style inspired haircut is definitely one that has been serving looks, be it on younger boys or even older men. It definitely has a classy vibe to it and simply looks quite stylish.
Not exactly a faux Mohawk style, the resemblance it has to the style while also looking unique is what makes such a style stand out.
The slightly faded undercut only highlights the long layers of the hair on the upper portion and make it look much better.
Long Slicked Back Hair with Faded Undercut
The long layers of straight hair have been neatly pulled back in the classic men's slicked-back hairstyle. One important thing to consider while getting a style like this is to check if your hair has considerable texture to it.
Texture plays a key role and without it, it's impossible to achieve the perfection of this look. Although it's been slicked back the hair has been let down flowing loosely and on the sides, it is complemented with a slightly faded undercut.
Medium Length Wavy Hair
Quite a refreshing look from the rest of the hairstyles mentioned here since there is something raw and natural about the beauty of this look.
The hair on the top has simply been maintained in its natural texture and to make it look more defining; it has been cropped in medium length layers.
The rest of the hair and the beard also goes really well along with the jawline and to accentuate the facial features. The style gives a naturally messy look at its best.
Cool Mohawk Style with an Undercut
This faux Mohawk hairstyle couldn't get any cooler than this. Almost all times, stylists choose to pair Mohawk styles like these with a clean undercut but as shown in this style here, it's taking a different route from the usual hairstyles with a skin faded undercut.
The grey and black combination also adds a hint of drama to the overall look combined. It's always suggested to use a grooming cream or a light hair product to keep the glow and shine of this look.
Long Mohawk Hairstyle
The highlight of this hairstyle is definitely the long Mohawk hair which goes really well in contrast with the faded taper style that is seen on the sides and the extremely thick beard that covers a huge part of the face.
This hairstyle is a brilliant combination of 3 different hairstyles – high taper, long Mohawk, and a long-bearded style. Combining all of these styles together, the stylist or the barber has definitely created a look that looks like purely art.
Cropped Look with Contrasting Color
Just the hairstyle that you'll need if you are looking to make a rather bold style statement about yourself. Everything about this look is purely refreshing and a great sight to the sore eye, especially with vibrant color painted on one half of the head.
Unique looks like these are more and more being embraced by individuals who wish to stand apart from the rest of the crowd.
The hair on the upper section has been styled in a very trendy crop hairstyle and one half of this crop has been beautifully painted in a contrasting color.
Mullet Hairstyle on Blonde Hair
It's an old and classic look that was much loved many years ago, but with the recent trends, it looks like this style is coming back into this decade and is here to stay for a longer time.
The blonde mullet hair is definitely making a stylish come back but with its own twist to it.
On the top and upper section, the hair has been maintained in short layers and receded graciously towards the back. On the sides, it has been styled in a skin faded undercut.
Mid Fade Hair with Short Curls
For those men and boys with really thick and textured hair, this is just the hairstyle that you need to tone down any excess volume or thickness and keep it low-key and stylish as well.
Not only does this hairstyle help to show off the full growth of your hair, but it also ensures that it is kept neat and clean without any drama.
The fade is also quite cleaned with small shaved lines on the back of the head. Use a razor to define the area neatly.
Messy Blonde Faux Mohawk Haircut
The style is worn by David Beckham, a true style icon. While this is one of his older looks that he sported when he was much younger, this is also another old and popular hairstyle that is making a comeback to this decade.
The messy hairdo simply has a boyish charm to it that is simply irresistible. The blonde locks of medium length hair styled in this faux Mohawk hairstyle are one trend that everyone needs to try out if you like experimenting with your hair.
Spiky Hairstyle on Long Hair
Looking for a fun and cool hairstyle that also has a hint of dramatic and edgy to it? Well, your search must end here because how cooler could this hairstyle possibly get?
The long layers of hair on the upper section has been prettily styled into long spikes that definitely stand out.
This hairstyle will most definitely turn all heads to you no matter where you go. And the contrast grey highlights on the upper section make it look all the more stunning.
Medium Slicked Back White Hair
White and grey colored hairstyles are only getting more creative and fun looking each day and this style here is no exception to that fact.
It simply looks amazing especially with all that stark white color that adds a beautiful glow to the face of the beholder.
The slicked back hairstyle here is combined with faded sides and a really textured upper portion of the hair. A fresh and clean hairstyle that will make you look dashing.
Side Parted Long Hair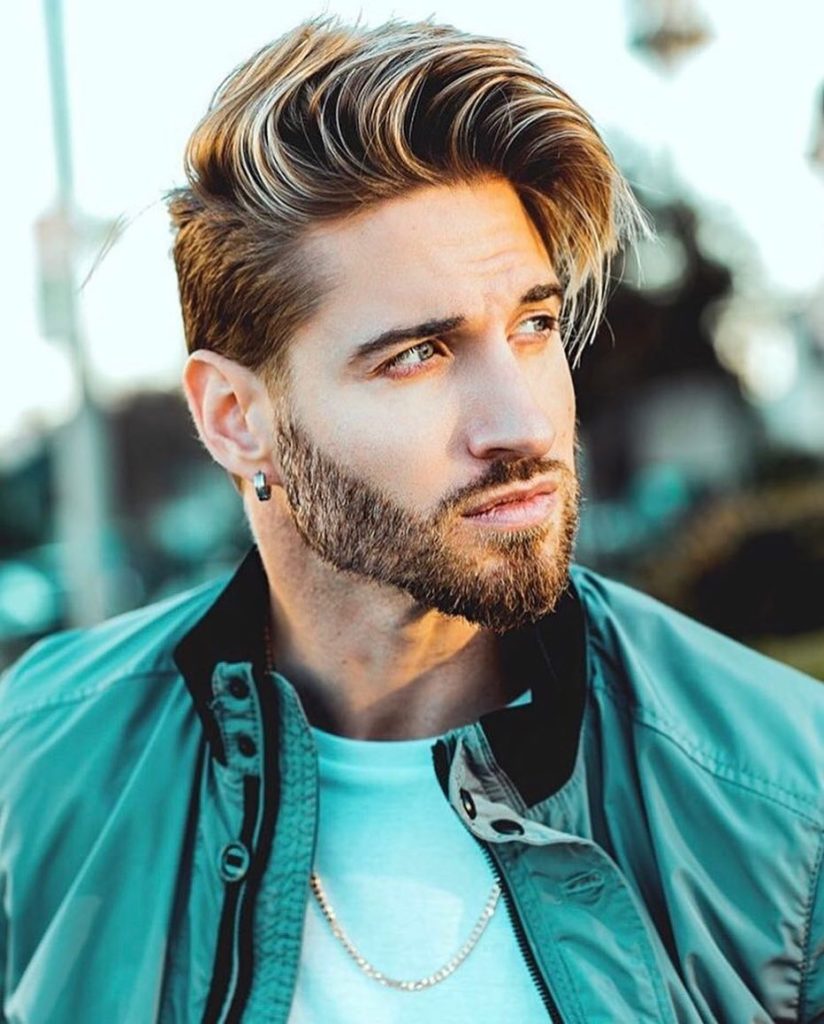 The side-parted hairstyle is hugely trending around those men and boys who like to keep their hair really long and wavy.
It's a classic twist to the same old classic style except that now the hair is worn loosely and gently and falling around the face is perfectly framed layers.
Just a little blow drying session and maybe a light hair product is all you need to style and maintain this look. A refreshing hairstyle paired with a thick beard and subtle faded on both sides.
Messy Waves and Low Fade
The messy waves hairstyle is great for youngsters who are looking to get a cool and stylish hairdo without spending too much money or putting in too much effort. The hair here is maintained in a messy and wavy pomp hairstyle at the top and a low faded undercut accompanies this as the hair recedes down to the bottom.
The clean look of the fade goes well with the kind of messy hair making it a perfect combination hairstyle. The style looks very natural too and can be worn without any worry for your whole day.
Slick Pulled Back Hairstyle
A slick and pulled back hairstyle is great when you need to have that classy and gentleman look. It's quite a charming look that most men love, and if you have straight and thick hair, this hairstyle should definitely be tried out.
The hair has been maintained in a natural style in its original texture itself so that it doesn't look too made up. A good hair gel or setting spray can help to ensure that your pulled back hair stays in style for the entirety of the day.
Slick Hair with Side Part and Undercut
Here is another classic hairstyle for those who love to keep their hair short, neat, and trimmed. A very low maintenance look that doesn't show off too much, this would be the perfect hairstyle for those who love to keep a clean and low-key look.
The hair has been styled by parting it to the sides. Keep the hair short on one side and has been accompanied by a fading undercut, while the longer layers of hair on the opposite side are simply swept over in a fashionable manner.
Long Hair with a Thick Beard
There is no better combination than the classic long hair and thick beard combo. It makes you look like a true gentleman and gives out the impression that you are not someone to be messed with.
The longer layers of hair on the top has also been paired with a fading undercut to make this look even more impressive and manly. The layers on the top really help to add in volume and texture to the look and this hairstyle would have been boring if it was styled in the normal manner.
Pompadour Undercut Hairstyle
This pompadour hairstyle used to be a huge hit only a few years ago and now it looks like the trend is making its way back even in this year where it is the beginning of an entirely new decade.
The upper middle section of the hair has been styled in a medium-length pompadour hairstyle that is firmly pulled back. This helps to accentuate the forehead and make it look more attractive. The rest of the hair on the sides has been styled in a slightly fading undercut style.
Long Slicked Back Hairstyle
Here is another slicked-back hairstyle in which the hair has been pulled back in along a slicked-back style and cut in layers. The sides have been styled in a zero fade undercut style with the strands of hair neatly trimmed so that it contains enough texture and thickness.
This hairstyle is also usually known as a quiff hairstyle but the basic idea is to style the longer layers of hair on the front in a quiff hairstyle while the sides are cropped short.
Side Brushed Thick Hairstyle
Zac Efron looks stunning in this hairdo, which really accentuates his round face and eyes. The hairstyle is a pretty basic one that can be made your go-to look when you have no time for extra styling or maintenance.
It's as simple a hairstyle as it can get and you only need to have thick hair with some significant texture to effortlessly rock this hairstyle. The hair has been messily side-swept thus making it look a very relaxed hairstyle.
Long Hair and Thick Pomade
the long hairstyle trend is one that many men are fond of because long hair looks just as good on men as they do on women. This hairstyle looks very messy and unkempt and maybe the whole charm of this look lies in that messiness.
The hair is unruly and has been combed backward, sidewards and in all possible directions. the long hair trend is all the rage these days and more and more men and trying it out to get that cool look for themselves.
Short Clean Hairstyle
Now many men do not fancy such dramatic hairstyles and instead would like to keep it as simple as possible. As we do all the time, we also have the right hairstyle for all kinds of hair types and people's interests and we have such a short, clean hairstyle listed here.
The hair has been cropped very short and in choppy layers on the front portion, whereas it has been complemented with a gradually fading undercut on both sides. This crop definitely speaks for itself and is a style statement in its own way.
Long Wavy Hair
the classic wavy and long hairstyle that men love but most men can't keep because of their hair types, lack of texture and thickness, and many such other factors.
So if you are someone who is naturally blessed with such thick and wavy hair, nothing should stop you from getting a good and clean hairstyle like this one.
It is sure to make you look very charming and all you need to do is to style your long strands of hair in messy beach waves or layers as shown in the picture.
Spiky Quiff Hairstyle for Men
The quiff hairstyle is always a favorite trend among men and is also one of the most popular hairstyles. Making your hair stand out on the upper part and cropping the rest of the hair is really a cool hairstyle that simply changes the entire structure of your face when styled like this.
It lets go of any imperfections and also helps to make your hair look more defined, thus making you all the more attractive. The quiff hairstyle here has been paired with spiky layers of hair on the top.
Cool Curly Top Hairstyle
The curly hairstyle is just as good as the wavy layered hairstyles and in fact, looks more natural than it. The loosely curly locks of hair are great at framing the face and making it look more pleasant.
The curly hairstyle has been styled by making it look messy on the top while the sides have been similarly trimmed messily in a zero faded style.
This hairstyle is great for men who have medium thickness hair and significant texture. This is also an adorable hairstyle that men should definitely try since it is sure to make them look younger and cooler.
Short Fringe Hairstyle
Here is a style that is hugely popular in Korea and is making its way as a big trend in the whole world itself.
The hair on the upper front portion has been maintained in short fringes like the style with the fringes being super straight that makes the forehead look more accentuated.
The hairstyle is very simple and clean and also has enough edge to it that makes it stand out from the rest of the crowd. The sides have been styled in a gradually fading undercut with the hair trimmed thickly at the beginning of the undercut.
Long Messy Hair with Highlights
Long layers of hair on men simply look irresistible and when you combine such a look with highlights that really suit your skin tone, you are bound to look extra amazing. The highlights colors are an almost toned down version of the natural golden blonde, with the color being so faded that it almost looks like a silver-blonde shade.
The hair has been maintained messily but even that mess is a perfectly messed up look that has been carefully created. A simple and effortless hairstyle to make you look amazing.
Middle Parted Vulture Hairstyle
We have all heard about the Mohawk haircut and nowhere is yet another hairstyle that has obviously been named after a bird. And this time it's the mighty vulture. Well, the hairstyle in itself looks very powerful and mighty so maybe the name does go well with the style.
Best suited hairstyle for those who have medium length and textured hair. The hair has been middle-parted very neatly in order to create that vulture effect. The back and sides gave been neatly and very shortly trimmed making it look very clean.
Medium Length Blonde Hair
Chris Hemsworth is famous for his blonde golden locks of hair that simply makes him look dashing. He has styled it in a variety of different killer hairstyles and the truth is that every single time, he has nailed his look.
This is a classic look that was popularized by Hemsworth and if you look at it, the hairstyle is a simple one and doesn't require too much effort too. Simply part your hair to both the sides and make sure you have cut your hair in a layered style to perfectly recreate this look.
Wide Mohawk with Fade
Most Mohawk hairstyles is about faux hawks that are huge and large and simply pop out of your head. But this hawk style is a toned-down version of the classic Mohawk style as it has been styled in a wider perspective thus making the head look really flat and round.
The sides have then been neatly cropped in fading undercut style that simply looks great. The Mohawk has then been blended in very nicely with the entire hairstyle and to make it a better combo, the clean-shaved beard also looks amazing.
Cristiano Ronaldo Hairstyle
The king of football is also the king of fashion, and when it comes to hairstyles, no one wears them better than him and with such class every single time.
This is a hairstyle that has been hugely popularized by Cristiano Ronaldo which made almost all his fans even his non-fans get this hairstyle due to its adaptability since it goes very well with thick, thin, textured, curly and all other kinds of hairstyles. with a huge fan following in the entire world, it is only predictable that people are out there to copy his every move and style.
Salt and Pepper Look
The salt and pepper hairstyle used to be mostly worn by older men who wanted to look stylish even at any age and this style factor is what made this trend a hit not only among older people but also among the youngsters as well.
This hairstyle is now very popular and is worn by men and women alike due to its versatility and uniqueness. The hair here has been styled in medium-length layers and parted to both sides in a kind of messy way. Doing the same for the rest of the hair.
Short Spiky Hairstyle
a short cropped hairstyle like this one is ideal for men who like to keep things simple and low key. usually, such hairstyles are styled in the normal cropped style, but here instead the hair has been done in short spiky styles that almost resemble a buzz cut.
The style has then been done by very neatly and cleanly shaving the undercut which also has a shaved design on the bottom part. the drop fade hairstyle on the sides makes this hairstyle look all the more interesting.
Man Bun Hairstyle
even men love tying up their hair in a bun style and not just women, and this is one such perfect style you should try out if you have long hair. Simply pull back your hair in a slick style and then take it and tie it up in a bun.
The sides and the back of this style have been done with a neatly shaved look that gets completely faded as it reaches the bottom. This is a perfect look that also looks manly as well.
Cool Hairstyle for Thick Hair
A variety of hairstyle that can be tried out on thick hair. It's super cool and will make you look very charming and like a gentleman.
The hair has been styled by parting it to the sides. The hair on the longer side has been maintained in longer layers almost resembling a part quiff hairstyle whereas the hair on the shorter side has been cropped very short in the style of short choppy fringes.
The rest of the hair on the back and the sides has then been shaved into a neat undercut completing the overall hairdo and making it look very gorgeous as a style for men.
Long Messy Hair
a classic and iconic hairstyle by Justin Bieber, this is a very simple hairstyle that can be tried out by men to get that cool and effortlessly sexy look. It has a boyish charm to it that simply makes it irresistible.
This is a great hairstyle for when you need something as you go-to look and it can also be worn with different types of outfits.
It's cool and laid back and the face-framing layers of hair on the front look great. To spice up the look, you can try it out by highlighting your hair in different colors.
Temple Fade Blonde Haircut
A temple fade style deserves to be on any men's hairstyles list due to its versatility and brilliants. It's a very simple hairstyle for men and doesn't need much effort to be put in.
A good style to be tried out when you are simply bored with your everyday hairstyles and would like to try out something new. Then look no further because this style would definitely be your best choice.
Blonde Wavy Hairstyle
Adam Levine is quite popular not just for his songs that capture our hearts but also for the fashion statements he makes with his different hairstyles and outfits. This is a classic blonde hairstyle that is very popular because of how simple and cool the hairstyle is.
The hair has been dyed in a rich shade of golden blonde that simply radiates light onto the whole look. It has been styled in wavy layers that have been pulled to the sides and swept back nonchalantly.
Cool Hairstyle for Men
You can also cut your locks for achieving a macho image. This hairdo looks remarkably classy in oblong faces. For men, it is one of the most sought-after hairstyles.
It can effortlessly emit a powerful appeal. It also strengthens your cheekbones and jawline. It is the most fitting hairdo for oval faces. It looks overwhelming and hot.
The buzz cut is really the easiest cut without a reservation; this cut is a simplistic pick that will surely go well in getting a man's jawline to seem a lot harder. In accession to that, you can cover those unwanted bald spots, if any, and also the receding hairlines.
Spike Haircut for Men
This kind of hairstyle is not as hot as the original Mohawk, but it does come with a significant change as compared to your normal hairstyle. The mid-section of the hair has the Mohawk spikes. Every side of the hair is fashioned short, but it is not stripped.
The central portion of your hair is stretched (providing you the opportunity to spike it if you want) while the bottoms can be left or spiked. It is entirely up to you!
Inline to save this haircut, you will need a pack of hair setting gel or spray, so if you are not that enthusiastic about hair goods, you might not want to get this style.
Pompadour Hairstyle for Men
If you want to look young and fashionable, this is the haircut for you. It suits both small and medium length hair, and can also be paired with either regular wear or informal wear.
This hairstyle will look good on men who have rectangular or oblong and square faces. The pompadour hairstyle is, in fact, simple and stylish, all you require is cosmetic; add your particular flow and volume your hair to the top, and you have it!
Simple and Short Hairstyle
This type of hairstyle has always been popular among men. It does not need complex keeping, and it has always seemed great on guys.
Normally, this kind of hairstyle comes layered and can be textured with gel, spikes, or hairspray. In this case, the hair is cut very close on the rear frame but preserves a bit of length on the top. This will allow professionals to work with it in many different ways.
This kind of style is ideal for both going to the office and a night out, so you won't have to bother about remodeling it repeatedly.
Side Comb Hairstyle
These are the two most prevalent approaches to use bangs for men now, but of course, there is constantly a big deal of creativity that can take these couple stylish courses and transform them into something different.
First, it is necessary to settle on the hair length that compliments you most, and you can continue without getting tired. Once you have this choice, the length of bangs and how you wear them is entirely up to you.
The great thing about men's haircuts is that you can put gel on your blows up one day, clean them aside the following day or even gel them right back or crazy whenever you want! There is no one way to use your bangs!
Undercut Buzz
This hairstyle is the amalgamation of two styles. The buzz hairstyle and the undercut side trim. This hairstyle has a very macho appeal.
The hairstyle has a unique cut. The sides are completely trimmed, and the center section is kept highlighted. The middle partition is made such that the hair has long stiff spikes that are definitely made with the help of hair stiffening mouse.
The stark contrast between the stiff spikes and the trimmed sides to almost bald creates a beautiful juxtaposition and brings a sheer novelty in the hairstyle.
Wavy Hairstyle for Men
You can simply give your actual curls a different style for establishing a course. You can make it a little disheveled too. It is advisable to use high-quality conditioners and shampoos for managing your locks soft and elegant.
This is a pretty relaxed and simple look for men and one that any man can pull off. This look does require you to have longer hair lengths for the most part; although some men are creating their own style and having these bangs accent their short hair as well.
The Clean Cut
This look can work both as a great formal as well as an informal hairstyle. For men, hairstyles like this are indeed a safe venture when they do not want to experiment a lot yet keep the classy look intact.
Also, this is one such hairstyle that can make them look very stylish. It is a style described to be simple and sophisticated. The sides are kept short, and wit a side partition, the mid-section is set with some hairstyle gel.
Sleek Side Parted Hairstyle for Men
This hairstyle is one very elemental yet classy hairstyle. This hairstyle has a very sleek style, and it looks brilliant.
So if you have an office event to attend and you feel that you really need to do something with your look to create a good first impression, then this is definitely your bid your pick. This can be a great hairstyle in case of formal events.
The Heightened Spike Hairstyle
Talking of hairstyle, perhaps the most stylish and easiest hairstyle for men, is to let it spike free. For men, a hairstyle like this creates an oomph factor that is just way too passionate.
Create a hard part line style to enhance this haircut. The hair top that is blow-dried is then styled away from the hard part line, and the sides get a medium fade to improve the modern hairstyle for men.
Highlighted Hairstyle
Men look very stylish with a hairstyle that adds to their height. Also, the hairstyle, if attached to aligned beard, give the ultimate macho look.
This hairstyle is the ultimate stunner that will, in no time, change the entire look of the person. In this hairstyle, the length of the middle section matters most. Keeping that section long one requires a gel to add that amount of height to the hair.
Quiff Hairstyle for Men
Quiff hairstyles for men are much in trend. This is one hairstyle that has a great style quotient that can indeed make a man stand out of the crowd. The quiff hairstyle is all about abiding by a specific style.
The top of the hair is cut long, and the sides have a trimmed look. Many say that this hairstyle resembles the pompadour hairstyle. The quiff hairstyle can be one on both short hairs as well as on men who have long hair.
Simple Comb Over Hairstyle
How many times have this hairstyle been spotted over in fashion walks and red carpet event? Quite a number, right? This is one such hairstyle that is simple. Very easy to make and obviously easy to maintain as well.
Hence this hairstyle is one of the most sought after styles when it comes to mends fashionable hairstyle. As the name suggests, all that needs to be done is just comb-over and keep that neat look on.
Men Long Hairstyle
For men, the quiet essential style abides by short lengths. However, with these long hairstyles, the hairdo looks hip and trendy. It also reflects a carefree appearance.
It is an apt style for beach vacationers. You can easily keep it messy for gaining all the attention. First and foremost is the quality of hair.
Line Up Buzz Cut
This is a style that is indeed unique and has a continuous trail that can be followed along with the beard. The style is that of a continuous one. This hairstyle is smart and has a very youthful vibe to it.
The beard makes the look very chiseled and enhances the jawline. There is nothing classier than a man whose hairstyle does the talking.
These hairstyles are great for formal events and make for a stylish look. This hairstyle has a stunning approach, and this, too, adds to the height.
The sides are kept minimal to highlight the top of the hair, and that is the USP of the entire look. Of course, this is a choice, but the most stylish way to wear these bangs is will somewhat higher and shaggy hair.
Pixie Spike Short Hairstyle
Many men love a short hairstyle and this particular style is one great choice for short hairstyles. The spike in this are kept in pixie style short that is the hair length is aligned to the entire level.
Having a cool look, this can be a great informal hairstyle. Apply a bit of hair setting spray and with hand pick out hair at intervals to create that tossed spike look.
Long Shaggy Hairstyle
Men seeming for an effortless hairdo can work the slovenly style, which is ideal crude hair that is styled to make it look different. The middle portion is kept long and unkempt with trimming it creatively, and the back and sides are short and neat.
A skilled professional can bring out perfection on your head by creating a short spiky cut on your crown and then systematically decreasing the sides to end off the strikingly charming look.
Bold Pompadour Hairstyle
These hairstyle suits form men with greyish hair tones. In such color, the pompadour style sits pretty well and makes the hair look very stylish.
The entire look has a very dignified and bold look. Gel or hair setting spray is required to set the hair up. Also, as the height is added it imparts an oval shape to the face.
Curvy Smart Hairstyle for Men
This curvy hair has a bohemian appeal to it. Men with such long curly hair are everything attractive and stylish. A hairstyle like this definitely makes a mark and adds a note of uniqueness to the overall personality.
This look has a charming aura of its own. The locks can be highlighted with slight reddish hues or burgundy undertones to add to the oomph factor of the style.
Cropped Hairstyle
This look has a cuteness quotient and has a definite smart appeal. The hairstyle is short appealing and definitely very easy to style. In this style, the cut matters the most. This cropped look goes well with both formal and informal events. It is a lively style that can quickly add a lot of character and style to your look. The front fringes cover the entire forehead area giving.
So, go for any Fashionable chic style or punk look or that cool dude, but always get to wear Fashionable Hairstyles which you can carry, not the one which carries you off the head. There are several chic hairstyles for men. You can simply provide a unique appearance by making a contemporary haircut this season.
However, having a haircut according to your face shape is inherent for attaining the right look. You should preferably consult a hairstylist for the most favorable style to look attractive and stylish.
The list comes to an end here and we hope this article helped you choose the best-suited hairstyle for you that will help you look effortlessly stylish, all throughout 2023.
This isn't just the list though and there are many unexplored hairstyles out there which you can always try out either on your own or you could also draw inspiration from some of these styles listed above to create your own unique style.