Tired of sticking to the regular Bob cut but too lazy to maintain long hair then the perfect solution would be to get a lob cut.
And if you are thinking of getting a lob haircut for your hair but not confident as to which one you should try? Here is a list of thirty lob haircuts from which you could choose the best for yourself.
30 Lob Haircuts For Women – Be Your Own Kind Of Beautiful
A Line Lob
When you get an A line lob, the length of your hair on either side of the face is longer than usual which gives a little lift to your face making a perfect look to pull off at any party. Take the glam quotient of your lob up another level by wearing this gorgeous style and standout as diva.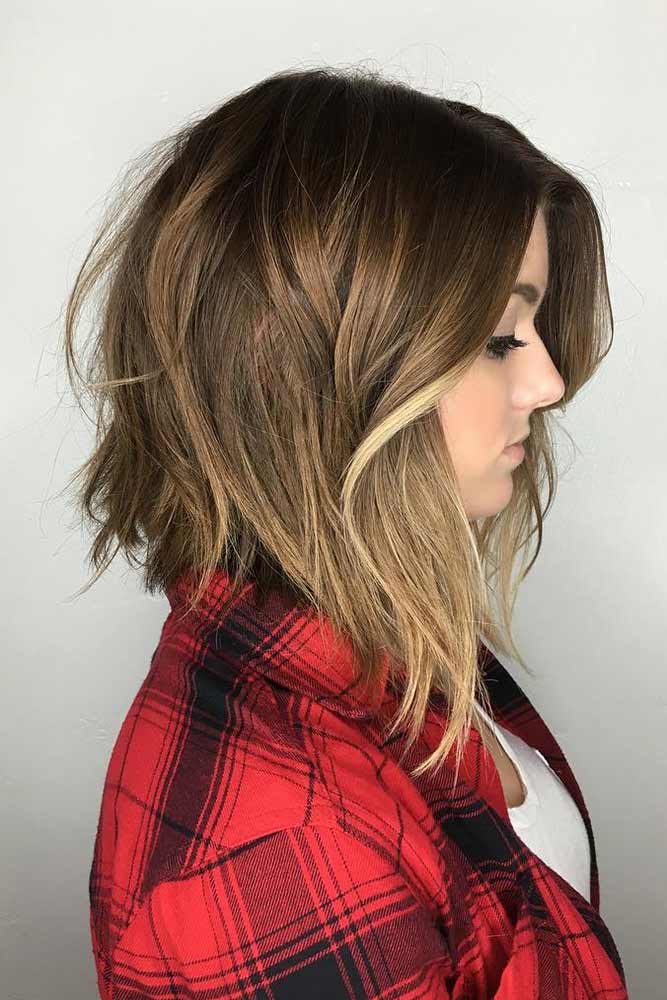 Asymmetrical Straight Blonde Lob
Asymmetric lob has a great effect on shape of your face. The lob which is usually suited on a round face, giving it an asymmetric cut can be carried out in any shape and size of the face. A lob haircut can grazes your shoulders and looks super elegant too.
Blonde Messy Wavy Lob
Blonde messy wavy lob gives a fuzzy look to your hair which is easy to maintain and equally easy to be pulled off with almost any outfit for any occasion. This lob is best suited for those who have carried the Bob cut for a long time.
Blunt Blonde Lob
Blonde hair often looks dull in a Bob cut. To make it look a tad more happening get a blonde blunt lob so that the blunt ends can give an edgy look to your face structure. Lob haircuts are really trending and popular now, so opt for this style and flaunt your glamorous look.
Brunette Lob with Blonde Highlights
Brunette lob can be spiced up with occasional blonde highlights. A relevantly new look, this haircut can make you a sensation for making a style statement which is quite out of the box. This style will give you the most hottest look for sure.
Center Parted Chocolate Brown Lob
Center parted lob are the best. If you are trying to decide what color to wear your lob try the latest chocolate brown color which is dark shade of blackish brown and makes your hair shiny. Get the most sexiest look for yourself by wearing this ultimately gorgeous lob haircut.
Choppy Angled Ombre Lob
Ombre will always make your hairstyle look more fabulous and Splendid. Choppy angled ombre lob is the ultimate look for the youth who are wild bold and also unapologetic about themselves. This cut is for those who have a chivalrous personality.
Classic Blonde Lob
The look of the century is the classic blonde lob. Since the time lob became a trend, classic blonde has been accepted widely. If you love lob hairstyle then this one is just so perfect for you to make and amaze everyone.
Edgy Lob Haircut
Edgy lob haircuts usually trims your hair in a way that it gets an edge in the ends and also slant cut. Thus the cut makes your jawline look a bit sharper. This immensely fashionable lob haircut will make you look beautiful and stylish.
Edgy Wavy Blonde Lob
Edgy Lob cuts are best suited for wavy blonde hair. The cut sets off a positive vibe which is bound to attract all the limelight. Get ready to dazzle every time in everything and everywhere. Another edgy lob style, try it and appear as super model.
Golden and Pastel Blonde Inverted Lob
Golden and Pastel Blonde Inverted Lob is the quirkiest and the funkiest style for the Lob lovers. The shades of the colors on your hair blends perfectly with your charisma. Try this bold and beautiful lob hairstyle, we bet you will grab everyone's attention for sure.
Inverted Wavy Lob with Highlights
Look trendy and fashionable by wearing this coolest lob haircut. The upside down wavy feature of is the specialty of this hair cut which is ideal for a Lob length of hair. You can highlight the ends to make them stand out.
Lob with Side Bangs
Lob can be worn in a simpler and more comfortably with Side Bangs. This cut are for the ones who have recently turned to Lob after trying the Bob cut too often. Get yourself a smooth and easy look with this haircut.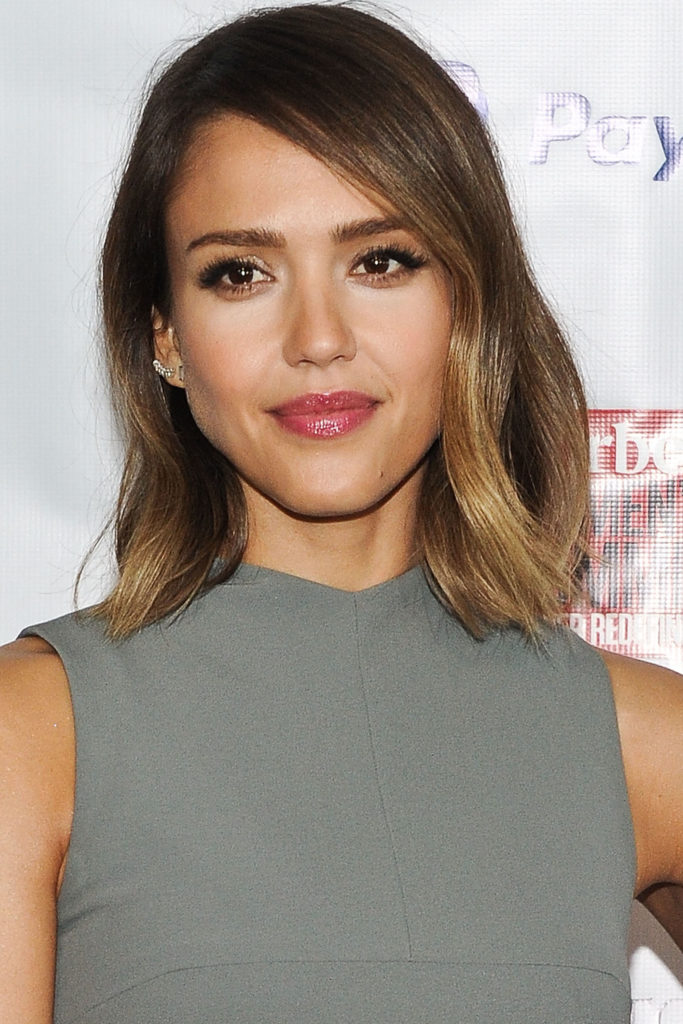 Messy Wavy Black Lob
Messy wavy black Bob can also be very graceful to be carried out with almost anything and anywhere. The subtle blackness in the wavy form is just what you need to pull off a graceful look. Look as gorgeous as Olivia Munn By wearing this marvelous lob hairstyle.
Middle Parted Layered Blonde Lob
Middle Parted Layered Blonde Lob is a safe option for those who hate experimenting. The mid part balances the layers on either sides of the face and brings out the natural flair of the hair. Appear as super model by wearing this sultry and sexy lob haircut.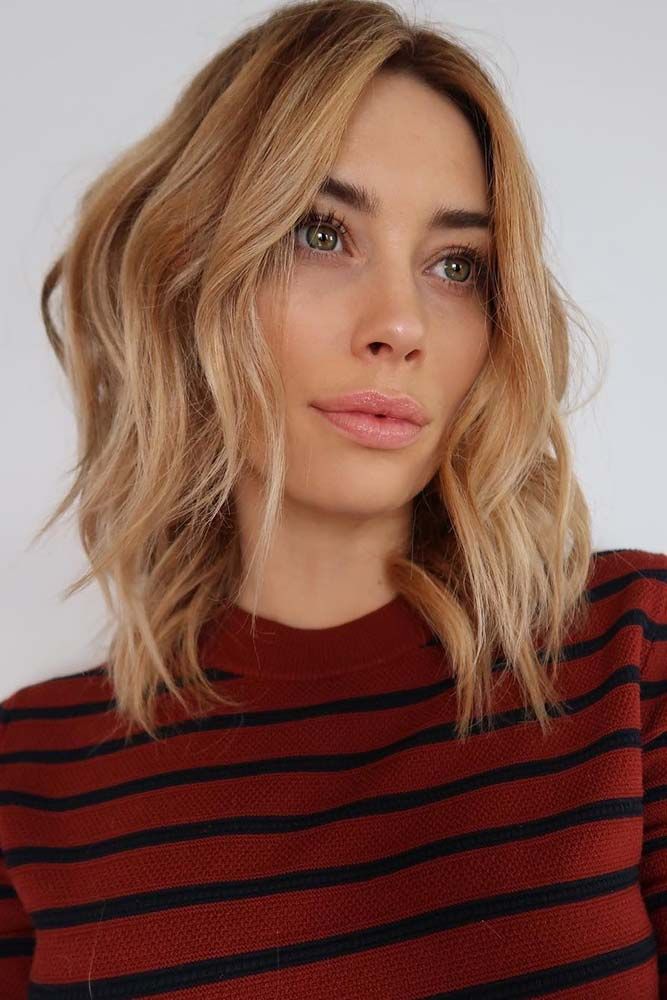 Middle Parted Shinny Lob
Due to the constant exposure to pollution and dust, our hair often gets robbed of its natural shine. To make sure you do not face this problem get yourself the haircut – Shinny Lob and mid part it to get the cheeky look.
Medium Length Ash Blonde Bob
Medium length Bob or in one word Lob has been a trendy hairstyle for quite a while and to make a trend of your own try the ash blonde Lob and the semi ash- blondes make wonders. Blonde will always makes your hair look more stunning. So mix it with your lob and see the difference.
Pastel Pink Balayage Straight Lob
Dyeing your hair pink is the new avatar people are trying to fit into but it mostly turns out to be a disaster because they fail to understand how to blend the pink color in their hair. The best suggested option is the pastel pink Balayage Straight Lob.
Retro Wavy Blonde Lob
Retro Wavy Blonde Lob brings together the combined style of the eighties and the present. Styling your hair in the retro wavy blonde lob allows you to slay any look and make you feel no less than a queen.
Shinny Blonde Lob with Side Bangs
Add some extra shine to your hair with the Shinny blonde Lob and make it a bit of a luscious by adjusting side Bangs to have a complete smashing look.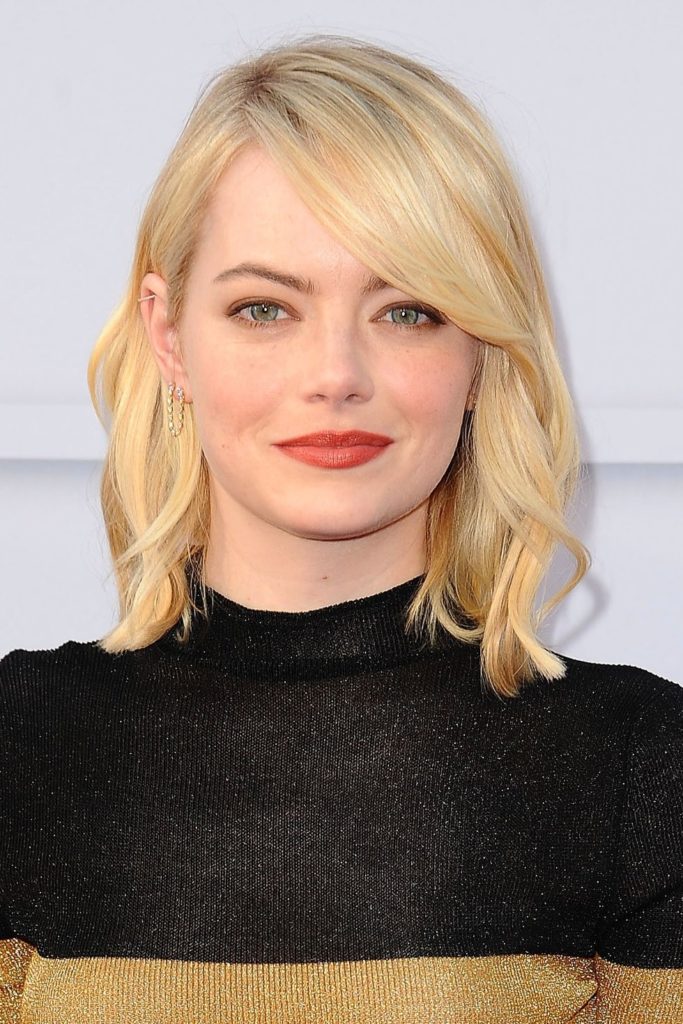 Shoulder Length Blonde Lob
Shoulder length blonde Lob is the the most commonly accepted style for a lob cut which keeps your style simple yet appealing. This haircut can be worn in both straight and curly hair as per your preference.
Side Parted Wavy Lob
Side parting the wavy lob makes the hair align perfectly with the face. Make sure you try both the right part and the left part and Wear the one which suits your face the most. Glam your look by wearing this fresh looking wavy lob haircut.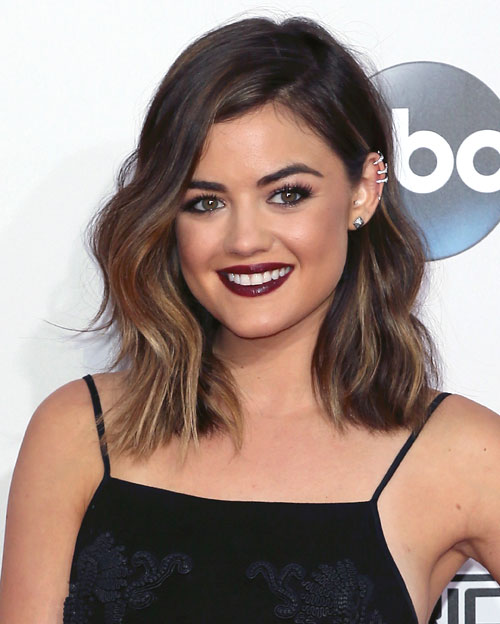 Side Swept Copper Red Lob
Being a red head you could try and spice up your hair with the haircut side swept copper red lob which highlights your facial features and gives you the ideal late night party look.
Straight Lob with Grey Highlights
Straight Lob is now so mainstream that it has almost been designated as a boring style. To game up the style of this cut hairstylists have come up with highlights of different shades and the coolest is the grey highlights.
Textured Lob with Waves
Add textures to your wavy Lob to break the monotone of your hair. The textured Lob with waves gets you the best look for a long weekend errands with late night party plans.
Textured Sleek Lob
Textured sleek Lob make the usual textures of your hair more vibrant. The sleek hair brings out the best of your hair. Lob hairstyles are extremely in trends and this one is the most stylish example to prove it. Wear this gorgeous lob haircut and look stylish and trendy.
Trendy Blonde Lob
Before you sort to your usual blonde Lob make sure you have the one which is trending the most. Flaunt your look by wearing this most trendiest lob haircut and enhance your beauty.
Voluminous Red Wavy Lob
If you have redhead and the blessed you are then get yourself a voluminous red wavy Lob and make the most of your red hair. Look fabulous and uniquely beautiful by wearing this bold lob haircut.
Wavy Shaggy Brunette Lob
To have a care free look, try out the wavy shaggy brunette Lob and always have a ready to rock look handy. The combination of shade and texture will gives you this perfect lob haircut look.
Sleek Shinny Straight Lob
Keeping a straight lob can be great only if you have it in sleek shinny to maintain the shine of your hair and the sleekness assures your hair is protected from damage and also ensures that you have a stunning appearance.
30 Lob Haircuts For Women – Be Your Own Kind Of Beautiful
was last modified:
December 13th, 2018
by