A new year means new resolutions and all the new positive vibes. Surely, you didn't want to be boring and step into 2020 with the same old look. The best and the foremost way to change that is the change in your hairstyle.
The biggest trend of 2019 was short hair; from bobs to lobs to pixies, we were able to see everything. And as we can see, this trend is not going anywhere, even in 2021.
There will be new things, but short haircuts will always rock. They are so perfect, easily manageable, and trendy. We have collected various short hairstyles to must try in 2021. They will instantly change your look.
30 Roaring and Attractive Short Hairstyles 2021
Rose Gold Blonde Pixie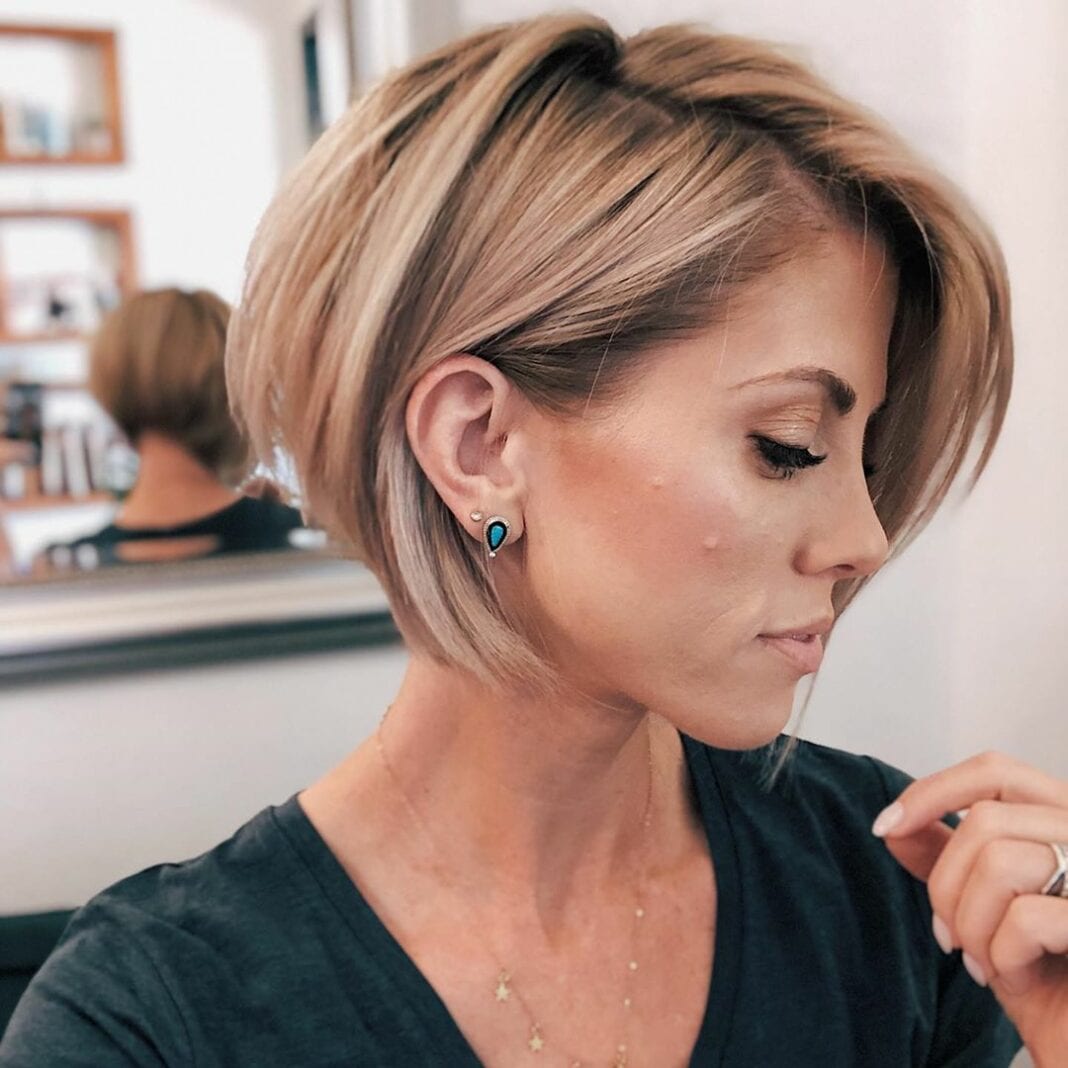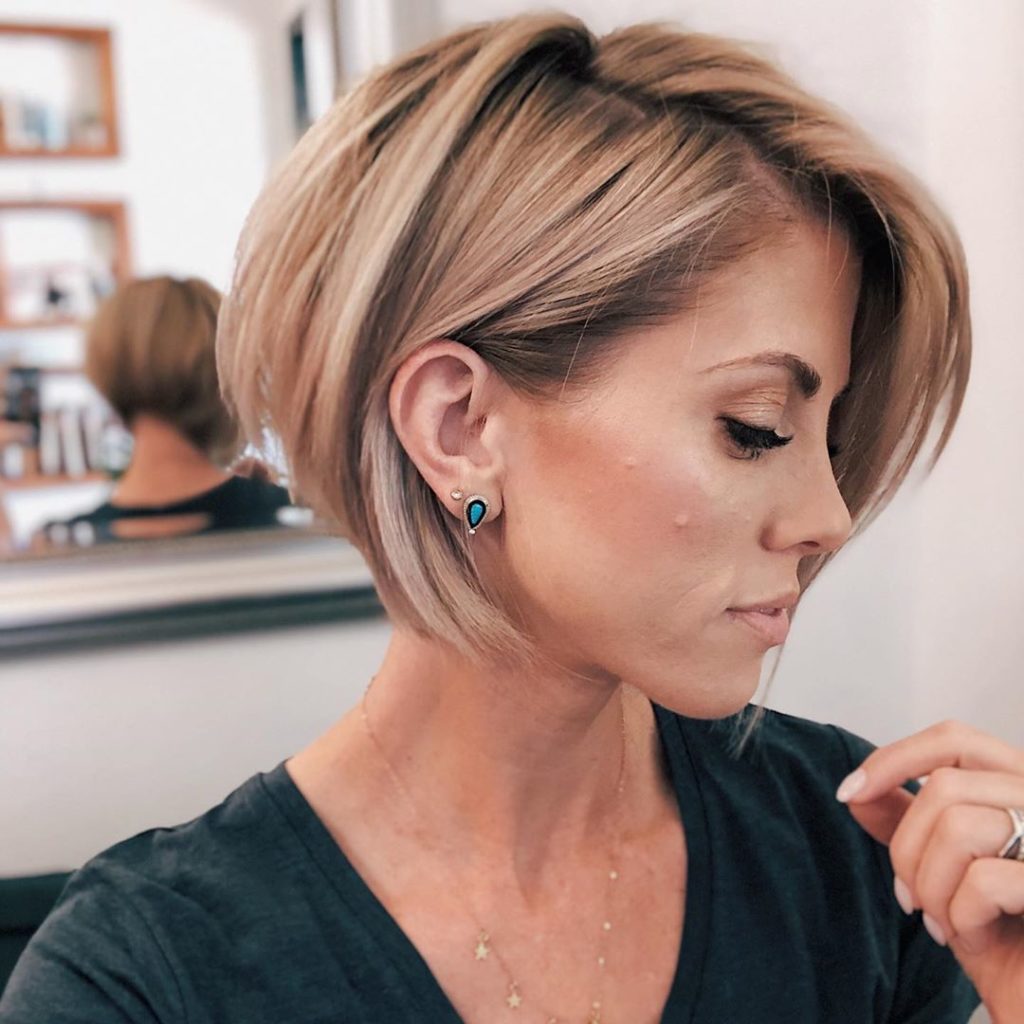 There is a lot of a haircut or hairstyles. A pixie haircut is one of the popular haircuts. Think about your hair type and try something new. Rose gold blonde color is a very cool and fresh color for a pixie cut. In this haircut front, hair is longer than the back.
Front fringes are helpful in face-framing. Short hair doesn't need any high maintenance. For business women's or girls short haircut is the best to choose. In today's busy lifestyle no one has any time to make hairstyles etc. so short haircuts are easy to style or wash etc.
Layered Crop Pixie Cut
Every haircut is different from others. Some haircuts are simple, and some hairstyles are called textured haircuts. Only a few girls dare to test short hairstyles. This pixie cut with layers provides a heavy texture to your hair even if you have thin hair.
Without any special styling products, this pixie haircut looks very stylish. This hairstyle is perfect for any look like bold, cute, simple, etc. Many celebrities prefer this look for red carpets etc.
Choppy Wavy Bob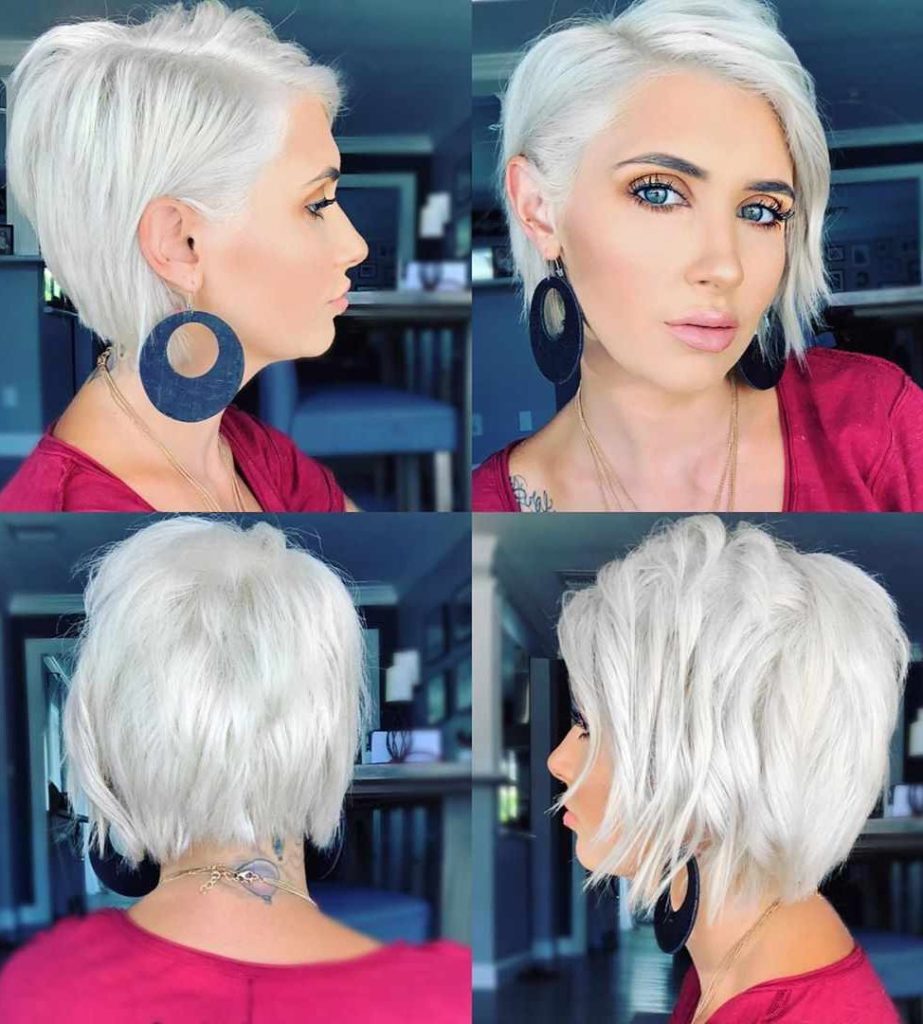 Classic bob haircuts are popular since these were invented. Choppy bob haircut is the latest version of classic bob haircut. Choppy wavy bob haircut looks slightly like waves.
Wavy hairstyle provides fluffiness to your hair. You can use a curler or straightener to make loose curls that look like waves. If you want more highlights, then you add blonde balayage to your hair. The choppy wavy bob is perfect for an office look, conferences, etc.
Feathered Pixie with Balayage Highlights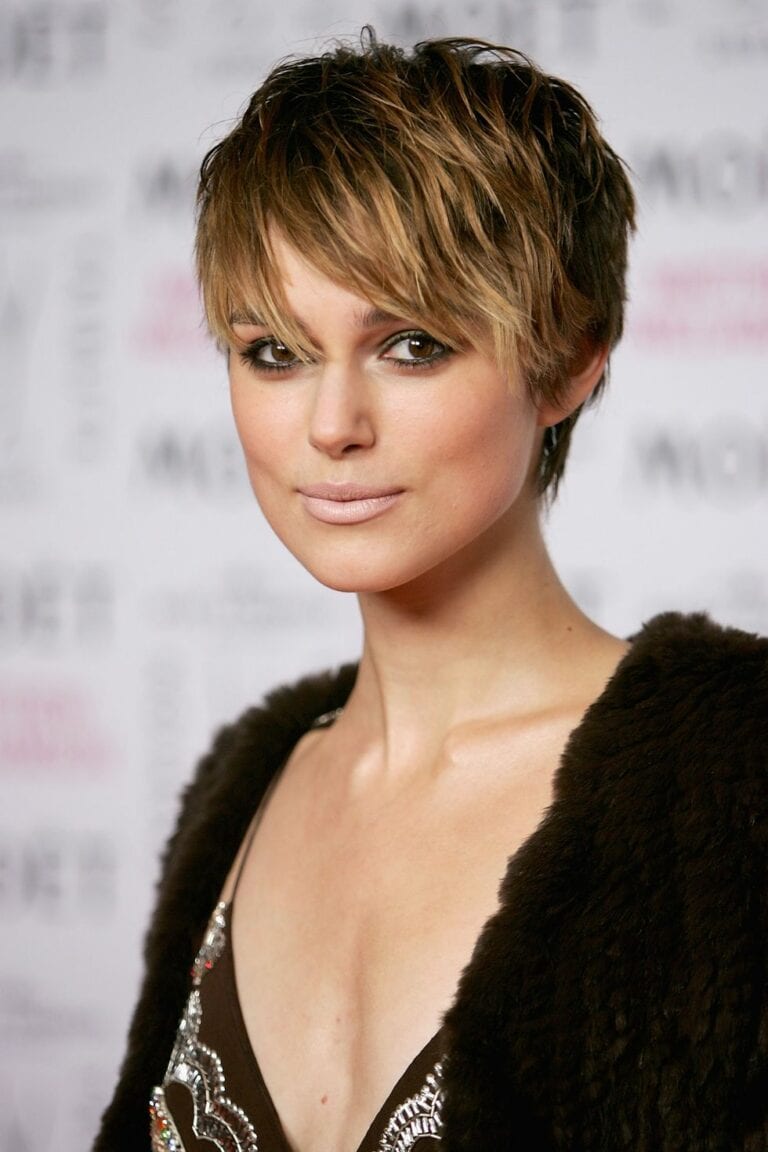 This is the only type of pixie haircut where a person either shortens her hair or either grows it, but its original asymmetrical cut will remain interesting and edgy. From the top to right, all the cut in feather form and on the left side the hair is properly combed.
This haircut is useful for an individual who wants to show her earrings or other ear-related jewelry. Feather haircut looks so amazing than any haircut. It provides texture, uniqueness, and highlighting color. The main advantage is it comes with low maintenance etc.
Messy Bob Cut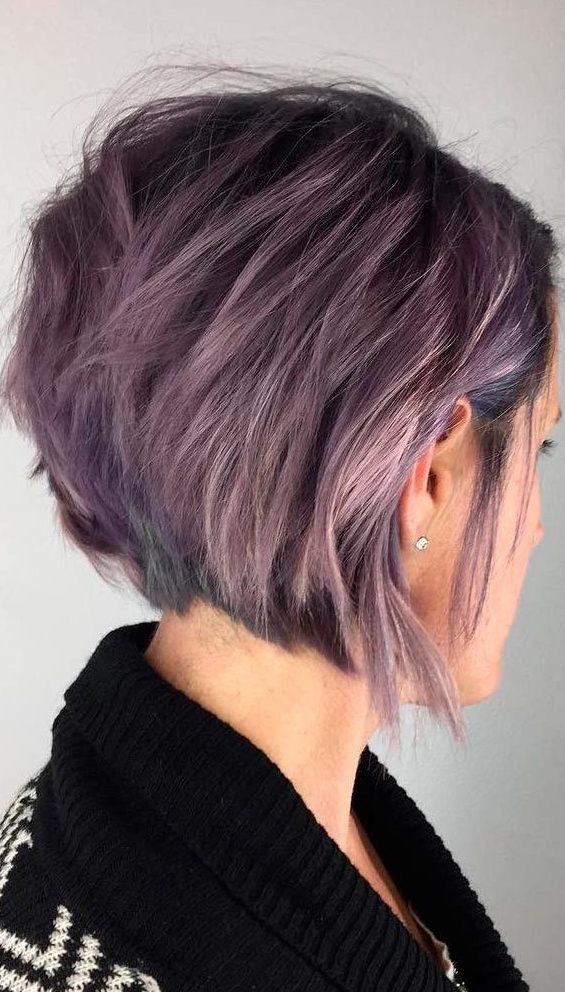 Messy hairstyle is super chic, elegant, trendy, etc. The messy texture is important for a messy bob cut. Many techniques are used in haircuts.
This messy bob cut is created with jagged ends, razored strands, or by different products like sea salt spray, dry textured spray, etc. This hairstyle can be created by any special hairstylist, not by any regular individual. Messy hairstyle is perfect for any hair length, color, texture, etc.
Rounded Ash Blonde Haircut
Some girls don't feel afraid to try terse haircuts. This haircut is pretty similar to a pixie cut. This type of haircut is usually preferred by middle-aged women. Usually, the length of this haircut is pretty short.
For instance, from the side point office, the hair length is parallel to the ear of the head, and from the back, it usually ends at the beginning of the neck. The main important part is that it requires less maintenance because of short hair and goes perfectly with blonde hair color.
Curly Bangs Mohawk Haircut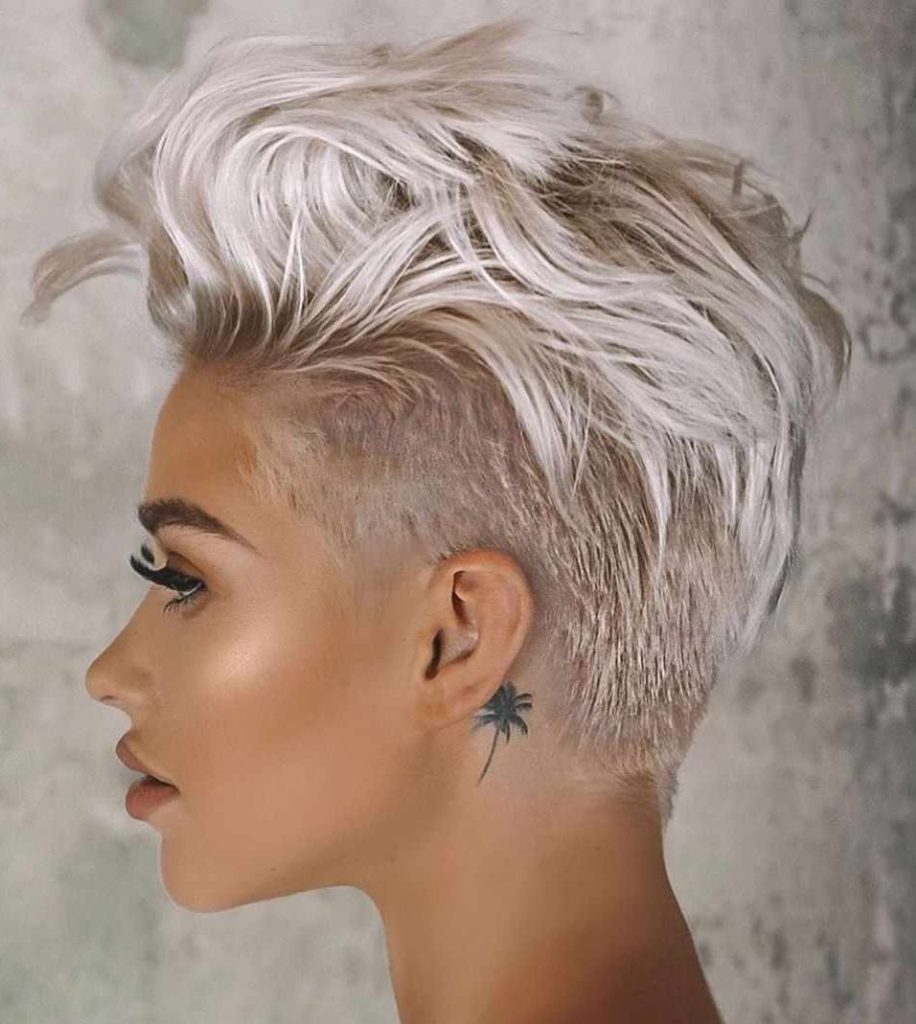 This hairstyle can be done on any hair type except curly hair. This hairstyle usually goes with pop culture attire, not with traditional passion clothes. The key feature of this hairstyle is a mix of extremely short hair with medium length hair.
On both sides, the hair is cut down to an extremely short length and from top to bottom the hair length s medium. The whole haircut shares some similarities with Mohawk haircut.
Side Parted Pixie Haircut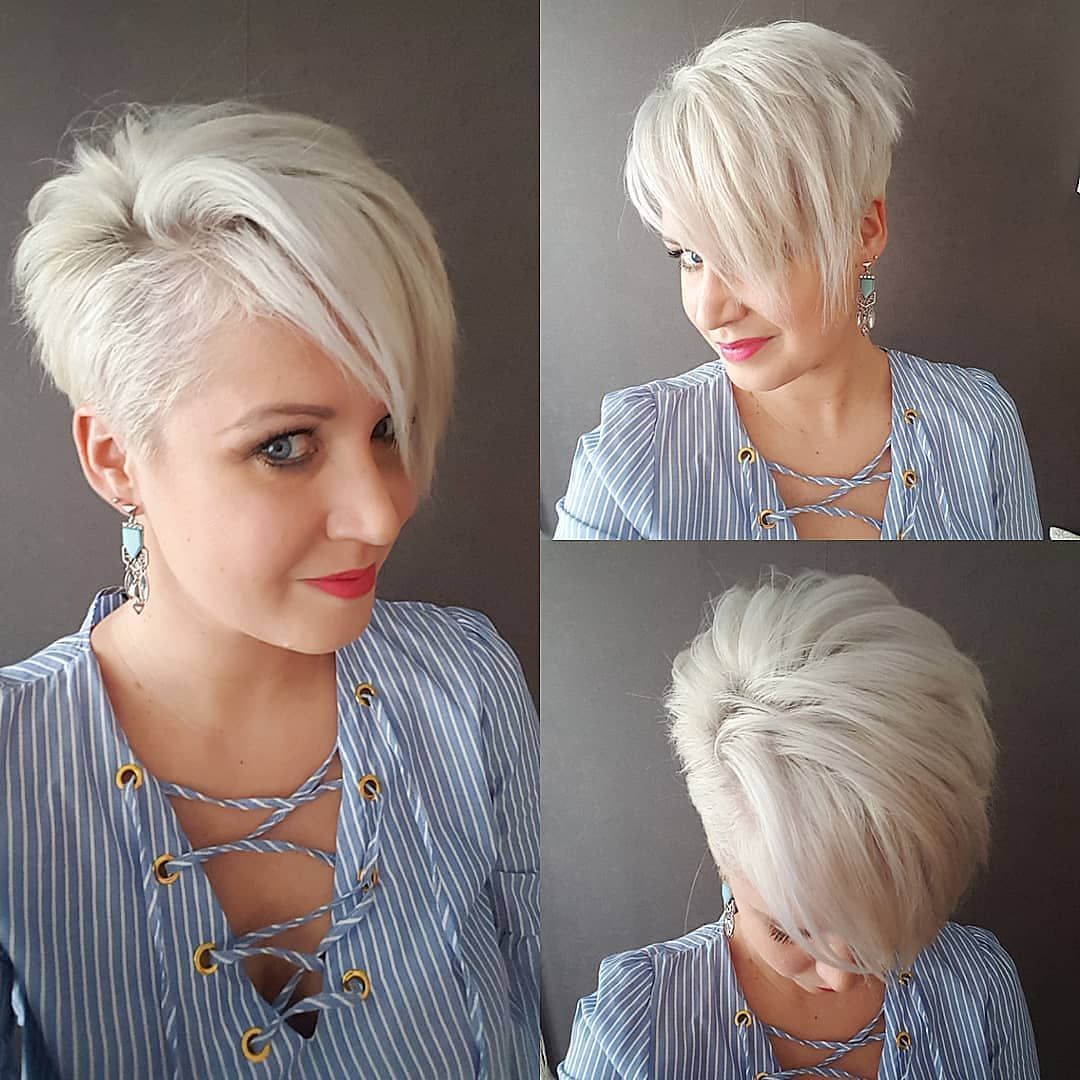 This hairstyle is also known as side bob-cut. As the name suggests, it shares some common features with widely popular bob-cut. The hair on the left side is cut at chin's length, and the rest of the hair is normally short in length.
Side parted pixie cut is a unique and stylish hairstyle. You can add some colorful hair extensions to add more highlights. Style your side-parted pixie haircut with a light color office suit or short dress.
Short Top Wedge Cut
A wedge haircut is a version of a short layered haircut. A short top wedge haircut is a kind of messy haircut. This hairstyle was made popular by Hollywood pop star. Short top wedge haircut is popular among youngsters who follow the western culture.
In this hairstyle, large layers are cut on the top and backside of the hair. This hairstyle is usually looking better on those people who have a fair skin tone. You can add an ombre color to add more highlights on the top. Style this hairstyle with some simple jewelry pieces.
Pixie with an Undercut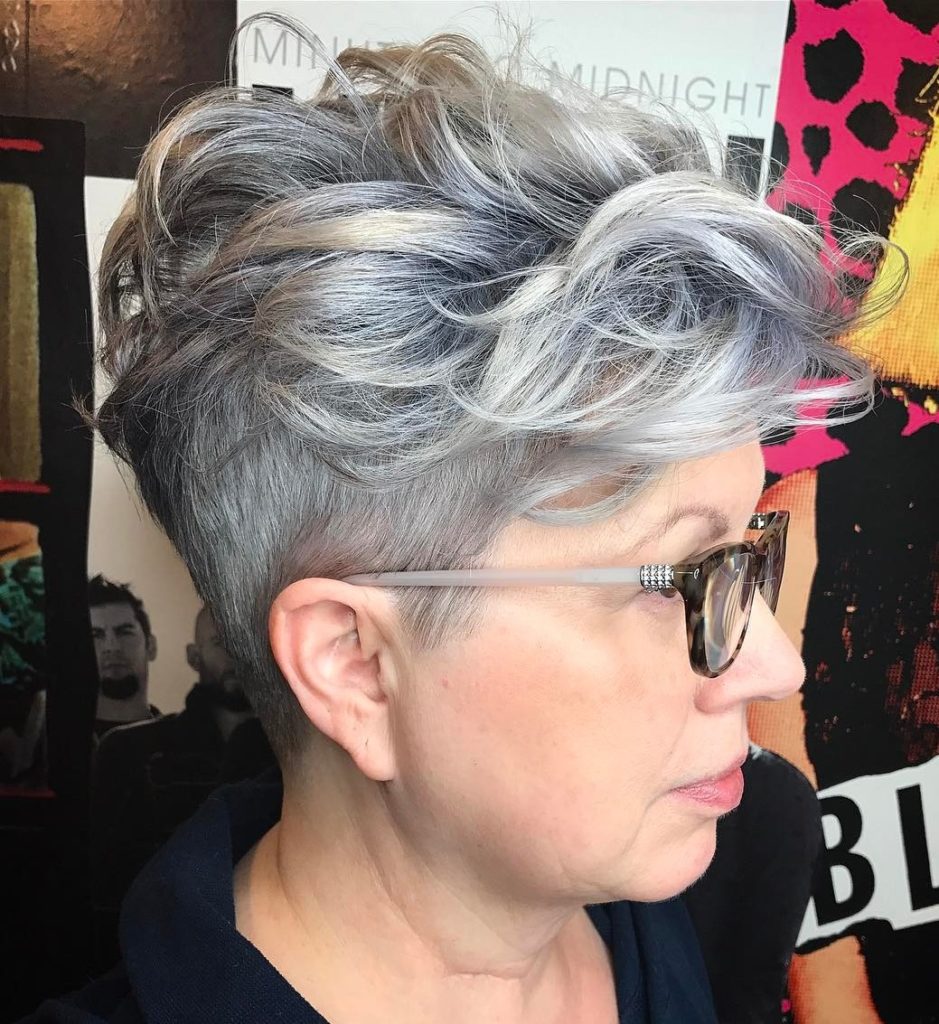 This hairstyle does not have any stylish features of a trendy haircut, but this hairstyle packs a more natural and authentic look. Pixie hairstyle looks impressive and practical because it perfectly frames your cheekbones or needs less money to style.
From the top look of view, it looks a little messy, but the rest of the hair is neatly trimmed. Most women near or above 50 years prefer this haircut because of its simplicity and easy maintenance. Types of pixie haircuts usually depend on hair type, length, color, etc.
Choppy Straight Bob Haircut
This hairstyle is popular among persons who have dry hair. This bob cut is quite the simplest among other bob cuts. This is because it does not require any fancy hair equipment or professionals to get this haircut.
Usually, women who do not have any knowledge about cutting their hair can make this style with the help of a pair of scissors.
This hairstyle is cut equally on each side, and the length is parallel to the ears. For more highlighting, you can color your roots according to your natural hair color.
Asymmetrical One Sided A Line Haircut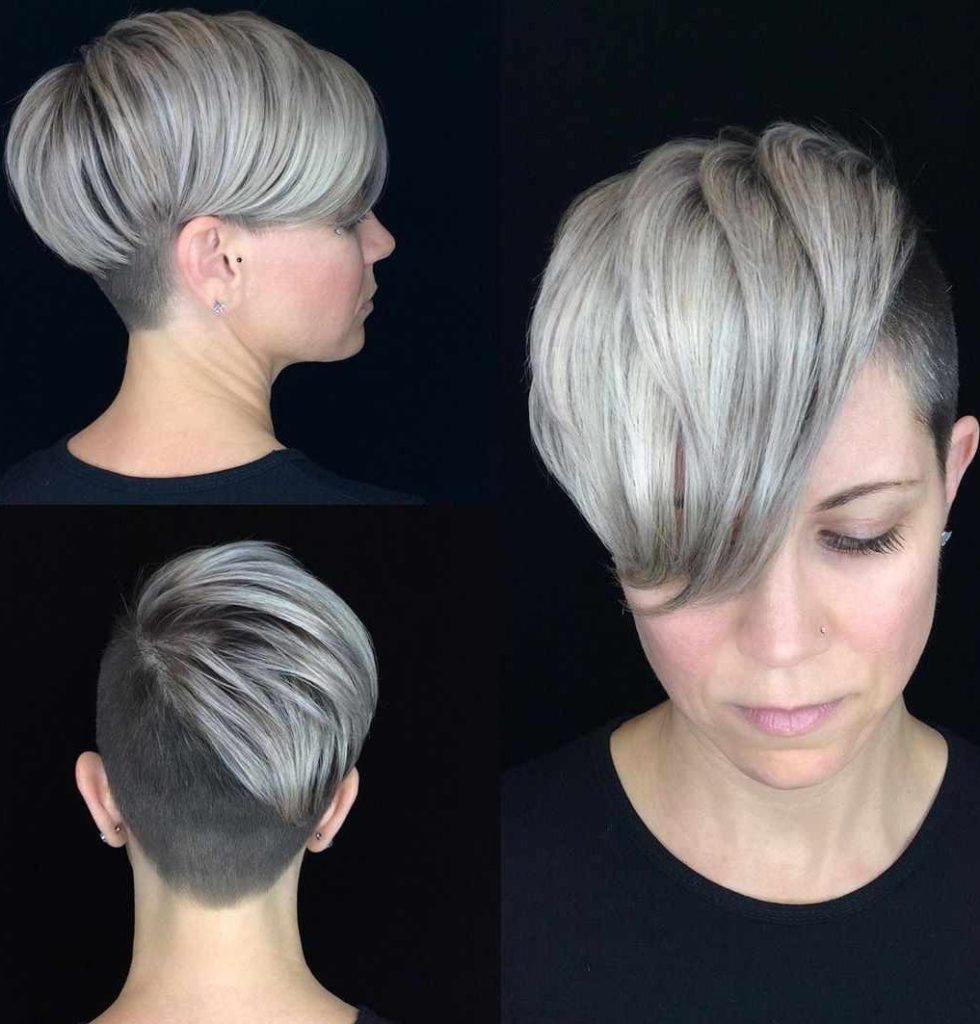 This haircut is one of the most stylish bob cuts. This hairstyle is separated into two parts. The left part is heavily overgrown as compared to the right part.
In this hairstyle, the front left side is usually highlighted with different hair colors and the hair color of the right part is trimmed and doesn't highlight to preserve the authentic hair color of the women.
This haircut is perfect for framing the jawline. This hairstyle needs some hair styling products for styling, which requires time.
Bold Boy Cut Pixie
Looking for a tough and rebellious look for 2021, this is the hairstyle that is just meant for you. Say bye-bye to normal pixie and try this ultra-short pixie. It still has the elements for girls, which makes sure that the hairstyle is not too bold.
These are the long messed-up bangs at the front. The sides are trimmed and buzzed along with the back. But the hair at the top is kept a little longer, which comes all the way down to your forehead till your eyes.
This overall hairstyle is very eye-catching. The blonde highlights add all the boldness all over again.
Highlighted Short Bob
The eye-catching part of this hairdo is the hair color. The blonde-brunette, along with different shades of brown highlights, is looking so gorgeous. It is a very short bob and is so finely chopped at the ends. It will work best for fine hair.
Long haircuts suit less with fine hair. But this one haircut, along with the color, will make your hair look so good. It will also make the texture of your hair look better.
Also, this is so easy to manage. You can add bangs or fringes to the short bob if you want. It will give this a retro look.
All So Glam, Black and Sleek
2021 means a new year and lots of parties. If you are looking for ways of how to style your short haircut for them, here is a way that will get you all so glam up.
It's a face-length short bob. The sleek look works best for the brunettes as it adds so much extra boldness. But it will also look good with blonde or colored hair.
The side-partition makes it more fashionable. The partition can be adjusted to flatter a long, heart or round face shape.
To enhance your hairstyle more, you can go a little extra with your make-up. The shimmery black eyes are going so well with the black sleek hair.
The One with All the Curls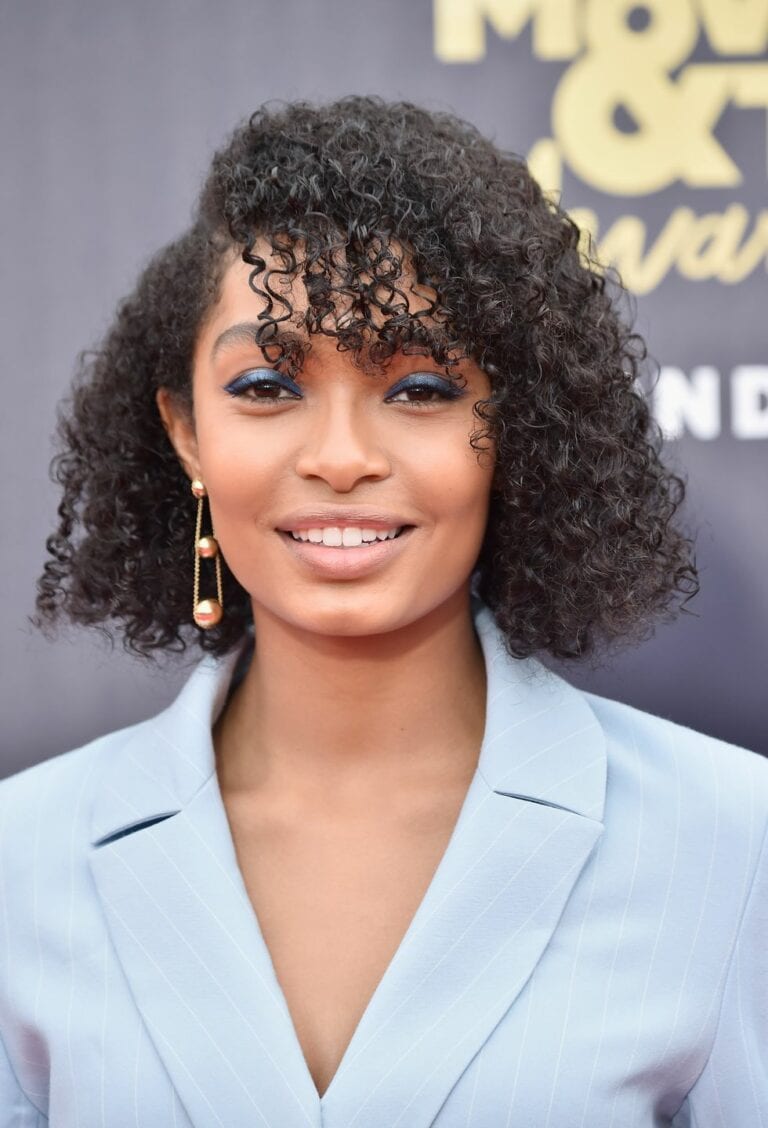 A normal bob could look so much messier and sexier. That is how much effect curls can make. Adding curls to your bob can give it new looks all over again.
If you have straight hair naturally, you can get permanent curls by perm. They last longer, and you don't have to curl your hair daily.
Curly hair needs to be maintained by using proper hair sprays and gels. Even the bangs are curled and kept free on the forehead, which gives a youthful and messier look to your face.
You can wear this hairstyle anywhere and even daily. You can do different kinds of curls, from short or long, thin to thick. But these just look perfect. The ends are very finely and equally chopped, which gives it a finished look.
Micro Pony and Bangs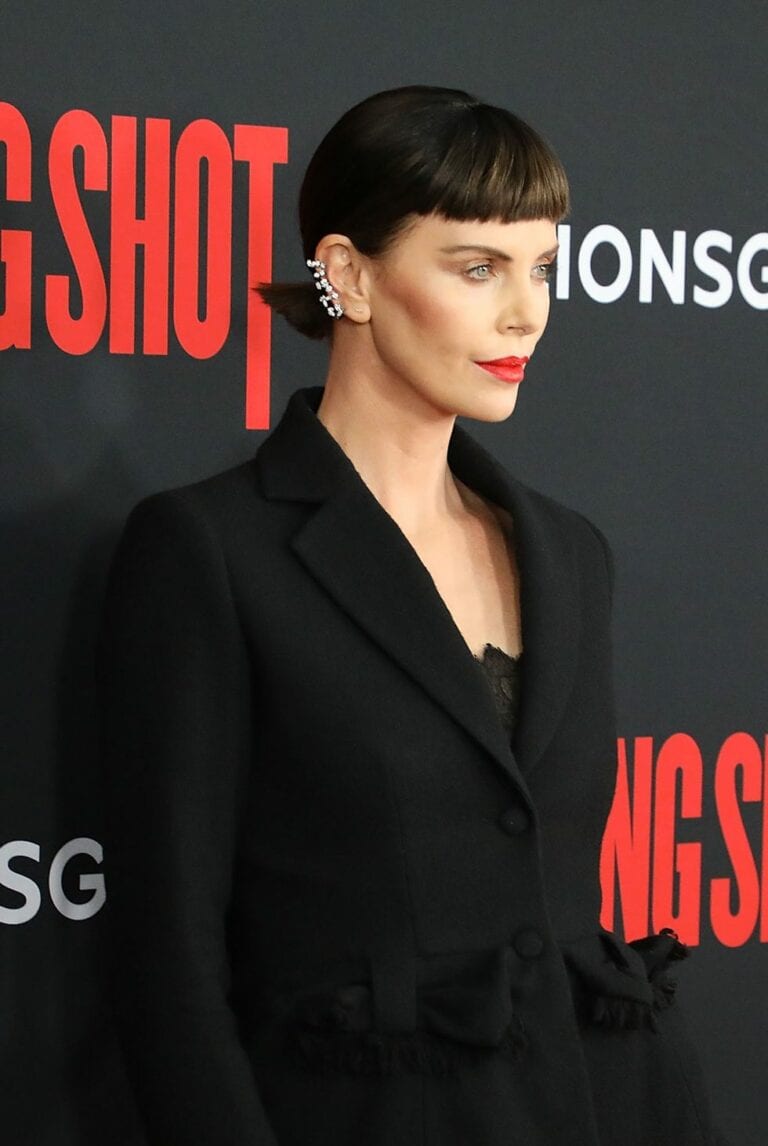 Who would have thought that you could tie your hair into a pony after getting a short haircut? And that would look this good. This hairdo looks so glam and fashionable.
A ponytail on longer hair is so normal, but with short hair, it's something extra. That is why you want to try this little idea with your short hair on days where you want to keep your hair away from your face.
All you have to do is pull your hair back at the base of the neck and secure it with a hair tie. Smooth it down on the roots if needed. That micro pony is making a statement to short hair. We think what is making this look even has better is the thick bangs.
Icy Blonde Layered Bob
Layered bobs have been a forever love and the latest trend. Chin-length bobs are the best of all. It looks more fabulous when layered cut and long feather layers added to the front. The hair is kept short at the back and long at the front.
The front layers are a version of peek-a-boo bangs and look so cute. They have kept chin length and cover all your side face.
The ice colored blonde bob creates a smart and sophisticated look. It is finely chopped and looks very sleek, but layers give it a messier hint as well.
The front layer of hair could be left loose for a casual look or tucked behind for a sleeker and party look. Moreover, it will feel light on your scalp.
Sleek Black Hairstyle
If you are the one who loves to look elegant and sophisticated at all times, straight hair would have been your all-time love. They are best for the ones who prefer the clean look over messier looks.
Shoulder length bobs are perfect as they enhance all your features. They gain all the attention to your collar bones and make you look hot. Straight hair, when combined with a bob, makes a great hairstyle for work or parties.
The hairstyle is kept simple as it can be, by keeping it in simple black color and giving it a clean haircut with ends finely and equally chopped. It's a must-try.
Soft Curled and Colored Bob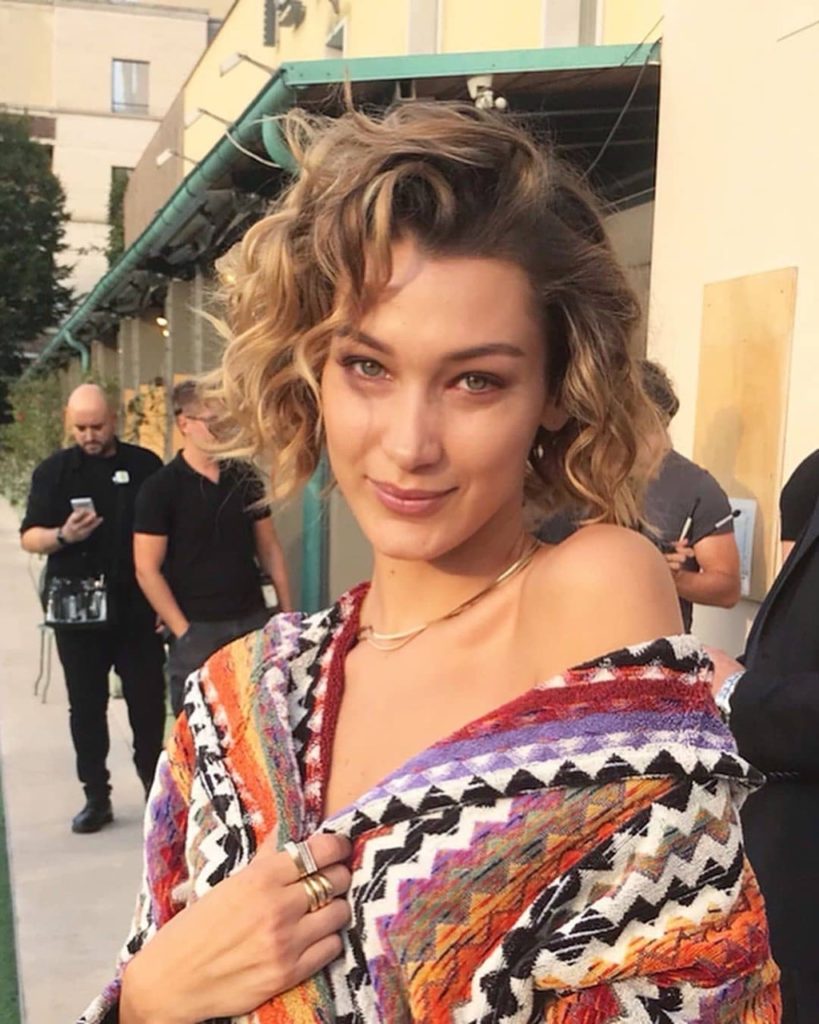 The curled ear-length bob was so much in trend in 2021; they are going to remain in 2021. They have become so famous among all celebrities.
Almost everyone tried it. If you haven't, you need to get one. It looks gorgeous on everyone. No matter what hair color, texture, or shape of face you have, it suits everyone.
You can have it with a side partition, which looks the best but also suits the center partition. The cheek-length bob cut along with brown-blonde highlights will enhance all your features. The soft curls give it a messier and casual look.
Double Top Knots
For this extra hairstyle, you need your hair a little longer. At least till your shoulder so that they could be partitioned and made into buns.
Because the hair is short, the buns will be mini and messier. They don't make the exact buns but look more like knots on the top of your head. They look so sexy. They catch more attention because they are of a different color.
These blonde knots on your brunette head will make you the center of attraction, and all eyes will be on you.
This hairstyle is must-try for your short hair at least once because you will end up loving it. Also, because of how much freedom it makes you feel.
The One Haircut That Screams Freedom
If you have unmanageable hair and are tired and frustrated with them. You need to get rid of them! Because: you need time and will start to love them. The best way to get rid of them and feel free again is to have a very short haircut.
If you are afraid of doing it, as most people will be. This hairstyle is for you. The back and sides of your head are almost completely trimmed, which will make you feel so free that you never felt. Keeping hair at the top of the head helps you keep your confidence high.
The hair at the top is so beautifully styled. They are kept up-right on the head using hair sprays and gels. The natural curly hair is kept as such but maintained with hair sprays.
Brown Retro Bob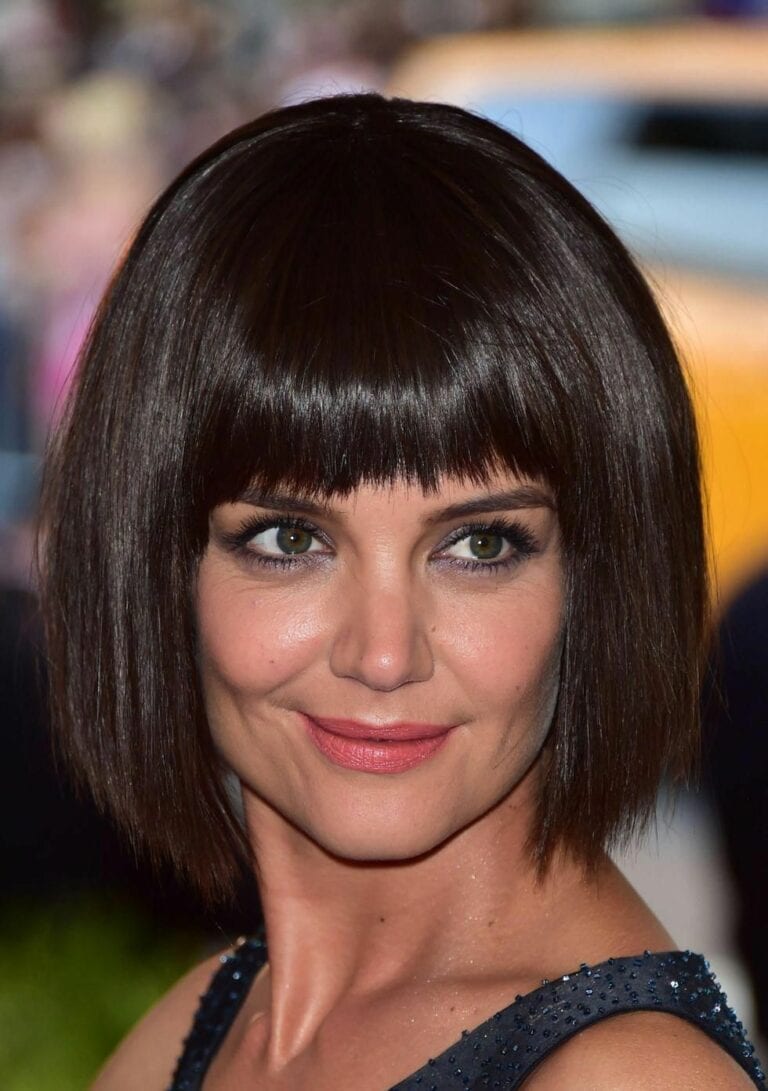 Bobs have been a forever hairstyle. There will always be people who love and will have them for their entire life or most of their lives. When you combine modern bob with the one we used to see in the '70s, this is what you will get.
The bob with bangs! The up-low cut given to the bob at the end looks so good. It is sleek brown, which makes it so sophisticated.
It may not suit everyone, but it becomes of love for many people. It will take you back to your childhood. This hairstyle is giving all the nostalgic feels. Dark brown glossy hair keeps it minimal.
Rebellious Feathered Pixie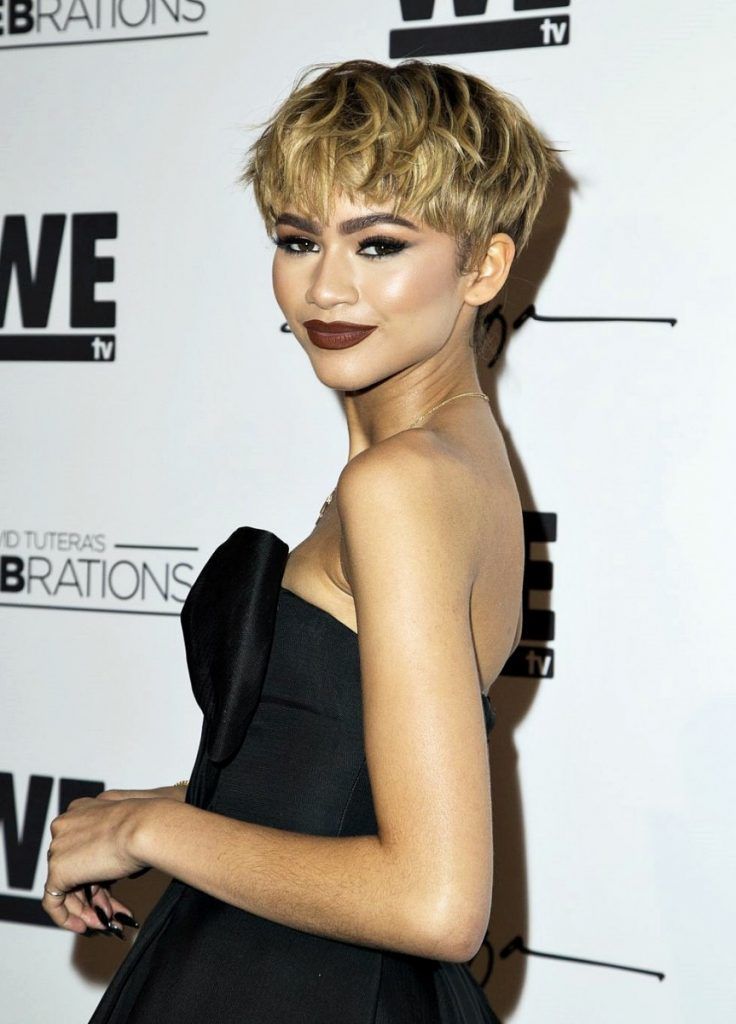 This hairstyle screams rebellious and bold. Ultra-short bob with a feathered cut! It gives a messy look. It has both men and feminine features that bring out all the boldness in you.
The forehead is entirely covered with featured bangs, which are enhancing all the features and not making the short haircut look short and simple. The blonde highlights added to roots make it more gorgeous.
The hair at the neck is kept short, which focuses on all the volume of hair at the top. This is a must-try if you are looking for a complete change.
Ash Blonde Pixel Cut
When the question of hair cutting arises, most people are confused and stress because of the choice of cutting off the length they want. Herewith this simple hair cut, we can solve all these problems as this cut is most in trend and easy-going for day to day activities.
It is especially for those who want to keep very short hair. It can be easily styled and does not require much maintenance.
This fabulous hairstyle helps to highlight pretty face features without drawing much attention towards the hair. It will perfectly suit round, oval, and heart face shapes. It also gives a confident personality outlook.
The Sunrise Streaks
Getting hair highlighted has been a popular trend, but this sunrise color highlights give us an entirely new trend for 2021. The multi-layered haircut and the side fall, complement it to the best.
As shown in the above-provided picture, short hair on the back of the head and a little longer on the crown area, which is going along with her jawline upwards.
The whole hairdo gives an elegant look to one's personality. If you have blonde shade hair and fair skin, this multi-color highlight will suit you.
Sides Shaved with Big Curls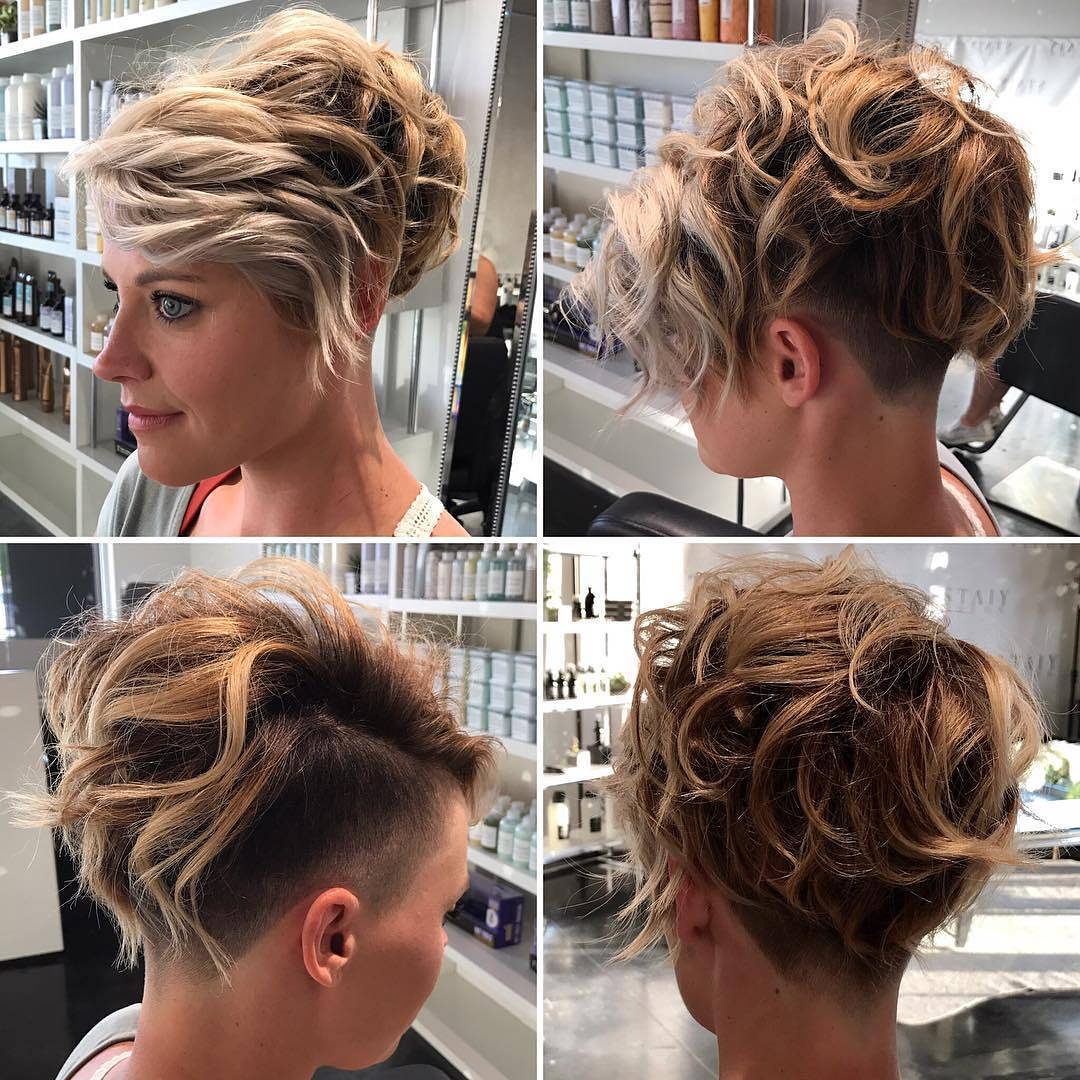 Hair cutting in different lengths is a common thing. But the real question comes when you want your hair to be shaved.
Women at least think 10-15 times before involving any shaving of hair in their styling. If you're going to go along with the shaving trend but don't want to end up in disaster, here, we are for your rescue.
The hairdo involves the shaving of the particular part and specified the length and the result you can see from the above picture.
One side is shaved but not shaved; some tiny bits of hair are left and neatly combed, and the rest of the hair is on the other side left open.
The highlights like the Darker root color and a lighter shade on the top give it a more trending look. You can always style them in your way as here we have added some big curls which are making it a messy look as well as making it a perfect cool hairstyle to wear.
Pink Blonde Haircut
People nowadays are much attracted to blonde hair color. Even the trend of darker colors such as browns and red could not replace it.
Here we bring the twist to the old trend of blonde by adding a baby pink color touch to the trend. The pink touch to blonde is just so adorable.
The side bob cut already gives a confident look, and the pinkish touch adds more grace to the whole look.
The pink shade is perfectly blended with the natural blonde roots to make it look natural, as well. The pink color would complement the light and neutral skin tones.
If you want to stand out in a crowd, this hairstyle is the best. So what are you waiting for just head out to your hairdresser for this outstanding look?
Wavy Bob
The pixie cuts have been popular among women for ages. Lots of women nowadays are going for short hair and bob cut but yet don't know how to make it unique and stylish. Here we have a fabulous way to add charm to your short hair.
This hairstyle is being adorned by many Hollywood celebrities. It involves the twist of curls. The loose curls in the hair just add the right amount of elegance to the look.
This pretty hairstyle can go well with evening party gowns as well as formal wear. This hairstyle is being adorned by many Hollywood celebrities.
Shape to the Head
Short Hair can be commonly seen among women. These are styled either with a center partition or side partition, but here we have brought you a different style without any partition. Just simply combine your short hair backward. It is one of the simplest styles you can adorn.
Hair at the back can be shaved for a cleaner look, but it is always your choice to do so. The front hair has been set with the help of gel or serum to give it a sleek look, just like the shape of your head. This superb hairstyle is one of the looks straight out of the Red Carpet magazines.
We tried our best to bring you the short hairstyles according to each one of your tastes. We collected a variety of short hairstyles that can suit anyone and everyone. You can easily choose according to your vibe and taste because there is a lot for you to choose from.
Make your mind of going short; there are a lot of ways to do so. This will be part of your life that you will never regret. Life is all about experimenting.
I hope you enjoyed coming across all these new hairstyles and hope they helped you with deciding what hairstyle to go for the coming New Year 2021.