Braids are one of the easiest yet classiest hairstyles available for women out there. And while black women with their thick and long luscious hair have found braids to be a blessing, since it helps to keep their hair easily maintained, it is being embraced by women all around the world since it is a big fashion statement too. Braids are an interesting hairstyle that can be styled in many versatile ways. They will most definitely attract attention towards you so here are the best-braided natural hairstyles for you to try out.
30 Natural Hair Braids to Enhance Your Beauty
Long Black Braids Hairstyle
A long braids style like this is a very classic hairstyle to show off your naturally curly locks. This is a style that will allow you to experiment with your volume and length and so you can create a unique look each time. And even if you have shorter hair, you can always add in extensions which have become an integral part of most hairstyles these days. On the front and upper portion, the hair has been styled in short and cute box braids and the rest of the parts; it has simply been tied up in the normal braids hairstyle.
Braided Ponytails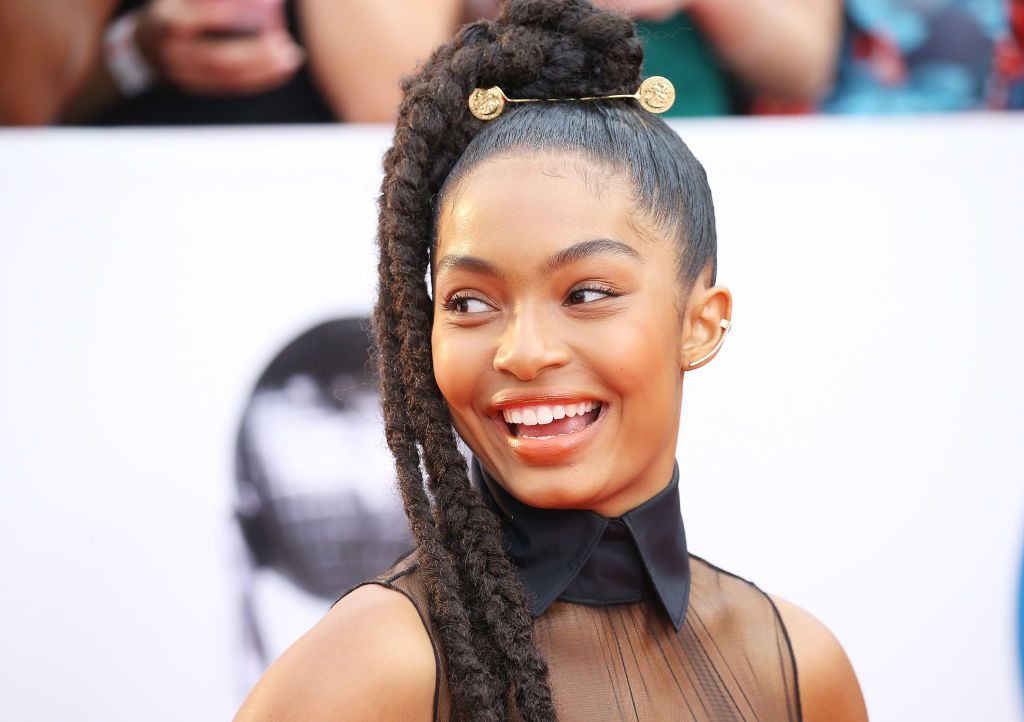 Ponytails are said to be a girl's best friend and when combining it with these beautiful braids, it makes a killer hairstyle. As seen in this style here. Fashion icon Yara Shahidi is sporting a high braided ponytail that looks effortlessly gorgeous on her. You can also rock this hairstyle by simply adding in a statement hair accessory like the one shown here and your look will be completely red-carpet ready. This is a bold hairstyle while also being one of the simpler ones in natural braided styles.
Cornrow Braids with High Twisted Bun
Tying up your hair into a big bun updo like the one shown in this picture is not just a comfortable style, but also one that looks extremely cute too. So if you're willing to tie up your hair and start loving this style, then this adorable hairstyle is just the one for you. The entire section of the hair has been tied up in cornrow braids and then taken together and tied up into a high twisted bun. You can keep this hairstyle for many days so you don't have to worry about styling your hair in different ways each day.
Natural Twist Hairstyle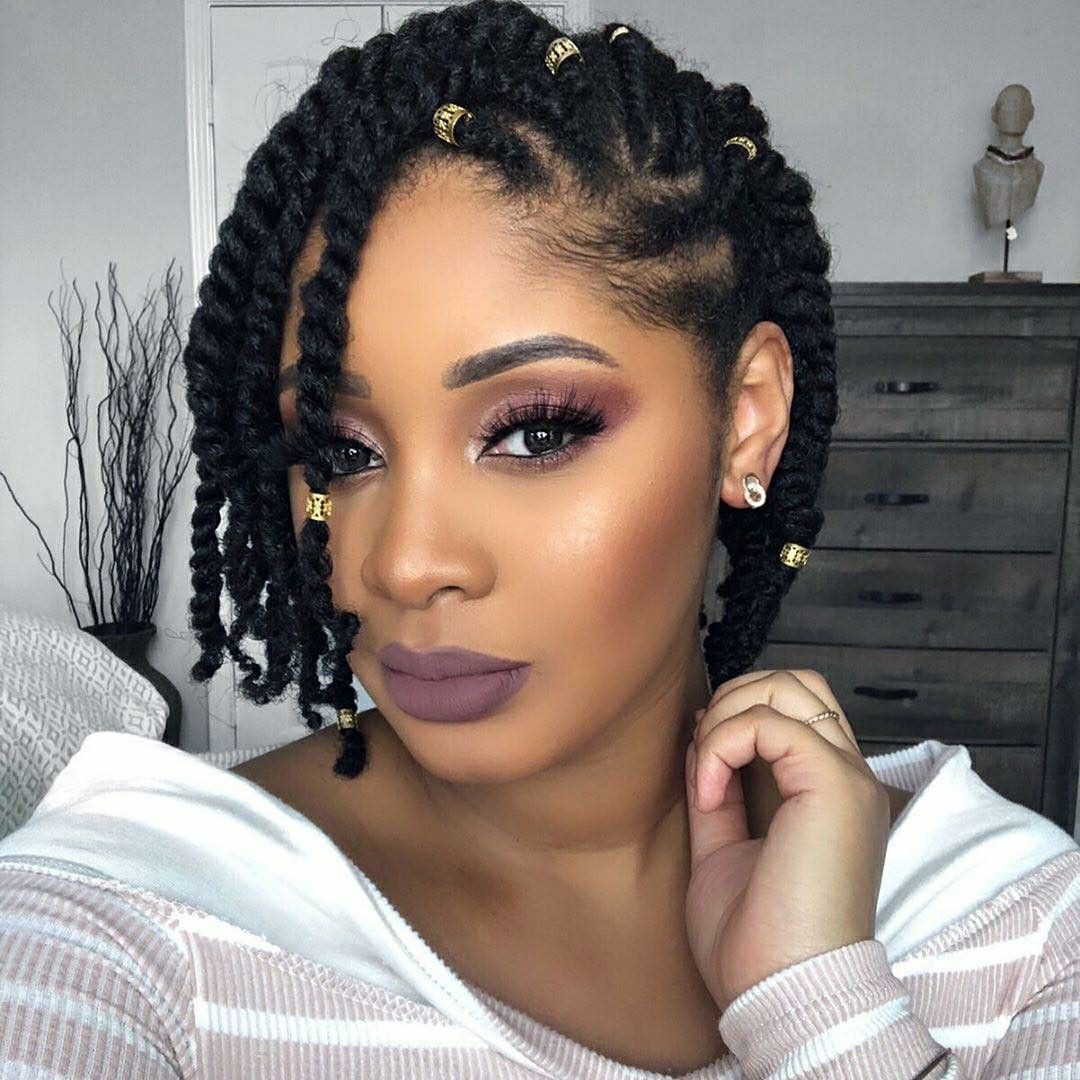 A twisted hairstyle like this one will surely make you look effortlessly chic. It is a dramatic hairstyle that will turn all eyes to you. In this style, the hair has been maintained as a short lob, and the thickness of the hair is very visible through the twisted style. Adding in some cute hair beads will definitely level up your look and add more drama to it. While there are different ways in which you can style these twists, sometimes simply letting it be on its natural hairstyle also looks fantastic.
Long Thin Braids with Violet Highlights
What better way to add a dash of glamour to your naturally black braids than with a pop of bright colors? In this hairstyle, the hair has been tied up by sectioning it into thin and long braids. The hair has been highlighted in a beautiful shade of violet in various places and creates a hide and seek look where the highlights are only visible at some places but in all the right places. A further glam up is added to this look by adding in few statement hairpieces which are also quite colorful.
Intricate Extra Long Braids in a Ponytail
A long braided look like this is sure to turn all eyes on you wherever you go. And when it is a style that was sported by the queen Nicki Minaj herself, it surely became a huge hit. The hair has been tied up in braids that aren't too thick but are not too thin either. It is styled in the high ponytail look, which really does add a bossy look in the overall and helps to accentuate the outfit better too.
Long Box Braided Hairstyle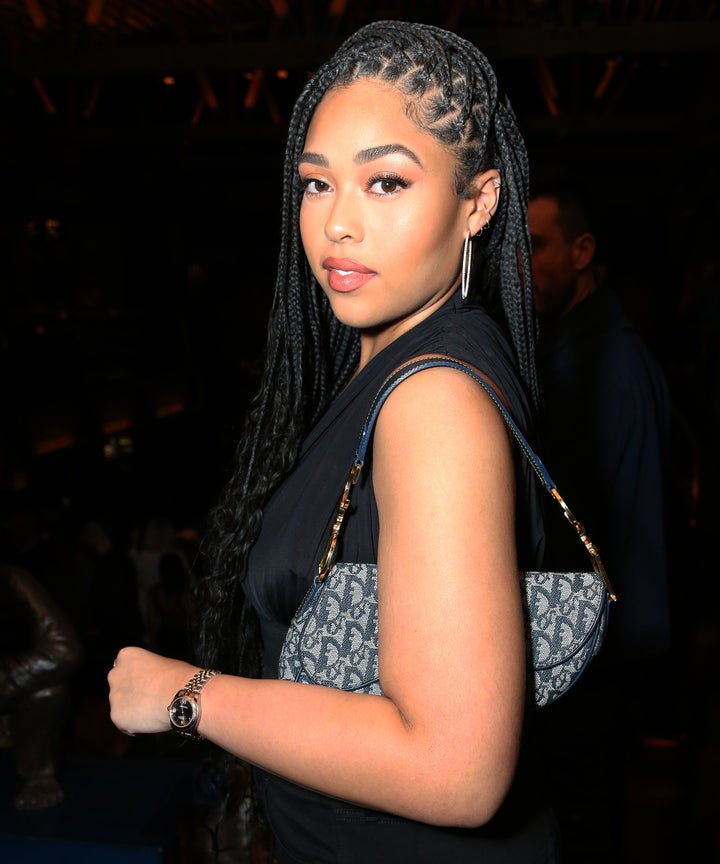 It is an amazing hairstyle for those who are looking for something simple to do with their braids without adding in too much of anything else. While it is not exactly a low-key look, it still looks quite simple and believe us when we say that sometimes simplicity is the best outfit you can wear. On the upper front portion, the hair has been styled in cute and tiny box braids and the rest of the hair has then been tied up in long braids. Some of the hair has also been let down flowing freely thus making the entire look quite interesting.
Simple Knotless Braids
Speaking of simple and minimal looks, this is also another basic hairstyle but one that also looks very glamorous. A hairstyle that will suit all types of hair regardless of whether it is thin or thick. The hair has simply been parted very neatly to both the sides and then tied up in elegant knotless braids. With functional hairstyles like these, you can wear then with any outfit and to any event, even if it's for a party or just going for work.
Chunky Box Braids with Beads
Chunky styles are all the rage these days, with most girls going after it. After the chunky slippers and many other chunky things proved to be a hit, people are now trying out chunky hairstyles like the one shown here. It helps to lift your face and make it look much more defined. On the top part, the hair has been tied up in small box braids and as we come down towards the bottom, the chunkiness and the thickness of the hair significantly reduce to very thin loose hair. Few golden beads have also been added in various places to spice up the look.
Mid Length Hair with Golden and Silver Blonde Highlights
We have all seen blonde highlights as well as silver blonde highlights. While they look quite beautiful on their own, here is a combination of braids hairstyle that gracefully blends together both of these colors. Gold and silver on your hair have never looked better than this. The hair is maintained at medium length and has been styled in the style of the normal braid itself.
Simple Braids Hairstyle for Curly Hair
Here is a great way to show off your beautiful natural curls. Simply tie up the upper portion of your hair in the four braid hairstyle. Braid it all the way back till you reach the tip of your neck, in a length that is suitable for tying up into a low ponytail. And then simply tie it up and leave the rest of the hair flowing freely in its natural state. Your curls are guaranteed to look gorgeous, and you can also wear this hairstyle for parties, events, weddings, etc.
Long Straight Braids
How gorgeous does this hairstyle look? We have to say very much. It is as simple and natural as it can get. Yet there is something eye-catching and ravishing about this look. All of the hair has been divided into thin sections and braided in the same thin style itself. The style has a vintage charm to it and is sure to look great with all kinds of outfits. You need to have hair of at least medium thickness to achieve perfection for this look.
Curvy Goddess Braids
While long and curvy braids like this are a far cry from the original braids hairstyle, they still manage to look quite amazing every time. This is a great and refreshing look with hair that is very closely braided to the scalp, thus showing off a major portion of it. The braids have been beautifully styled in a curvy style to create the required dimension perfectly.
Asymmetrical Curvy Braid
This is another gorgeous hairstyle taken from the curvy styles look book. The hairstyle is simply on point and the model looks straight out of a fairy tale, looking extremely beautiful. This hairstyle can be tried out by those who have thin or medium thickness hair since much texture isn't required here. You can just take few asymmetrical sections of your hair and braid it backward in this curvy hairstyle to get this look. As it reaches the bottom, in the area of the neck, you can tie it and tuck it in with the rest of the hair.
Curly Short Bob
An adorable hairstyle if you have short hair and want to flaunt your naturally curly locks. The hair is maintained at length a little below the ear and barely touching the chin. This helps to make the jaw look much more structured than it actually is. The curly luscious hair has been styled by subtly parting it to both sides, in the style similar to long side-swept bangs. This is a simple and cute hairstyle and if you want to add some bling to your look, then you can either go for few hair accessories like beads, or you can also choose to get your hair highlighted in a beautiful shade.
Wavy Twisted Braids
Well, if your friends and family call you the drama queen in everything you do, then maybe you should try out this hairstyle. Because you don't need to be any less a drama queen when it comes to your hair. It is a bold and cool look that will definitely make you stand out no matter where you go. The middle section of the curly locks of hair has been simply let standing just as it is, instead of tying it up. And the hair on the sides has been divided into sections and tied up and twisted into braids. This hairstyle could also be the female version of the spiky hairstyle which is a favorite among men's hairstyles.
Side Parted Twisted Braids
This is another interesting twist to the chunky hairstyles look. The hair is very visibly thick, and to protect and maintain such voluminous hair with some style, there is no better option than tying it up in a cute braids hairstyle. The hair has been side-parted and also divided into thicker chunks or sections. This is a look that is sure to look great for weddings and parties because it has a charm to it that is very irresistible. You can also wear this look for casual outings and not have to worry about styling your hair differently every other day.
Short Braided Hair and Natural Curls
A fun and interesting way to style your hair if you want to flaunt your naturally curly hair. The hair has been divided into many sections and all of these sections have been tied up into uniform braids. A part of the hair. Probably, on the area below the neck has not been tied up and instead is simply let down. Instead of the usual style of letting it down freely, it has been brought towards the front and simply tied up and placed on the top.
High Braided Bun
This is another natural and easy way to style and protect your hair. Natural hairstyles have this authenticity about them that you cannot find in other hairstyles, even complex hairstyles or just artificial styles with extensions, in general. The hair has been divided into thick sections, and all of these sections have been bought together into a huge and high bun on the top. The natural twists of the hair look extremely gorgeous even if the hairstyle is a very basic one.
Low Pony and Bun
Usually, most hairstyles feature either a bun or just a ponytail where the upper section of the hair is styled beautifully, and the lower section is simply tied up. Witnessing both of these styles in a single hairstyle is rare, and that is also the reason why it is such a refreshing look. The hair has been tied up into a high bun on the top, and the rest of the hair below has been styled in a low lying bun. This style is surely a great combo that gracefully blends together both the styles without making it look too made-up.
Thin Braids with Gorgeous Beads
While most braid hairstyles focus on the complexity of the braids more than the accessories, this one here is an interesting twist to that concept. The style of the hair is quite basic and is maintained in ultra-thin braids. All of the braided hair has then been taken back and simply tied up into a low bun. A few strands of hair on the face though, have been left flowing freely. Not only do they help to accentuate the facial features, but the hair accessories done on those face framing layers also look simply extraordinary.
Chunky Box Braids with Hair Bobbles
This hairstyle could literally be the most fun and cool one to try out from this list of braided styles. And the fact that a hair influencer herself popularized this hairstyle makes it all the more special. The box braids have been styled in this adorable way of tying them up into chunky and thick braids and then hair bobbles in a vibrant shade of blue have been placed on the top and bottom of each single braid. Not only does this create a very playful look, but it is also great at protecting such hair.
Short Bob Hair in Neon Orange
Braided and protective hairstyles like these are almost always found to be experimented and styled on long hair, so seeing this style on a short bobbed style is very refreshing and makes it look unique. Well, it is actually unique too, especially with those neon orange classic highlights that have been dyed all over the hair. The box braids have been maintained very well by keeping it at a short length and has been secured with elastics of various colors at the bottom.
Simple Curly Braided Crown Hairstyle
A fabulous way to style your hair if you have medium length curly hair and are looking for ways to protect it in style itself. In the upper section, the hair has been tied up in horizontal braids and the rest of the natural curls haven't been tied up and are simply flowing freely in its natural state. The whole vibe about this look is all about summertime and beaches and in general, just having fun and relaxing. A must-try hairstyle if you think you are the queen of braided styles like these.
Classic Bun Braided Hair
To show off your beauty and elegance as a woman, even if you have naturally curly hair, there is no better hairstyle than this one. The hair has been divided into sections and braided backward in the style of cornrows. They have been tied up very neatly thus only adding towards the perfection of this look. The braids have then been taken together and tied up into a low and gorgeous bun at the bottom area. A hairstyle that is so much simple yet has people all over the world trying it out due to its classiness that is simply undeniable.
Blonde Thick and Thin Braids
This is one killer hairstyle to show off all that beautiful blonde color of your hair whether it is natural or you dyed it. On the front and top section, the hair has been divided into few very thin sections and the rest of the hair has then been tied up in much thicker braids. This hairstyle is surely a work of art and a purely golden style that looks amazing. Be it to a wedding, a party, a casual outdoor hangout or even to your workplace, this style is surely your best friend.
Blonde Faux Locs
A hairstyle that features further extensions yet it looks simply stunning. The hair has been tied up in a twisted braid manner and then bough together into a bun at the upper portion. Gorgeous blonde faux locs have then been added to the hair. They help to add not just volume and length to the hair but are also a great way of protecting your natural hair from heat, pollution, etc. This is surely a killer hairstyle that you really need to try out.
Fluorescent Pink Bob
Another brilliant hairstyle that is all about bright and beautiful colors. The hair has been maintained at shoulder length itself in a short bob and has been tied up in the style of braided bob plaits. The styling has been done in an asymmetrical and curvy manner, which makes it look all the more interesting. The best part of this style is the neon glow that is coming from the beautiful fluorescent pink highlights that have been dyed all over the hair. The ends of the braids have been neatly snipped short and secured with elastic bands.
Long Bohemian Braids
Bohemian styles leave their mark everywhere in any possible way and that is one such mark that they have left in this beautiful vintage hairstyle. It looks very charming and pleasing to the eye. While some parts of the hair, especially on the upper section, have been tied up into very thin braids, the rest of the hair is simply let down as it is, in its natural wavy texture. A very chic look has been created here by adding in some twisted elastics on the upper braided section of the hair.
Golden Box Braids
As the saying goes, always save the best for the last. So if you think these braided styles couldn't get any better, well, then you are in the wrong because we have definitely saved the best-looking braid style for a final climax. Seriously though, the beauty and complexity of this hairstyle are very stunning and will surely make you think twice if you have already made a decision to try out another hairstyle. The hair has been dyed in a beautiful shade of golden brown and tied up in adorable box braids.
Getting protective braided hairstyles like these is quite a task since sometimes it can take hours. So it is only necessary that you style it in the best way possible to make an effort worth all of it. We hope that this list of some of the best-braided hairstyles will definitely help you in choosing a style that will not protect your hair, but also help you to stay ahead in the fashion game.