Long Haircuts for Thick Hair are becoming extremely popular and these are now quite easier to maintain as well. These thick hairstyles can be worn by anybody, even those who really do not have real long and thick hair. These thick hairstyles can be worn short, long, or even middle length, and look great for almost at any occasion.
The Hairstyles for Thick Hair can always provide you the absolutely stunning and gorgeous look. Long hairstyles for the thicker as well as blonde hair are naturally easier to manage, as the length of the hair helps to just weight down the strands and keep them free. These entire long and tight strands are well-known for their beauty. This look can be more beautiful along with the right cut and use of the small curling iron at the ends as well.
If you have the beautiful blonde hair, you have to make sure that you are choosing the right smart hairstyles, which will match your face shape easily.
18 Hairstyles For Thick Hair To Beautify Your Look
Long Wavy Balayage Hairstyle
In this specific gorgeous hairstyle, the entirely full bangs of Long Wavy Balayage Hairstyle are actually balanced along with the light brown balayage highlights. They are getting fuller towards the ends as well. The Long Wavy Balayage Hairstyle comes with the gorgeousness and classiness. Make a middle part and make the ends of the hair strands curly to create this hairstyle. This is an absolute attractive idea of how to make your hair fairly bright.
Long Layered Brunette Hairstyle
If you have a brown, blonde and long hair, you can choose this particular hairstyle. It is quite easy to manage and you can try this with any outfit. Make a middle part and keep the remaining hair right beside the hair to create this hairstyle. The hairstyle gives you an amazing boldness and you can try this at party or event.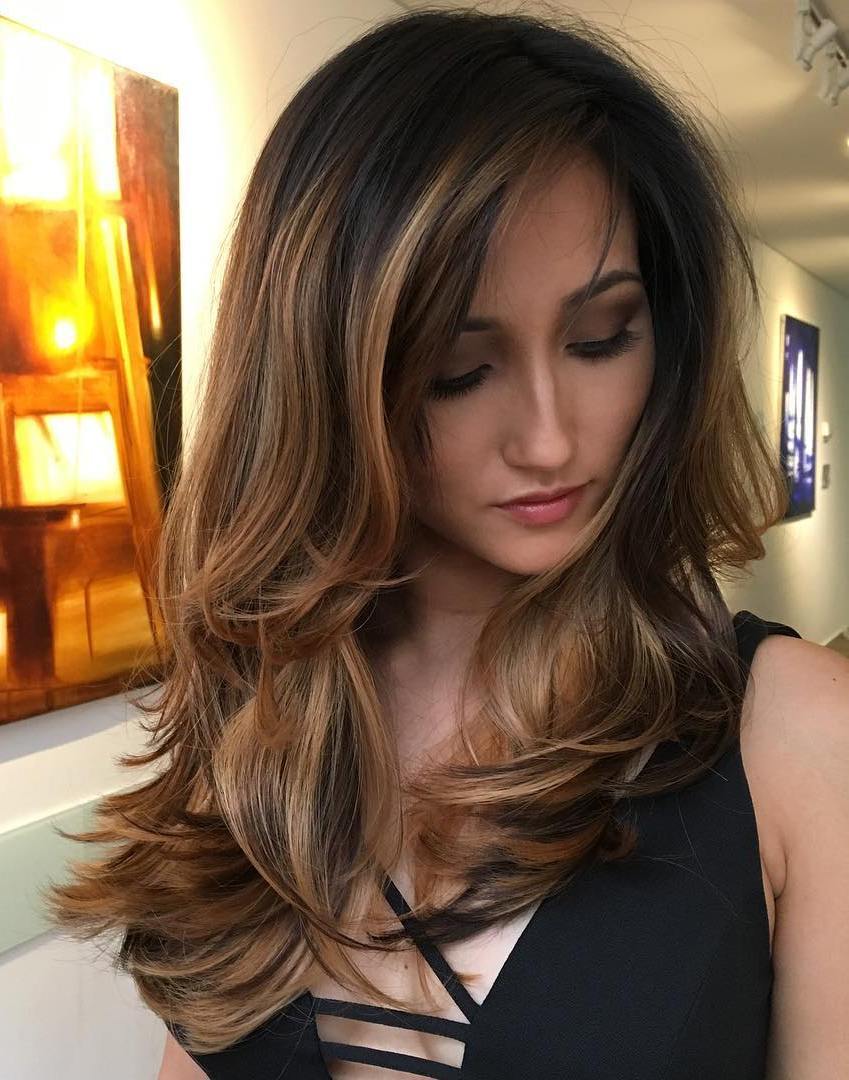 Shoulder Length Layered Hairstyle
The shaggy, long layers and the soft side bangs are the key elements of this adorably cute hairstyle. All these light brown shaded layers here start at the cheekbones and then go all the way right through the ends. The light brown and black shade is quite flattering to match any of the complexions. And it provides you the elegant and classy look too. You can try this if you have a long and thick hair.
Ombre Bob Haircut
You will surely notice the shorter layers, which is cut up to the cheekbone level and the side sweep makes the faux angled bang in this style. Some soft and cute curls at the end of your hair stand classy amongst all. Make a middle part and do some light shaded brown color at the end of your hair. The more layers can increase the volume, and make the thick hair perfect for the candidate looking for such a cut.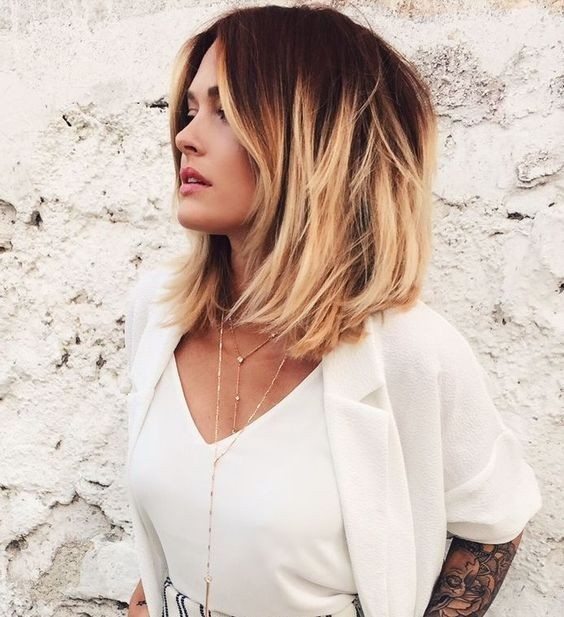 Medium Blonde Haircut
When you are actually opting for ravishing and stunning hairstyle, you have to make sure that you choose the right one according to your face shape. A traditional Medium Blonde Haircut is actually finished off along with some bangs. This hairstyle looks absolutely beautiful and cute on your personality. Make your hair absolutely straight and make a middle part to create the style. The hairstyle is also easy and simple to manage.
Shaggy Layered Haircut
One of the major goals of the layered and long haircuts is to have as much movement as possible and this explicit cut definitely fits a bill. The key point of this hairstyle is its ultimate crown section, which enhances the beauty along with the long bangs. The Shaggy Layered Haircut can actually enhance your prominence and then flaunts your look and personality easily. This beautiful hairstyle provides you the fascinating look.
Wavy Lob Haircut
Loads of layers in various lengths add so much visual interest to this finicky cut. You can simply use some of the gorgeous texture cream to only get the messy look that still leaves you in control over this mellow and soft ends with the razor. This Wavy Lob Haircut assists you to look absolutely ravishing and stunning as well. If you have a long blonde hair, you can try this hairstyle with any of the outfit.
Edgy Bob Haircut
Edgy Bob Haircut hairstyle is quite finest for the girls with oval or "v" shaped face. This popular Twiggy reminiscent haircut is an excellent combination of the pixie and bob cut hair style. The front part hair is cut in short length along with side swept bangs and longer in the back and the surrounding portion of ears. This particular look is quite perfect for any occasion.
Layered Black Hairstyle
Each and every individual opts for the polished and smooth look and that is why they think of having the outstanding hairstyle like Layered Black Hairstyle. A more polished look can be accomplished by going with the slightly angled cut with the layers that are softly tucked in. Make a side part on your black hair and then brush it well to get an elegant and classy look.
Shaggy Bob Haircut
If you desire to turn all heads, then blonde hair with wavy layers is the perfect choice for you. This is a popular hairstyle and is often depicted in the fantasy movies. It looks quite better if you have the medium to long length hair. Unlike the most of the other layered hairstyles, Shaggy Bob Haircut looks good on the women who have thin hair volume.
Long Straight Thick Hair
Do you have blonde, straight and beautiful long hair? Are you running out of the ideas on how to style it? Well, Long Straight Thick Hair can be an excellent option for you to look perfect. By coloring and texturing the front part of the hair with brown color, you will be able to stand out prominent in the crowd. Make a middle part and keep the straight hair as it is to create the style.
Side Part Medium Length Hair
The Side Part Medium Length Hair is the amazing and ideal haircut for women who want to get a casual yet classy appearance. The frontal bangs will surely mask a part of your brow and the side layers will encompass your cheeks. Both side parting as well as middle parting style will look good in this cut. The successive layers will give an illusion that you have a thick hair volume.
Hairstyle for Thick Wavy Hair
This blonde hair color is the final standout features but this specific cut is also extremely gorgeous and attractive. This Hairstyle for Thick Wavy hair is absolutely perfect for the girls with medium or long hair. The side parted hair is styled along with the voluminous bang to create an amazing look.
Blonde Wavy Hair
Whoever said that medium length hair actually cannot give you a glamorous look, did not know about the messy wavy haircut! The Blonde Wavy Hair sports the beautiful layers that do not have a specific set pattern. It looks the best on the people with curly or wavy and short length hair. Due to some of the messy layers, the hair stylist will be able to create an illusion of thick hair volume.
Choppy Bob
If you have the medium length hair and you are actually not in a mood to compromise with it then, ask your hair stylist to give you the messy shoulder length hairstyle. The proper wavy nature of your hair will surely complement your looks and facial structure. Due to the non-symmetrical layer pattern, you have no need to brush the locks constantly. Just run your fingers through the strands and you are all set.
Combed Back Hair
This Combed Back hairstyle is the best suited for you if you have an oval shape face. The hair is needed to remain straight and brushing back is needed to be done in this style. Even, the hair in the front has been cut into layers which fall around the face. The rest of the hair remains up to the neck length in this cut. Brushing back your blonde black hair will surely help you to look funky and beautiful.
Pixie Haircut
Pixie is a new trendsetter in this recent world of hairstyle for women of any age. This particular hairstyle will make you look younger and cute than ever. In this style, the side and front swept part of hair will be longer. But the side and the back part will have less length. Brush your hair well and in front of the forehead it will give you a polished and smooth look.
Long Bob Cut
The Long Bob Cut is another style, which never goes out of fashion. It also looks best on people who have an oval shape face. Its sides have the sharp cut and these layers fall gently on your cheeks. This particular cut will help you to look stunning in the crowd.
These styles do not even need a huge maintenance time. But before knowing anything, you cannot select a proper hairstyle for any purpose.
18 Hairstyles For Thick Hair To Beautify Your Look
was last modified:
March 7th, 2018
by