If you believe that having short hair limits your choice of styling, then you cannot be more wrong.
Be it a formal event or an informal one; you can rock it with short curly hairstyles. Sport your short hair with style, confidence and elegance. You have an infinite number of choices laid out in front of you. Choose the one that suits you or experiment with many different styles and decide which one suits you best.
25 Awesome and Latest Short Haircuts for Curly Hair
Curly Hair Pixie Cut
What can be more adorable than a curly hair pixie cut? Usually, people love long locks; however, cute curly short hair can give you a fabulous and fashionable look too. Fortunately, curly hair looks good on every person and works with every frame.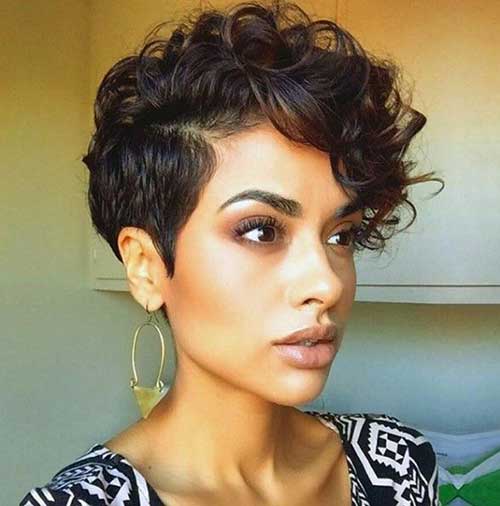 Bob Cut for Curly Hair
Sporting a bob cut with curly hair is a trendsetter. Considered as appealing, it will give you a new and confident look. Also called as luscious curls with chic bobs, this hairstyle offers you a playful look.
Side Parted Curly Hair
Let your curls take the front stage. Pin your hair to the side and sport this look with confidence. This hairstyle gives you a professional as well as a sassy look.
Messy Wavy Curly Hairstyle
Sporting a messy hairstyle at workplace will pack a punch with your peers. Having a messy hairstyle with a wavy, curly hair can do wonders.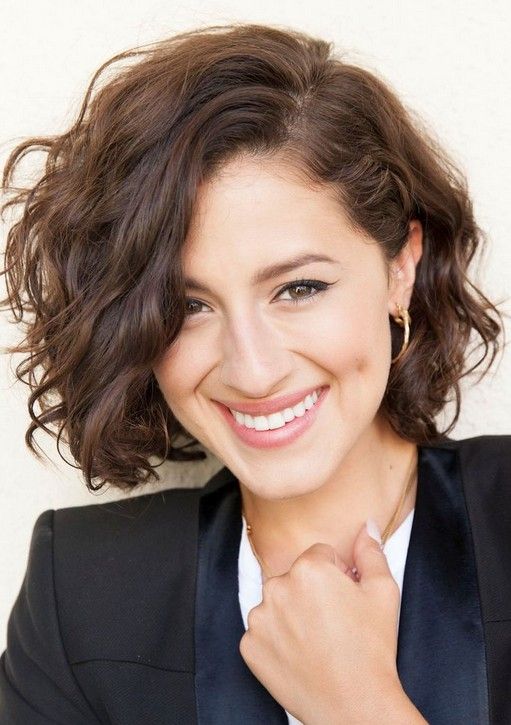 Asymmetrical Short Curly Hairstyle
Looking for something new and innovative that is unique and at the same time exceptionally fashionable? The asymmetrical short curly hairstyle is the one for you. Sport it with elegance and charm.
The Undercut
Want a sophisticated look that stands out in a crowd, then go for the undercut. It is the most sported haircut of all times. With numerous variations, it is unique and gives the person a classy look.
Short Curly Hairstyles for Black Women
Short curly hair is prevalent, and there are many hairstyles for people who have a short and curly hair. A few of them include wavy sassy bob, curly bob, lifted wavy bob, short curly layers and the list goes on. Choose the one that brings out the best in you.
Short and Choppy Waves
Considered as one of the most elegant hairstyles, it will add a few extra points to your personality. The natural, tousled wavy look is the most sought-after look. So if you are on our way to the beach, make sure you have a choppy wave hairstyle.
Side Swept Pinned Hair
This is one of the best hairstyles to do, which is suitable if you are on your way to the party or on your way to work. Nothing matches up to side-swept pinned hair. If extravagance is your thing, then pinned hair should be number one on the list.
Chopped Brunette Curly Pixie Hair
Women sporting this look will steal the show. Go for this adorable look which is hassle free and easy to create. Stylish, quirky, beautiful, are just a few adjectives that are associated with people who sport this look.
Short Pixie
Pixie hairstyle is known for being quirky and giving the bearer a fun and outgoing look. This is one hairstyle that does not need a lot of time to set, just get out of bed and get going. Fun loving and outgoing are what this hairstyle will convey.
Short Wavy Curly Hairstyle
If you are one of those who thinks wavy hair is only possible for people with long hair, then you are hugely mistaken. Short wavy curls are the new trendsetters and have taken the fashion industry by surprise.
Combed Back Short Hairstyle
If you are looking for a hairstyle that gives you a look of professionalism, authority and order, then go for combed back short hairstyle. This is the right hairstyle for work.
Blonde Curly Hair
Blonds and curls area combination that goes extremely well and compliments each other. This hairstyle will give you an eye-catching look and will turn heads.
Short Layered curls
If you are looking for a comfy, fashionable and distinctive hairstyle, short layered curls should be your first choice.
Curly Bob for Older Women
Usually, curl bob is sported by the young and the bold. However, older women all across the globe have proven that age is no bar and have sported the curl bob with grace and elegance. So if you are looking for a new hairstyle to experiment with, go for the curly bob.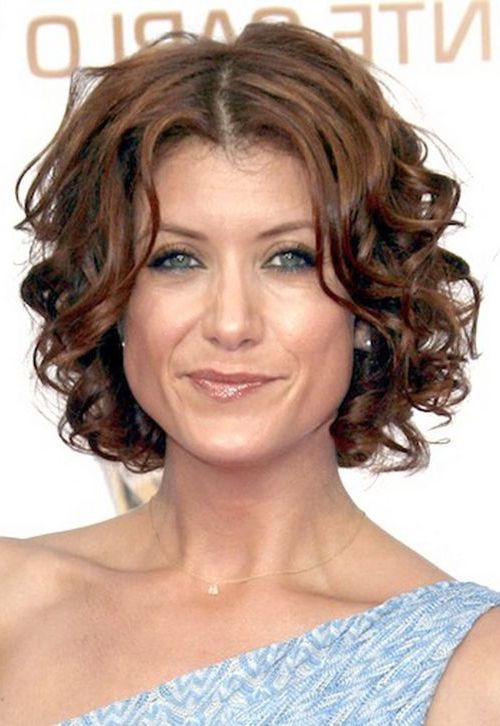 Blonde Curls
Blonde curls are attractive, trendy and give a sparkle to your hair.It gives a gorgeous look and is suitable for every occasion.
Pixie with Curls
Being ever ready is the dream of every girl, and with pixie hairstyle, you can go anywhere anytime without spending any time on your hair.Pixie haircut is one of the most sort-after styles. When combined with curls, it takes your look to a different level.
Messy Bob with Curls
Sporting a bob is a fashion statement. And having a messy bob with curls gives you a fresh and trendy style. Messy hair has always attracted a lot of attention and when combined with curls can make for an outstanding look.
Layered Curly Hair
Curly hair is a boon in disguise. When coupled with a layered cut, it gives a natural charm. So go out there and sport your lovely lady locks for the world to see.
Side-Swept Bangs with Wavy Curls
Bangs, waves and curls – the most desired combination by all. Do not overthink, just go with the flow. This gives an amazing structure to your curls.
Frizzy Curly Hair
One of the new trends in the fashion industry is sporting a frizzy curly hair. With your curls flying around, it will give you a sleek, new and a bold look. Good looks are something that accompanies this hairstyle.
Keri Hilson Curly Hairstyle
Keri Hilson is considered a fashion icon and her hairstyles are the most sought-after styles. Get ready to rock your look like Keri Hilson's curly hairstyle will give you a unique and funky look.
Wind Blown Curls
Windblown curls give you a bold and messy look. Get those curls bouncing and ready to rock. Make sure you blow dry your curls for a sufficient amount of time to excel this look.
Retro Ginger Bob
Inspired by the Hollywood age, this hairstyle will give you a vintage look. This hairstyle has been inspired by Ginger Rogers and gives your hair a quirkier and curlier style. A hairstyle that works well with every outfit should be tried out at least once.