It's finally the year 2021. Not only are we entering a new year, but it's a whole new decade as well.
Styling plays an important role in today's world, and as a result, to keep up your personality and attitude, it always helps to know and be aware of the latest trends in the industry.
In this article, we have curated about 30 different hairstyles for men that will surely level up your style quotient in 2021.
30 Mens Hair Trends – Mens Hairstyles 2021
Short Blonde Hair
This is one of the best hairstyles for men who like to keep it neat and minimal. The length of the hair has been cropped shortly and suitably that also goes along well in defining the thickness of these locks.
And the faded yet golden blonde highlights on the upper section of the hair only prove how coloring and highlighting look gorgeous on men just as much as they do on women.
On the upper section again, the hair has been maintained in long lengths that fall gracefully across the face and towards the sides, the style resembles an undercut with very short hair.
Stylish Hair with an Undercut
Well, this will not be the first time that you see this look since obviously it is one of the most trending looks in hairstyles for men, with everyone from young little boys to older men trying it out.
It may look quite simple but we have to admit that as simple as this style gets, it definitely has a hint of sophistication to it that simply makes it stand apart from the rest of the hairstyles.
The upper portion of the hair has been maintained in thick locks of hair while the sides and the back have been cropped into a no-fade undercut.
Side Parted Undercut
Another one from the various ways in which you can style your hair with an undercut. This one is also a classy look that will help you to look effortlessly stylish.
The hair has been neatly parted to the sides, and while it has been maintained in those long layers on the longer side, the hair has been cropped very short on the other side.
This then transitions first into a slightly faded undercut and then towards the bottom into a zero fade undercut.
Short Hair with Faded Undercut and Beard
Nothing to make a man look more stylish and classy than a thick beard and a cool hairstyle. It's just the perfect combo to take your look to the next level.
The length of the hair is quite short on the top and has been styled in beautifully falling tresses. The subtle transition of the hair from thick locks of hair on the top to a faded undercut is simply ravishing.
A great hairstyle that gives you a laid back and stylish vibe without having to put in any effort really.
Side Parted Wavy Hair
This is one of those looks that took the internet by storm when it was first introduced. And if we take a closer look, we can surely understand why people went so crazy over this look. It is purely a work of art.
The hair has been very neatly parted to the sides and on the longer side, it has been let down falling in loose and soft waves that really frame the face and highlight your eyebrows.
On the shorter side, though, it is a slick look with a beautifully faded undercut which only gets lighter on the area around the ears.
Textured Undercut Hairstyle for Men
Looking for a classy hairstyle but with an element of fun to it? Then look no further because this might be just the look that you have been searching for. It looks dashing yet doesn't make you look too sophisticated for people to approach you.
On the top, the hair has been styled with short and crisp layers of hair just falling loosely while on the sides, the hair has been styled in a textured undercut with not much detail of perfection given to it, thus making it look kind of like a messy hairstyle.
High Fade and Side Brushed Hair
On the side, the hair has been styled in a high fade manner and has been slickly pulled back on the too to achieve this hairstyle.
This really has an edge to it since it has been done with much perfection that surely gives you leverage on anyone if it's about looks and style.
The high fade undercut has also been combined with a side brushed hairstyle on the top, and both of these hairstyles surely make this one a killer hairstyle.
Thick Wavy Hair
This is the kind of hairstyle that dreams are made of. It is simply flawless, and the more you look at it, it only becomes more and more stunning.
The perfect hairstyle for those who have really thick hair and are looking to maintain it in quite a stylish manner.
The long layers of hair on the upper middle portion have been beautifully styled so that it falls perfectly and the rest of the hair has been cropped into short and crispy layers on both the sides and below the upper middle portion.
Short Blonde Men's Hairstyle
Are you a blonde with short and thick hair but with no idea about how you can style it? Worry not because this list is widely varying and surely includes solutions for almost anyone with woes on how exactly they can style their hair.
The hair, as you can see, has been cropped into short yet crispy layers on all sides of the head. The blonde richness of the hair surely stands out with a hairstyle like this.
Pair it with a beard or even without a beard and we can surely say that no matter what style or outfit you choose, this hairstyle will surely go very well with all of those.
Thick Hair with Neckline Undercut
Undercuts can be styled in many different ways, and this one here is a testament to that. It's a cool and hip hairstyle and one that is quite rare too, so you don't have to worry about your style looking similar to somebody else's.
On the upper portion right till the area below the ears, the hair had been maintained in very thick and wavy locks and with a slightly faded undercut.
And below this portion, the undercut has been styled in quite a peculiar shape. You can ask you, stylist, to also do it in any style that you see the most suitable.
Messy Quiff Hairstyle
It is another hairstyle to try out if you are looking for a classy and stylish haircut, but with a playful hint of messiness too.
The upper portion of the hair has been styled in a messy quiff style which is also another trending one in the industry these days. Best suited hairstyle for younger men and boys.
Towards the bottom, the hair has then been styled in a faded undercut which helps to give a clear and bright look to your overall hairstyle. It is also super comfortable despite the messy outlook it actually has.
Short Cropped Hairstyle
This is a variation of the classic Caesar cut hairstyle and is most popularly known as the French cut style. It gives a neat and clean look especially with the hair cropped really small.
It is one of the easiest hairstyles when it comes to maintenance and styling. In the middle, you can notice a long-hem and towards the bottom, it has been styled in a faded undercut style.
This hairstyle is also best suitable for those who have really thick locks of hair.
Taper Haircut with Long Layers
A tapered haircut is the best idea if you are searching for a hairstyle that is the perfect combination of both a tapered and faded hairstyle.
Not only does it help to produce a very visible length course, but it also looks absolutely stunning uniquely if you have styled your hair with long layers on the front portion.
But the length obviously gets shorter as it comes down towards the bottom and the sides. It has a great hint of sophistication to it that is simply undeniable.
Mohawk Caesar Haircut
The Mohawk haircut couldn't get any cooler when combined along with another favorite style, which is the Caesar cut.
Hair in this style is kept short and on the upper portion, it has a punk vibe to this style with the faux Mohawk cut.
This is a great hairstyle to show off your bold attitude without having to put another effort for the same. And on the bottom and side, it has been styled in the classic faded style itself.
Shaved Hairline and Drop Tapered Hairstyle
This could literally be the coolest hairstyle for men out there because surely there is something irresistible about shaved lines on a clean and clear head.
Not only will it make you stand out with your own personal touch to your hairstyle, but it's also quite funky and a fun hairstyle that will give out major fun-loving vibes.
Just the modern hairstyle needed for this decade's modern men. This is also a great style option for those who have long hair and are looking to keep it with low maintenance.
Pompadour Hairstyle for Medium Length Hair
Not all men like the idea of keeping their hair too long or keeping it too neat and short. Well, that's where the medium length hair comes in.
There are so many ways to style your hair, given it has a considerable length. This pompadour style as shown here is also great for those who have thick strands of hair too.
Pompadour hairstyles are taking over the trends again and this time you can fully trust it to look classy without being too high-maintenance.
Grey Men's Hairstyle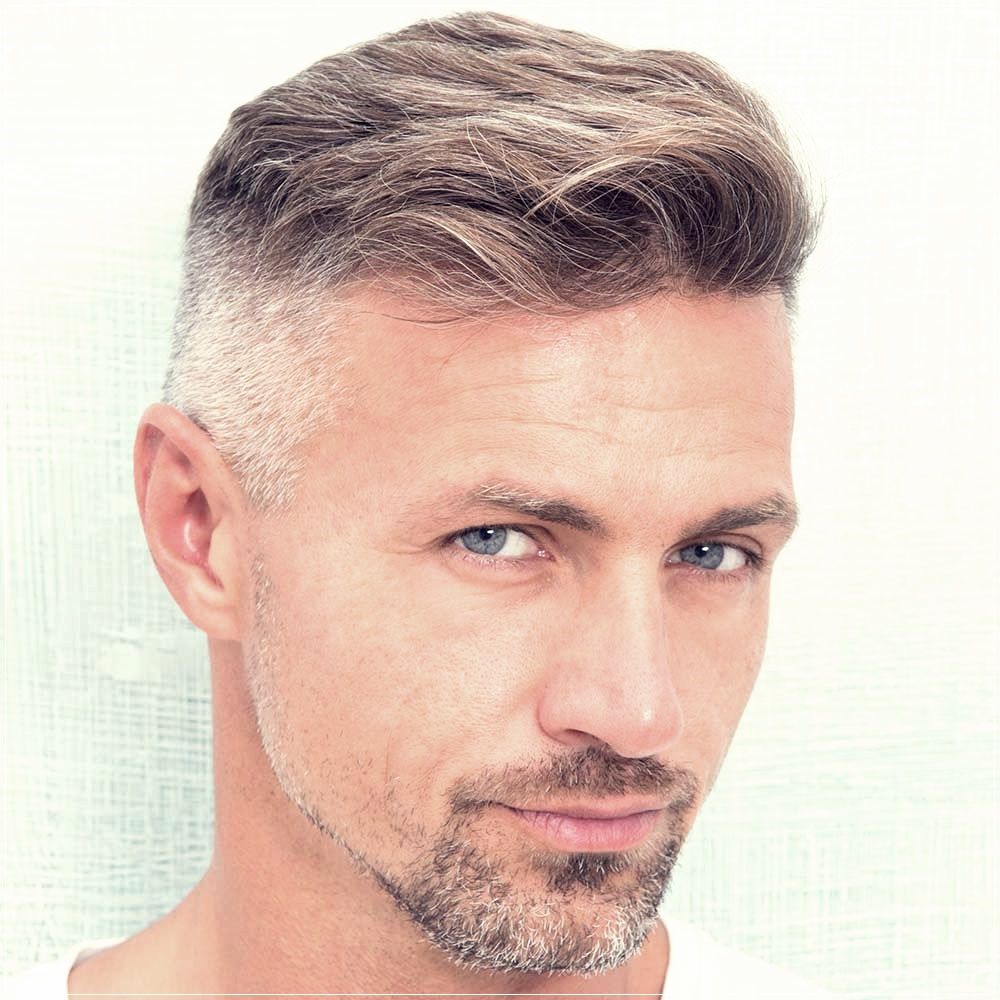 Who said that grey hair is only suitable for older men, and most importantly, who said grey hair has anything to do with aging?
Well, in a way, it does. But when it comes to fashion and styling, age is no barrier so that shouldn't hold you back from getting a cool and trendy hairstyle like this one here.
It is one hell of a classy haircut with medium length layers of hair on the front and a faded style on both sides. The hair is not entirely grey and only in some parts and this helps to add a bright and vibrant look to the overall hairstyle.
Wavy Pulled Back Hairstyle
Shawn Mendes is one gorgeous human being, and with this dashing hairstyle, he only looks more incredible. It is a great hairstyle choice for those who have medium length curly or wavy hair.
Hairstyles like this are great at defining your jawline and perfectly framing your face. These hairstyles are anything but boring and we're sure it will look great on you.
Taper cut hairstyles like these are hugely trending and are sure to trend for a long time this year.
Cool Pulled Back Hair with Undercut
This Mohawk style inspired haircut is definitely one that has been serving looks, be it on younger boys or even older men. It definitely has a classy vibe to it and simply looks quite stylish.
Not exactly a faux Mohawk style, the resemblance it has to the style while also looking unique is what makes such a style stand out.
The slightly faded undercut only highlights the long layers of the hair on the upper portion and make it look much better.
Long Slicked Back Hair with Faded Undercut
The long layers of straight hair have been neatly pulled back in the classic men's slicked-back hairstyle. One important thing to consider while getting a style like this is to check if your hair has considerable texture to it.
Texture plays a key role and without it, it's impossible to achieve the perfection of this look. Although it's been slicked back the hair has been let down flowing loosely and on the sides, it is complemented with a slightly faded undercut.
Medium Length Wavy Hair
Quite a refreshing look from the rest of the hairstyles mentioned here since there is something raw and natural about the beauty of this look.
The hair on the top has simply been maintained in its natural texture and to make it look more defining; it has been cropped in medium length layers.
The rest of the hair and the beard also goes really well along with the jawline and to accentuate the facial features. The style gives a naturally messy look at its best.
Cool Mohawk Style with an Undercut
This faux Mohawk hairstyle couldn't get any cooler than this. Almost all times, stylists choose to pair Mohawk styles like these with a clean undercut but as shown in this style here, it's taking a different route from the usual hairstyles with a skin faded undercut.
The grey and black combination also adds a hint of drama to the overall look combined. It's always suggested to use a grooming cream or a light hair product to keep the glow and shine of this look.
Long Mohawk Hairstyle
The highlight of this hairstyle is definitely the long Mohawk hair which goes really well in contrast with the faded taper style that is seen on the sides and the extremely thick beard that covers a huge part of the face.
This hairstyle is a brilliant combination of 3 different hairstyles – high taper, long Mohawk, and a long-bearded style. Combining all of these styles together, the stylist or the barber has definitely created a look that looks like purely art.
Cropped Look with Contrasting Color
Just the hairstyle that you'll need if you are looking to make a rather bold style statement about yourself. Everything about this look is purely refreshing and a great sight to the sore eye, especially with vibrant color painted on one half of the head.
Unique looks like these are more and more being embraced by individuals who wish to stand apart from the rest of the crowd.
The hair on the upper section has been styled in a very trendy crop hairstyle and one half of this crop has been beautifully painted in a contrasting color.
Mullet Hairstyle on Blonde Hair
It's an old and classic look that was much loved many years ago, but with the recent trends, it looks like this style is coming back into this decade and is here to stay for a longer time.
The blonde mullet hair is definitely making a stylish come back but with its own twist to it.
On the top and upper section, the hair has been maintained in short layers and receded graciously towards the back. On the sides, it has been styled in a skin faded undercut.
Mid Fade Hair with Short Curls
For those men and boys with really thick and textured hair, this is just the hairstyle that you need to tone down any excess volume or thickness and keep it low-key and stylish as well.
Not only does this hairstyle help to show off the full growth of your hair, but it also ensures that it is kept neat and clean without any drama.
The fade is also quite cleaned with small shaved lines on the back of the head. Use a razor to define the area neatly.
Messy Blonde Faux Mohawk Haircut
The style is worn by David Beckham, a true style icon. While this is one of his older looks that he sported when he was much younger, this is also another old and popular hairstyle that is making a comeback to this decade.
The messy hairdo simply has a boyish charm to it that is simply irresistible. The blonde locks of medium length hair styled in this faux Mohawk hairstyle are one trend that everyone needs to try out if you like experimenting with your hair.
Spiky Hairstyle on Long Hair
Looking for a fun and cool hairstyle that also has a hint of dramatic and edgy to it? Well, your search must end here because how cooler could this hairstyle possibly get?
The long layers of hair on the upper section has been prettily styled into long spikes that definitely stand out.
This hairstyle will most definitely turn all heads to you no matter where you go. And the contrast grey highlights on the upper section make it look all the more stunning.
Medium Slicked Back White Hair
White and grey colored hairstyles are only getting more creative and fun looking each day and this style here is no exception to that fact.
It simply looks amazing especially with all that stark white color that adds a beautiful glow to the face of the beholder.
The slicked back hairstyle here is combined with faded sides and a really textured upper portion of the hair. A fresh and clean hairstyle that will make you look dashing.
Side Parted Long Hair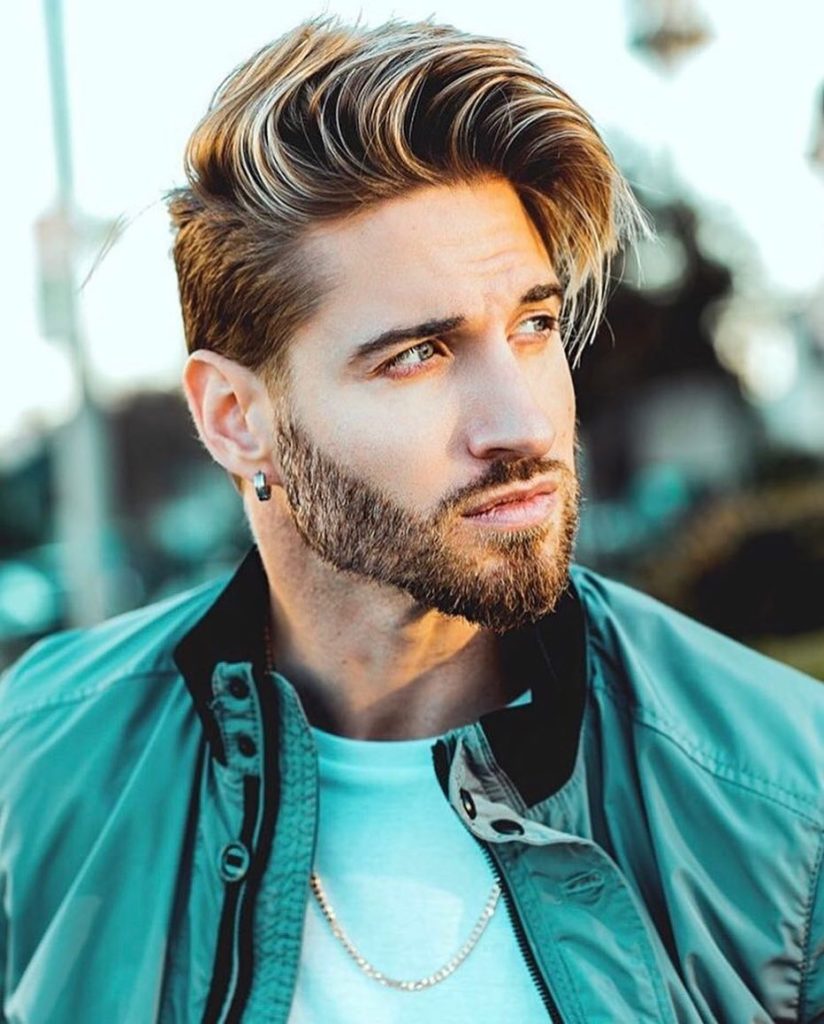 The side-parted hairstyle is hugely trending around those men and boys who like to keep their hair really long and wavy.
It's a classic twist to the same old classic style except that now the hair is worn loosely and gently and falling around the face is perfectly framed layers.
Just a little blow drying session and maybe a light hair product is all you need to style and maintain this look. A refreshing hairstyle paired with a thick beard and subtle faded on both sides.
The list comes to an end here and we hope this article helped you choose the best-suited hairstyle for you that will help you look effortlessly stylish, all throughout 2021.
This isn't just the list though and there are many unexplored hairstyles out there which you can always try out either on your own or you could also draw inspiration from some of these styles listed above to create your own unique style.