Hollywood's most popular young actress Lupita Nyoung'o is a perfect example to rock in every aspect of looks, personality, dressing up, make along with the afro African hairstyles. These spectacular young actresses have broken all the norms of red carpet events by bringing in all African hairdos. She brandishes her very own creative black Afronista styles. If there's one woman who knows how to show off the versatility as well as gorgeous, stunning hairdos of natural bouncy hair, it's Lupita Nyong'o. Over the years, the actress has proven time to time that there's no hairstyle along with bold makeup looks that she can't pull off, but we assume that this year she is just going to take things to the next level with her latest set of braids. And of course, we're in awe. Here in this article, we have chosen to talk about 20 eye blessing hairdos. The upcoming hairstyles are trendy and stylish, and all of them have been rocked by one and only Lupita Nyoung'o. Through this article, you can try the hairstyle which will give you a glam elegant red carpet style for your next big party. These hairdos surely will catch you some attention.
Lupita Nyong'o Hairstyles
Top Afro Side Bun
On the 71st cannon film festival, the gorgeous young lady arrived in her spectacular white dress along with a subtle pink tune makeup look and an eye-catching top side Afro bun. Her look was all glam up by this beautiful hairdo. The hairdo is simple but elegant, portraying the natural Afro bouncy texture of your hair. The hairstyle will be started by adding some protective serum, which is essential when you are dealing with Afro hair texture. The second step would be t scoop up your fair and tie them up on the top. Here the actress has gone with a side bun, but it's your choice to choose a place for your bun. After tying your hair, you have to wrap the hair around messily. There should not be a clean, neat look instead of a messy bouncy look.
Bold Feminine Cut
What's a better way to start your day after you wake up, and see that your hair is already done. This hairstyle is one of them. If you are tired of managing your natural afro texture hair and want something minimum to maintain, then the hairstyle falls perfectly under this category. Lupita Nyoung'o has spent most of the teenage years spending hair to relaxed but get fed up and shaved her hair, she said at an interview. After taking this step, she brought out a significant change in celebrity hairstyling. At that time, many gorgeous short hairdos come in trend, and this one is one of them. The hairstyle is simple and feminine. Three parts of the side that is the center and two sides are divided by razor lines. Both the sides have short hairs, but in the middle potion, she has gone for a side rise puff. It will reflect a bold, intense feminine look in all black girls.
Black Queen Braids with Accessories
Over time the pretty movie star has given us a lot of styles to aww about. But one of them is the best to look at and admire. The one we are talking about taking from her Oscar award from the year 2018. On the event, she wearied a stunning shimmery golden dress with that the queen has gone with a queen hairstyle. The hairdo involves big braids with minimum accessory to accessories the style. The big twists are done asymmetrically, meaning that one going inside direction and another braid in the opposite direction. The braids involve big and thick in which the golden wire is accessories. It's a minimum look but a perfect subtle look to rock a party. Doing new hairdos that emphasize attention to your natural hair is precise for us girls. This hairstyle is not a red carpet look, but a subtle, simple party look for us, which we can wear to our parties and look stunning and not look over the top.
Protective Hairstyle
In the summer season, no one is comfortable with making curls with a hot iron or curler. So heat-free curls are new in trend. Lupita Nyong wore this twisted hairstyle with a lot of triangle sections at the Cannes festival. She styled it with a hot Prada dress and bangle earrings. This heat-free curl does not damage your natural hairs and looks like real curls, so that's why it is called a protective hairstyle. Regular use of heating tools will lead to long term damage like hair loss etc. It enhances the natural bounce and volume of kinky hairs and provides you a dramatic look.
Signature Low Buzz
Some hairstyles are unisex and simple. Every culture, person, tradition is unique and beautiful in their way. Lupita is a Kenyan-Mexican actress who is known for her signature look. It properly shows off all the facial features. In 2016, she styled her buzz look with a patterned colorful dress for promoting her film. Short hairs have many practical advantages, like if we cut our hair short, then the next time the hairs will grow back at a very healthy rate. It is a perfect hairstyle for a casual and formal look.
Mile High Hair
Some actresses love to try different experiments on their hair. Lupita Nyong's is one of them. This hairstyle is unique and stylish. The actress gained a lot of limelight due to this hairstyle at the gala festival. Because of its height, it is quite heavy than all other hairstyles. To create this hairstyle, her hairstylist takes 4-5 hours, and to secure all the extensions. It comes in the list of long hairstyles. Style it with a maxi dress and nude shinny eye makeup.
African Coils Undo
African people appreciate finger coils. It is one of the easiest and can do on every hair length. When it is properly made, it lasts up to 9-10 days. Finger coils providing a wavy and fluffy texture to your hair. It is an effective and harmless technique to achieve an amazing look. Lupita, anyone, 's an Oscar-winning actress, made this hairstyle for an interview by allure. Her stunning face features was suiting her hairstyle. You can style it with many outfits like wear a bandana for a beach party etc.
Split Tied Ponytail
Hairstyles are a part of your personality. It is a party hairstyle and looks fantastic if styled properly. This hairstyle makes your look younger despite your current age. To make this hairstyle make a ponytail and divide it into two parts with the help of golden thread. Texture and bounce can only be seen in curly hairs. The actress told in an interview that she is in love with her look. She styled her side part ponytails with a sparkly outfit and dark brown lip shade at the promotional event of her movie black panther.
Braided Updo
Afro hairs have their natural volume and texture, which is not easy to style. Updo is easy to maintain especially in the summer season. African people have a dark skin tone with broad features. The actress tied up all her hairs into an asymmetrical updo with a glossy makeup. It is a combination of cornrows and finger coils which gives a traditional and modern touch in your hairstyle. This hairstyle looks slightly messy and enhances every individual face structure, jewelry, etc. Lupita wore a colorful floral dress and a small pair of ear studs at the premiere of loving held in Network.
Effortless Fab Updo
An effortless fab updo is a classy and formal hairstyle. It makes you look like a high-class woman. This secure hairstyle simply consists of twists. It added a little height to your face or hairstyle. Sides and back are simple, but the front is different. Lupita wore this hairstyle with a bright yellow dress at CFDA fashion awards. Most of the people follow all these actor and actresses so this type of hairstyles are easy to do at home. Put your black mascara with glossy lip shade and you are ready to go on a wedding or prom.
Exotic Long Braid with Knotless Ends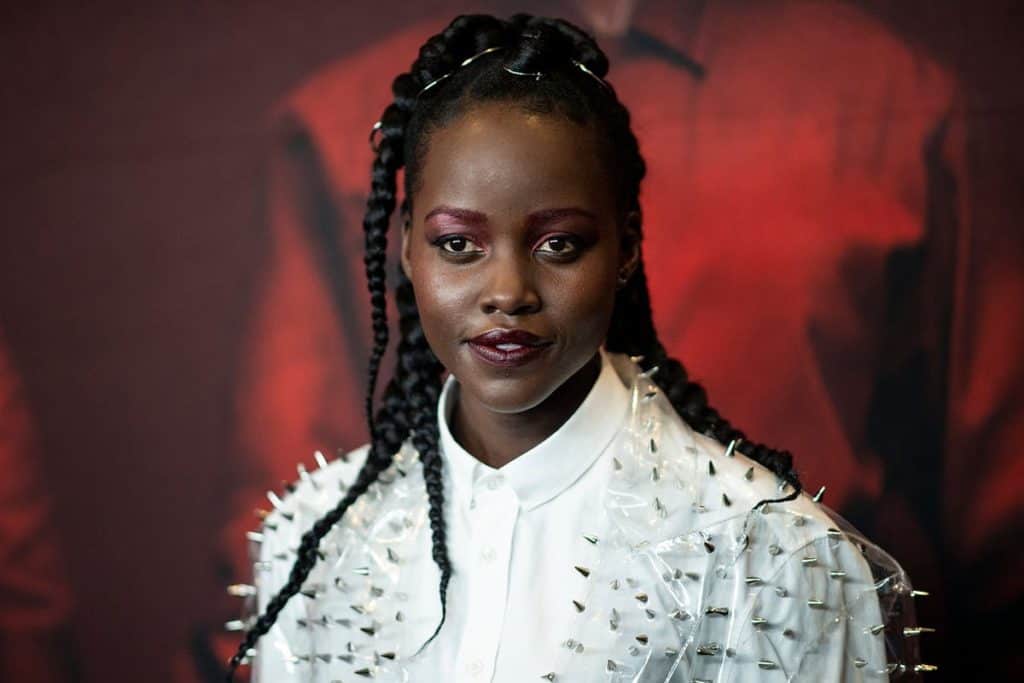 It is a traditional braided hairstyle. The knotless ends look like the tail of a living creature, which is quite dramatic. Mexican hairs are thick from the top, so firstly divide your hairs into sections and then make a braid to the end. Style each braid with a silver ring type head accessory. Silver rings are the focal point in your simple black braids. The actress styled her knotless braids with a high neck white dress. She creates a horrific mood by her makeup at her movie screening.
Golden Packed Braids
Adding golden silver threads or accessories completely change your entire look and make you a fashionista. Braids are easy to style and effectively maintain Afro hairs. In 2023 Lupita try this iconic look with a golden dress at a beauty event. Starting from the box braids, very thin braids woven in golden strands. It is a creative hairstyle because it does not use any pin or rubber bands. These braids take time and professional stylists. Girls who have medium to long hairs should choose this hairstyle for any fashion event or party.
The Fine Crop
Lupita Nyong'o takes her styles to another level every time she does them; she can make even the simplest of hairstyles look so effortlessly gorgeous. Like this one, which is a very short crop, very close to scalp. The sculpted hairline added to this crop is adding that cool touch and making it look so extra than the ordinary crops. The crop has very small curled hair. These hairstyles help to enhance all your face features all over again. You must go for this if you want to be the center of attraction or want to get rid of styling your hair for a while. This hairstyle is best at ease and maintenance.
Curls in the Air
What better than A hairstyle that screams new and freedom. This looks perfect for girls wanting to look bold. This hairstyle shows us that big buns are not the only way to look like a queen. Keeping them open and natural could also do the work. All you have to do is find a perfect hairstyle. The messy curls are allowed to go free in the air but brushed back tightly at the hairline. Believe it or not, this does give you a goddess appearance. This hairstyle will make you look bold and classy, even when you are keeping your hair and curls naturally and messily.
Center Puff
Another bold hairstyle is a side crop with a center puff. The hair is still kept very small, but this big enough so that they make a puff at the crown section. The crown section is styled using gels. You can style this in many other ways. The two bald lines made for the demarcation of cropped sides with the puffed crown are making this hairstyle more bold and gorgeous. These two highlighted characteristics of this hairstyle. You can have this for a special occasion if you have small hair. The hairline is also kept very clean.
Sleek Pony Bun
We will always be in love with innovation Lupita Nyong'o shows in her hairstyles. Whatever and however this hairstyle is done, all we know is that it looks very extra-ordinary. The hair is kept very sleek and brushed using gels or sprays. The braided bun that converts into a small ponytail at the back of the neck is done. This covers almost all of your head at the back. This is a must-try on a special occasion. This will give you a very classy look. It could be done in place of ordinary old buns.
Go Bling Green
Who would have thought of a bun hairstyle like this? A bowl-shaped bun is made at the top and a little to the side. The hair is kept of the natural texture which makes this hairstyle even more special. No matter how creative the hairstyle is, we are not able to take our eyes off that green bling forehead band. That is what is hyping this entire hairstyle look. You can go for some other hair accessories to style this hairdo. Or go and find something similar because nothing will match the grace of the forehead band and its combination with this hairstyle.
A lot of Braiding
Box braids are best hairstyles. Keeping them open with side-part is the easiest and casual way to style them. The length of the hair for the braids is kept medium, not too short and not too long, which makes it even more casual. Box braids are easy to maintain. And you can go on for some days without worrying about styling your hair. For some fun and special occasions, you can add many types of accessories to them. Accessories for braids include cuffs, rings or strings. Everything looks gorgeous.
Long Twist Braids
For more special days, you can for these long criss-cross twist braids. If you are bored with braids but can stop doing them due to the immense number of benefits they offer. These are for you. These are box braids but who look different from them. They are twisted braids. You can have them in any length and with any volume. But these long and thin ones look very gorgeous. You can use gels to keep them polished. These are best for your vacations, especially at the beach. It keeps your hair protected and easy to maintain.
Enormous Bun with Golden Strings
You should definitely get inspired by this hairstyle of Lupita Nyong'o . and this hairstyle should definitely be there on your bucket list of hairstyles for special occasions. Who cannot fall in love with this hairstyle? You will definitely be the center of attraction with this hairstyle. You will not be able to create this enormous bun with your natural, exceptions are if you have extra voluminous hair. Otherwise, you will have to use hair extensions. It is better to use hair extensions with the same texture as your natural hair. The bun is tied up and styled with golden strings. Which makes it look even more gorgeous.
We can't think of any look that Lupita Nyong'o can't pull off like a pro. She never fails to give us serious beauty inspiration including her creative hairstyles and dresses. She is always down to try anything for her hair and always gives us a constant reminder to never be afraid to bring the new in your life. From topknots to adorning her crown with chains and letting her natural texture ad the focus, she is never afraid to cross boundaries and adopt what we think of as red carpet hair. We hope you are very well inspired to try and bring something new in your life and change your looks by looking at all these Lupita Nyong'o inspired hairstyles.