If you have inborn thick hair then you must be the envy of a lot of women worldwide.
Moreover, you do not have to face the problem of limp hair or the short of volumes in various hairstyles. Most of the time, if you have thick hairs then length can create a problem of feeling heavy. In this case you just make it short anyway. Do not forget to ask your barber for styling the best hairdo in your hair. There are plenty of hairstyles for the thick and short hair like brown blonde bob or short sassy bob or any pixie or bob cut. So, try the simplest way to make your thick hair easily manageable and that is chopping it off. If you will have short hair then you will get so many positive options like easy to manage, less time taking, look younger than ever and so on. Here, in this article you will get to check out some spectacular short hairstyles for thick hair for yourself. Pick up the best one for you on the basis of the texture and volume of your hair. Now enjoy a few major eye candies with these beautiful stunning haircuts and flaunt.
15 Short Hairstyles For Thick Hair To Look Amazing
Brunette Pixie Haircut
In Brunette Pixie hairstyle you will get to show your high cheek bones and full lips. The delicate asymmetry of this cut will add some more mystery in this look. This hairstyle is very easy yet super cool. The longer hair of the front part can be arranged properly by the blow dryer. To get the finished look you can leave it haphazardly. Use any textured cream and your finger to set it up properly.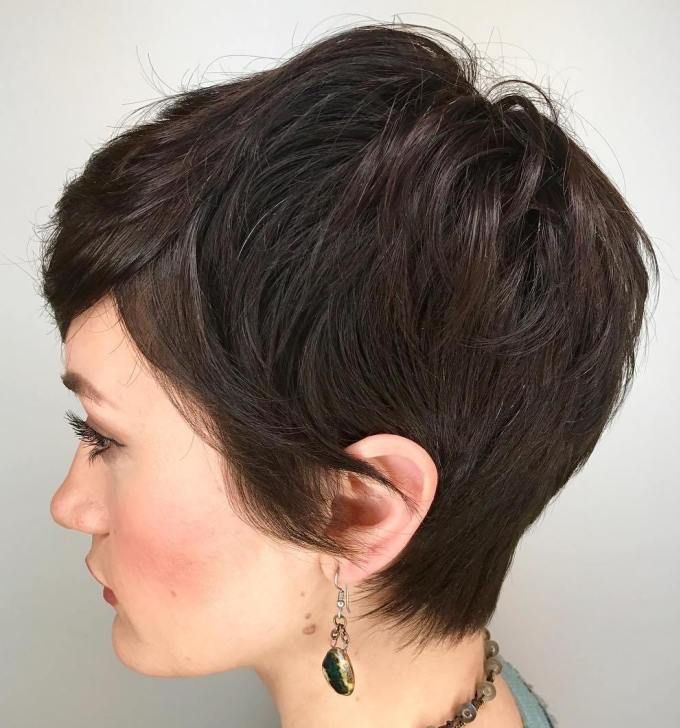 Short Bob with Bangs
Short Bob with Bangs hairstyle is best for the girls with oval or "v" shaped face. This popular Twiggy reminiscent haircut is a great mixture of the pixie and bob cut hair style. The hair of front parts is short with side swept bangs and longer in the back and the surrounding portion of ears. This look is perfect for any occasion. Even you can this appearance on the daily basis to look classy.
Short Blonde Layered Haircut
Pixie is a new trendsetter in the world of hairstyle for women of any age. This particular hairstyle will make you look more cute and younger than ever. In this style the front and the side swept part of hair will be longer. But the side and the back part will have lesser hair. To get the finished look you can try to color your hair with blonde which will provide you a stunning look. This will help you to manage both the time and hair easily.
Short Haircut with Side Long Bangs
If you have medium wavy hair with short hair then you must try this hairstyle to look stunning. In this hair style the front side will have longer hair which you can placed at side. These side long bangs will add more prettiness in your look. Woman with oval shaped face can try this hairstyle. The other side of the long bangs and the back side of the head will have short hair. Proper eye makeup and medium dark lip color will complete the look perfectly.
Pixie Haircuts for Thick Hair
Pixies are very "in" in the world of fashion. This particular hairstyle is the best for the girls with short and thick hair. If you are having longer hairs then it will be very heavy to maintain the pixies and in some wrong places it will be messy which will ruin the whole look. Black is the color which will suit the look most. If you try for this look you will surely get to feel the differences at a short time. From all the blocky and heavy hair, it will turn in to airy chick locks. For the best appearance you can whole in your ears more than one.
Short Wavy Hairstyles for Thick Hair
Are you getting bored with your long wavy and thick hair? Then this is it! Just chop your hair off! These days most of the women stay bust throughout the day and for them long hair is a big problem. By this hairstyle you will not only get a younger look but you will also free feel and less heavy. You will get equal hair throughout the hair.
Pixie Cut with Asymmetrical Bangs
This medium side part and the asymmetry of this cut give this style a modern look. It is very suitable and flattering for the women with thick and fine hair. You will be able to shoe off your features beautifully while having hairs around your face. The front part will have a bit longer hair and the back and the side part will have lesser hair. Woman with sharp features and oval shaped face can go for this look.
Funky Short Hairstyle with Undercut
If you are aging gracefully but still wants to look gorgeous like ever then you can try this hairstyle. If you have oval or "v" shaped face with sharp features then you can carry this look properly. This funky hairstyle with thick and short hair can be cup of tea of women of all ages. In this style the hair of the front and upper part will be lengthy with long fringes. But the side and the back part will be very short with having the undercut hairstyle. You can keep your hair naturally grey to flaunt the stunning look.
Messy Blonde Pixie Haircut
Short haircut for messy hair always does not demand straight hair. It can be almost straight or wavy hair also. If you have thick hair with good enough texture, then still you can have a short haircut. You will have equal hair throughout your head. The front part will have a plenty of hair. If you have naturally blonde hair then you must go for this or else you can color it too.
Angled Bob Haircut with Side Swept Bangs
If you have straight hair then this angled bob haircut is most appropriate for you. You can cut the hair long in the front side and the back side shorter. Women with thick and straight hair can go for this. The straight bangs give it a perfect touch up to complete the look. You can also apply a side swept bangs for flaunting the look beautifully.
Brown Pixie Haircut with Green Highlights
This short hairstyle is just perfect for the women with thick hair. It will help to spice up your look and life. Ask your barber for long front fringes and the layer for the middle back side. In the bottom part it will ask for almost shaved and undercut hairstyle. You can color your hair with brown to get an outstanding look. Moreover, if you are brave enough then you also can try for some green highlights to draw the attention of the fashion world.
Short Bob with Undercut
Most of the women at their middle age get bored with the same and usual look. So, if you are going through the same phase then you must try this look to slay. In this prominent hairstyle you will have more hair on the middle part and in the front portion. But in the down side you will have an undercut to look completely different than ever and everyone. You can try to highlight your hair for a better appearance.
Edgy Undercut Pixie Cut
This style is perfect for the girls with very less hair who really do not want to deal with heavy and long hair. As it will provide very less amount of hair so you have to be very bold to carry it properly. The middle and the front portion will have a plenty of thick and edgy hair. But both the sides and the back will have an undercut to get the proper look. Woman with long and oval face can go for this.
Purple Ombre Faux Hawk Pixie
You can say this hairstyle youthful, revolting, and creative or cool which will never fail to impress anyone. If you are bold enough to carry this Faux hawk look you can try out for coloring your hair with purple. It will make you look extra unique from anyone. In this style you will have plenty and thick hair on the upper part and the side part will have an undercut or be trimmed perfectly with razor. To give a complement your look you can always wear some out of the box accessories in ears or nose.
A Line Bob with Highlights
To try an extremely new look you can go for this bob cut which is called a line bob hairstyle. In this hairdo you will have long hair in both side but in the back, it will be long till the bottom neck part. To get a perfect look you can highlight your hair with any vibrant color.
15 Short Hairstyles For Thick Hair To Look Amazing
was last modified:
October 9th, 2018
by