Girls with the long curly hairstyles are the desire of the lot of other females.
Most of the famous Hollywood and celebrities have Long Curly Hairstyles. This particular hairstyle is also the most well-liked one for special occasions and even girls with the straight hairs go through some methods just to get that perfect long curly hair on that special day.
If you actually do not have the natural curly hair then you can easily submit your curly hair to chemical presses that provides one's hair that permanent curly look.
Having the curly hairstyle is different short straight hair that requires less maintenance. Long hair requires a lot of maintenance and one should set aside enough financial resources to purchase hair products to just maintain that natural looking curling hair. Long, curly hairstyles actually can provide you the ultimate styling and flexible design. It needs rewards of time and effort spent on just trying to keep a long way hairstyle. Maintaining the entire hair's health is paramount to avoiding frizz, building volume and body, and keeping curl control. The curly hair is always perfect for any situation. So, to know more hairstyle ideas, you can take the help from Internet.
15 Long Curly Hairstyles For Women To Jealous Everyone
Messy Blonde Long Curly Hair
If you have a loose curl, then choosing this specific hairstyle will be perfect for you. A huge number of people are there love to go for the messy and uneven look sometimes and that is why Messy Blonde Long Curly Hair has gained an immense popularity as well. Girls with blonde hair can actually try this. It gives a stylish and absolutely bold look. The hairstyle also helps you to flaunt your beautiful personality in front of people.
Long Curly Hairstyle with Texture
If you have soft and mellow loose curls, then you will surely opt for the finest hairstyles as well. Hers look super hydrated and then add balance to the face by narrowing and softening around her chin. Try to play those tousled long tresses and enjoy the freedom to shake things up just by retaining moisture, specifically when the weather changes. Long Curly Hairstyle with Texture helps you to look absolutely classy and elegant. Girls, with long blonde hair can try this out.
Long Curly Haircut with High Bun
If your hair is tightly curled, you can get away along with piling your second-day hair up on your head into the messy high bun and you won't look like you just rolled out of bed. The most excellent thing about this specific style is that you can easily make your bun as tight and as loose as you want. Well, after doing the tight bun in the middle of your hair, you can also keep the other strands open by the side.
Layered Long Curly Hair
Did you curl your hair last night? Well, there is no requirement to just ruin your style by washing your hair. Simply go for the Layered look. Well, girls who have the long curly hair can easily try thee Layered Long Curly Hair style. The tight curls actually flaunt the ultimate beauty. It looks absolutely elegant and classy on you. Eventually, the hairstyle is also very easy and simple to manage and handle in any weather.
Chocolate Brown Shiny Curls
Take this specific flapper-inspired look for the spin and modernize this with feathery, voluminous curls. Maintain this particular old Hollywood style by having ends cut bluntly. Well, girls with chocolate brown long blonde hair can try this one. The soft and mellow curls of your hair help you to go beautiful. You can try this with any contemporary dress. The hairstyle also provides a little messy and uneven look too. Eventually, the hairstyle is absolutely easy to mange as well.
Layered Hairstyle with Spiral Curls
Curly hairstyles are enormously versatile and permit you to try so many dissimilar and fun techniques along with your hair. For this style, section off the front of your tresses into side parts and creates some excellent spiral layers as well. If you have the shiny black hairs, Layered Hairstyle with Spiral Curls hairstyle will be a perfect option to try on any kind of event or occasion. It leaves an absolute stylish and pretty look and help you to stand out loud amongst the crowd as well.
Half Up Half Down Curls
Along with the long curly hair, try to embrace those day-old curls by leaving them half down and loose and leave the other half open. Don't shy away from the flawed look of messy curls because they look absolutely perfectly and natural. To give your slept-in locks an intense volume boost, quickly blow dries your hair along with a diffuser to revamp your style. This Half Up Half Down Curls looks absolutely stunning and cute on a girl.
Curly Half Up Ponytail
If your hair is long or short and curly, try this easy half up, half down top-knot or ponytail style. Simply pull the top half of the hair back and then secure in the bun. To make this specific style more interesting, let some of the curly fly-ways fall down in the front. This Curly Half Up Ponytail gives you a ravishing look. You can try this style with any contemporary dress. In fact, it is also quite easy and simple to handle whenever you try.
Cute Long Curly Hairstyle
For the quick and easy second-day hairstyle, try this sophisticated and bouncy Cute Long Curly Hairstyle. Using a de-frizz serum; flows up your locks in both side of your head. If you want to revamp up the style even more, make sure that your down curls look highlighted. In this specific hairstyle, the mellow and soft ends look super cute. Girls with the soft, blonde and long hairstyles always can try this one out. It helps them to look classy and pretty.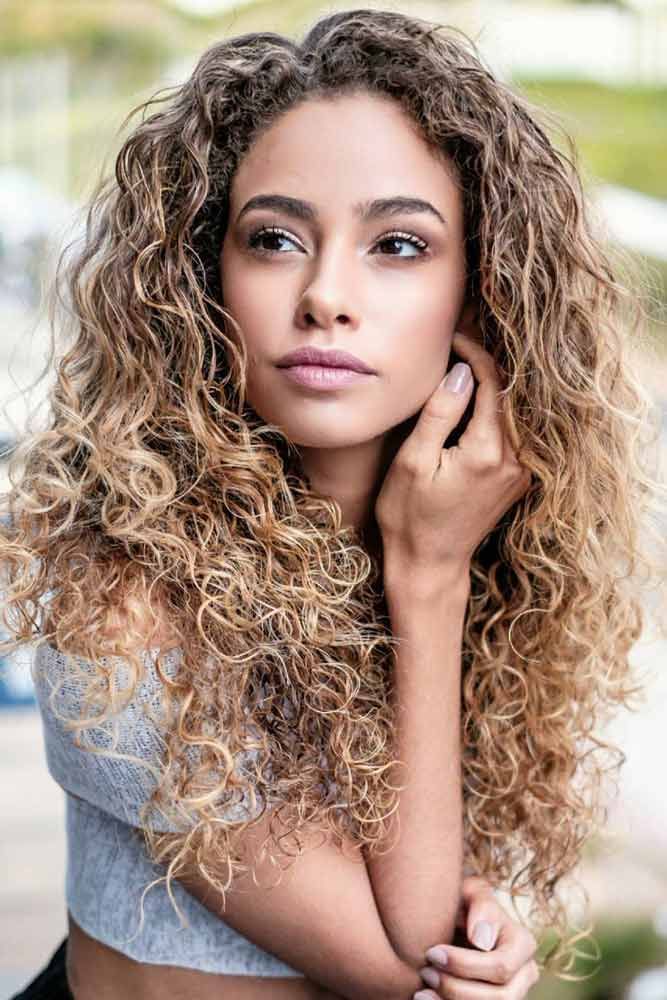 Black Curly Hair
The long loose waves are the absolute perfect example of the curly hair that makes you turn around. From casual to formal, this hairstyle can factually be worn for any occasion and it looks great when paired with any outfit. Girls with the black curly hair can try this one. You do not have to put much effort to create this hairstyle. But on the other hand, it gives you a smooth and absolutely polished look too. The hairstyle is also easy to manage.
Long Curly Hair with Twisted Bun
In recent times, women with the perms are actually showing off new ways to rock them, along with the future in mind. These skinny curls snake around to give depth, volume and body to the shoulder length hair. Bangs in front proffer a glow effect, as the whole face in accented by bright blonde curls. The Long Curly Hair with Twisted Bun also aids you to look quite fashionable and graceful too. The hairstyle does not need much effort as well.
Curly Hair with Half Up Halo Braid
One of the best hairstyles for the greasy hair is this braided style. But girls who have the mellow and loose curls sometimes do not want to go for the entirely braided hairstyle, and that is why they should go for the Curly Hair with Half up Halo Braid. It hides the evidence of dirty and unwashed hair. To accomplish this look, simply braid the front section of your hair and then secure along with the bobby pin that matches your hair color.
Natural Curly Hair
The natural black and curly hair is quite popular for those, who always opt for the finest and top-notch hairstyles. If you actually have these black, smooth and loose curls, then choosing this perfect hairstyle will be an ideal option. This is the happy go lucky hairstyle that looks totally fashionable and cute as well. Curly hairstyles are enormously versatile and permit you to try so many diverse and fun techniques with your hair. This hairstyle is also very easy to manage.
Curly Hair with Knot
Another way to actually spice up the boring pony would be to add the ribbon. If you wish, you can easily tease your hair at the crown for some extra volume. For this specific style, twist the hair in a proper way, and tie it around your ponytail. That's it, you are absolutely done and you look fabulous! No one will ever know which you are sporting second-day hair. The hairstyle looks quite cute and amazing. And it is also easy and simple to manage.
Middle Part Long Curly Hair
When you are on the lookout to acquire the finest and very cute hairstyle, this is the one that can help you in anyway. Basically, girls with long, blonde white hair can try this specific hairstyle in any party, hangout or in any office meeting too. It does not need any kind of trouble to make this hairstyle. The back waves of the hairstyle look gorgeous and stunning on you. Eventually, it provides you a classy look too.
15 Long Curly Hairstyles For Women To Jealous Everyone
was last modified:
November 21st, 2018
by